7 Simple Ways to Transition your Summer Wardrobe into Fall
Pumpkin spiced lattes, tailgating, college football, sipping on hot apple cider while binge watching new episodes of The Mindy Project, The Blacklist, New Girl, Grey's…
Get ready to break out the mulled wine, cozy sweaters and boots, the official start of Autumn / Fall is just moments away.
I'm SO ready to slip into the cooler weather and all the dreamy rituals that come with it. But I'm not putting away the summer clothes, just yet.
Wrangling your wardrobe for this seasonal change can be super frustrating.   
Why?
Because all of a sudden the weather acts like my husband flipping through the T.V. channels, trying to find something to watch during the summer.  It just can't seem to land on temperature and stay there.  
The weather it's constantly flip-flopping between hot and cold…sometimes, all in one day!
If you've ever regretted leaving the house in all those heavy layers, only to make a mad-dash into the closest store, to pick up a cheap tee to alleviate your sweaty discomfort; love, I want you to know I feel you…and I've got your wardrobe transitional needs, covered.
OH YEAH…I nearly forgot:
Southern-hemisphere babes, don't despair – simply reverse this blog post to transition your wardrobe from Winter to Spring and Bob's your uncle!
Here are 7 quick and simple ways to transition your Summer wardrobe into Fall...sans frustration!
This is one of my favorite ways to add warmth to a summer outfit…while looking oh-so-chic!  (it's your secret weapon – like a great pair of shoes or your favorite handbag)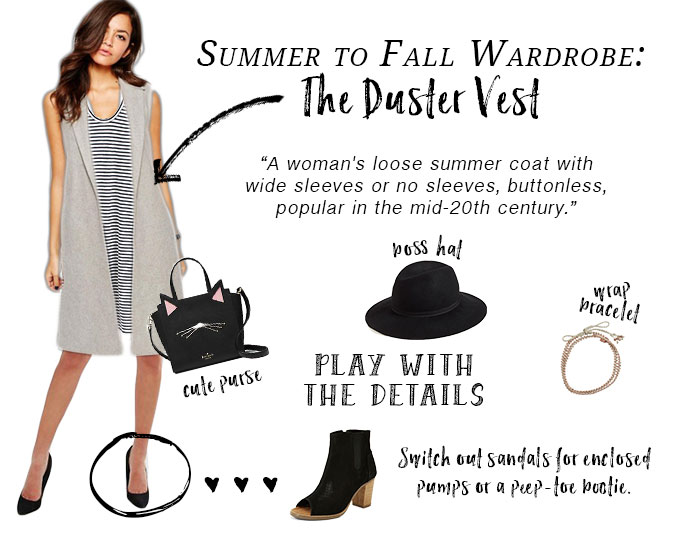 A duster jacket (much like a trench) comes is a variety of different fabric weights. The main difference between the two styles, aside from the structure of the garment, is the sleeve options.
A duster jacket comes with the option of sleeves or without – a duster vest!  Which means those of you that wouldn't get the wear out of a heavier coat, can opt for a lighter outer layer with your  blouse, tee, tank, dress, jeans or tailored pants.  
Regardless of what type of outer layer you choose, consider the color. This is a fun way to add a pop of color to a monochromatic look or add sophistication to an already polished outfit!

Styling Tip:
When choosing your Duster or Trench, consider the length and cut – does it suit your body shape and height?  I'm 5'5" and prefer to opt for soft, flowy fabrics where the hem doesn't sit any lower than an inch below my knees – any longer and the proportions look totally off.
Everyone has a jacket they love and adore – try adding it to your fav summer ensemble.  
military jacket,
leather or faux leather jacket (my personal fav),
denim jacket,
poppy eclectic jacket,
get your sparkle on with a sequin jacket!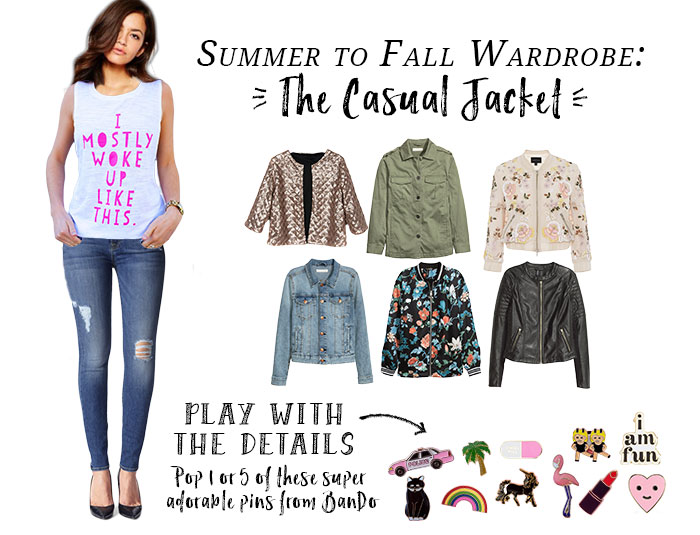 I know this seasonal wardrobe transition seems like "Yeah duh, Shelley! Tell me something I didn't know." But I challenge you to have fun popping your jacket with pieces you don't normally pair it with.
For example, layer your leather jacket with a super feminine, floral dress or throw a sequin cropped jacket over your graphic tee and ripped jeans.
It's seriously easy…but gives your outfit a fun, poppy element!

Styling Tip:
Consider adding some bling to your new look. Ban.do has some super cute, 80's inspired, pins (pictured above).
Adding a jacket can totally change the look and feel of your outfit…in a hot second! Push up the sleeves and you're ready to rock your day.
3. The Oversized Cozy Cardigan & Graphic Sweater
Say hello to cute, cozy and playful!
An oversized, cozy, loose-knit cardigan gives a super casual look, a relaxed boho vibe.  An oversized cardi also looks amazing over a casual body-con dress, demin short or jeans.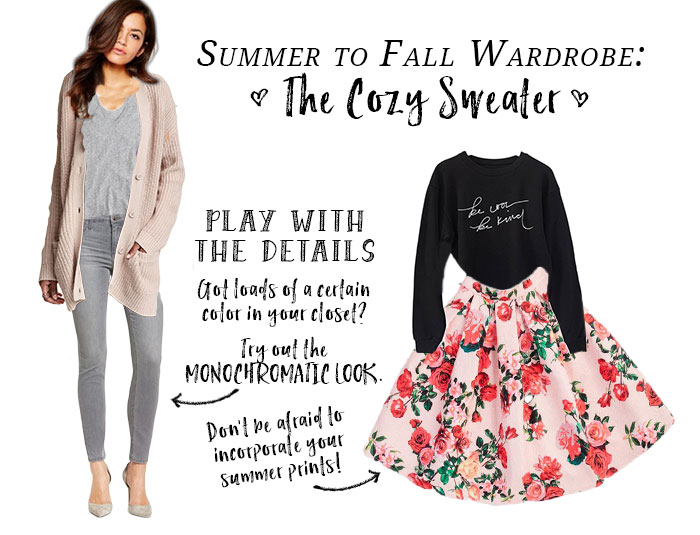 It's a great way to add texture and an extra stylish element, to a basic outfit.  Leather leggings, a basic fitted tee, and an oversized cardi – looks so effortless but so stylish.
Then there's the graphic sweater for a playful look.  Tuck it to your favorite skirt…add a collar shirt underneath if you need a little extra warmth.  Or pair it with your distressed boyfriend jeans and favorite pumps!

Styling Tip:
Have you every tried the monochromatic look?  Simply play with the same color family.
In the picture above, I've styled my virtual model in grey-washed denim skinny jeans and a lighter grey, basic v-neck tee.  I've added texture and a pop of something different in the form of another neutral…a beige cozy sweater. This is a super simple and fun way to style a pretty bland…and let's face it, boring beige sweater or cardi!
Also, don't be afraid to pair a fun graphic sweater with a flirty summer skirt…add some heels or a pair of bootie-licious shoes….and you'll be catching compliments and turning heads everywhere you go!
The boyfriend shirt is my 'go-to' no-fuss, transitional piece.  
Pop it on over a basic or graphic tee, a lace trimmed cami (the juxtaposition is gorgeous), your favorite soft henley shirt, or over your workout gear for an effortless athleisure gym-to-coffee with your bestie, vibe.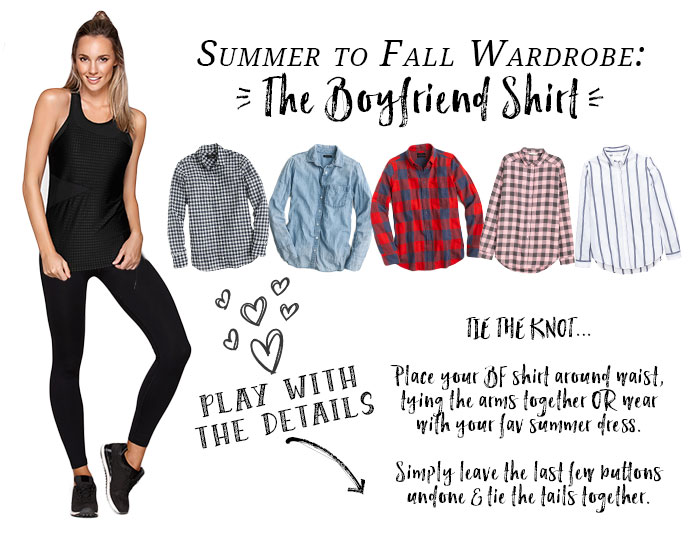 Play with plaid, gingham, chambray, buffalo check or a block color and pair it with leggings, denim, or your favorite skirt!  It's relaxed but bumps up the perceived effort stakes. YAY!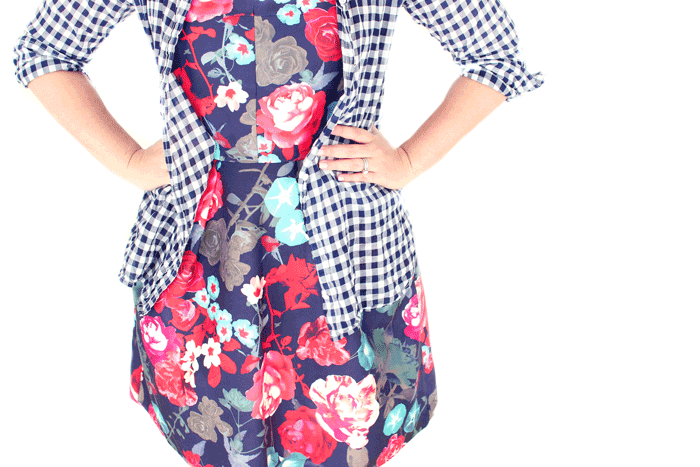 Styling Tip:
Tie the knot! Place your boyfriend shirt around your waist and tie the arms together, for a grungy look..it's perfect if you get too warm.
OR wear it with your favorite summer dress. Simply leave the last few shirt buttons undone, and tie the tails together!  So fun!
Lastly, scrunch, roll or push-up the sleeves and you're good to go!  
5. The Tights Under ANYTHING Look
One of my favorite ways to transition my summer wardrobe into fall is to layer a pair of tights under shorts, with a pair of ankle booties.  You can easily remove the tights if the day heats up…just make sure you've shaved those legs.  Ekkk!

Styling Tip:
Add an interesting element to a simple outfit by adding a surprising texture or patterned tight. There are SO many fun tights to choose from.  Everything from the classic opaque, to lace and floral, fishnet and chevron, colored and polka dot!!  
Not sure that a bold print or textured tight is for you? Places like Forever21, H&M, and Target stock a range of fun, poppy, inexpensive options.  Which style will help you transition your summer wardrobe into fall?
As the weather cools down, those tootsies may start feeling the chill first.
Consider switching your sandals for ballet flats or a totes adorbs pair of loafers.
If you're more of a 'heels' than 'flats' kinda girl – consider wedge or block heel b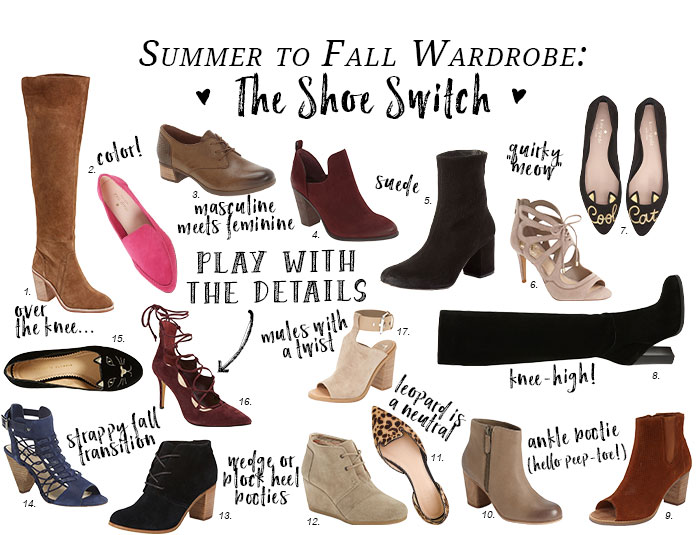 Not ready for a completely enclosed shoe? No problem! Have you tried a peek-a-boo bootie or pump? I love the hybrid bootie/strappy sandal look!

Styling Tip:
You can change the entire look and feel of your outfit by switching out your shoes.  
For example, a feminine pair of pumps with a basic white tee and a pair of boyfriend jeans, will give your outfit more of a polished casual look.  Whereas, the same outfit with a pair of white converse kicks, will make the outfit look relaxed and totally chilled.
Ok, so maybe the weather where you live hasn't quite reached the temperature where you NEED to change anything up…but you really WANT to start immersing yourself into the Fall season.  
That's where fun accessories come into the picture!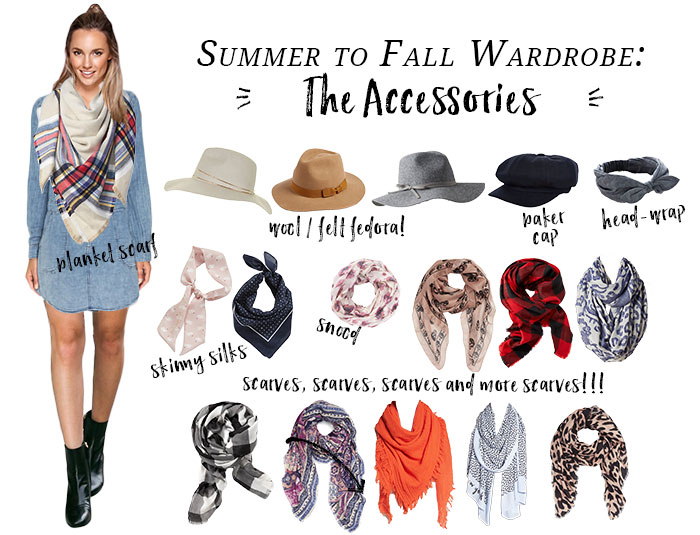 The Blanket Scarf– looks totally amazing with a casual dress (think chambray dress or longer-sleeved t-shirt + shorts) and a pair of booties.
The Wool or Felt Fedora – adds a pop of interest to any outfit.  Find a shape and color that compliments your outfits and face shape.
The Skinny Silk Neck Tie – super fun, light-weight and making a huge comeback this season!
And there you have it! 7 Simple Ways to Transition your Summer Wardrobe into Fall.
As the season progresses, you'll be able to let go of your summer pieces bit-by-bit and pepper in more of those wintery warm and oh-so-cozy items.

Are you and your wardrobe in need of rescuing?
If you answered with an "OMG like totally!", then you need my 911 Style Emergency Guide.
I'll help you decode your beautifully unique body shape and curate a dreamy wardrobe of outfits, that are tailored to your personality and lifestyle, all tied up in a pretty shoppable guide!
*** NO LONGER AVAILABLE ***
Of course, those were just a few ways you can simply transition your summer wardrobe into fall.
How do you like to transition your Summer wardrobe into Fall? 
Let me know in the comments below.