Are you looking for inspiration?
I've got a confession to make…
I'm a hoarder.
That is, a hoarder of things that make my heart tap-dance with excitement.
All I do is buy these pretty things and put them in a bag under my desk, ready to pull out when I need a little extra inspiration – please don't tell me I'm the only one!!
And, if I'm going to be super honest here, the main reason I was drawn to each item was because of the packaging.
I know, I know, it may seem like I'm a marketing sucker – but when you own a creative business (like mine) and are about to birth some new super cute products of your own (eeek), you especially notice the little things…like packaging and presentation!
Let me share a few packaging pieces I've been totally ga-gah over:
Ashley Brooke Designs – Life is better when it's fancy.
Aside from the fabulous hot pink box and gold foiled lettering, I totally adore the polka dots that surprise and delight, when you open this little cutie. The mug inside is super dreamy too!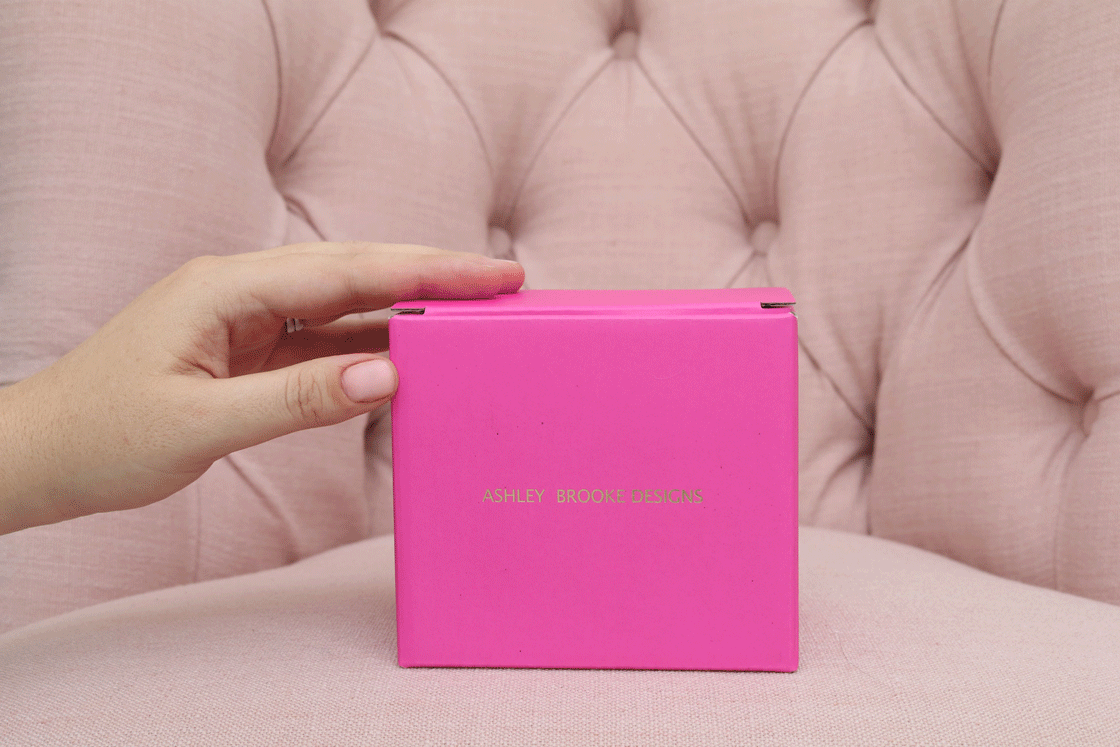 Buddy Scrub – Hey gorgeous, I'm coffee…your friend with benefits.
I'm a total sucker for witty packaging. This coffee body scrub is just that – from the seal tear, to the directions and ingredient list.
"Carefully rip off my top, then it's time to get down and dirty" – you know, by rubbing coffee all over your body.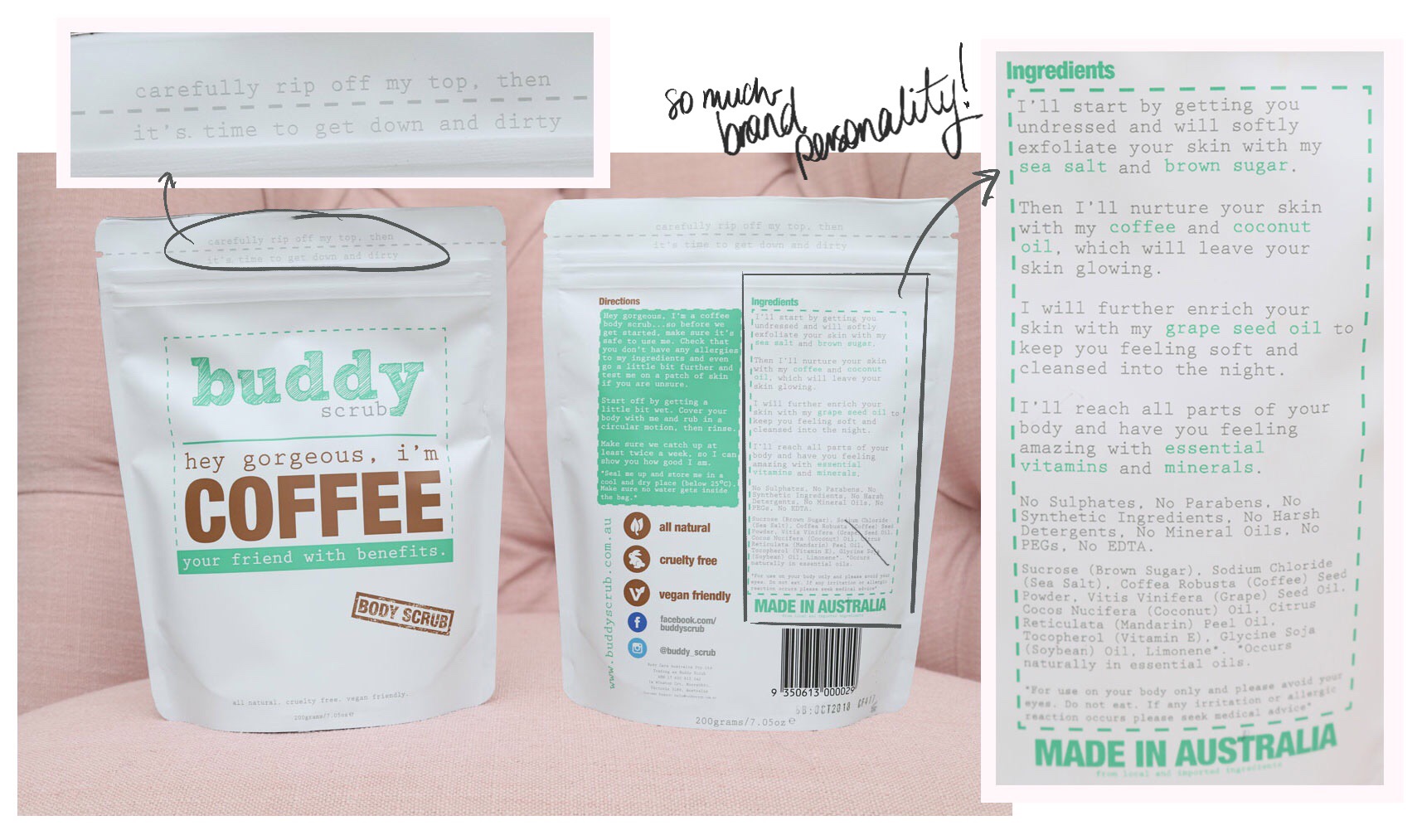 Ban.do – ANYTHING…but adore this jumbo heart floaty box!
I've been the biggest ban.do fan since way back in the day, when it only had a few swoon-worthy items in the shop.
Their branding is literally to. die. for. and it radiates through EVERY single customer touch-point… and their packaging is no different.
I kept the packaging from this jumbo heart pool floaty…that I bought last summer (I told you I was a hoarder) because I adore the pops of pink, the typography and language that looks and sounds like it could have been written by any one of my besties…and again…more pops of gold foilage!!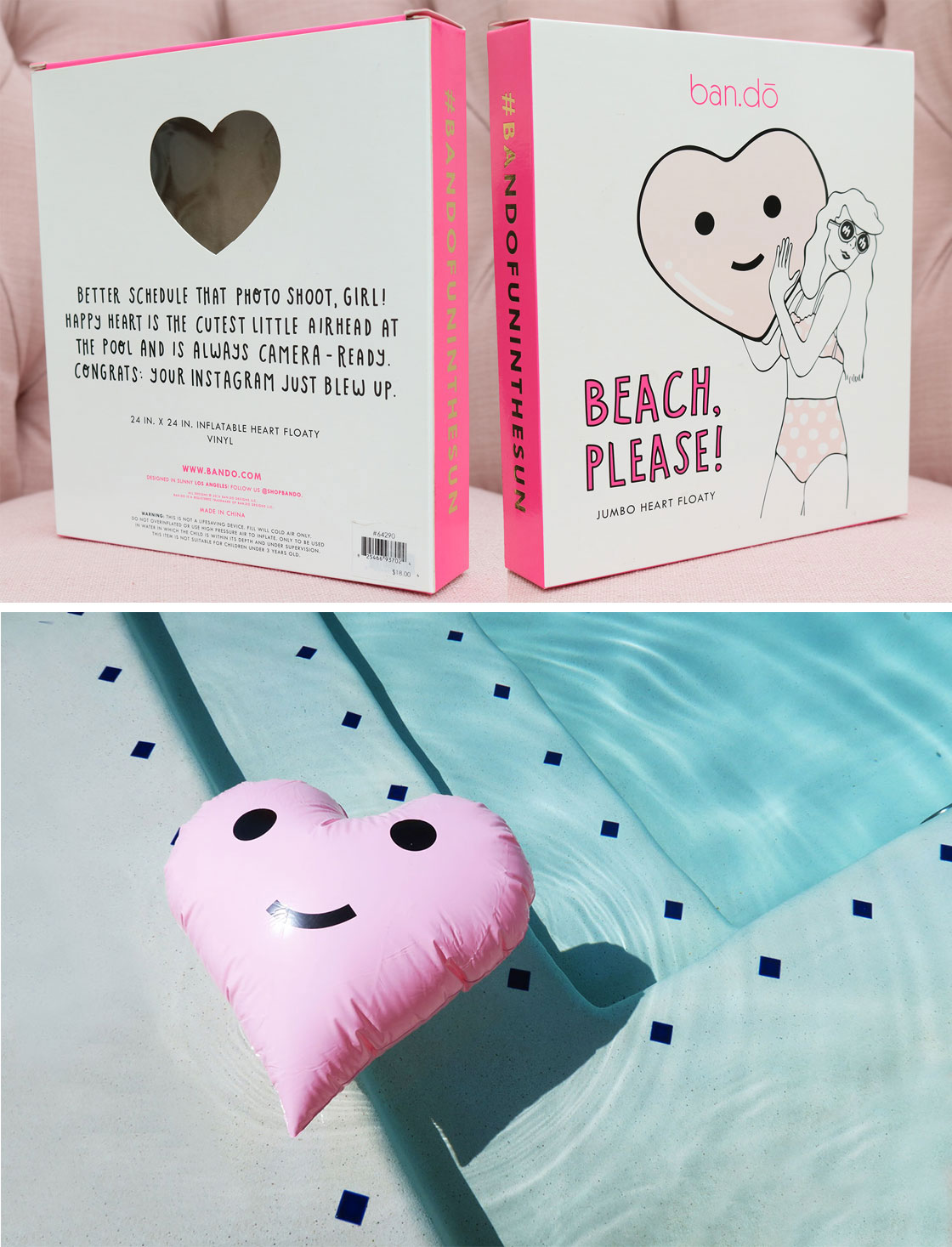 Minstral – Gardenia Luxury Bar Soap
I found this little beauty at Anthropologie while I was shopping for a client. It's a luxury bar of soap – and whilst I'm not the biggest fan of bar soaps – even though this one smells SO pretty, the packaging on this baby, TOTALLY made me fall heart-over-heels.
It was like the product – beautiful color combo, gorgeous hand painted florals (again with foiled gold lettering) and all, jumped into my hands, stole my heart and said "take me home!!" – so I did.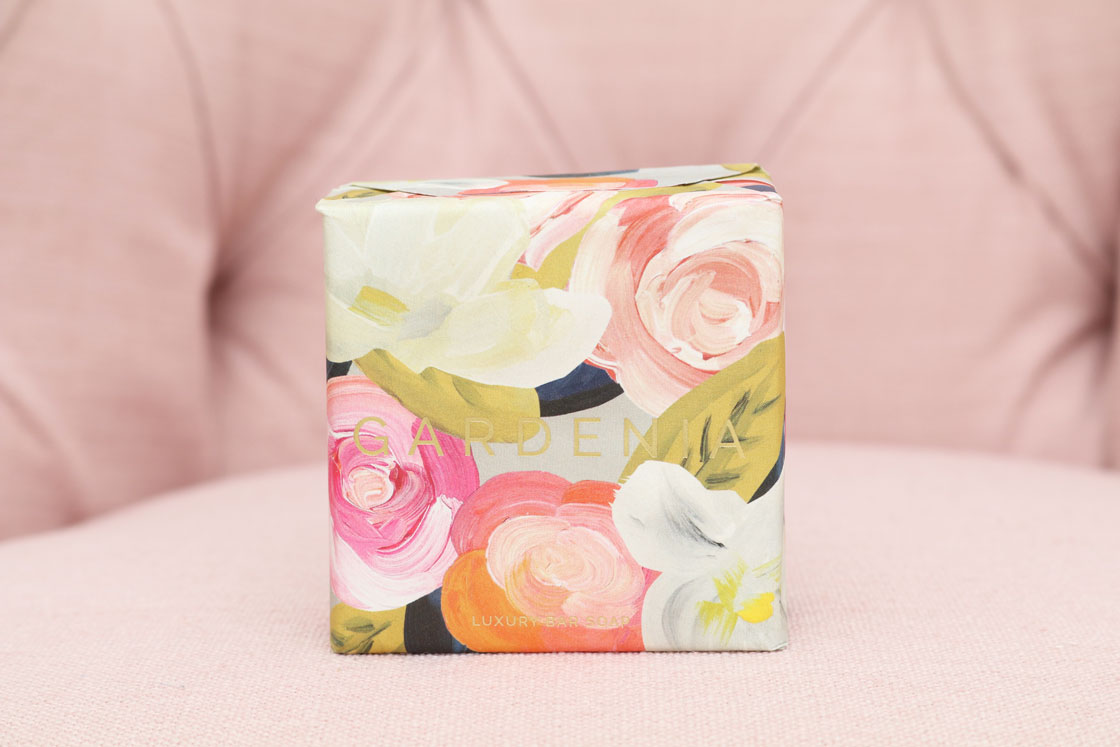 Give Lovely – Gift Box Shipping Packaging
Everyone LOVES receiving totes adorbs snail mail packages right?! Well what if your package arrived in the cutest mailing box, like ever?
That's exactly what happened when my gorgeous friend, Melissa, sent me Give Lovely Gift Box, that arrived in the most precious packaging – brush-lettered hearts! OMG, I like died and went to packaging heaven (and you should have seen the contents).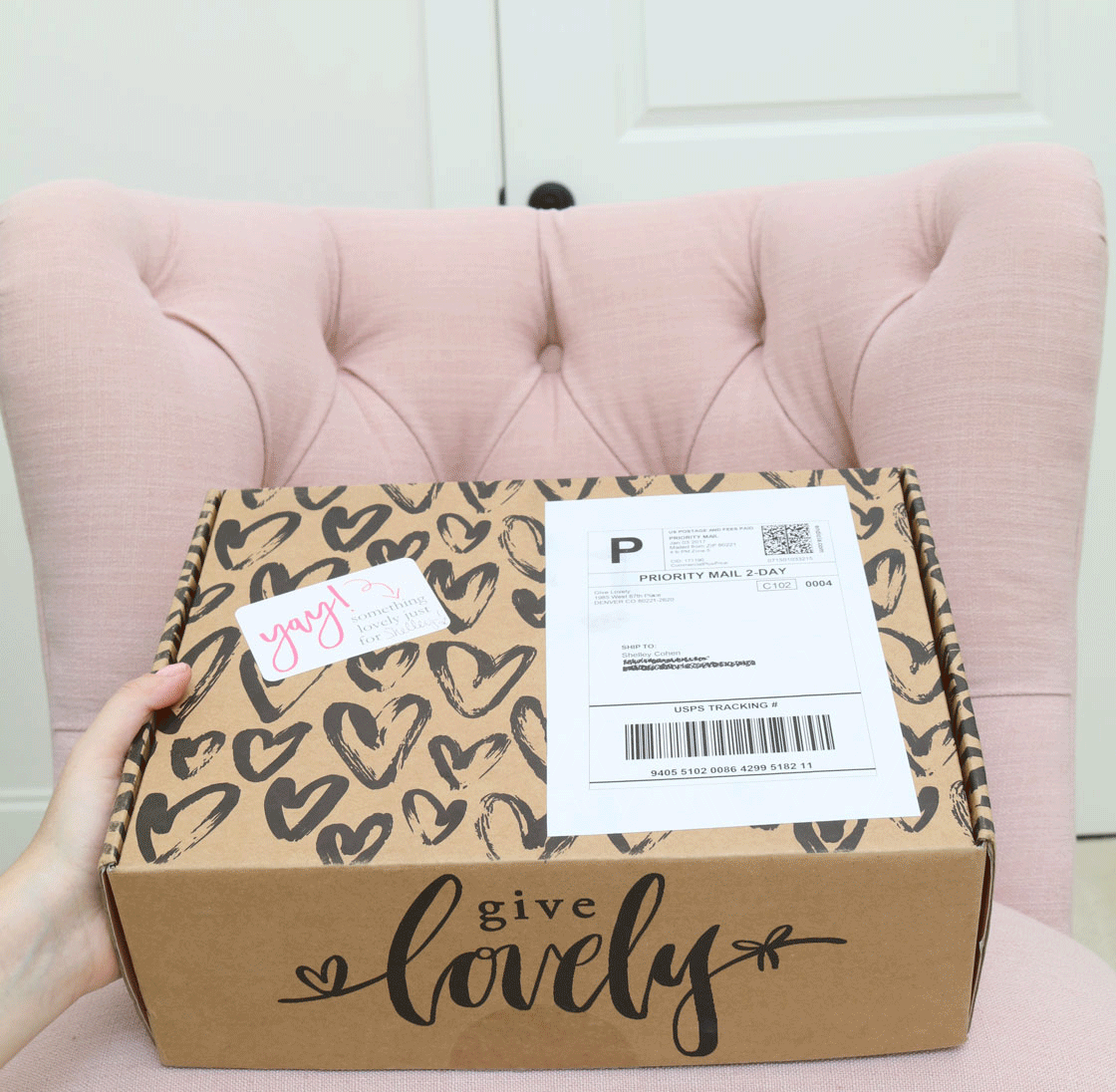 My little bag of inspiration got me thinking about packaging… not just from a product standpoint, but from a personal style and physical space perspective.
Your 'packaging' – whether that be a physical product, an outfit/ look you pull together for a conference or to meet your clients, the background for your YouTube videos and office space, speaks volumes.
First impressions aside, your 'packaging' silently communicates your story – who you are, the type of company you run, and attracts your dreamy clients – like someone just yelled free ice cream!!!
Think about how you feel when you pick up a product that looks like someone has poured some love and attention into the package – it makes you totally swoon and enjoy that product even more….that company/person becomes OBSESSION-WORTHY! Hello Kate Spade.
Well, the same can be said about your personal style and physical space.
So next time you have a client call, film a video, or attend a conference, I challenge you to think about what do I really want the world to know about me – and dress yourself or style the background of your video, to communicate that.
I'd love to know what you're currently swooning over?
Leave a comment below. Maybe it's packaging, an article of clothing, a website, a piece of art or furniture item, that is currently giving you the heart eyes.