Now I know that you're probably thinking, Shelley, February has long, long, lonnng gone.  Well you're certainly not wrong!
During February I had my first real taste of the balancing act that 2013 will be dishing up for me – if you missed it, check out my 'Happy New Year – exciting times ahead' post.
Things became incredibly hectic with wedding plans, work deadlines, starting back at Uni (University) following the Christmas/ summer break and preparing to visit Houston, Texas USA to visit my fiancé.  I'm by no means complaining – I'm having the time of my life and learning a lot along the way!
So without further delay, I'll say goodbye to summer and introduce you to my February Beauty and Style Favourites.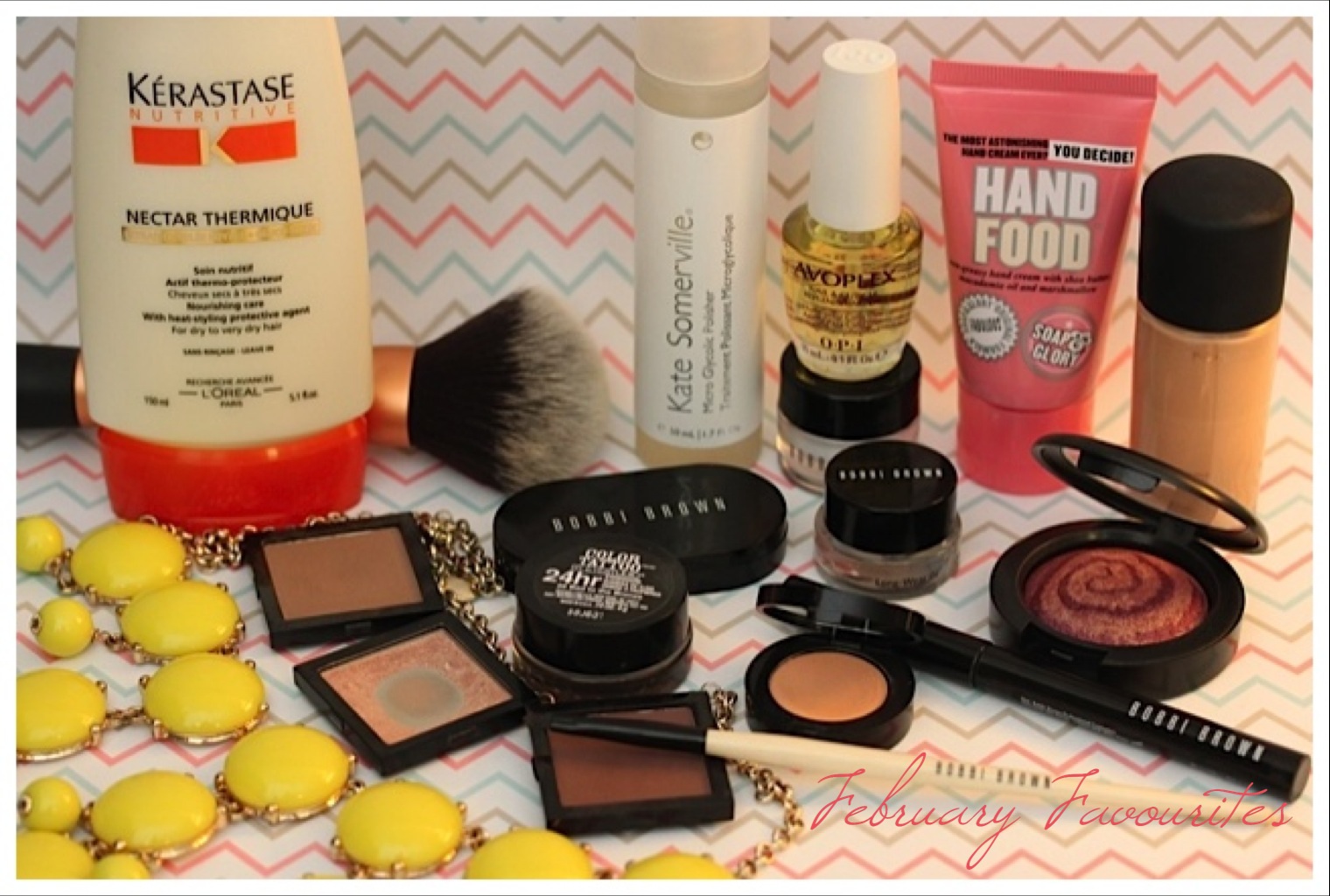 Given the pace of life during February, I found myself sticking with products that I've been friends with for a long time!  All products needed to be no fuss, quick and easy to use, with makeup colours that work universally with any outfit while looking polished and pulled together.  
[line]
Skincare
KATE SOMERVILLE – Micro Glycolic Polisher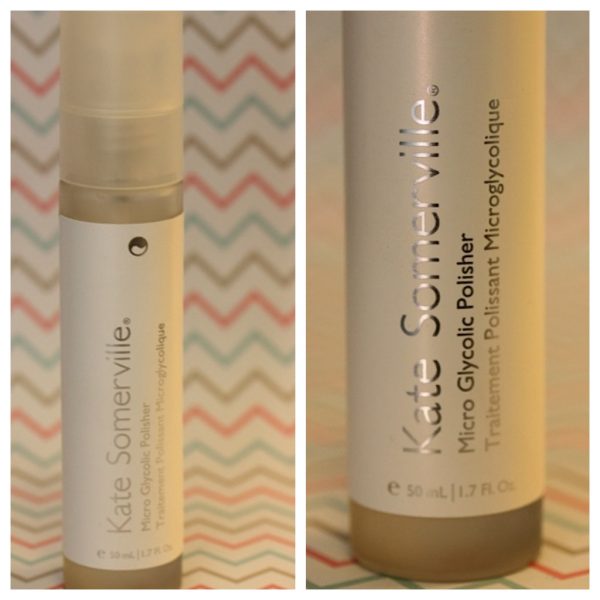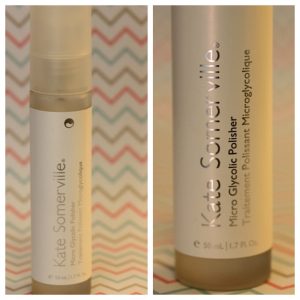 I'm so in love with this product!  I use my Kate Somerville Micro Glycolic Polisher twice a week or when ever my skin looks a little dull, or lacking luminosity.
The clear, light gel has an unusual fragrance.  In fact, it's pretty stinkin' rotten smelling if you ask me – almost like old oranges.  On the plus side, the pungent aroma doesn't last long – it's something that I can definitely put up with for a visibly smoother, softer, more radiant looking face overnight.
So how do I use this liquid gold?  After cleansing my skin in the evening, I dispense 3-4 pumps of Micro Glycolic Polisher on to a clean cotton pad and gently wipe all over my clean, dry face (avoiding the eye area), before leaving on my face overnight.
[warning]A quick disclaimer:  the instructions noted on the Kate Somerville Micro Glycolic Polisher packaging state to leave the mask on the face for between 2 to 5 minutes, prior to washing off with warm water.  Everyone's skin is different and there for can react differently to particular ingredients.  It's for this reason that I do not encourage individuals to disregarding following the exact instructions listed on the packaging.[/warning]
Benefits
Kate Somerville Glycolic Polisher is pumped full of glycolic and lactic acids, glucosamine HCL, extract of Blue Lotus Flower, bergamot and witch hazel.  So what benefits do these super ingredients deliver your skin?
glycolic and lactic acid tightens, tones and minimises the appearance of wrinkles (I'm all about the acids!),
glucosamine HCL creates youthful, luminous skin,
extract of Blue Lotus was revered by the ancient Egyptians for its skin health properties;
bergamot and witch hazel improve the appearance of skin tone.
Packaging
While the packaging feels really luxurious and looks lovely on a bathroom bench top, it's probably the only thing I would change about this product.  The sleek, frosted glass bottle is not at all travel friendly and the plastic pump is a little clunky to use – mine jerks around, spewing out loads more product than I need…if I'm not uber careful (maybe my pump is just a dud!).
The product lasts for a considerable amount of time (with the correct use) and leaves you with instant results that you could have easily paid double for during one treatment at a day spa.
BOBBI BROWN – Hydrating Face Cream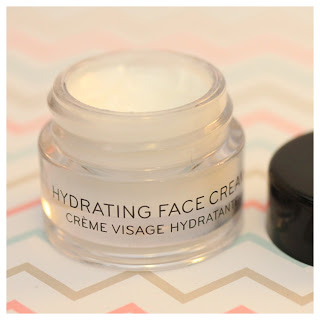 I received a deluxe sized sample of the Bobbi Brown Hydrating Face Cream with an online order and decided to give it a go after I ran out of my Kate Somerville Nourish Daily Moisturizer (which I love and mentioned in my Beauty and Style Favourites January 2013).
Much like the Kate Somerville Nourish Daily Moisturizer, the Bobbi Brown Hydrating Face Cream is lightweight and packs a huge hydration punch.  The rich, non-greasy cream leaves your skin feeling soft and plump, providing the perfect base for a smooth makeup application!  Great to use both in the morning and at night.

Benefits
The Hydrating Face Cream contains humectants and hydrating ingredients such as algae extract and caffeine.  So what are humectants?
Humectants:
attract water from the dermis to the epidermis of the skin
when humidity is greater than 70%, humectants extract water from the atmosphere, depositing to the epidermis

i

ncrease pliability and flexibility of the skin to prevent cracking

prevent outside chemicals from contacting the dermis
Hydrating ingredients:
caffeine contains antioxidants (often used in anti-aging products) and reduces inflammation.
algae extract provides intense moisture content and suppleness to the epidermis thanks to its water-binding properties.
Packaging
In terms of packaging, I can't comment on the full sized product too much as I only have the deluxe sample size.  The deluxe sample is presented in a cute little lightweight, glass-look-a-like jar with a black plastic lid, where as the full sized product comes in a glass container.
One packaging feature that I wished the Bobbi Brown Hydrating Face Cream had was the push-down pump dispenser, similar to that of the Kate Somerville moisturisers and facial treatments.  Although I always wash my hands prior to dipping my fingering into the pot of product, it just feels more hygienic to pump the product out.  I guess you could always use a mini spatular if this really bothers you – it hasn't bothered me enough to do this.
[line]
Makeup
MAC COSMETICS – Studio Fix Fluid SPF 15
I would never have thought for one minute that I would ever feature this foundation in a monthly favourites post.  In the past I've found that the MAC Studio Fix Fluid would break me out after using for a few consecutive days.  Not any more!
I hate wasting anything…so every now and then I use my Studio Fix Fluid (mostly during the warmer months as it's slightly too dark for my pale wintery skin) when I'm after a little extra coverage.
Well, I'm happy to report that I've found a way to use this medium to full coverage foundation everyday without my skin freaking out – I pair it with my Bobbi Brown Hydrating Face Cream!
Prior to applying my MAC Studio Fix Fluid, I generously apply my Bobbi Brown Hydrating Face Cream. Ordinarily, I would wait for my moisturiser to sink into my skin for 5 minutes before applying foundation – on the days that I wear Studio Fix Fluid, this isn't the case.
I find that the moisturiser helps to sheer the foundation out for a lighter coverage – an added bonus…the elimination of breakouts from using this product.  I'm unsure if the lighter coverage or the humectants in the Bobbi Brown Hydrating Face Cream have aided this positive change.
Either way, the foundation looks and feels so much better on my skin now that I'm following this routine.  I'm not generally a full coverage foundation gal anyway – I love foundations that allow your skin to shine through.
Packaging
Presented in a glass bottle with a rubber coated screw cap, the MAC Studio Fix Fluid SPF 15 packaging is fairly basic.  If I could change one thing about this product it would be to add a pump dispenser, instead of tipping the product (sometime too much) onto your fingers or the back of your hand (ready for a brush application).
MAC always has a superb colour range to choose from – Studio Fix Fluid comes in 39 shades varying from warm, cool and neutral tones.
BOBBI BROWN – Corrector + Creamy Concealer & Sheer Pressed Powder Duo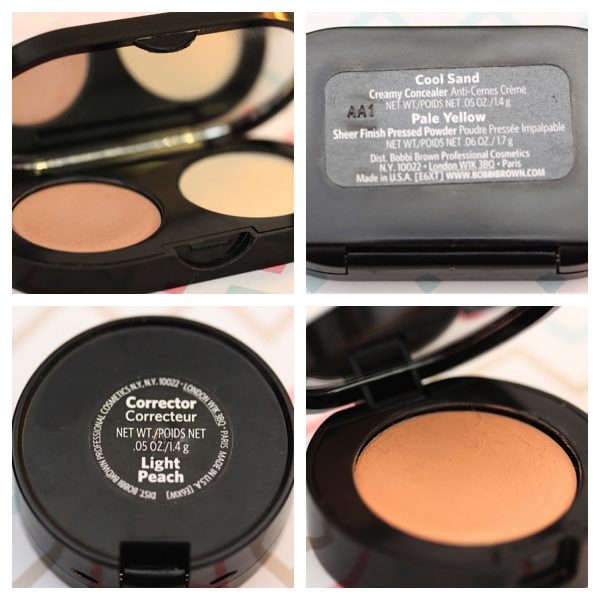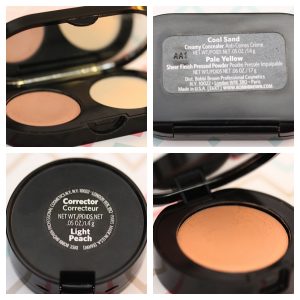 My shade:  Light Peach (Corrector), Cool Sand (Creamy Concealer), Pale Yellow (Sheer Finish Pressed Powder).
Bobbi Brown markets her correctors and concealers as 'the secret of the universe' and she's not lying!
We've all had those day (maybe weeks or months) that you wake up only to be greeted by those horrid dark circles.  Maybe they are from lack of sleep, allergies or maybe just plain ol' genetics.  Bid farewell to the raccoon eyes by slapping on a little corrector and concealer and you will instantly look wide awake and brand new – ready to conquer the world…or whatever!
I first apply a hydrating eye cream, then apply the Bobbi Brown Corrector in Light Peach, followed by the Bobbi Brown Creamy Concealer in Cool Sand (a shade lighter than my foundation), taking care not to rub the products together, before setting the corrector and concealer with the Bobbi Brown Sheer Finish Pressed Powder in Pale Yellow to lock the cream products into place and prevent creasing.
The award winning, creamy formula of Bobbi Brown's corrector and concealer instantly cover and brighten dark circles.
Packaging
The packaging of the Bobbi Brown Corrector and Creamy Concealer Kit are both compact.  They come with a mirror under the lid for those days that you need a little extra help throughout the day or for a quick refresh prior to heading out after a long day at work.
I have purchased these two products over and over again – I swear by both of them and not just because they are from Bobbi Brown – yes I know it would appear to be slightly obsessed with this brand!


MAYBELLINE, NY – Color Tatto Eyeshadow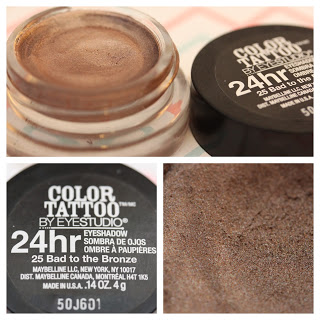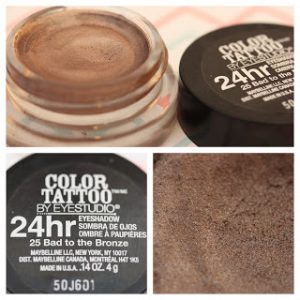 My shade:  25 Bad to the Bronze
Here is a product that completely surprised me!  The quality of the new Maybelline Color Tattoo Eyeshadows is amazing.  Drugstore brands are really pushing the boundaries to close the gap between drugstore and high end cosmetics.
The Maybelline Color Tattoo comes in a range of colours.  The cream eyeshadows promises to last for 24hrs – I can tell you that it definitely lasts a super long time without fading or creasing.  Having said that, I can't quite understand why you would want your eyeshadow to last for 24hrs!
Bad to the Bronze, a bronzy brown toned cream shadow with a hint of gold shimmer is a flattering colour for all eye colours.
I use the Color Tattoo can be used in two ways, as a primer (under a powder shadow) and as a shadow on it's own – as I've mentioned it in previous posts, I love double-duty products!
Packaging
The Maybelline, NY Color Tattoo comes in a small glass pot with a plastic black lid.  One word of warning, the Color Tattoo's dry up incredibly quickly if you don't secure the lid tightly after application.
It's a great budget friendly and no fuss product!
BOBBI BROWN – Eye Shadow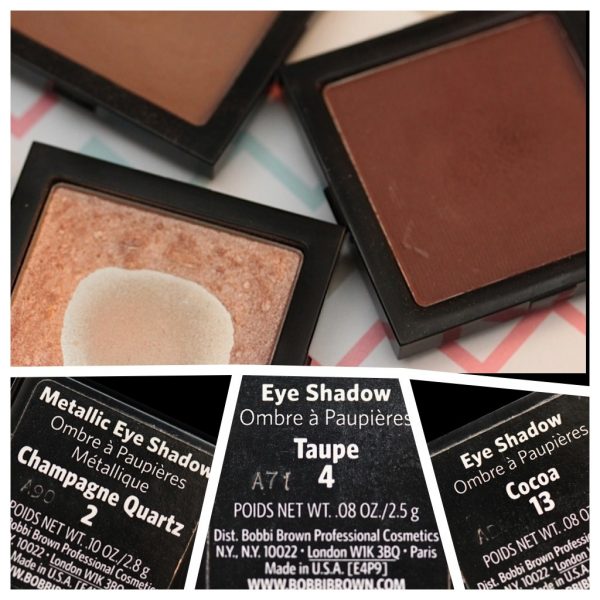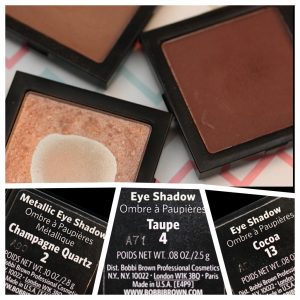 My shade:  2 Champagne Quartz, 4 Taupe, 13 Cocoa
As I said in my introduction to this post, February was super busy so I turned to eyeshadow colours that not only complimented my hazel eyes, but would go with any outfit.  These Bobbi Brown Eye Shadows in Champagne (bottom left), Taupe (top left) and Cocoa (middle right) are silky, creamy and blend beautifully.
I created two different eye looks with these shadows during February.  I hope to do an Everyday Tutorial with these shadows soon!
From time-to-time I love to use Champagne Quartz as a highlighter on my cheek bones, cupids bow and nose and use Taupe to fill in my eyebrows (something I never use but enjoyed doing for the past two years).  You can also use Cocoa as an eye liner.  Again, double-duty products!
Packaging
I love that all Bobbi Brown shadows have been made to pop out of their individual compacts so that you can place them into your own custom made palette.
These are beautiful, buttery eyeshadows that blend easily and look fab with any outfit – switch up your lipstick for a different look!

BOBBI BROWN – Long-Wear Gel Eyeliner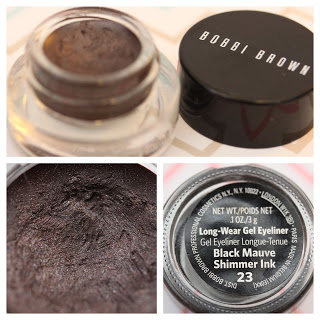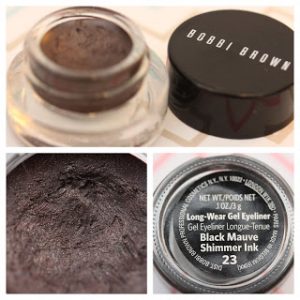 My shade:  Black Mauve Shimmer Ink
I bought my first Bobbi Brown Long-Wear Gel Eyeliner a few years ago after struggling with liquid eyeliner – the gel liner is much easier to control with a fine liner brush (I choose to use the Bobbi Brown Ultra Fine Eye Liner Brush – mentioned as a favourite below) and gives you the look of a liquid liner.  Better still, the long-wear gel eyeliner is water resistant and dries quickly for a look that lasts all day!
The Black Mauve Shimmer Ink is perfect for lining the upper and lower lash lines and is safe to use on the waterline.  I love black liner however, the deep chocolate mauve colour is a great alternative (and a perfect colour to make hazel or green eyes pop!!).

Packaging
Much like the Maybelline, NY Color Tattoo, the Bobbi Brown Long-Wear Gel Eyeliner comes in a small glass pot (smaller than the Color Tattoo) with a black screw-top lid.
It's important to store this product with the lid screwed on tightly to prevent drying.  Doing so will assure your gel eyeliner lasts for a seriously long time!  A little goes a really long way.
BOBBI BROWN – Ink Liner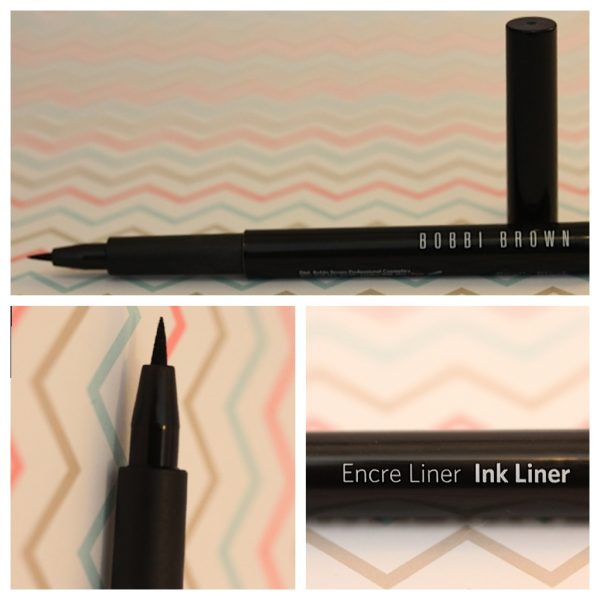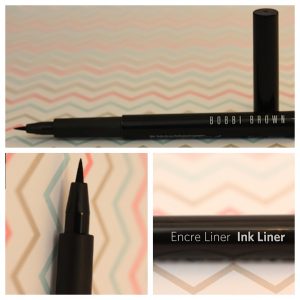 My shade:  Really Black
Bobbi Brown's new Ink Liner offers the crisp and dramatic look of a liquid liner with precise application via a felt tip pen.
The formula is highly pigmented and lasts for up to eight hours and can be layered over or under powder shadow.
I use my Bobbi Brown Ink Liner in Really Black to line my upper lash line or to subtly wiggle the colour between individual lashes for a little added natural definition – perfect for that 'no-makeup' look!
Unfortunately this product was limited edition (part of the Neon & Nudes Collection) and is no longer available online at Bobbi Brown.  You may be able to find another online retailer that still holds some stock if you really search!  I only hope that Bobbi Brown brings the Ink Liner to its permanent line or release with another collection – love!
MAC COSMETICS – Mineralized Blush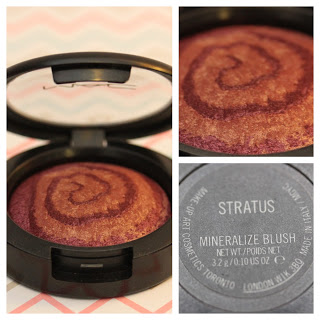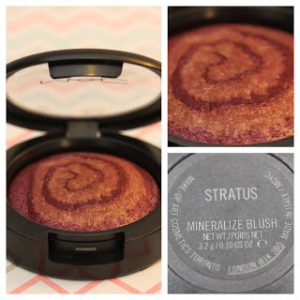 My shade:  Stratus
As with the Bobbi Brown Ink Liner above, the MAC Cosmetics Mineralized Blush in Stratus was also a limited a edition product (part of the Heavenly Creatures Collection) and is no longer available.
MAC does often re-release limited edition products in different collections.
I normally wear this blush during autumn or winter – the rich plum colour seems to go best with those darker, more earthy autumn/ winter colours.  But I thought it would look lovely with the eyeshadow combination I found myself wearing all throughout February.
The main colour is a deep rose-gold colour – slightly bronze, slightly coral red with a swirl of a beautiful rich purple plum – the colour is just so flattering.  I would love to purchase a blush in that purple plum tone – it's amazing and so, so pretty!

[line]
Beauty Tools
BOBBI BROWN – Ultra Fine Eye Liner Brush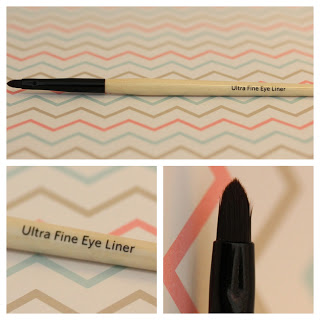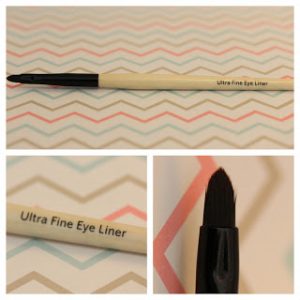 As I mentioned above while discussing the Bobbi Brown Long-Wear Gel Eyeliner, the Bobbi Brown Ultra Fine Eye Liner Brush is my favourite brush for applying gel eyeliner.
The longer handle makes for a very smooth and controlled application.  The tapered brush hairs are finely pointed and tightly packed for a precise eyeliner application.
With the correct care, this little baby will last you forever.

REAL TECHNIQUES by Samantha Chapman – Powder Brush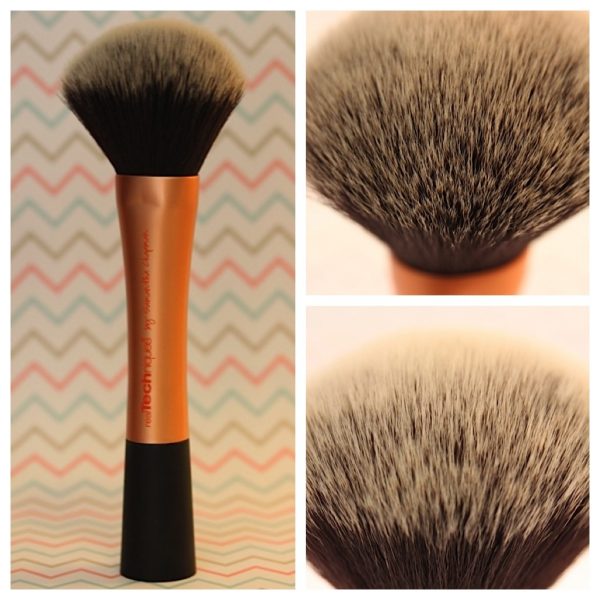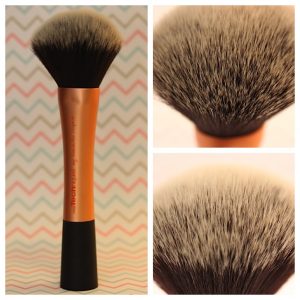 Amazingly affordable and incredibly soft!  The Real Techniques Powder Brush is made with super, super soft synthetic hair making it 100% cruelty free.  The brush is a lovely weight (not too light, not too heavy) and sits unsupported on any flat surface (great for travelling).
I use my powder brush to lightly dust pressed powder across my face to lock in foundation and concealer, as well as blend my blush with my bronzer for a natural finish.
[line]
Haircare
KÉRASTASE NUTRITIVE – Nectar Thermique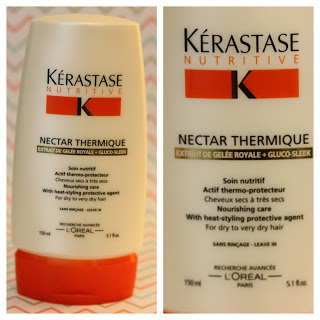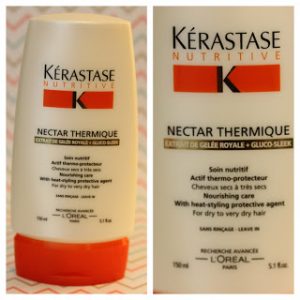 If you have followed my previous posts, you will know that I love Kérastase products – well, here is another one that I love!
The Kérastase Nutritive range is perfect for dry to very dry hair.  My hair is naturally on the dry side, it's curly, long and colour treated (ombre – dark at the roots, blonde on the ends).  This range provides that extra dash of moisture my hair needs, especially heading into the cooler months.
Nectar Thermique is a nourishing heat protectant and leave-in treatment.  It's the perfect product for my sensitised ends.
I use a bit more than a walnut sized amount of Nectar Thermique on freshly washed, towel dried hair, after applying a hair oil.  It makes a huge difference to the smoothness of my hair.  Oh, and the fragrance is beautiful – it lasts for days!
Packaging
I love that Kérastase makes the packaging for many of it's cream products (including Nutritive Nectar Thermique) with the lid on the bottom – you never have to worry about getting the last bit of product out of the tube.  It's something that I really appreciate.
[line]
Nail Polish
OPI AVOPLEX – Nail + Cuticle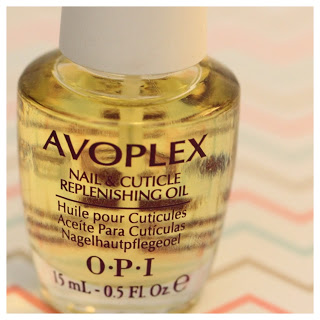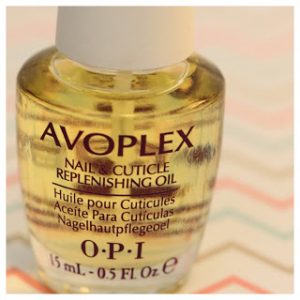 As I mentioned in my January Beauty and Style Favourites, I'm a nail biter (gross I know).  It's a habit that I've been trying to kick for most of my life!
I've had little wins along the way and find I don't bite my nails when I'm on holidays (I'm not sure if it's because I'm more germ conscious when I travel or if it's because I'm a lot more relaxed – maybe it's a bit of both!).
Fortunately I had long nails when it's mattered most – when my then boyfriend proposed to me last August (there is nothing worse, showing people an amazingly gorgeous diamond ring with stubby chewed up nails on the ends of your fingers! Urr embarrasing…).
Recently I opted for a little extra help and decided to get an acrylic manicure – I know, I know acrylic and gel nails aren't the best for natural nails but that's why I've been using OPI Avoplex Nail & Cuticle Replenishing Oil.
Avoplex contains avocado oil and super antioxidant Tocotrienol, which is 1000 time more powerful than regular Vitamin E.  It also contains the oils of grape seed, sunflower, sesame and kukui nut along with lecithin to restore essential moisture and add nutrients back into my dry nails and cuticles.
An added bonus, the pretty fragranced formula can also be used on heals and elbow too!
SOAP & GLORY – Hand Food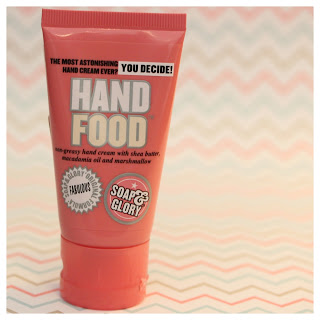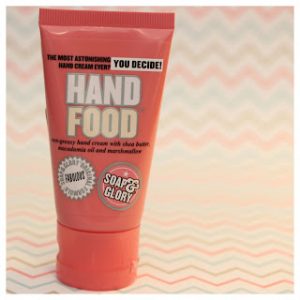 I love using hand cream but hate dealing with the greasy feeling that can last hours.
Soap & Glory Hand Food has nailed the grease-free formula on the head.  Not only does it smell a-mazing (I just want to sniff my hands all day…but that would be weird, right!) but the formula feels incredibly moisturising and sinks into the skin within seconds.  There are no slimy mitts here!
We moisturise our faces but one of the main tell-tail signs of ageing shows up on our hands as we get older.  Our hands are exposed to the elements everyday, so why not show them a little TLC?
Hand Food contains shea butter, macadamia oil and marshmallow – no wonder I adore the fragrance.

[line]
Fashion
J.CREW Bubble Necklace (Yellow)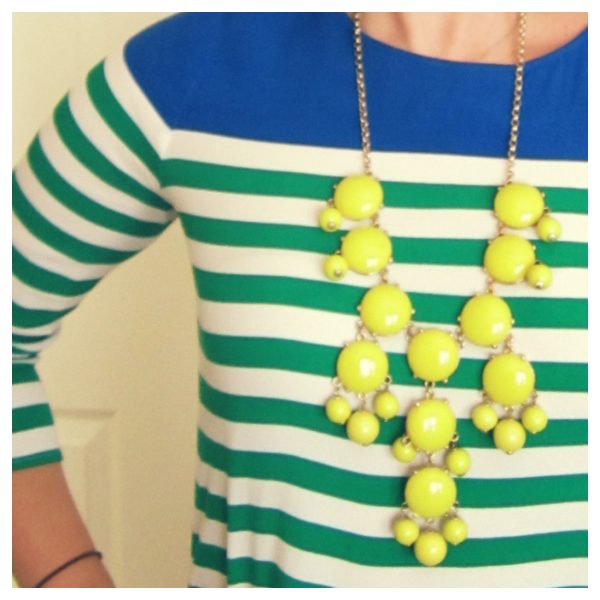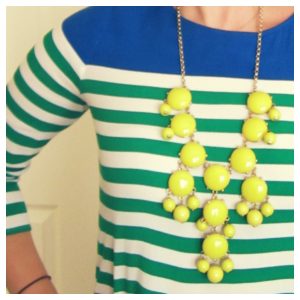 An finally, I love, love, l-o-v-e my J.Crew Bubble Necklace!  It's one of my favourite accessories – J.Crew is one of my favourite stores to shop in the US.  This necklace works well with so many outfits and a perfect statement piece.
J.Crew offer the Bubble Necklace which is set in 18k gold electroplated brass with hand-set resin cabochons and beads, in a wide range of colours that are updated depending on the season.  The chain is adjustable to suit what ever length you desire.
[line]
Those were my Beauty and Fashion Favourites for February – better late than never!  I'd like to thank you all for being so patient with me – I'll be back to my regular posting schedule very soon.
Don't forget, if you like something that you saw in this post – it's available through the Shop The Post below and via the pink links under each product discussed above.



If you have any posting requests, questions or feedback, please feel free to leave them in the comment section below.
Finally, I'd like to say to the individuals, families and friends that have been affected by the tragedy in Boston, you are in my heart and thoughts.
With love,