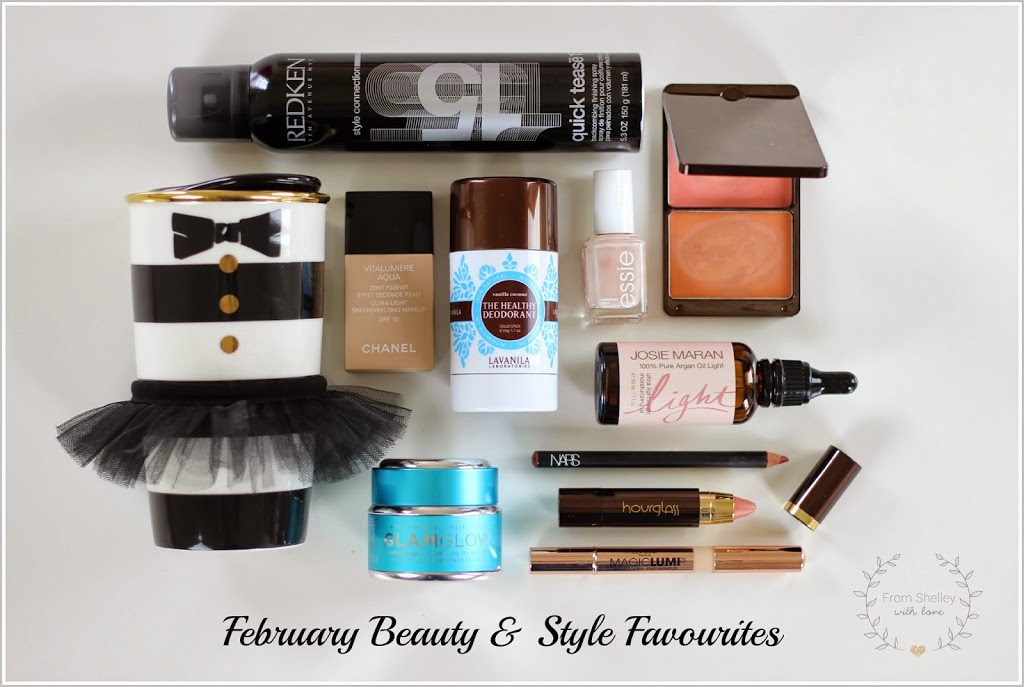 Hello lovely!
February has come and gone – again at lightning speed.  So once again, it's time to share my monthly beauty and style favourites with you.
I didn't think that I would have much to share with you this month.  Why?  Well, to say that I've been a bit of a hermit this month would be a massive understatement.  Having said that, I can assure you that there was a very valid and ultra exciting reason for it!
If you haven't already caught up, February marked the release of my very first issue of Sent With Love – a FREE digital magazine full of personal style and chic pretty things.
I poured my heart, soul and so much love into her online glossy pages.  It's been my biggest challenge this year so far and I'm so incredibly grateful for all the beautiful feedback I have received from you so far – thank you all so, so much (big hugs!).
On the few occasions that I did manage to escape the grip of my laptop, there were some exciting times to be had:
I attended the Saks Fifth Avenue and Allure Magazine Illuminating Beauty Night – hosted by Catherine O'Neill from Allure Magazine.  We discussed 2014 Spring/ Summer trends and received some great tips from some of the industries best in-the-know women:  Terry Darland, LVMH Beauty, Deborah Walters – Saks Fifth Avenue, Josie Natori – Natori, Nancy Feetham, La Mer and Jo Malone London, and last but not least, Victoria Christian – Clive Christian.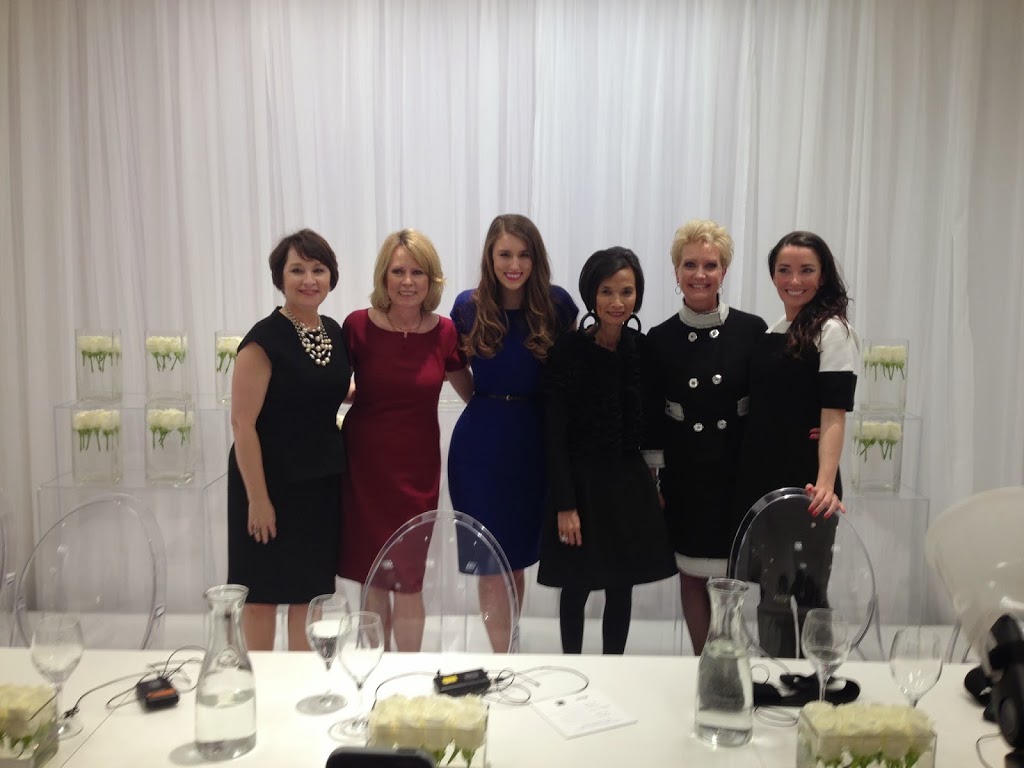 Terry Darland, LVMH Beauty | Deborah Walters, Saks Fifth Avenue | Catherine O'Neill, Allure Magazine | Josie Natori, Natori | Nancy Feetham, La Mer/ Jo Malone London | Victoria Christian, Clive Christian
I drooled over the ultra glamorous and sparkling new Kate Spade New York store that opened its gold trimmed doors, just over a week ago!  All tied up in a pretty blog post bow for you – a front row ticket to the Houston, Kate Spade Grand  Opening Party.
It was at these events that I met some gorgeous sparkling souls – some of which have become lovely new subscribers!  Thank-you and a massive welcome to you all.  xx
Overall, it was a month of excitement – from the tech trenches with sleeve pushed up to stylish networking cocktail parties, I was pushed well outside of my 'normal' comfort zone and that's exactly were I love to be! I'll update you later on my exciting new adventure!  But right now it's time for my February Beauty & Style Favourites!
[line]
Skincare
GLAMGLOW – ThirstyMud Hydrating Treatment Masque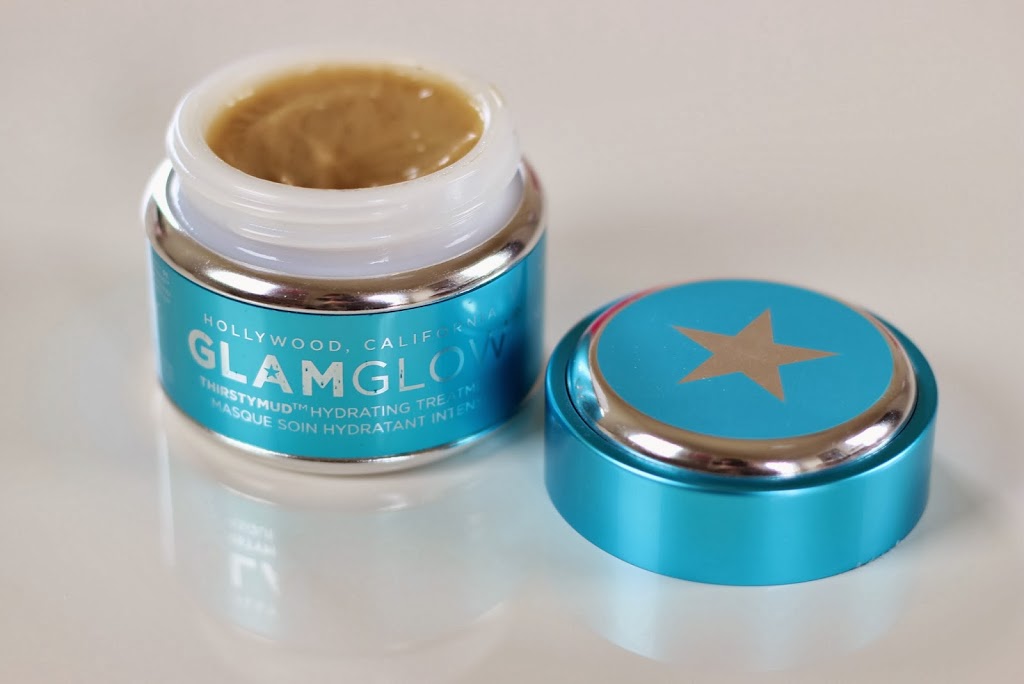 I'm already a huge fan of the GlamGlow SuperMud, so when the company released ThirstyMud Hydrating Treatment this Winter, I was all over it.
Twelve months of winter, including months of freezing temperatures, has left my skin looking dry, dull and a little like crepe paper!  It was time to take charge, so I snapped-up a pot of GlamGlow ThirstyMud – best decision ever! I freakin' love this stuff – the results: fabulous, hydrated, youthful looking skin and OMG…it smells like a mixture of cookies and coconut tanning oil!  I could just eat it – it smells. that. gooooood!
ThirstyMud, unlike SuperMud, is colourless on the skin and is super versatile – from a quick 10 to 20 minute treatment to an overnight intense hydration soak.  You could even use it on a long haul flight to prevent that disgusting froggy feeling your skin can get from dehydration (you can bet I'll be doing this in a few months time when I head to Australia and Thailand!).
Free from parabens, sulfates and phthalates, ThirstyMud uses extreme hydration active technologies to moisturise, restore, replenish and calm the skin – boosting and locking in moisture for youthful glowing appearance.  Ah, who doesn't want that?! [line]
JOSIE MARAN – 100% Pure Argan Oil Light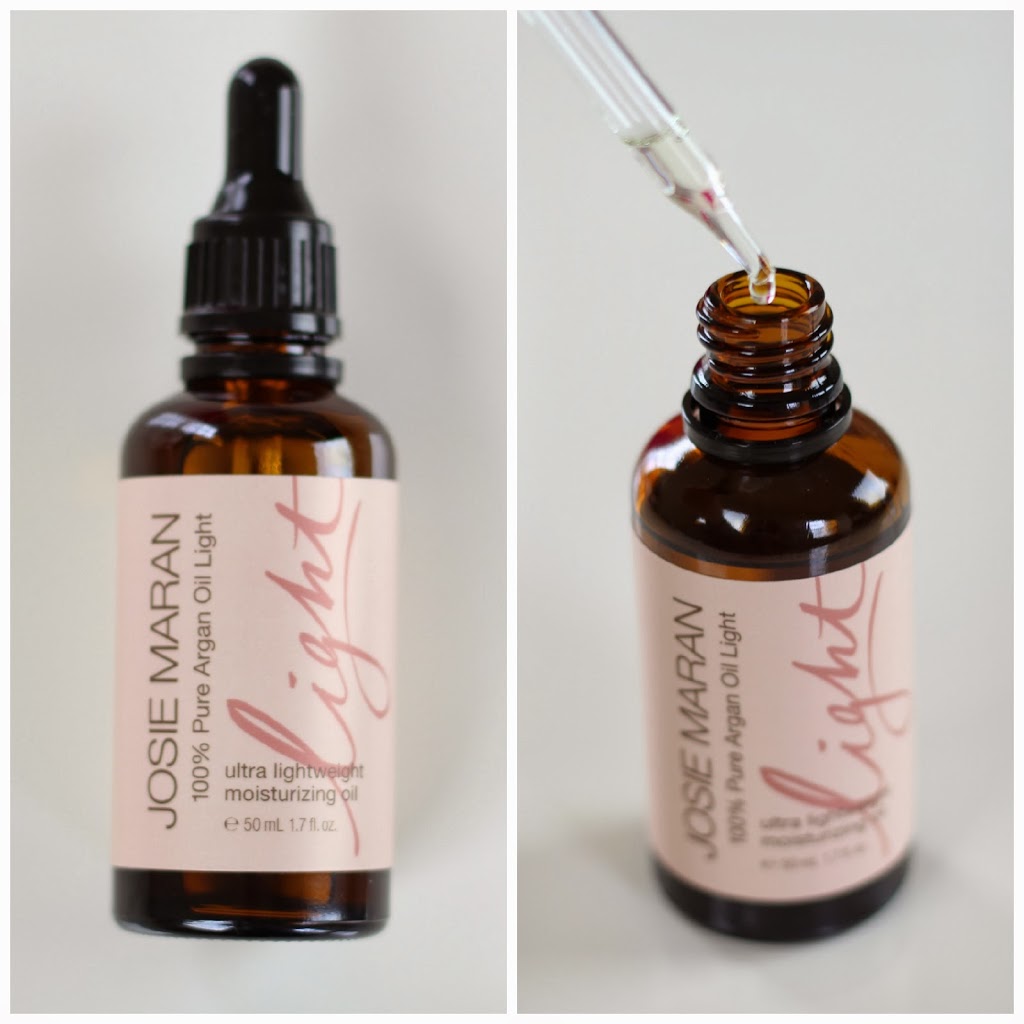 My next skincare favourite is a facial oil.  Now before you run for the hills at the thought of slapping oil on your face, just hold-up one minute!  I know it sounds scary but facial oils are actually great for our skin.
The new 'it' beauty product – facial oils.  If feels as though nearly every brand has one – a bit like the BB cream craze a few years ago.  Leading the way is Josie Maran with 100% Pure Argan Oil.  Argan Oil will hydrate, repair and replenish the skin, hair and nails without breaking you out.  It's proven to help rebalance the skin and decrease sebum production (that greasy oily look, ickk) with repeated use.
I'm an oily-combination skin gal.  If you told me a few years ago to use an oil on my skin to prevent oil, I would have thought you had gone cuckoo!  But in fact, it's the truth – just ask my husband…I've converted the ultimate skeptic!  I love Josie Maran Argan Oil Light because it absorbs into the skin quickly, leaving a semi-matte, radiant finish – no reside!
I love to use this under my night time moisturiser and during summer, I plan to use it under my sunscreen during the day. My skin, lips and cuticles all appeared hydrated and felt softer in just a couple of uses.  It's been a great skincare bolt-on to my regular routine to help combat oil and dryness – perfectly balanced skin.
Josie Maran Argan Oil Light is organic, free from synthetic fragrances, parabens, recyclable, cruelty free, vegan and made with love! [line]
LAVANILA LABORATORIES – The Healthy Deodorant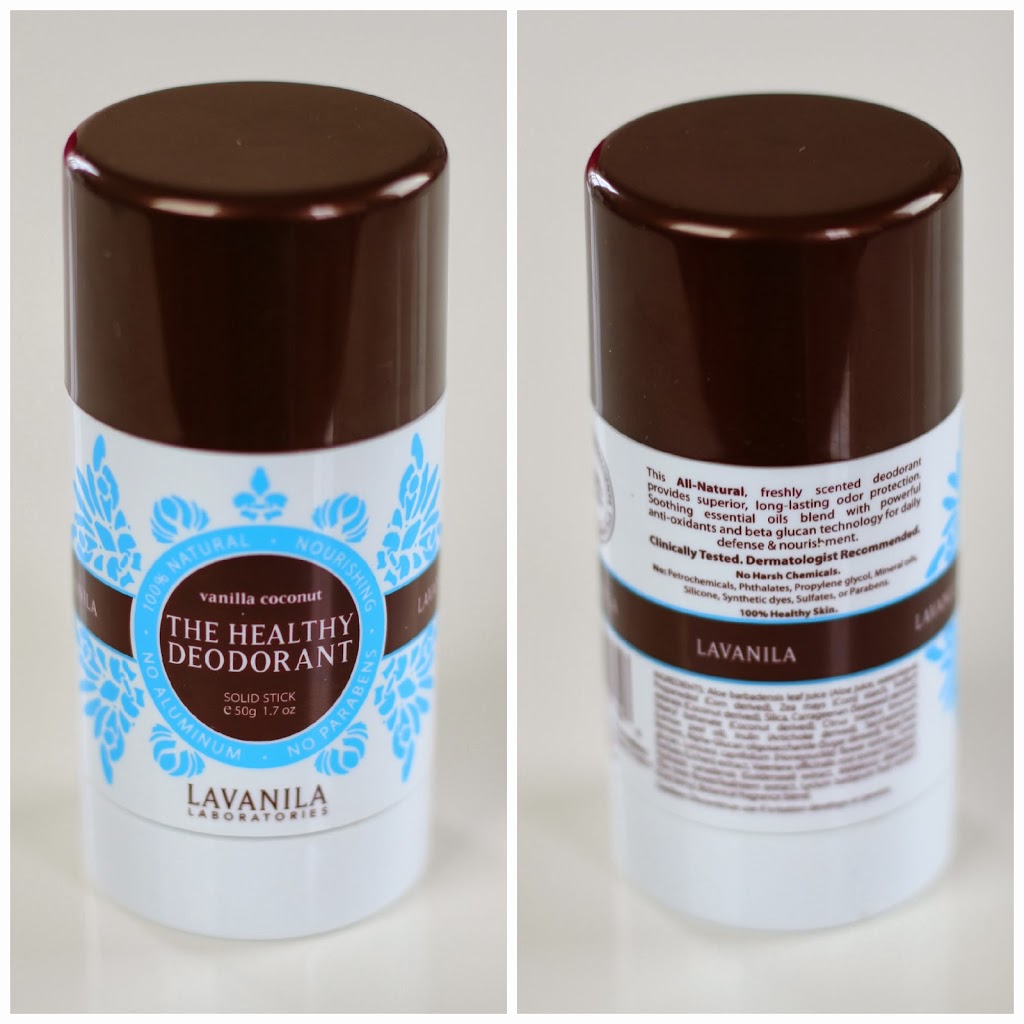 My scent:  Coconut Vanilla
I'm going here – yes, I'm talking about arm pits!  We all know that many deodorants contain ingredients that are not good for us – aluminium, parabens, propylene glycol, silicones, petrochemicals, mineral oils, synthetic dyes, sulfates and other harsh chemicals!  Lavanila Laboratories makes 100% natural and fresh fragranced deodorants that are free from those nasties!
My favourite scent from the line is Vanilla Coconut – made from soothing essential oils and powerful anti-oxidants and beta glucan technology.  I don't believe that it can completely replace your antiperspirant – especially for gym goers or those in hot/ humid climates…peeyoo, no thank you!  But it certainly is a great option for those days that you don't really need to put all those chemicals onto your skin.
Lavanila Laboratories Healthy Deodorants are vegan, not tested on animals and come in seven different vanilla-based fragrances! [line]
Makeup
CHANEL – Vitalumiére Aqua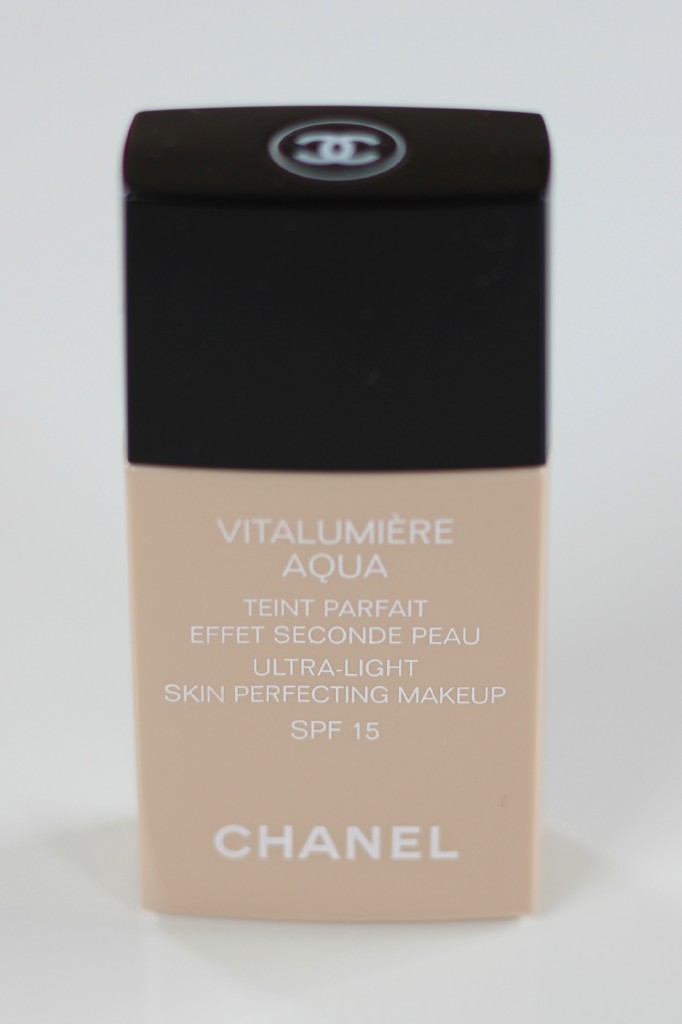 My shade:  30 beige
This month I fell in love all over again with an old favourite, Chanel Vitalumiere Aqua foundation.
I love that this foundation looks and feels like skin – it's light weight and has a buildable coverage to suit your needs.  You could easily forget that you're even wearing foundation – it feels that great on the skin!
The foundation, a water-like texture, comes in 12 shades that perfectly blend with the undertones in your skin.   The natural finish is like a second skin and gives the appearance that you're glowing from within.  So pretty!
Don't let the little bottle fool you!  The compact packaging contains just as much product as many larger foundation bottles – best of all, it's great for popping into your travel makeup bag.
A little goes a long way –  I find that Vitalumier Aqua looks best when applied with your fingers however, you can also use a brush if you prefer.  If you're into customising your foundation like I am from time-to-time, this one looks great with a light application over a medium-full coverage foundation to give you a more natural appearance.
I don't think I could ever stop loving this foundation! [line]
L'ORÉAL PARIS – MagicLumi Highlighter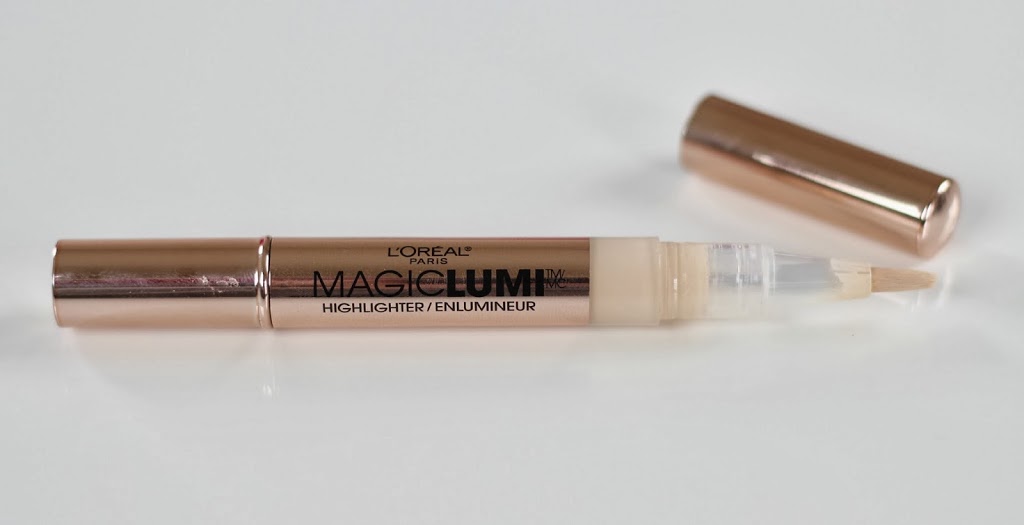 My shade:  Light 862
Here is a drugstore product to rival the cult beauty favourite, YSL Touche Eclat – the L'Oreal Paris MagicLumi Highlighter pen.
The drugstore beauty companies have really stepped up their game of late.  The light-refelcting formula is perfect for those days that you don't need to use concealer under the eyes but you would still like to add some brightness.  Having said that, the light-weight formula makes it perfect for layering over concealer on those days that you do need a little extra help!  Hey, we all have them.
Gently tap the product into the skin with your ring finger for the best, crease-free results – no settling in fine lines.  I like to use my MagicLumi Highlighter under the eyes, down the bridge of the nose and on the cupids bow to add a little brightness and dimension to the face.  Perfect for faking that well rested look! [line]
HOURGLASS – Illume Creme-To-Powder Bronzer Duo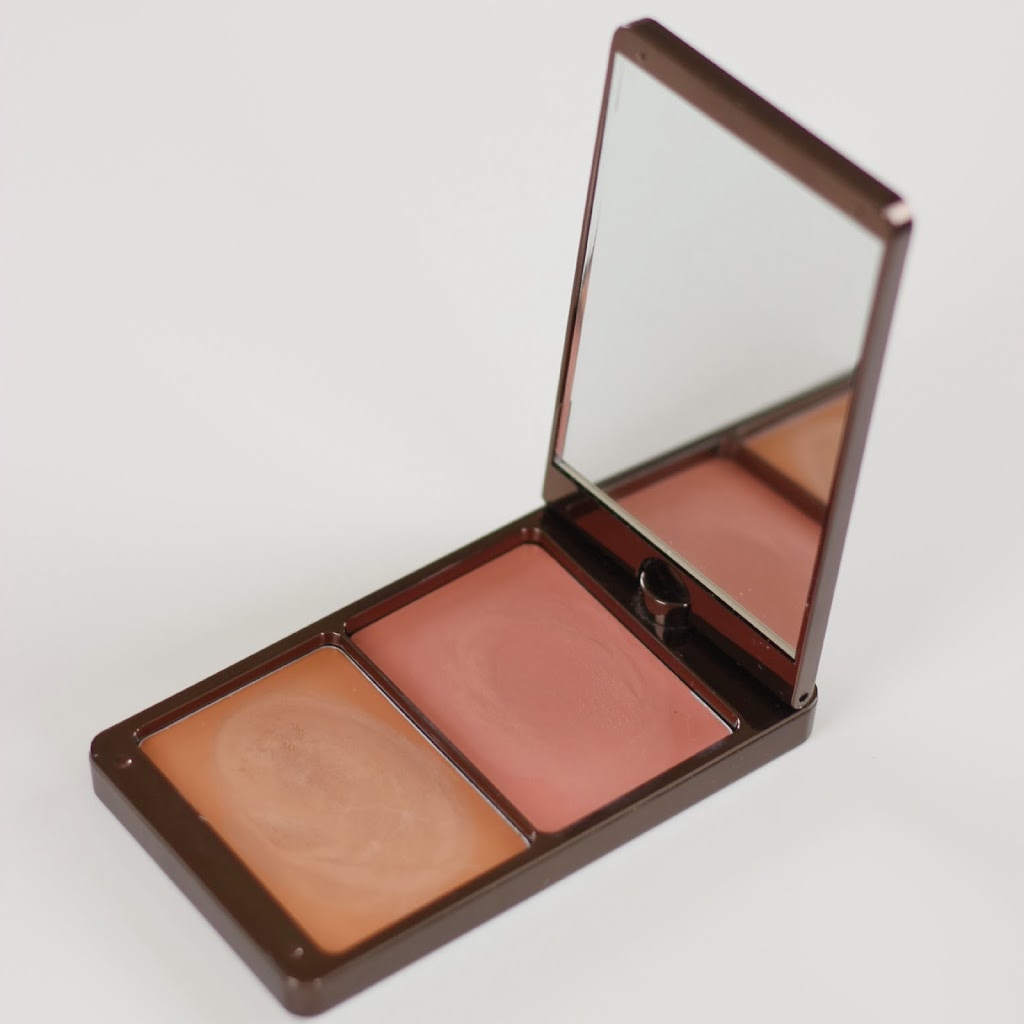 My shade:  Sunset
My next beauty and style favourite comes from a brand that is at the forefront of cutting-edge makeup technology is Hourglass.  I own quite a few of their products and I absolutely love them!  One item that I'm currently obsessed with is the Illume Creme-To-Powder Bronzer Duo, in the shade sunset – a subtle bronzer and a gorgeous blush.
The Illume formula is uber creamy and soft, easy to work with and blending is a synch!  As with the previous mentioned makeup products, I prefer to apply this product with my fingers however, you can also achieve a beautiful finish with a synthetic fibre brush.
Let's talk colour.  I know that an orange looking bronzer can be scary but don't let the appearance of this one scare you – it's oomph loompa tone free!  In all seriousness, it's actually very sheer and not orange at all, once it's blended into the skin.  Having said that, I wouldn't use this bronzer as a contour colour as the tone is definitely too warm.  If a beautiful, sun-kissed glow is what you're after, then Illume is perfect!
The blush is my favourite product from the duo – yes, I am a blush addict!  It's the perfect shade of coral-pink to give you a soft, natural flush.  If the 80's have scared you from ever using a blush again (I wouldn't blame you!), then this is the perfect hint of colour to easy you back!
And lastly, as with all Hourglass products, Illume comes in the gorgeous reflective-bronze packaging with the added bonus of a generous sized mirror, that can be use from any angle.  I love the swivel detail.  It's a beautiful product! [line]
NARS – Lipliner and HOURGLASS – Femme Nude Lip Stylo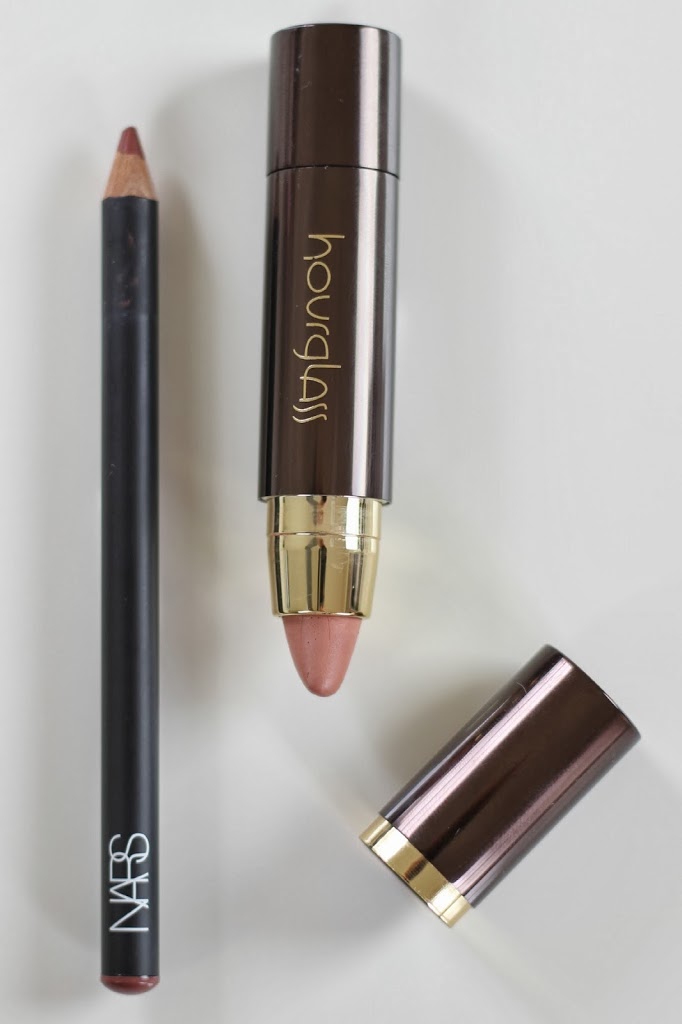 My shade:  Borneo and Nude No 3
Continuing with the low maintenance theme, my favourite lip combo this month included the Nars Lipliner in the shade Borneo and Hourglass Femme Nude Lip Stylo in the shade Nude No 3.  The Nars lipliner formula is soft and long wearing, while the Hourglass Lip Stylo is rich, creamy and smooth.
Don't like how a nude lip looks on you?  I understand, I was totally there myself – I had tried multiple different variations of nude shades and just didn't like how it made me look.  Well, here is the trick – try lining your lips with a slightly darker lip pencil!  I apply the Femme Nude Lip Stylo – a peachy nude, to my lips first and then follow with the Borneo lipliner, a pinkish-brown.  Softly blend the lip liner into the outer edges of the lip colour with either your finger or a lip brush and bingo, nude lips that work and look so pretty and fresh!
I was never a fan of nude lips in the past…until I tried this trick – now I love it and this lip combo!! [line]
Haircare
REDKEN 5th AVENUE NYC – Quick Tease 15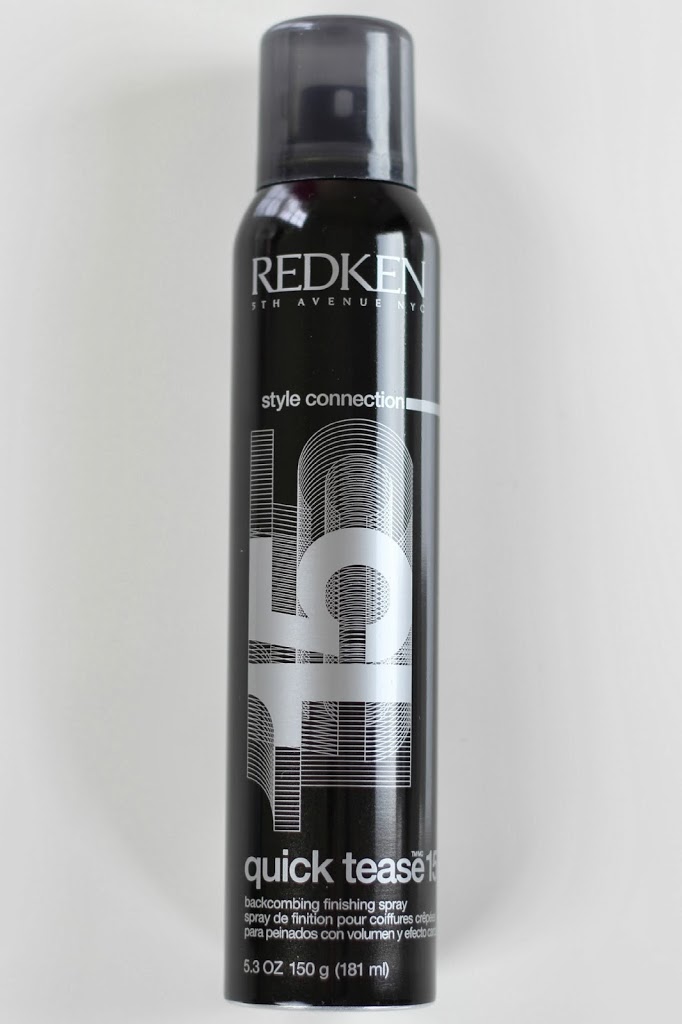 My mane is a big part of my personality – its for this reason that I give it plenty of TLC.
Other than nourishing my hair with good quality products and masks, I try to limit heat styling and only back-comb or tease my hair on special occasions (when absolutely necessary).  That's why this next product is so genius – the Redken 5th Avenue NYC – Quick Tease.
Basically, it's backcombing in a can without the damage!  If I need a little extra height or oomph at the roots, I just section off the hair where I want the height/ lift and spray Quick Tease directly onto the root, gently tousle and go.  I love it – no damage at all![warning]Backcombing can cause breakage – always be sure to backcomb hair gently in a downwards motion towards the scalp (never up and down).  Gently comb the style out straight after you're down with it.  If you're have trouble combing out your teased tresses, try using a nourishing condition or a detangling spray to help you.[/warning] [line]
Nail Polish & Perfume
ESSIE – Nail Lacquer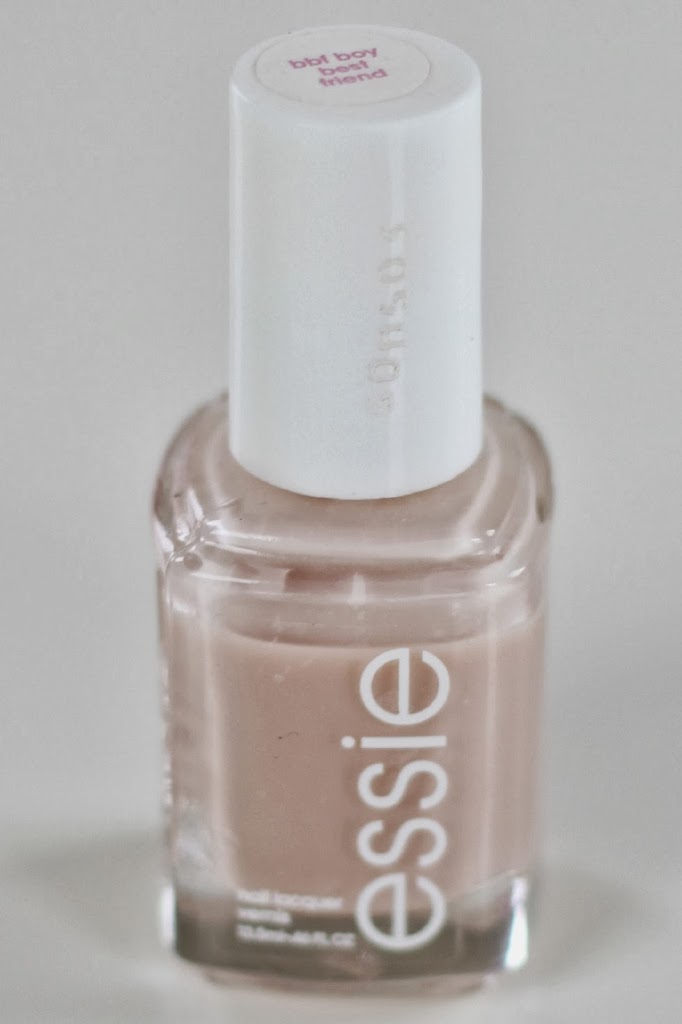 My shade:  BBF Boy Best Friend
A massive nail trend right now is nude nails.  Perfect for my low key style this month, I jumped right on the bandwagon and loved it!
Essie Nail Lacquer in BFF Boy Best Friend was my nude of choice – a perfect ballet slipper pinkish nude that worked beautifully with my pastey-white, winter skin!
The formula is quite sheer so I needed three coats for it to be opaque.  I alway apply a base and top coat so I can't really talk about BBF's lasting power without it – but I found it to be chip and crack free until my next polish change…usually two weeks! [line]
Personal Style
JCREW – Pixie Pants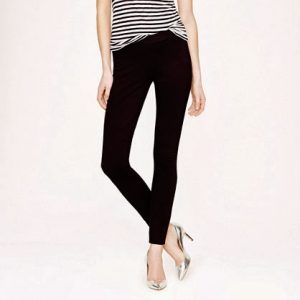 Quite possibly the most worn item from my wardrobe…ever, is my JCrew Pixie Pants.
The ultimate staple piece for any style – you can dress them up with a pair of pumps and a blazer or dress them down with a pair of ballet flats and a slouchy sweater or tee. They are versatile are incredibly comfortable (even more comfortable than my 7 For All Man Kind Skinnies) and are just like a legging, with more structure and style.
The heavy weight ponte fabric helps to slim the figure without feeling restricting – my favourite pants of life!  I currently own two black pairs and grey pair but desperately want to get my hands on a pair from the leather collection.
Pixie Pants come in black, navy, grey and leather (for women and more colours for girls) and are now also available in a maternity option – which very much excites me for the future! [line]
Home Decor
ALICE & OLIVIA FOR STARBUCKS – Double-Wall Ceramic Cup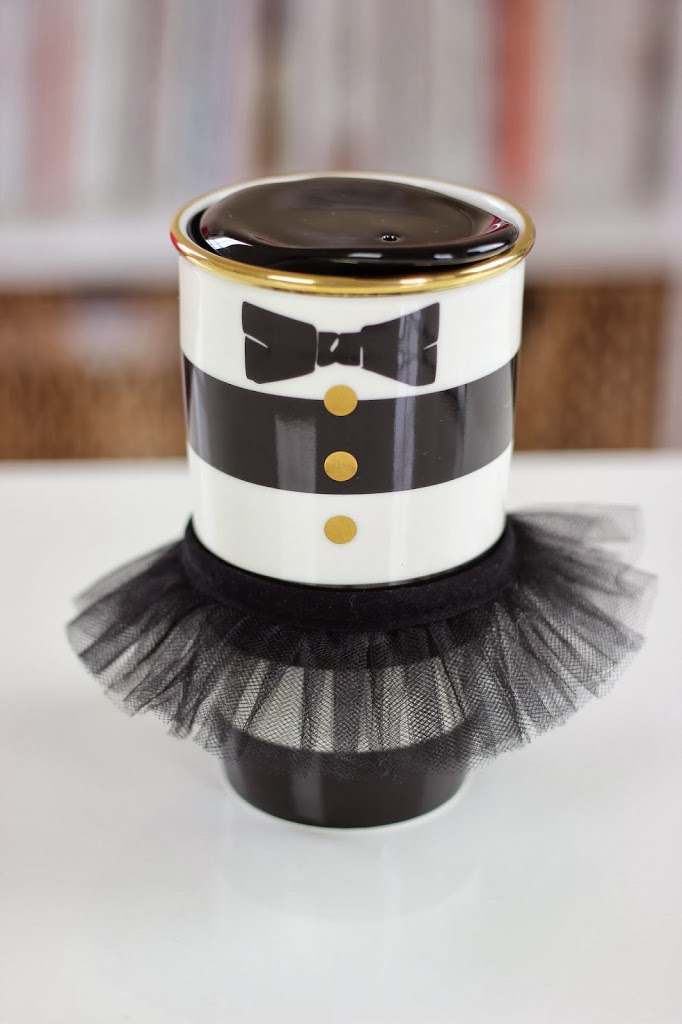 Last, but certainly not least, is my limited edition Alice & Olivia for Starbuck Double-Wall Ceramic Cup – in my opinion, it truly represents a beauty and style favourite!
I'm not a huge coffee drinker – usually just one or two cups a day from our espresso machine here at home (a lifesaving wedding pressie from my Mother-In-Law) is perfect for me.  So when I made a quick trip to Starbuck before Christmas to sample one of their festive special's, I nearly died when I saw this cup…I just had to have it!
The colour combo one of my favs – black, white and gold (classy), but the tutu!!! It's totally me – flouncy, fluffy an fun!  I love a mug that makes me smile every morning!  In l-o-v-e!!!


Well my lovely friend, those were my February beauty and style favourites – hydrating, brightening and delicious smelling!
Now it's your turn – tell me in the comments below, what beauty, fashion or home decor item were you loving during February?
Thank you so much for stopping by!  I can't wait to see you again next time.

With love and gratitude,