Goodbye December and 2012!  Yet another year is over (I can't believe it).  To wrap-up 2012, I wanted to share with you my favourite skincare, makeup, haircare, perfume and nail polish products from the last month of the year.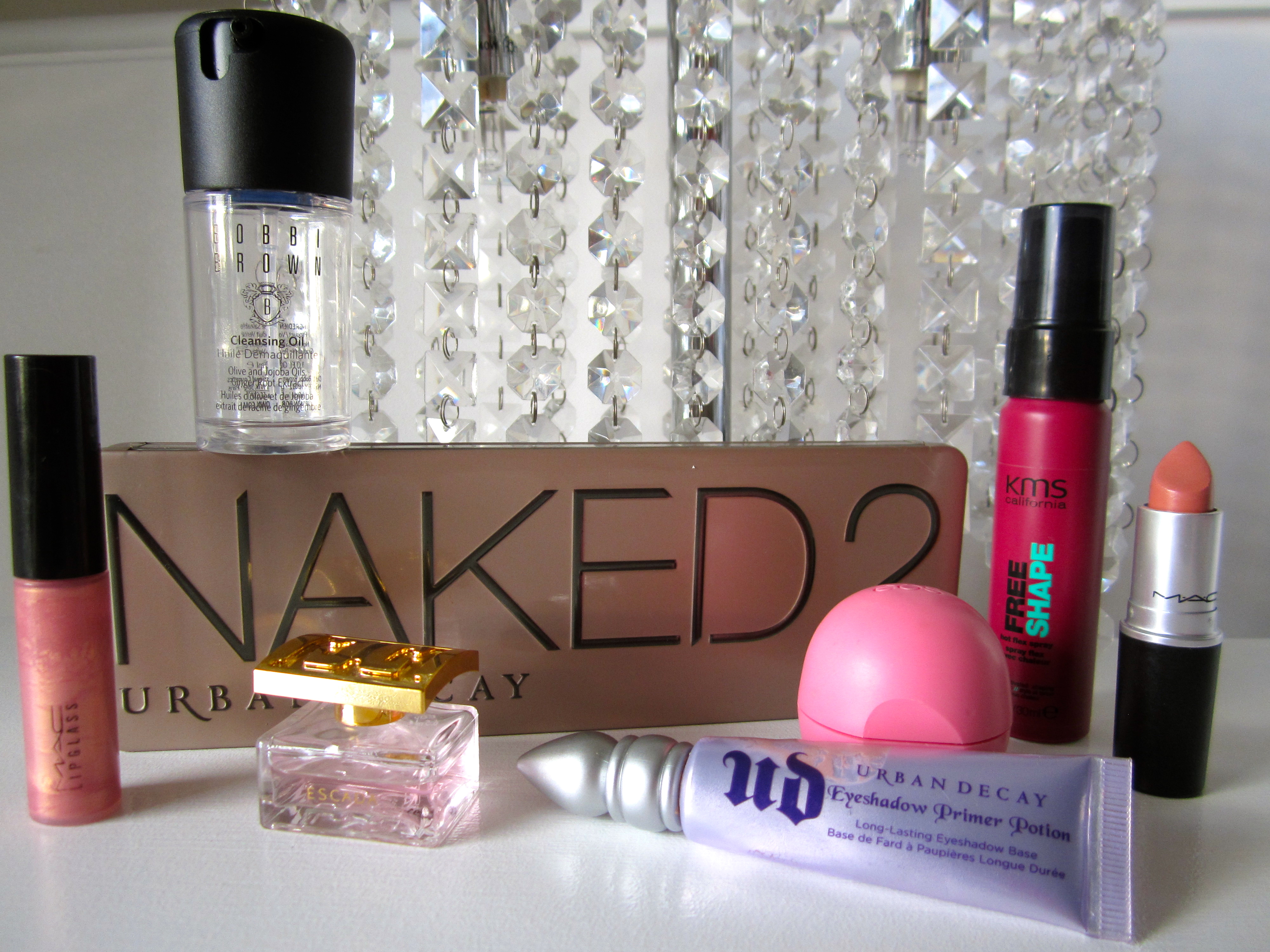 During December I decided to use some of my deluxe beauty samples from Sephora, Bobbi Brown and Mecca Maxima.  I fell in love with two of them and decided to add them to my December Beauty Favourites.  
[line]
Skincare
BOBBI BROWN – Cleansing Oil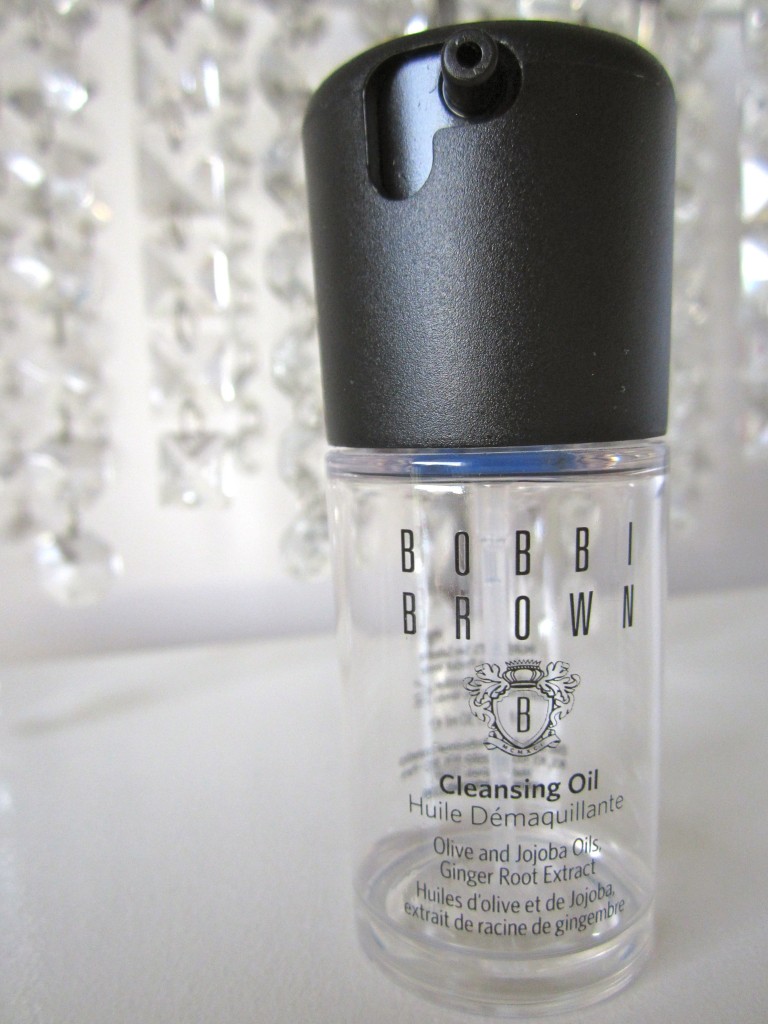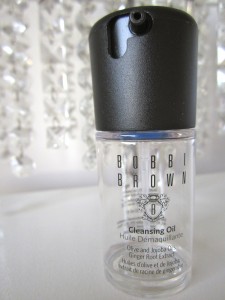 If you have combination to oily skin as I do, you will probably cringe at the thought of using a cleansing oil to remove your makeup.  I certainly did.
I received a deluxe sample of the Bobbi Brown Cleansing Oil with a recent Bobbi Brown order.  After running out of my regular makeup removing wipes, I decided to give the cleansing oil a whirl.
Using either a cotton pad or my fingers to massage the light, non-greasy formula containing olive oil, jojoba oil and ginger root extract to my dry face, the cleansing oil gently dissolves makeup in seconds (including waterproof mascara and longwear gel eyeliner).
Once I look like a hot-mess with mascara, eyeliner and any other makeup wearing smeared all over my face (as you can imagine it looks super attractive), I splash a little warm water on my face and massage the rest of the cleanser and makeup off.  The formula turns a milky white colour before leaving your skin feeling soft, supple and nourished.
In the evening, I follow makeup removal with my Clarisonic Mia 2 cleansing routine – check out my Clarisonic Mia 2 review.
Benefits
The jojoba oil provides anti-bacterial and anti-inflammatory properties and can assist in the reduction of the amount of oil produced by the skin, while the olive oil gently moisturises and provides anti-aging properties.  The ginger root extract is used for its skin protection, wound healing and anti-inflamatory properties.
Packaging
The Bobbi Brown Cleansing Oil comes in a heavy duty plastic bottle which is perfect to travel with and the handy pump can be easily twisted to prevent product from spilling or leaking.  One drawback of this packaging is the access to the last few pumps of oil.  I'm still trying to figure out how to remove the pump so that I can tip the last few drops of oily goodness onto a cotton pad (please leave me a comment below if you know the trick!).
While writing this post, I discovered that this product has been discontinued (boo) however, it would appear that the new Bobbi Brown Soothing Cleansing Oil is similar.  Whilst I can't comment on the new formula, I can say that the old formula is a-mazing!
EOS – Evolution of Smooth Lip Balm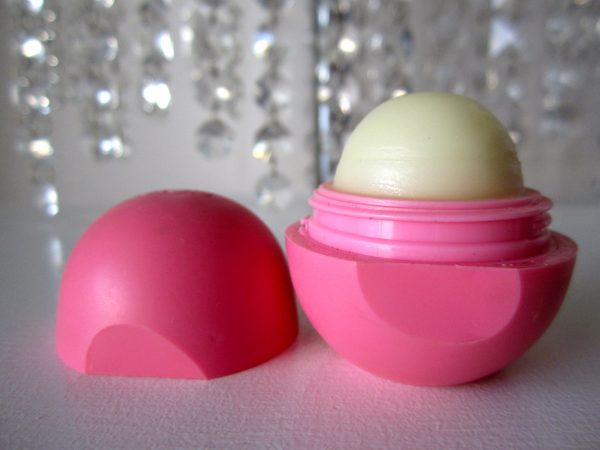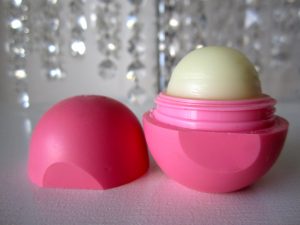 My flavour:  Strawberry Sorbet
I've been really loving my EOS Lip Balm this month.  I like that the balm is not overly flavoursome – you can barely taste the strawberry sorbet flavour even when you lick your lips.
There is a slight sweetness but it's not overwhelming – the same goes for the scent, incredibly subtle.
I have also added the lip balm to my night time skincare regime.  It leaves my lips feeling conditioned and silky.
Benefits
100% natural and 95% organic, you can really feel the Shea butter and Vitamin E (silky goodness).  The EOS Lip Balm long wearing and extremely moisturising.

Packaging
Cute and unique.  The packaging of the EOS Lip Balm is like no other lip balm I've ever seen – round like a little egg with a small flat edge on the bottom so that it doesn't roll around on a table.  A nice feature is the twist off lid –  there is no chance that your lip balm will end up rolling around your handbag making a mess.
[line]
Makeup
 URBAN DECAY – Eyeshadow Primer Potion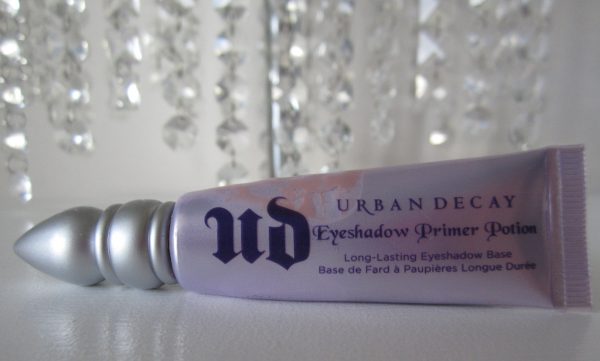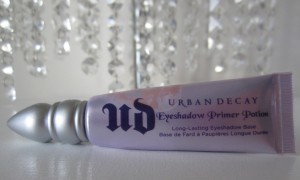 My shade:  Original
Summer well and truly arrived in Brisbane during December and thanks to my Urban Decay Eyeshadow Primer Potion (long-lasting eyeshadow base), my eyeshadow not only lasted all day but remained crease free and with the same vibrancy as when it was applied.
MAC COSMETICS – Cremesheen Lipstick + Lipglass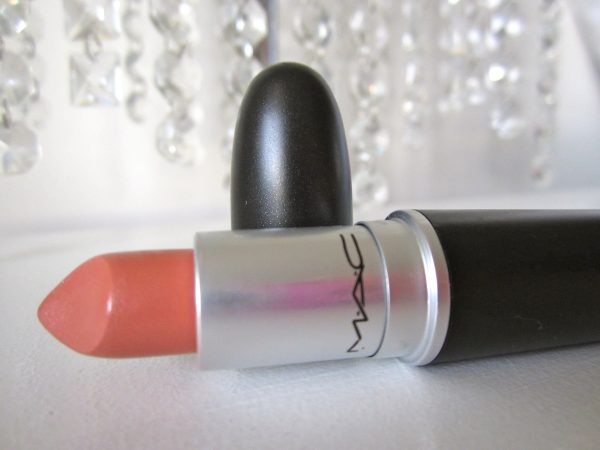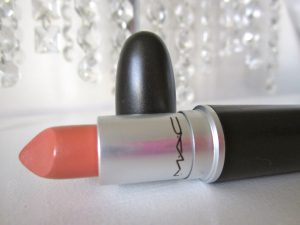 My shade:  Shy Girl (lipstick) + Nymphette (lipgloss)
The soft feminine colours of the MAC Cosmetics Cremesheen Lipstick in 'Shy Girl' and Lipglass in 'Nymphette' was my go-to lip combo during December.
'Shy Girl' is a pretty peachy-pink nude colour.  The Cremesheen formula glides right over the lips leaving them with a slight glow.  I would apply the lipstick, blot and apply again for extra long staying power.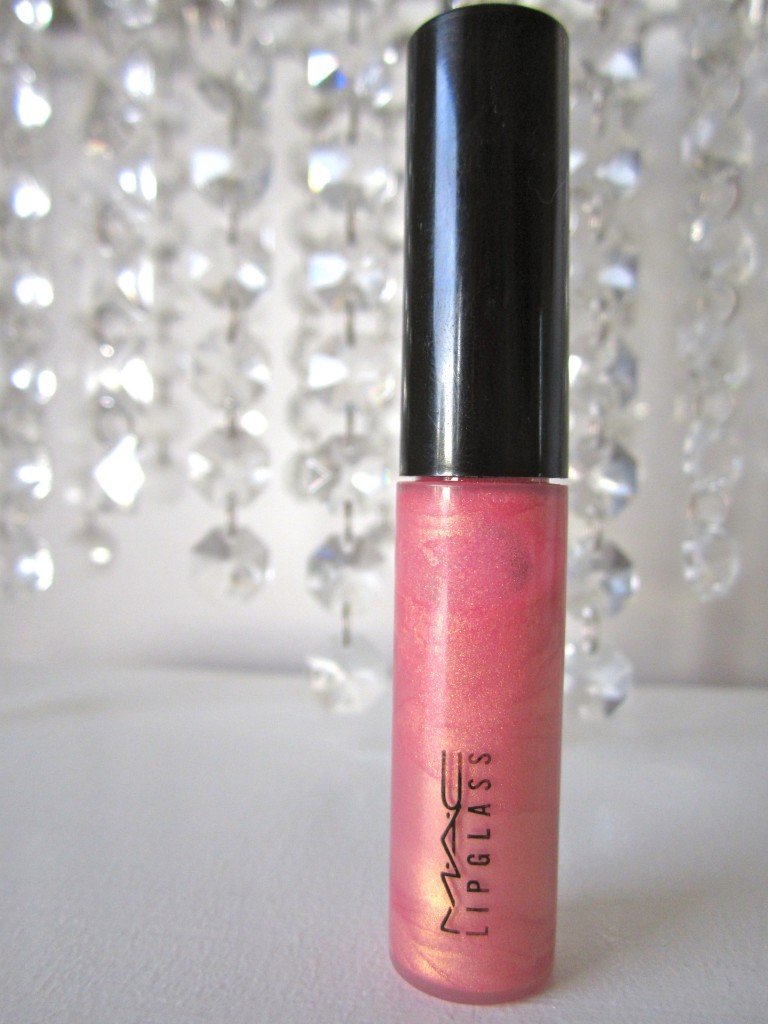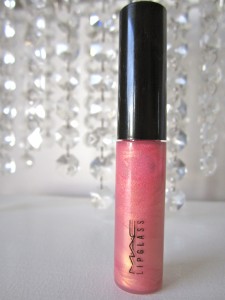 To amp-up the glossiness, I added a touch of 'Nymphette' Lipglass over the top of 'Shy Girl'.  The gloss is fairly long lasting (well, for a gloss) and applies with a doe-foot applicator for precise application.
The slightly sticky, rosey-peach lipglass with a fine gold shimmer is one of my all time favourite lipgloss colours – it's perfect on it's own or layered over any lipstick colour!
URBAN DECAY – Naked 2 Eyeshadow Palette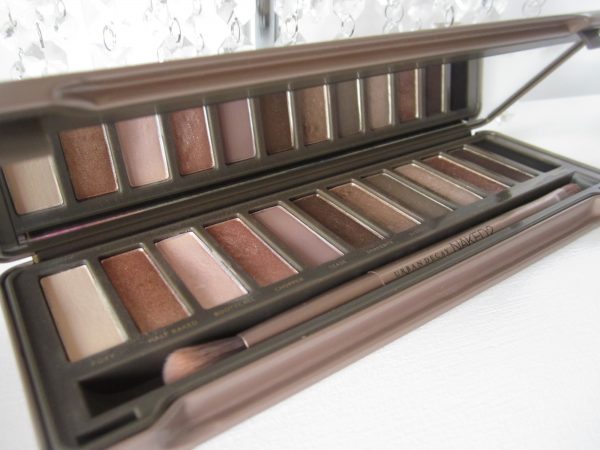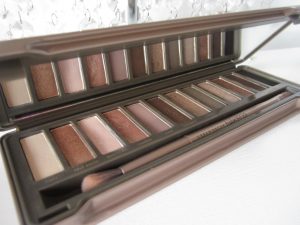 The more I use this pallet, the more I fall in love with it.  Whether you want to create a subtle daytime look or amp up the drama for a sexy nighttime look, you can do it all with the Urban Decay Naked 2 Eyeshadow Palette.
We all know how hectic December is – balancing work demands, preparing for the holidays and attending what seems to be an endless number of parties and social event (and many other things).  My Urban Decay Naked 2 Palette made creating a neutral eye look quick, easy and fuss-free.
The palette comes with 12 crazily pigmented, silky eyeshadows ranging from highlight shades to sultry browns and an amazing black (perfect for eyeliner on the go!), a generously sized mirror (perfect for transforming your daytime look into a nighttime look at work), along with a dual-ended eyeshadow brush (it's not my brush of choice but certainly works if you are just starting out or if you are in a pinch.) which is great for patting colour onto the lid, blending and lining eyes.
If you aren't into shimmery eyeshadows then this is probably not the right palette for you.  Naked 2 holds nine shimmer shadows (subtly shimmery) and four matte shadows that flatter all eye colours.
Packaging
The durable hard-case tin containing the Naked 2 eyeshadows has been made perfectly for travelling.  Not only are the eyeshadows well protected by the sturdy packaging but the lid securely snaps shut so that you can throw the palette into an overnight bag or handbag without it popping open (there is no way that little sucker will bust open in your bag!).
Whether you're just a little makeup obsessed like me or just starting out, the Urban Decay Naked 2 Eyeshadow Palette will last a decent amount of time due to the colour pay-off of the shadow and the 1.3g/ 0.05oz of product you receiver per eyeshadow (yep that's 15.6g/ 0.6g per palette!).  Amazing quality all round.  I love it!
[line]
Haircare
KMS CALIFORNIA – Free Shape Hot Flex Spray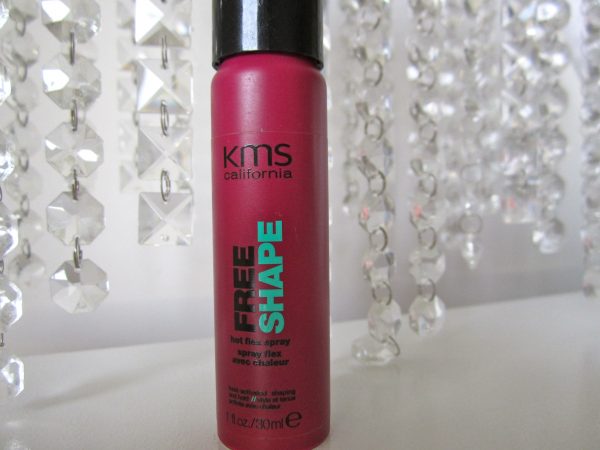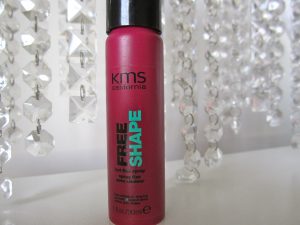 With those lovely hot summer days comes the horrid sticky humidity in Brisbane.  My hair is long and thick and when it's untamed, my hair is wavy-curly with terrible frizz (think of a nutty professor and you will have the right picture)!
I use my KMS Free Shape Hot Flex Spray on dry hair before flat ironing/ straightening.  The Free Shape Hot Flex Spray promises to hold the shape of heat styled hair and provide elastic hold for unlimited transformations that last until the next wash – KMS certainly deliver on this promise.
On average I will get three days out of a hairstyle, straight or curled.  My hair feels soft and moves freely – there is absolutely no 80's hairspray crunchyness feel.
[line]
Perfume and Nail Polish
ESCADA – Especially Escade Delicate Notes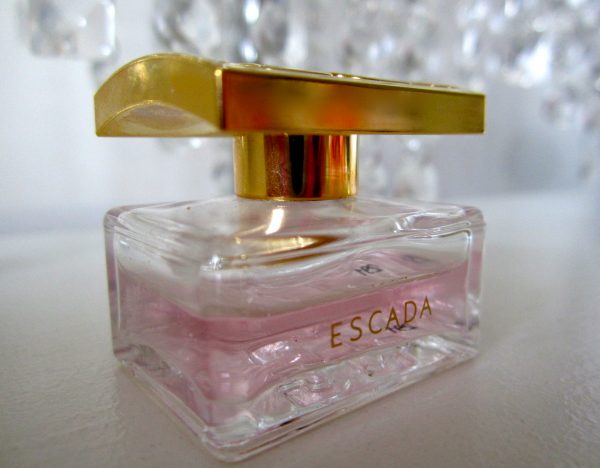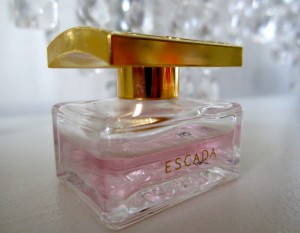 Soft, pretty and feminine – the delicate version of the original Especially Escada is light and was created for the 'younger spirit'.
Delicate Notes has quickly become one of my favourite perfumes – this fragrance makes me feel different when I wear it.  Relaxed, confident and empowered (It's funny how a fragrance, a piece of clothing, having your hair done or whacking on a pretty lipstick can make you feel that way!).
Unfortunately I don't own the regular sized bottle (this was one of the deluxe samples I've been trying out this month) but you can bet your bottom dollar that I'm adding Especially Escada Delicate Notes to my 'must have' list.
The Escada website describes Especially Escada Delicate Notes as a fresh, delicate scent built around the rose but focusses on the soft and sensual nature of the flower.  Top notes include: dewy rose and ylang ylang.
Interestingly, my fiancé hates flowery fragrances but adores Especially Escada Delicate Notes!
[line]
Well there goes another year and my last post for 2012!  Don't forget you can shop this post by clicking on the images below or any pink-linked product through this article:


If you liked this post, please share it with your friends via that social media buttons below.
What beauty products are you currently loving?  Why not leave them in the comments section below.
I hope you all had a great holiday season!
With love and gratitude,