Australia has always been renowned for its harsh weather conditions (ok, and its creepy crawlies) but wow, Mother Nature was in a really bad mood during January.  It was a month of extreme conditions:  record breaking temperatures, devastating bushfires in the south and unbelievable floods (again…) in the north.
The heat and the humidity was relentless.  Earlier in the month, the beach provided a great place to splash around, catch a few waves and cool off.  I also enjoyed a little father-daughter time with my awesome Dad hangin' out by the pool at home.  So much fun and totally relaxing.
It goes without saying, the beach and the pool were really refreshing however, the salt water, chlorine and sun all took their toll on my hair, skin and nails.  As a result, during January I found myself reaching for products that were rich in moisture and nourishing for my dried-out skin and hair.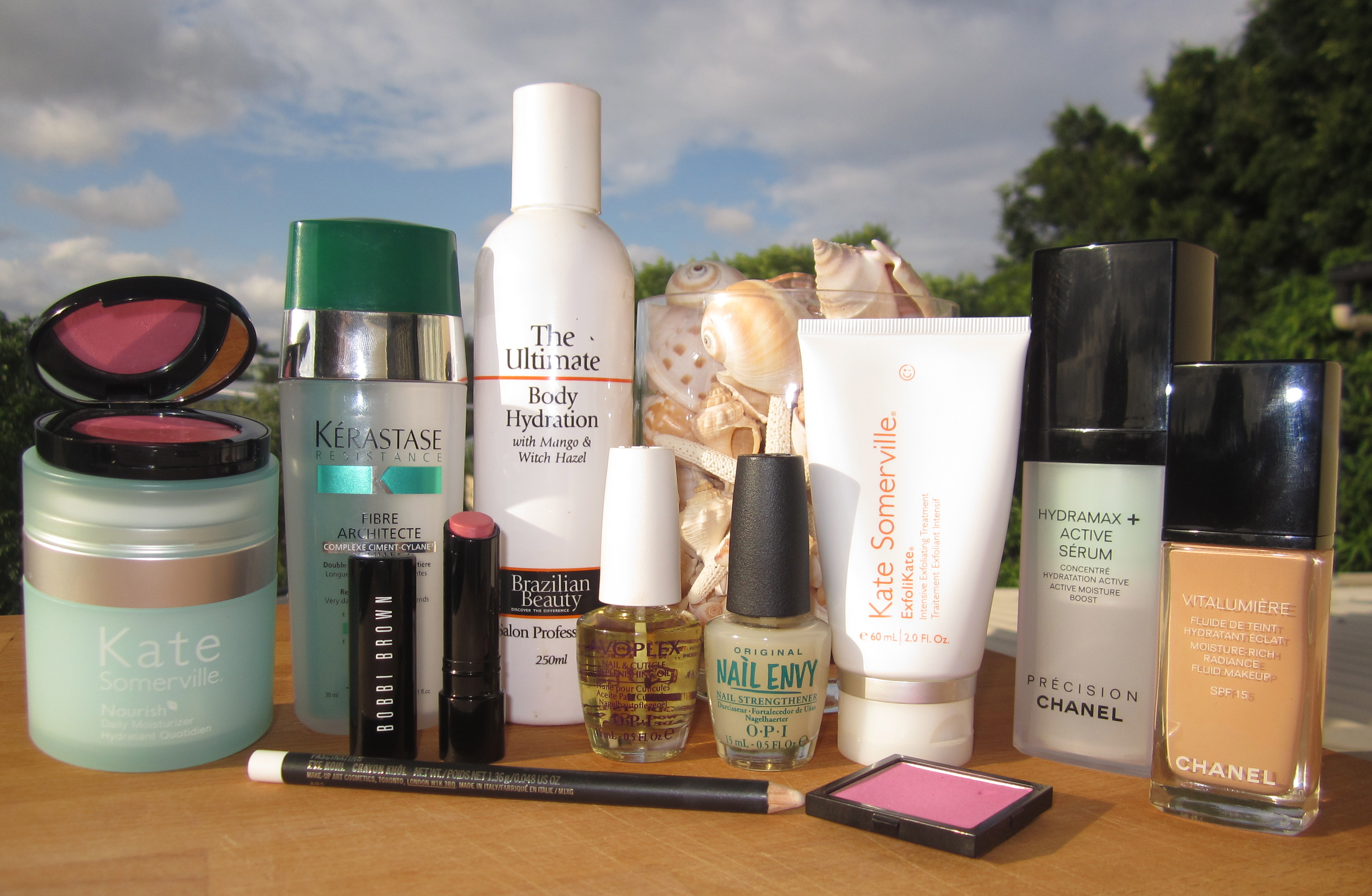 From head to toe, here are my January Beauty Favourites…grab yourself a cuppa and get comfy!
[line]
Skincare
KATE SOMERVILLE – ExfoliKate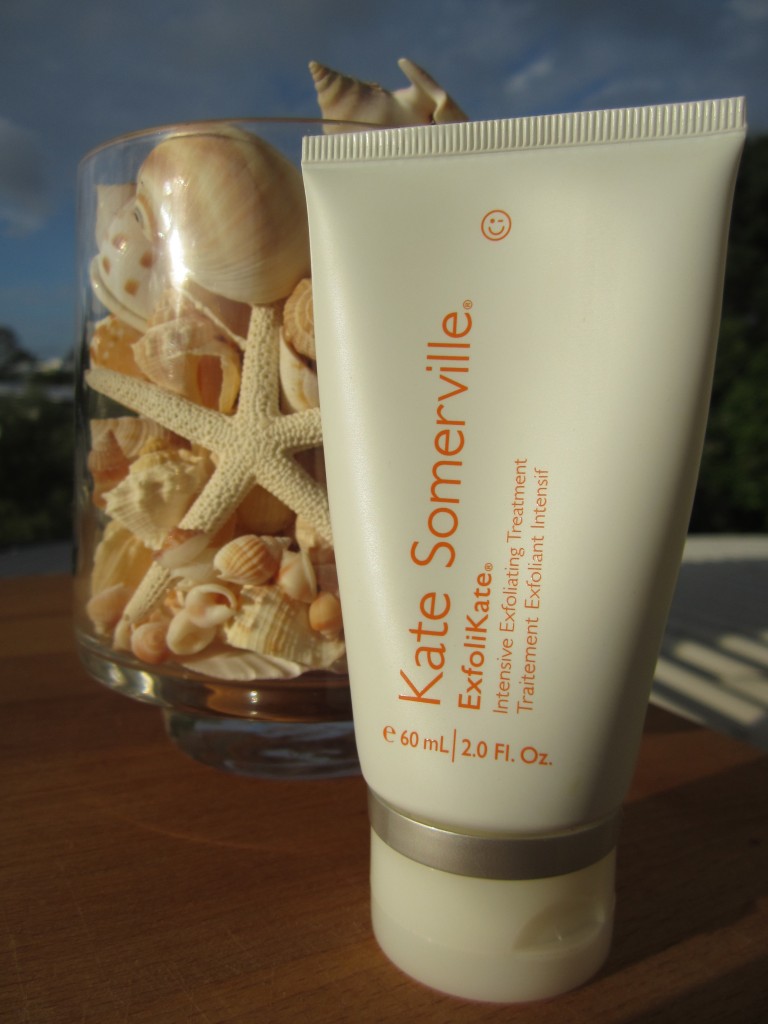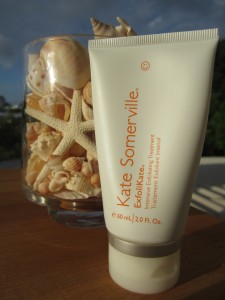 Kate Somerville ExfoliKate was the first product in the Kate Somerville skincare range that I tried.  I've been using ExfoliKate for almost 12 months and I'm totally hooked!
A major key to smooth, bright and healthy looking skin is regular exfoliation – once to twice a week.  ExfoliKate, an Intensive Exfoliating Treatment, has a paste consistency and combines manual exfoliation (microbeads) with enzyme exfoliation (fruit enzymes).
The treatment has a strong earthy fragrance with a hint of cinnamon.  To be honest, I wasn't crazy about the aroma for the first few applications (I don't mind it now – in fact, I actually quite like it!) but if you can get passed it, the benefits are amazing.
I use ExfoliKate on freshly cleansed skin, while in the shower.  The steam from the shower helps open the pores and soften the surface layer of dead skin cells, freeing bacteria, dirt and other trapped ickiness that cause breakouts and the appearance of dull skin.
All you need is a pea-sized amount to gently massage into the skin and in less than two and a half minutes, you have visibly smoother, more radiant skin.
Benefits
Microbeads, papaya, pineapple and pumpkin enzymes, rosewood and cinnamon extract, salicylic acid, Vitamin E, aloe vera and honey.
Just like other Kate Somerville products, ExfoliKate is jammed packed with goodness.  The microbeads slough away dried skin without being abrasive or irritating while the papaya, pineapple and pumpkin enzymes get to work cleaning pores and nibbling away at those stubborn dead skin cells (you can feel your skin tingling).
The rosewood and cinnamon extracts aid the reduction in the appearance of fine lines and wrinkles, while the salicylic acid, a beta-hydroxy acid, treats pesky blemishes, psoriasis and other skin conditions.  Aloe vera, honey and Vitamin E help to smooth and soften the skin.
Packaging
ExfoliKate comes in a convenient squeeze tube, providing optimal control over the amount of product that is dispensed – a little goes a really long way.
CHANEL – Hydramax + Active Sérum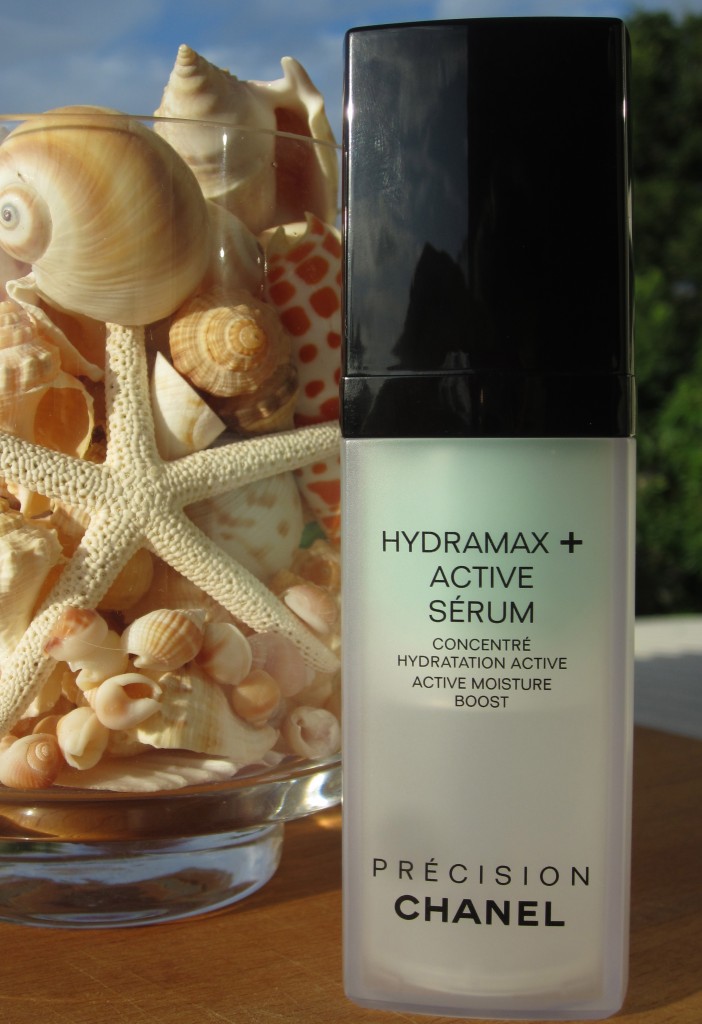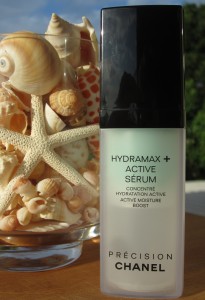 Like many Chanel products, the Hydramax + Active Sérum smells sssooo beautiful – a bit like white peaches and feels super luxurious.
Prior to moisturising, I use one pump of the Hydramax + Active Sérum and gently massage into my face and neck.  The pale greeny-blue coloured sérum has the texture of a light silky gel, allowing the product to melt right into the skin.
It leaves the skin feeling soft and supple thanks to the moisture boost technology penetrating the deepest layers of skin.
The results are instantaneous.  Perfect for use during the bitterly cold winter months or at the height of the summer heat…and especially
Benefits
This is the second time that I purchased the Chanel Hydramax + Sérum.  I love everything about this product.
Unfortunately, prior to making my first purchase I did not read the ingredient list – this was before I really started researching ingredients used in beauty products.  Let's face it, some of those ingredient names are hard enough to pronounce, let along know what they do.  I repurchased the product based on my previous experience and thew away the packaging without a second thought.
It was while writing this blog post (and researching the ingredients list) that I was disappointed to learn that many of the known ingredients contained in the Chanel Hydramax + Sérum are on my 'no-go' list.  (I'm going to write a separate blog post about skincare ingredients – I honestly don't believe that enough of us understand exactly what ingredients we are putting on our skin – both the good and the bad).
I had already decided to include the Chanel Hydramax + Sérum in my January Beauty Favourites before learning about the ingredients and I've really loved the product for a long time however, I now feel quite disappointed! (boo).
UPDATE:  since posting this article, this product has been reformulated without the nasties discussed above – now packaged as Chanel Beauty Sérum.
These days I thoroughly research each beauty product that I intent to buy/ use, prior to committing.  I also read through the ingredient list – just as I would read any food nutritional label!
KATE SOMERVILLE – Nourish Daily Moisturizer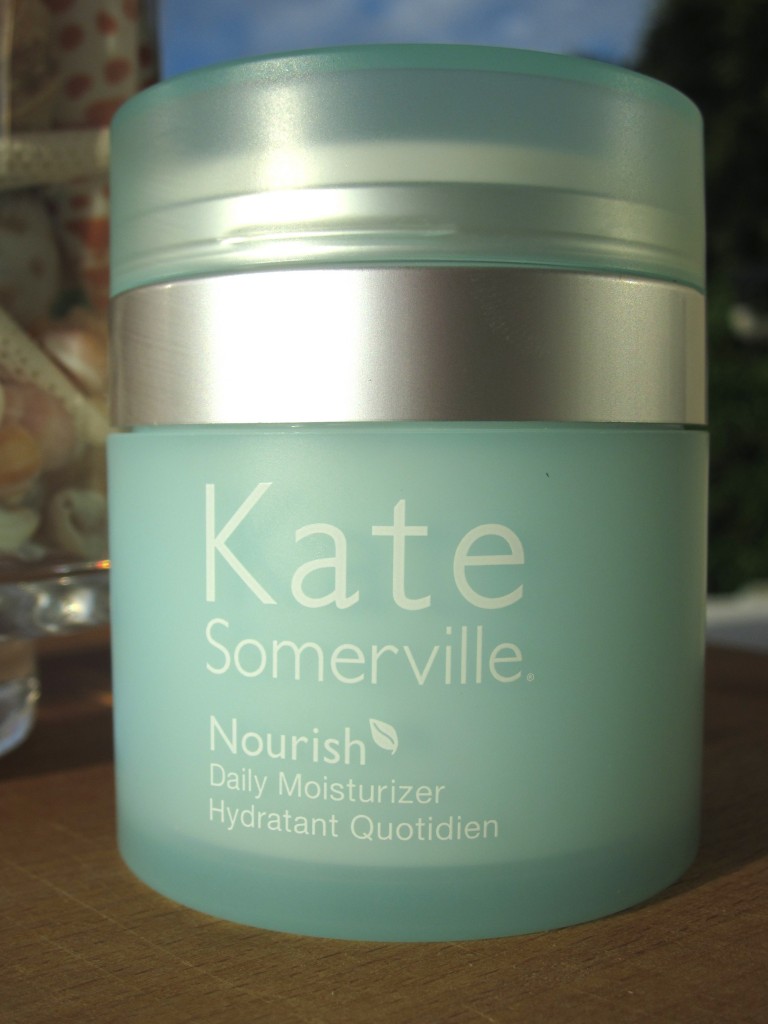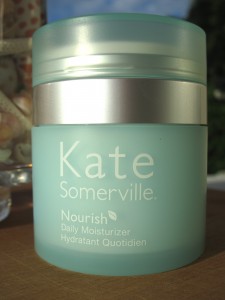 Light weight and amazingly moisturising with a slight fragrance of essential oils – it's like visiting a day spa in the comfort of your own home!
I use Kate Somerville Nourish Daily Moisturizer on my face and neck every morning and most evenings.  It's packed with anti-aging extracts and rich botanicals that promote beautiful, radiant skin by improving the skins texture and increasing elasticity – which helps with those pesky fine lines and wrinkles.
The consistency of the formula is light enough to wear under makeup – it absorbs right into the skin but also provides the perfect amount of nourishment that you would want from a night time moisturiser, without leaving the skin feeling oily, sticky or damp – just perfectly hydrated.
Benefits
The Kate Somerville Nourish Daily Moisturizer is packed full of great ingredients that your skin will thank you for:
Matrixly 3000 – helps to prevent the breakdown of collagen and elastin to promote firm, plump, youthful looking skin.
Retinyl Palmitate – the purest form of Vitamin A softens and smooth the skin.
While Lavender, Orange and Tea Tree Extracts work in conjunction with one another to promote calm, balanced, healthy-looking skin.
All ingredients contained in the Nourish Daily Moisturizer have been clinically tested (not on animals of course) and were proven safe for sensitive skin.  As I've mentioned in previous posts, I don't have particularly sensitive skin, however, it can be a little temperamental!  In my opinion, this moisturiser is perfect for both males and females with any skin type (dry, oily, combination, acne prone).
Packaging
I love the convenient packaging.  At first glance, it would appear that Nourish Daily Moisturizer is just like the packaging of any other pot-style moisturiser.  Lift the lid and you will be surprised (or maybe you won't be if you continue reading lol).
Under the lid is a nifty press-plate dispenser, that pumps out the perfect amount of product onto round dish that you then wipe away with your finger, without contaminating your product (of course clean hands are essential).  Whether you wish to use a full pump of product or just a dab, you have full control over the amount of product that you wish to dispense.
A little really goes a long way with this product.  I purchased the pictured moisturiser while I was in San Francisco last July (2012), about six months ago.  As I mentioned, I use the moisturiser every morning and most evenings.  I'm approximately two or three pumps off finishing the tub.  If you ask me, I think that is excellent value for six months worth of beautiful, radiant, intensely moisturised, even-toned skin!
BRAZILIAN BEAUTY – The Ultimate Body Hydration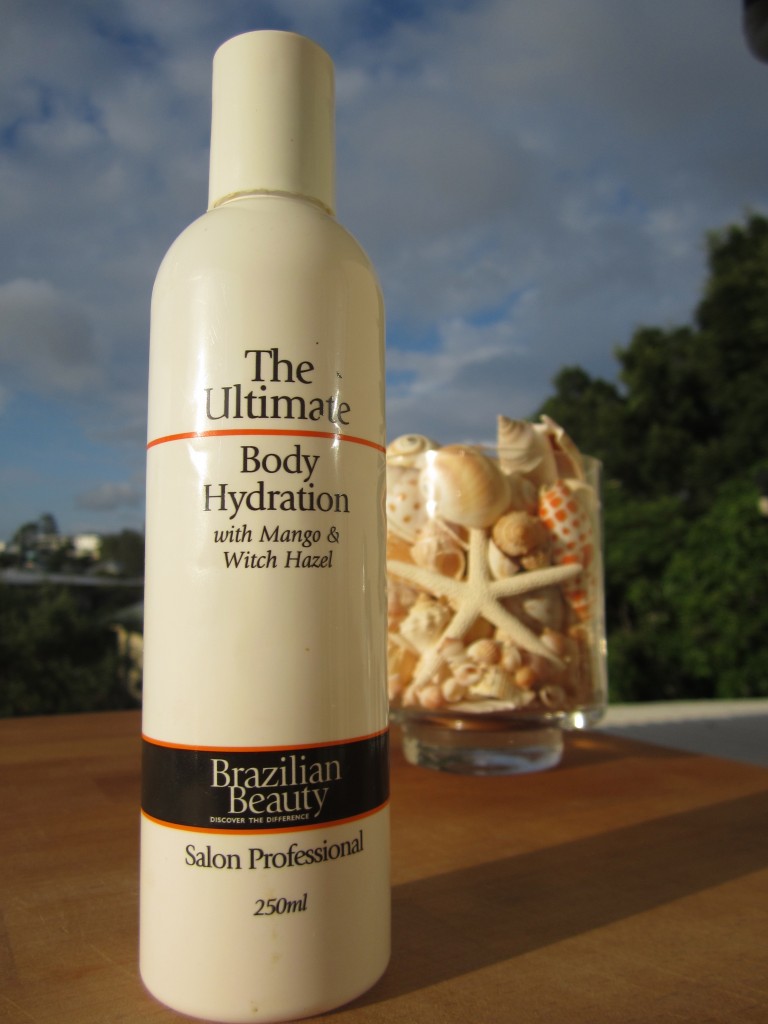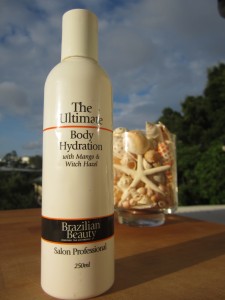 As I mentioned in my Happy New Year 2013 – exciting times ahead post, I'm moving to the USA from Australia later this year.  To minimise the moving and packing pain, this month I focused on re-discovering the products in my collection of goo (non-expired of course).  Subsequently, I found this little gem…The Ultimate Body Hydration with Mango (pure deliciousness) and Witch Hazel from Brazilian Beauty.
I caught a little too much sun earlier in the month (I know, I know it's all sorts of badness) and struggled to find a body moisturiser that was heavy duty enough to replenish the hydration to my moisture-sapped skin.  I needed something deeply nourishing like a body butter, that wouldn't leave a film or residue on my skin (moisturiser on your clothes before work is not a good look).  The Ultimate Body Hydration was my saviour.
The product, which is actually designed for post-waxing skin repair and resurfacing, not only quenched the thirst of my moisture deprived skin but smelt lightly of delicious mangos – one of my favourite fruits.
Packaging
The packaging of the Ultimate Body Hydration with Mango & Witch Hazel from Brazilian Beauty is pretty stock-standard
After recovering from my mild sunburn, I continued to use the body moisturiser – a rediscovered love which I have almost finished!
[line]
Makeup
CHANEL – Vitalumiére Moisture Rich Radiance Fluid Makeup with SPF 15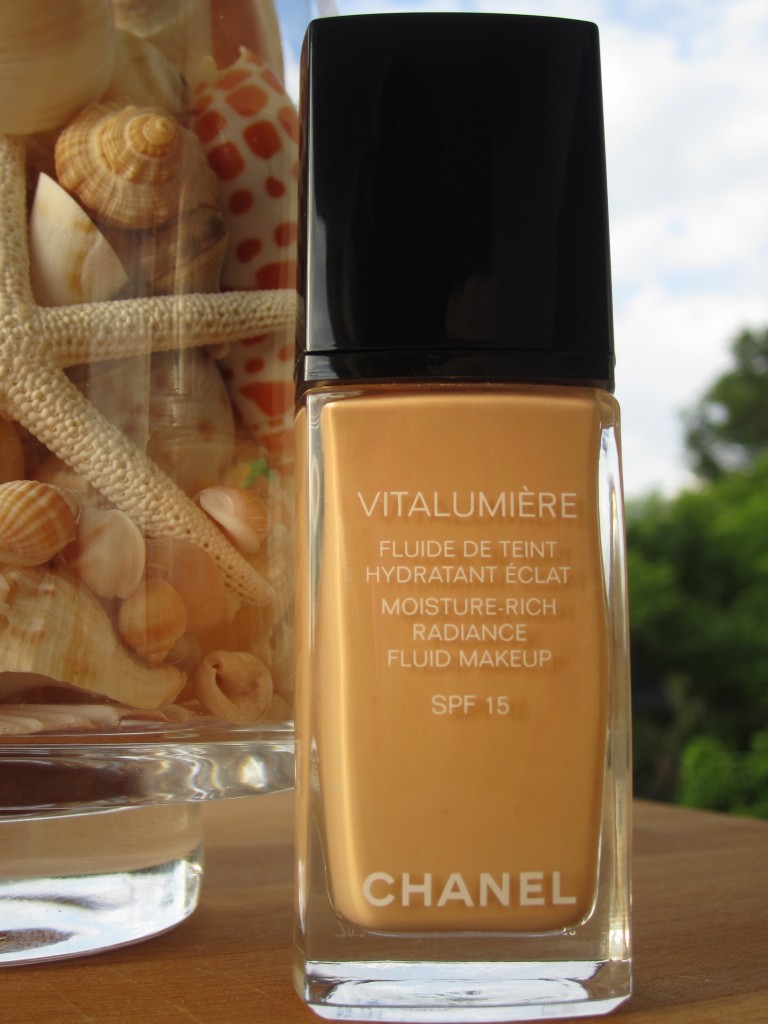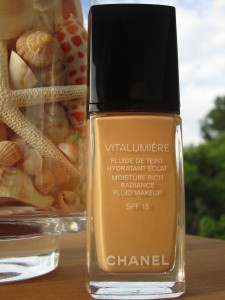 My shade:  #35 Soft Bisque
If you're after a pretty, light to medium coverage foundation that will give your skin that famous J.Lo. glow while adding moisture to the skin, the Chanel Vitalumiére Moisture Rich Radiance Fluid Makeup will certainly do the trick.
I never really thought of this foundation as a 'summer-time' suitable formula – and in fact, I still believe the product is at its best during the cooler months. However, if you're suffering from dry skin and find that other foundation formulas are enhance the appearance of those pesky dry patches, then I would highly recommend Vitalumiére.
The foundation contains marine extracts to boost skin energy and enhance radiance along with light-reflecting pigments that smooth imperfections creating a soft-focus effect.  The light, slightly floral fragrance, smells amazing and in my opinion, enhances the whole experience (the true luxury of a Chanel product).
The fuss-free foundation can be applied with your fingers for a sheer to light application or with a brush.  My tool of choice to apply this foundation is generally my fingers however, if I'm after a little extra coverage I like to use my Sephora Professional Classic Mineral Powder Brush #45, for a flawlessly finished look.
During summer, I set this foundation with a sheer power concentrating mostly on the t-zone.  The powder allows the light-reflecting pigments to shine through but cuts down on the summertime shine.  Nobody wants to look like they have enough grease on their face to fill a chip fryer!
Packaging
Chanel Vitalumiére is packaged in a luxurious glass bottle with a pump dispenser.  I really like that the dispenser provides a great amount of control over the amount of product you wish to use.  I can't say that I think that the glass packaging is particularly practical for travelling or using in a bathroom (tiles and glass don't mix).
Chanel Vitalumiére Moisture Rich Radiance Fluid Makeup is definitely in the 'luxury' foundation category.
MAC COSMETICS – Eye Kohl
January was an action packed month – getting back to work after a two week Christmas break, planning for the exciting events of 2013, attending many fun social events and working late on blog posts and uni assignment.  I felt rested and rejuvenated but I quickly began to feel a little tired after numerous nights of limited sleep.  To fake looking more awake, I turned to my
MAC Cosmetics Eye Kohl in 'Fascinating'
to brighten my eyes – little miracle worker!
I use the white pencil to trace around the inner corner of my eyes before lightly blending with my finger tip.  On occasions, I also like to line my waterline with it.
[warning]Adding a light/ reflective colour in the inner corner is a great trick to use if you are feeling a little tired.[/warning]
The light colour will make your eyes look awake and fresh (you can achieve a similar effect with a nude coloured pencil).
BOBBI BROWN – Pot Rouge for Lips and Cheeks | Powder Blush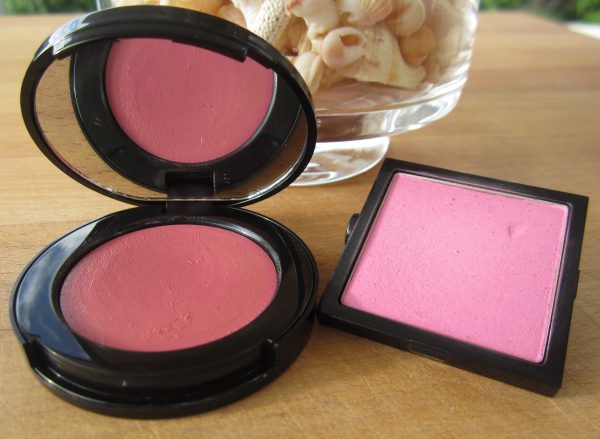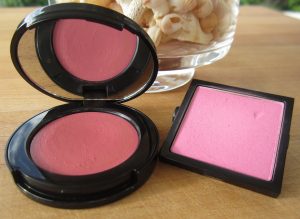 My shade:  #11 Pale Pink (pot rouge) and #9 Pale Pink (powder blush)
Without a doubt, Bobbi Brown Pale Pink Blush, is one of my favourite blush shades.  The highly pigmented colour instantly brightens your face giving an awakening, pretty pink glow.
During the summer months I love to layer cream and powder makeup products.  I use the Pot Rouge for Lips and Cheeks to blend colour over the apples of my cheeks, before locking the product into place with the powder blush.  Layering products gives your makeup longevity in the summer heat.  An added bonus is the cream blush doubles as a lip colour!
BOBBI BROWN – Creamy Matte Lip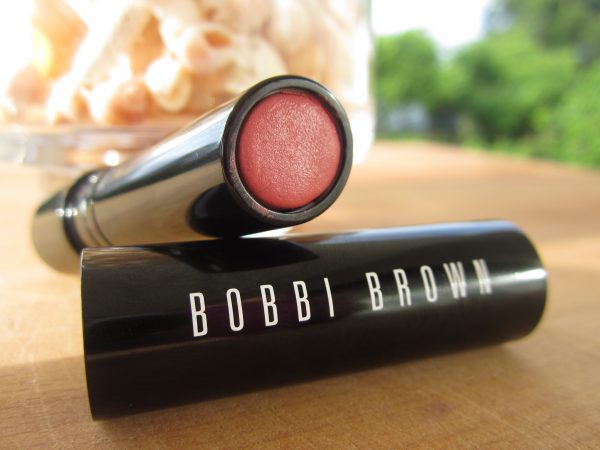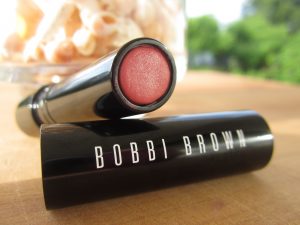 My shade:  #4 True Pink
A new addition to Bobbi Brown's lipstick collection is Creamy Matte Lip Color.  The formula is smooth and creamy, so creamy that you would never believe the staying power this lipstick has.
If you love wearing lipstick (especially bright colours) you will love Bobbi Brown Creamy Matte Lip Color.  My favourite shade is True Pink – much like the Bobbi Brown Pale Pink blush colours, True Pink is a beautiful pink colour that is a little more muted in tone than the bright blush.
Before heading out the front door on my way to work, I apply the lipstick, blot with tissue and reapply.  No reapplication required:  touch-up free lipstick in five steps.
[line]
Haircare
KÉRASTASE RESISTANCE – Fibre Architecte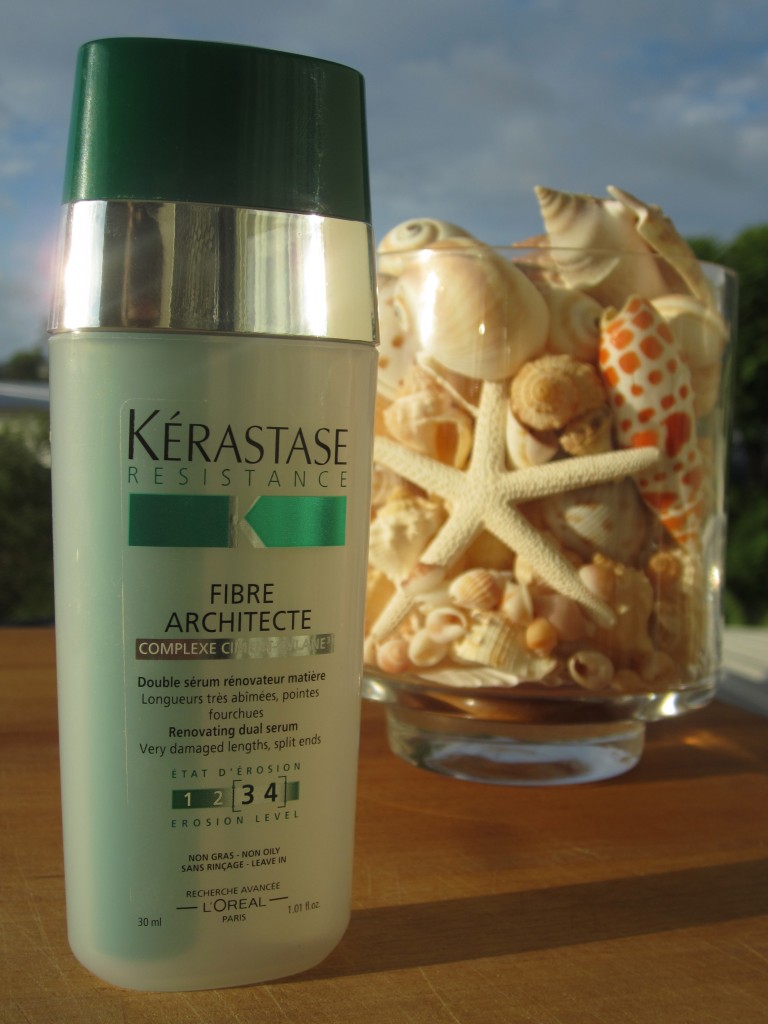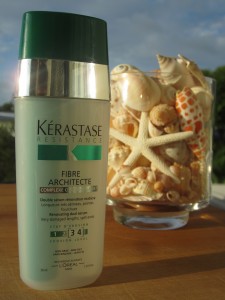 I was introduced to Kérastase Resistance – Fibre Architecte during October 2012, by my fabulous hair stylist, Olivia.
Fibre Architecte is Kérastase's number one best selling reconstructive serum – it heals and seals damaged lengths and split ends.
It can take some effort to keep long, colour treated locks looking healthy.  I swear by Kérastase and use Fibre Architecte to help prevent and repair damage incurred by heat styling tools and lightening my hair. (You can check out my  November Beauty Favourites here for my favourite shampoo and conditioner.)
Fibre Architecte is the first reparative dual-serum that targets the highest level of hair erosion and fills the gaps in the hair fibre.  I apply the serum after blowdrying my hair, prior to using my GHD to straighten or curl my hair.  The non-greasy formula leaves my hair feeling soft and silky and looking healthy and shiny.
I totally recommend the entire Kérastase Resistance line to anyone with damaged hair or that is having trouble getting anything length to their hair.  It's an amazing reconstructing product.
[line]
Nail Polish & Perfume
OPI – Nail Envy

 +

 Avoplex
All my life I have struggled with the nasty habit of nail biting and cuticle picking.  I thought last year that I had finally kicked the feral habit – I'd kept my nails long for approximately nine months.  Well, so I thought!
At the end of last year I experience a super stressful time at work.  My nails became weak – resulting in peeling, splintering nails.  And so the biting began…again.  I'm determined to kick my nail biting habit this year.  In the past I've found it beneficial to give my nails some love (I don't like painting them until the raggedyness is under control).
Every night during January, I painted my nails with OPI Nail Envy.  Nail Envy contains Hydrolyzed Protein and Calcium to help nails grow harder, longer and stronger and resist peeling, cracking and splitting.  OPI Nail Envy is the best nail strengthener I've ever used, unlike other strengtheners it doesn't make your nails brittle.
Once my nails were painted with the Nail Envy, I would follow up with OPI Avoplex to support healthy cuticles and promote nail growth.  Avoplex is rich in therapeutic avocado oil and contains Tocotrienol – a super antioxidant that is 1000 times more powerful than regular Vitamin E.  The Grape Seed, Sunflower, Sesame and Kukui Nut oils and Lecithin  help to restore moisture and lipids to dry cuticles.
I use Avoplex both morning and night and started seeing results during the month however, I again bit my nails (gggrrrr).  Never give-up!
[line]


I'd love to hear from you, what beauty products did you love or get reacquainted with during January?  Leave them in the comment section below.
I hope you all had a fabulous start to 2013 and enjoyed reading this post.
With love and gratitude,