Wow!  There goes yet another month.  Seriously, where did November go?
Did you know that I'm hosting a giveaway?  Entries for the Bobbi Brown Shimmer Brick Giveaway close on 11 December, 2012.  What are you waiting for – you have to be in it to win it!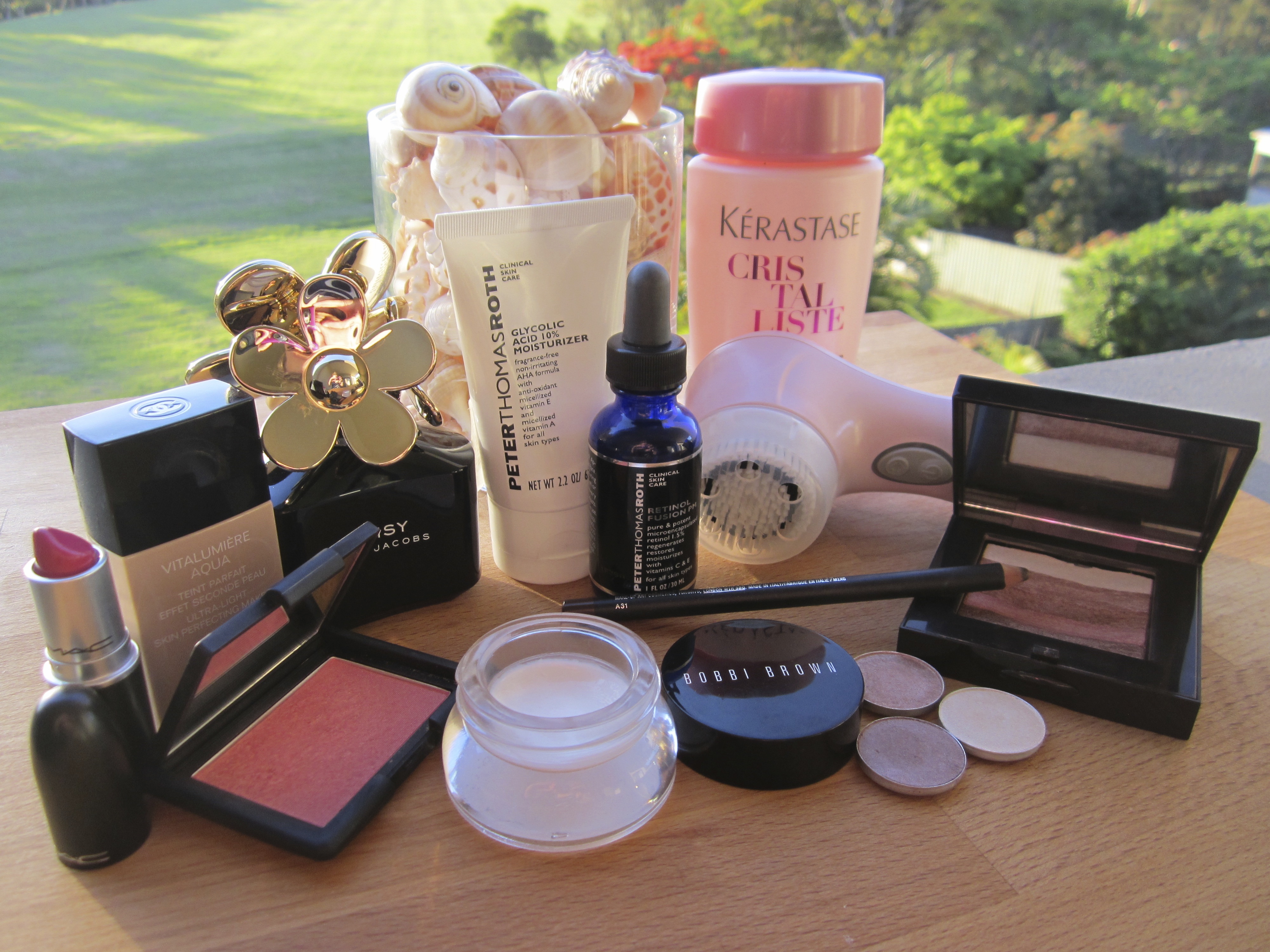 Starting this month I will be sharing with you my favourite skincare, makeup, haircare, fragrance and nail polish products from the previous month.  These are products that I've found myself reaching for over-and-over again during the month.
Let's kick this things off – here are my Beauty Favourites for November:  
[line]
Skincare
CLARISONIC MIA 2 – Skin Cleansing System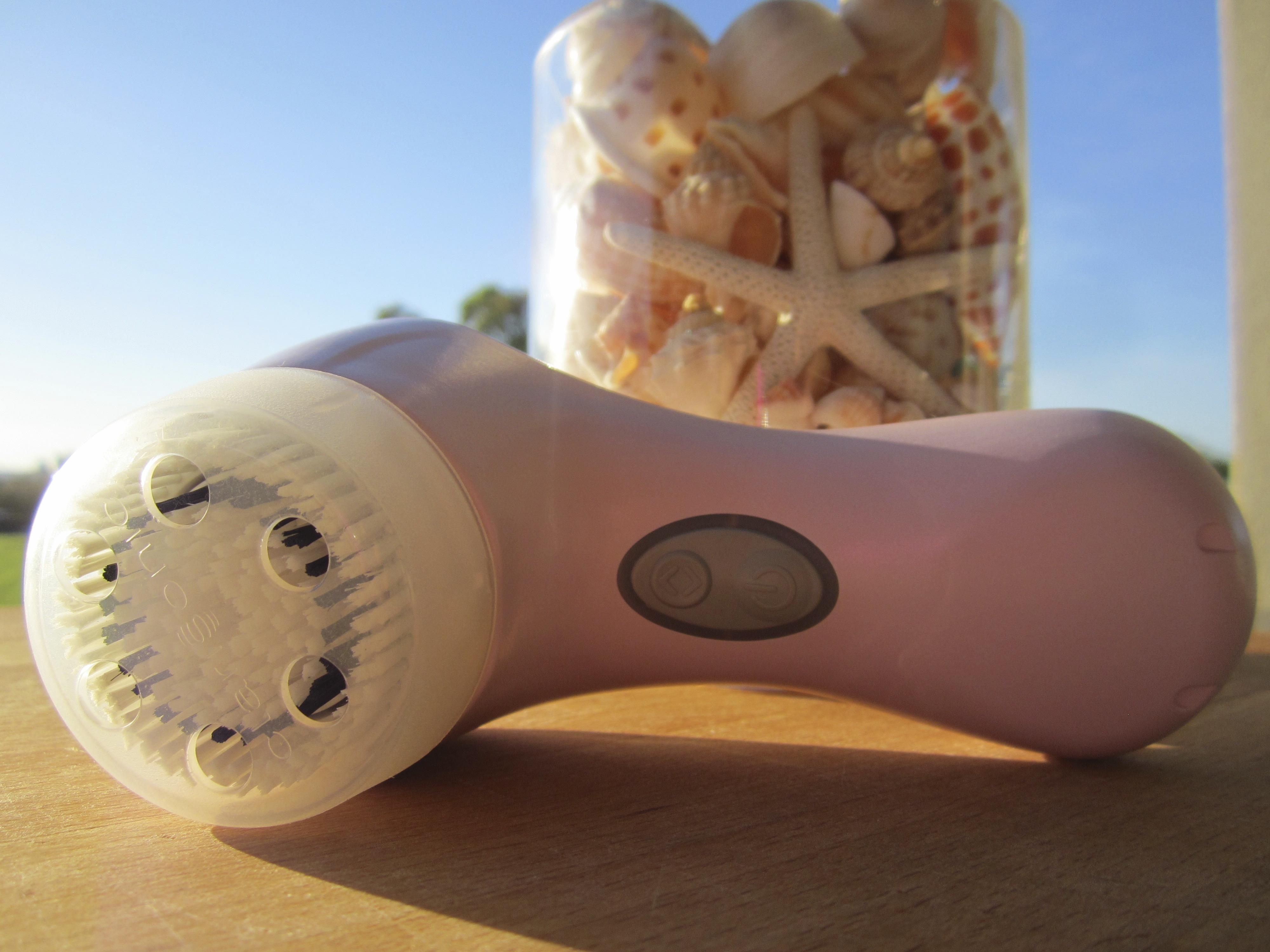 There is just one word for the Clarisonic Mia 2 – LOVE.  Yes, I'm totally in love with my Mia!
Best used with a gentle cleanser – I'm currently use it with my Kate Somerville – Purify Clarifying Cleanser, the Clarisonic uses sonic technology to gently buff away impurities from the skin and pores that traditional daily cleansing leave behind, allowing creams, serums and moisturisers to sink into your skin, allowing them to do their job more effectively.
The Clarisonic Mia 2 leaves my face feeling incredibly smooth and visibly brighter in just 60 seconds.  The Sensitive Brush Head which comes as standard with most of the Clarisonic range, is gentle enough to use twice a day, everyday.  I mostly use my Mia at night but for the past three weeks I've been using it both morning and night.
In an effort to keep this post on track, I'll be posting a Clarisonic Mia 2 Review really soon.  I could literally go on-and-on about the benefits of this compact little beauty gadget and really does deserve it's own time to shine, so stay tuned.
BOBBI BROWN – Extra Eye Repair Cream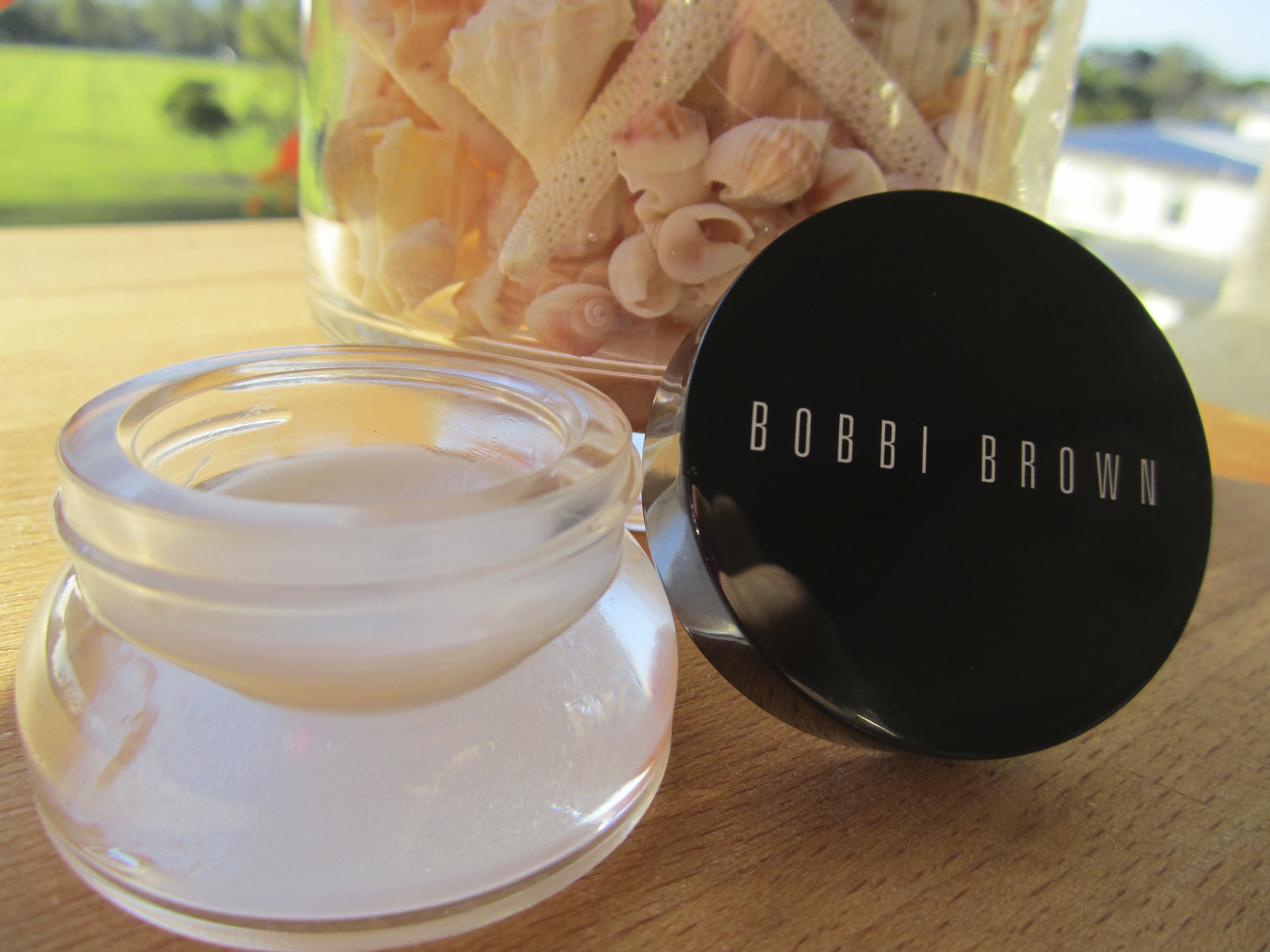 I've been using the Bobbi Brown Extra Eye Repair Cream for almost 18 months now.  Overall, I find that the eye cream works all year round – summer to winter, morning and night.  To apply, I simply take a small amount of cream, warm between my ring fingers and gently tap into the under-eye area and a little up onto my brow bone in the evening.
The luxurious, creamy consistency melts right into your skin leaving your under-eye area feeling super moisturised without leaving any weird heavy residue.   It's light enough that it wears perfectly under makeup but has enough richness that you feel as though your treating your eyes at night.
The Bobbi Brown Extra Eye Repair Cream has no fragrance other than an ever so slight natural/ plant aroma, which I could only smell it by getting a good whiff straight from the jar.
Benefits
The Bobbi Brown Extra Eye Repair Cream is packed with:
peptides – assisting with the prevention of wrinkles,
natural plant oils – which are full of anti-oxidants to help to prevent and repair damage to body tissue by slowing or preventing the effects of free radicals,
fatty acids – the building blocks for healthy cell membranes; and
humectants – to target fine lines, wrinkles, dark circles, puffiness and dryness.
Umm, yes please!
Packaging
Presented in a stylish glass jar with the signature black, Bobbi Brown screw-on lid, the only draw-back is that the packaging is quite heavy and not great to travel with – the lighter my bag, the more I can shop!
To get around this, I use a spatular to pop a little product into a small, plastic screw-top container.
A little goes a long way – I've been the Extra Eye Repair Cream every morning and night for approximately the past eight or nine months and I still have a decent amount left.
The recommended expiry date for this product is six months from opening.  I personally don't always adhere to these dates – if it smells, looks and feels the same…then in my opinion, it's probably ok – within a reasonable amount of time from the recommended expiry date of course.
PETER THOMAS ROTH – Retinol Fusion PM + Glycolic Acid 10% Moisturizer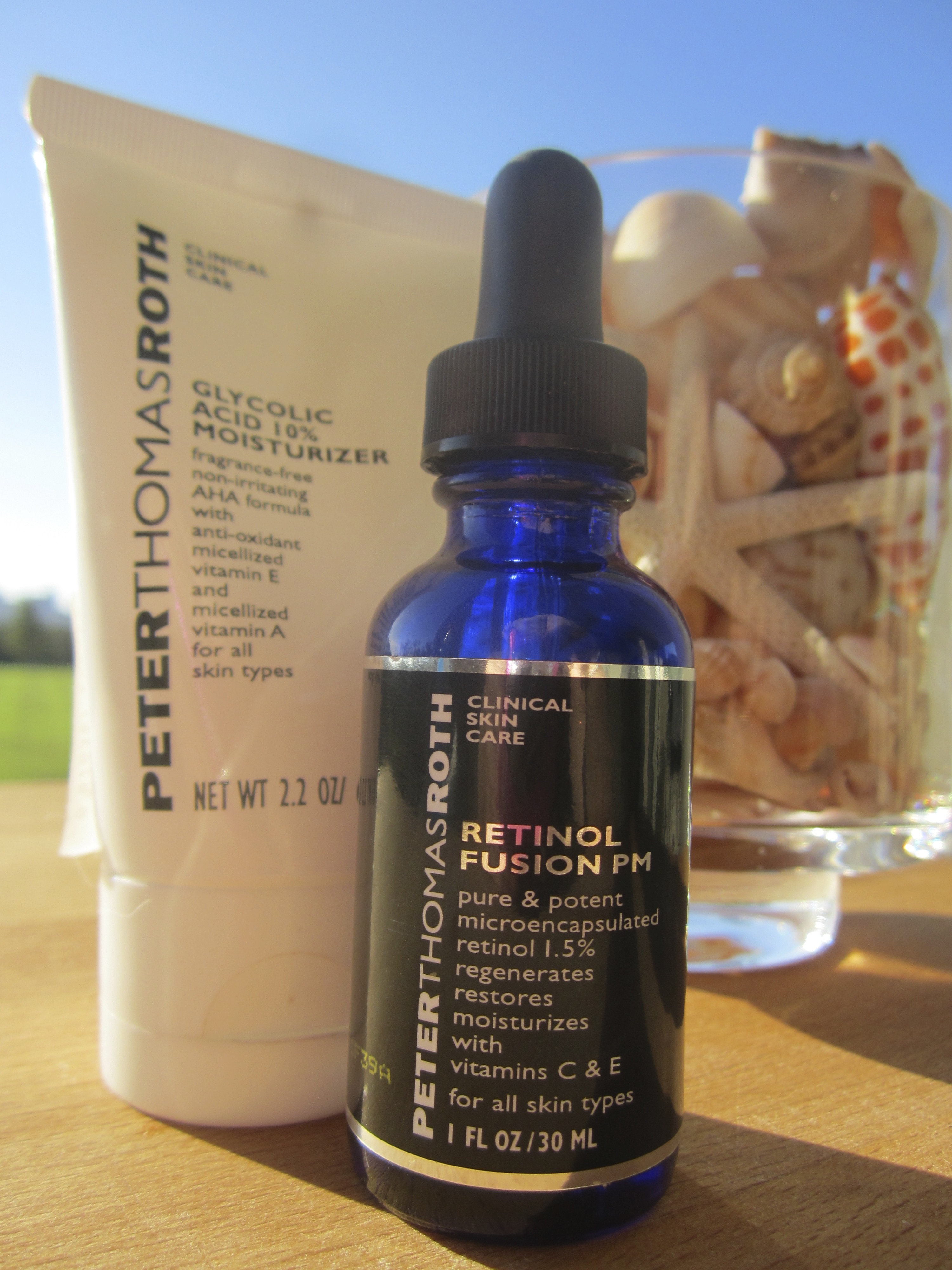 I was freaking out about aging as my 30th birthday approached.  Subsequently, I decided that it was time to add some preventative anti-aging products into my skin care regime.  Enter the Peter Thomas Roth Retinol Fusion PM and Glycolic Acid 10% Moisturizer.
I had researched using Retinol vs Retin-A and their benefits along with Glycolic Acid however, on first use of these Peter Thomas Roth products I found them to be pretty disappointing.  I tried the Retinol Fusion and Glycolic Moisturiser over a period of two months but I felt like all they were doing were breaking my skin out.
During November my skin totally freaked out.  I'm talking horrible cystic acne on my chin and jawline – you know, the really painful raised kind.  I decided to give my Peter Thomas Roth Retinol Fusion PM and Glycolic Acid 10% Moisturizer another go.  After all, Retinol and Glycolic are perfect for treating this kind of spotty problem.
Now this next statement is going to sound like one of those corny info-mercials so I apologise…
I was totally amazed by the results.  Overnight there was a visible reduction in the redness and size of my spots which in turn caused the pain to reduce.  Within four days all swelling, pain and spots were gone leaving behind only slight hyper-pigmentation (dark spots) which I'm currently treating.
The overall appearance of my skin right now is smooth and radiant – I honesty put this ridiculously rapid turn-around down to these two products.  Peter Thomas Roth – I'm converted!
[line]
Makeup
CHANEL – Vitalumiere Aqua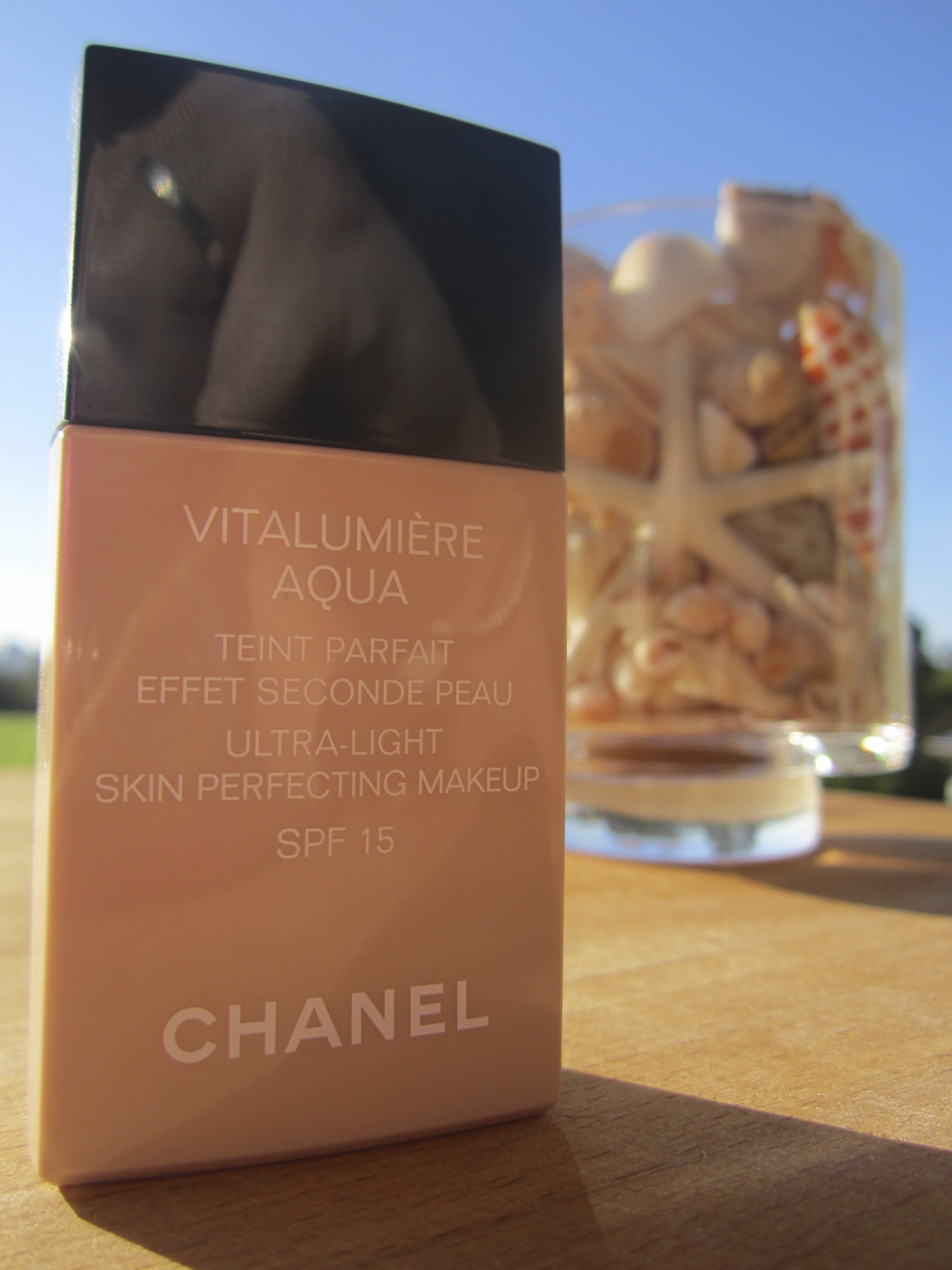 My shade:  30 Beige
When I'm on the hunt for a new foundation, one of my pre-requisites is that the foundation must look natural.  I don't want to look like I'm wearing a mask or that I've tried too hard – just a better version of my own skin.  Chanel has hit the nail on the head with its Vitalumiere Aqua – often referred to as a "second-skin" foundation and boy, they aren't wrong.
Vitalumiere Aqua is one of the popular new generation, water-based ultra-light-weight skin perfecting foundations.  It applies effortlessly by using your fingers or a brush (I personally prefer applying with my fingers), it blends seamlessly with your own skin and has the ability to provide buildable coverage to meet your skin's needs.
I love that Chanel Vitalumiere Aqua evens out my complexion (I use the colour 30 Beige) while allowing the natural radiance of my skin to shine through.  I honestly thought when I first poured a little of the foundation onto my finger, that there was absolutely no way that something so thin in consistency, could possible give me the coverage I wanted/ needed – wrong!
I adore the light fragrance – it has a fresh and clean smell that is just beautiful (Chanel, you should seriously bottle that fragrance.  It's so soft and pretty).  Chanel Vitalumiere Aqua is hands-down the best foundation I've ever used – by a mile!
Packaging
In comparison to other Chanel foundations, the packaging is a little surprising.  Traditionally, Chanel foundations come in a tall, glass pump bottle.  Pretty but not practical for travelling.  Vitalumiere Aqua is packaged in a petite, light weight, plastic bottle which is perfect for popping into a small makeup bag for on the go application or travelling with.
Interestingly, even though the size of other Chanel foundations appear to be larger, the amount of product contained in in package is exactly the same.
All you need is just a little over a pea-sized amount to give you a decent light to medium coverage.  I've been using the same bottle now for approximately 11 months (most days) and I'm only just about to run out (probably within the next few weeks).
This is a staple foundation that I will continue to repurchase for as long as it's available.
BOBBI BROWN – Shimmer Brick Compact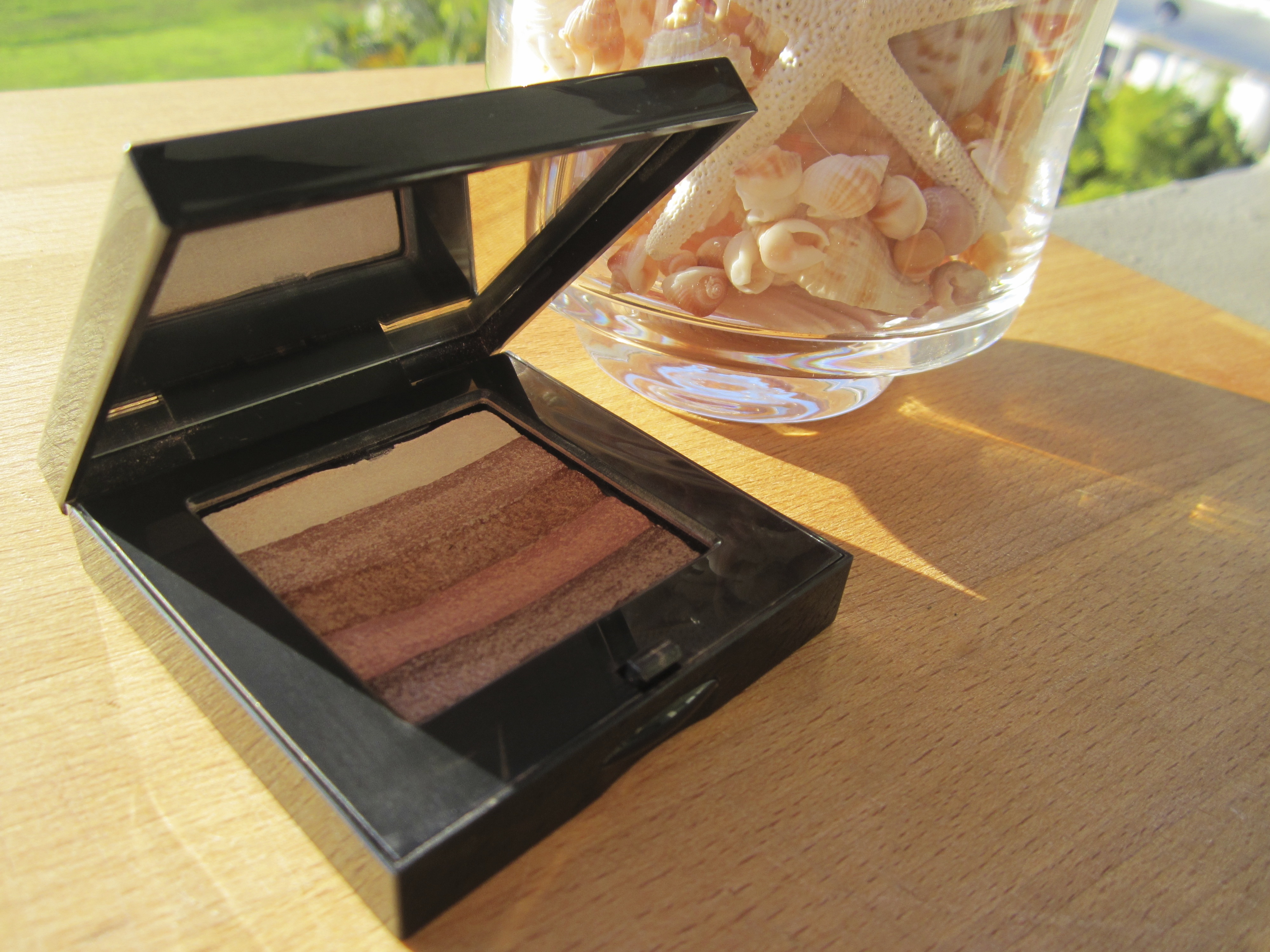 My shade:  Bronze
The Bobbi Brown Shimmer Brick in Bronze is one of my all time favourite products.  It's so versatile – cheeks, eyes, lips.  I could literally rant about this product for hours…but I will spare you this time!
Instead, you might like to check this post – The Product That Kick-Started Mt Bobbi Brown Obsession.  There may be a sneaky giveaway included in the post – competition closes on 11 December, 2012.
NARS COSMETICS – Blush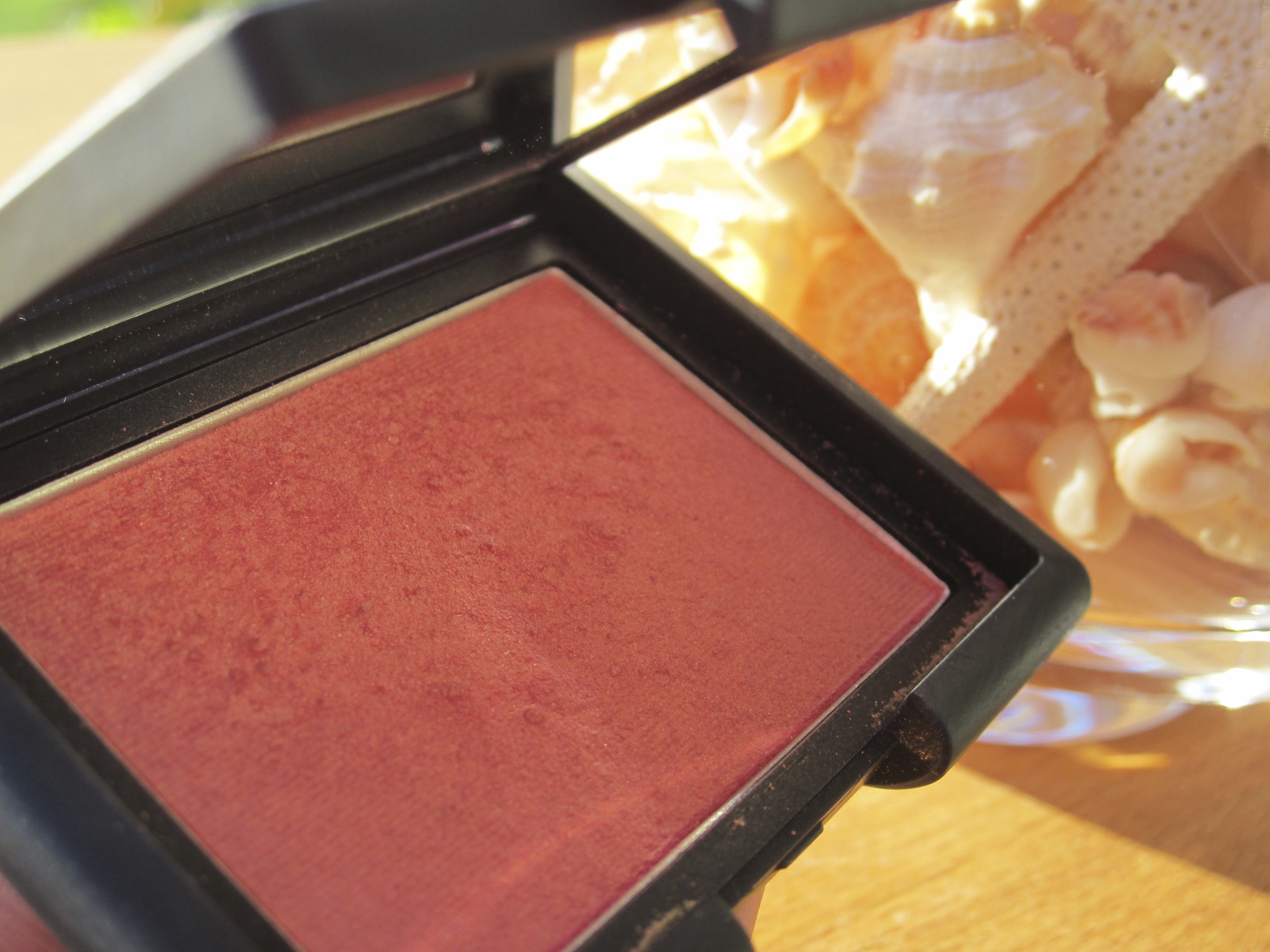 My shade:  Orgasm
The NARS blush in Orgasm is the perfect pinky, peachy, coral tone that gives a beautiful flush to the cheeks and looks so pretty on all skin-tones.
The slight hint of gold shimmer gives the illusion that your skin is glowing from within, without making you look like a disco ball!  It's an easy go to colour that you don't have to think about.  If you're unfamiliar with NARS Cosmetics, most of their products have  eyebrow-raising names.  If you can get past that, they are genuinely beautiful products.
I lightly dust the blush over the apples of my cheeks blending back to the hairline, into my bronzer with a fluffy blush brush.  The formula is soft and smooth to work with and is not at all chalky.
It's my no brainer, go-to blush!
MAC COSMETICS – Eyeshadow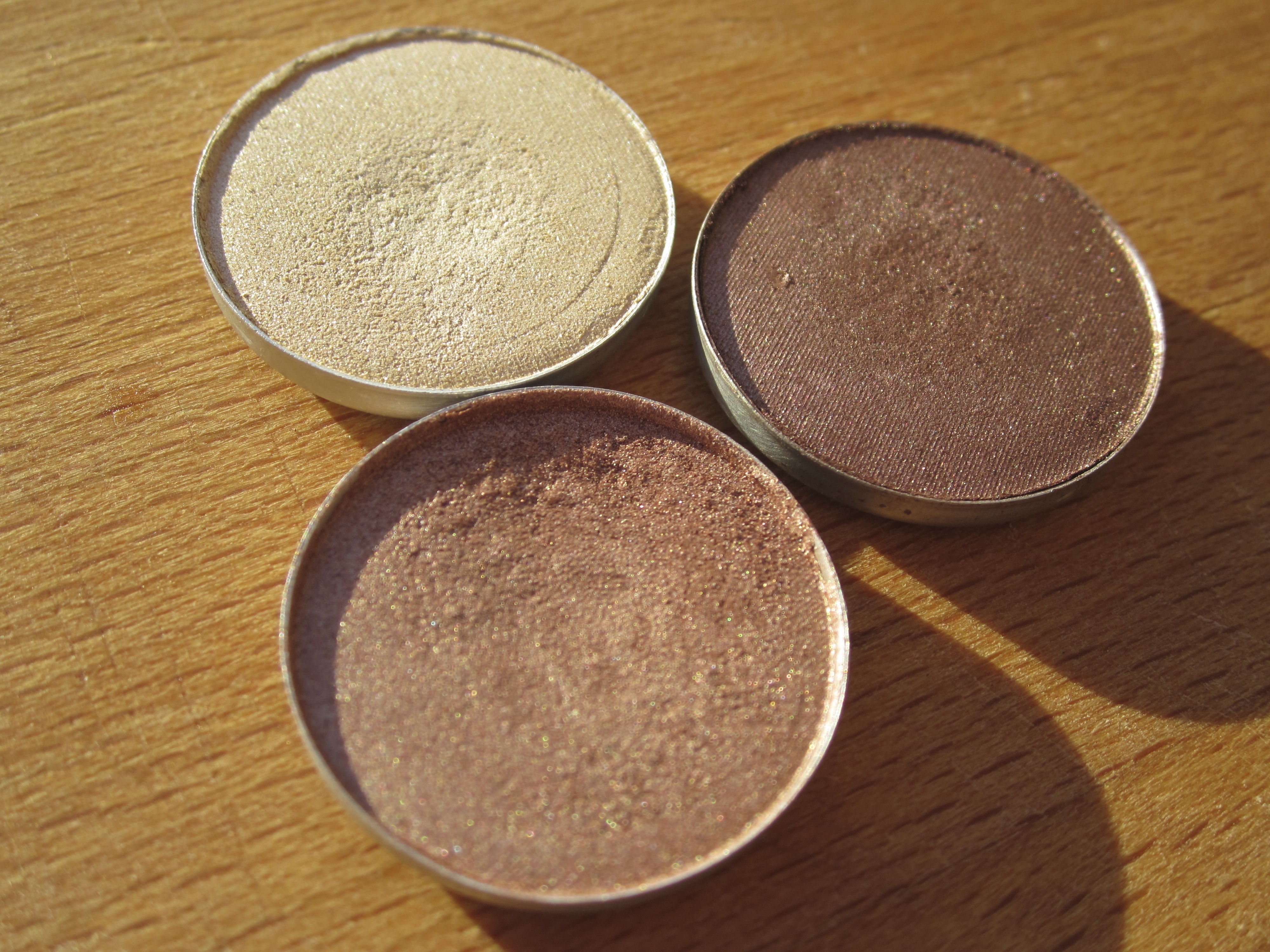 My shade:  Nylon, All That Glitters + Sable
I found myself gravitating to the same eyeshadow combination for work this past month.  I can't say that I stick to the same eye colour combination much.  I generally like to change it up but November was an extremely hectic month.  Here are the colours I was wearing on my eyes:
Nylon – a pearlescent cream colour applied to the inner corner of the eye around the tear duct to give the illusion of bright, wide awake eyes.  Along with a little placed under the arch of the eyebrow and blended out to give a slight radiant glow.
All That Glitters – a beautiful shimmery rose gold colour applied all over the lid with a short eye shader brush, up to the socket/ crease and blended out, along with a light wash of colour along the middle third of the lower lash-line.
Sable – a brownish, pinky, gold bronze shimmer colour lightly applied with a fluffy eyeshadow brush to the socket/ crease for a little added dimension, along with a light wash of colour along the outer third of the lower lash-line (blended into the All That Glitters shade).
The colour combo of Nylon, All That Glitter and Sable is perfect for work or smoke it out a little more with the Sable shade for after work play time!
MAC COSMETICS – Eye Kohl
My shade:  Teddy
MAC Cosmetics Teddy Eye Kohl is perfect for those days that you want a little definition without the harshness of a black.
Teddy is a deep brown, creamy eye kohl with gold flecks.  Apply to the top of the lash-line on the outer third and smoked out using a pencil brush towards the inner corner.
I also tight-lined my upper water line with the kohl pencil giving the illusion of thicker lashes.
MAC COSMETICS – Amplified Creme Lipstick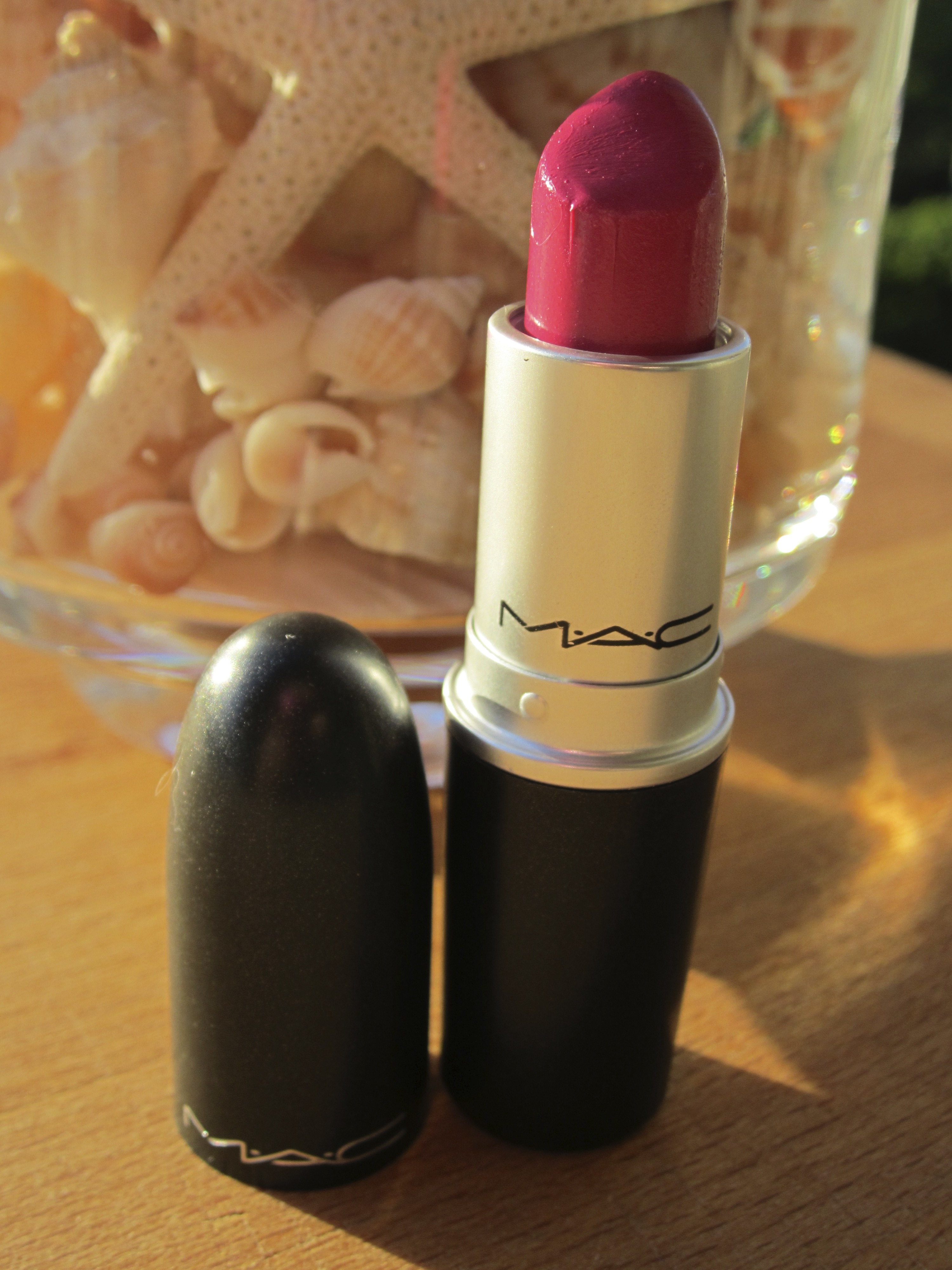 My shade:  Girl About Town
MAC Cosmetics Amplified Creme Lipstick in Girl About Town is a stunning statement, hot pink colour lipstick.  Creamy in texture and extremely long wearing – even though it's not marketed as a long-wear formula.
Girl About Town is my favourite 'power' lip product – for those days that you need a little extra confidence or pep-in-your-step.
To keep Girl About Town looking bold and vibrant all day, I follow these bullet-proof lipstick steps:  Touch-Up Free Lipstick.
I don't think that I've ever received so many compliments on a lip colour as I have received while wearing Girl About Town.
[line]
Haircare
KERASTASE – Cristalliste

My products:  Bain Cristal Shampooing and Lait Cristal Soin Perfecteur Multi-Lumiere
I was first introduced to Kerastase by my stylist at Sublime Hairdressing, Olivia approximately six years ago and have been in love with the product range ever since.
While conducting some researching during June, I came across a Kerestase line that I had not seen or heard about in Australia – Kerastase Cristalliste.  It's especially targeted to people with long, thick hair with dry lengths or ends (yep, that's me).  The product states that it will "…leave your roots pure and weightless while leaving the ends smooth and polished, improving the hair's natural shine and create an airy feel."
I honestly didn't think it would be too different to other Kerestase shampoos and conditions.  So, while I was on holiday in the United States, I picked up the Bain Cristal Shampooing Perfecteur Multi-Lumier and the Lait Cristal Soin Perfecteur Multi-Lumiere to give it a whirl.  Unfortunately, I loved it – yes I say unfortunately because I cannot easily repurchase it here (aside from ebay or something similar – insert frowny face!).
Both the shampoo and conditioner are super moisturising but I was most impressed with the conditioner – it felt thin and kind of watery.  I was sure that it wasn't going to inject the moisture that my hair needed…wrong!  It's amazing.  It not only conditioned my hair better than any other Kerestase product ever has (and I'm not kidding when I say Kerestase really have amazing products – I've tried numerous brands in my time) but it left my hair feeling super light, bouncy, shiny and smelling oh-so-fabulous.
The Kerastase Cristalliste marketing phrase is "it's the best kept secret for long hair" – wow, they aren't wrong.  LOVE!
Dear Kerestase, I would be so grateful if you could send your Kerastase Cristalliste line to Australia.  Please and thank-you xx
UPDATE:  the Kerastase Cristalliste line is now available Down Under! Yay – thanks Kerastase!!
[line]
Perfume
MARC JACOBS – Daisy Eau De Parfum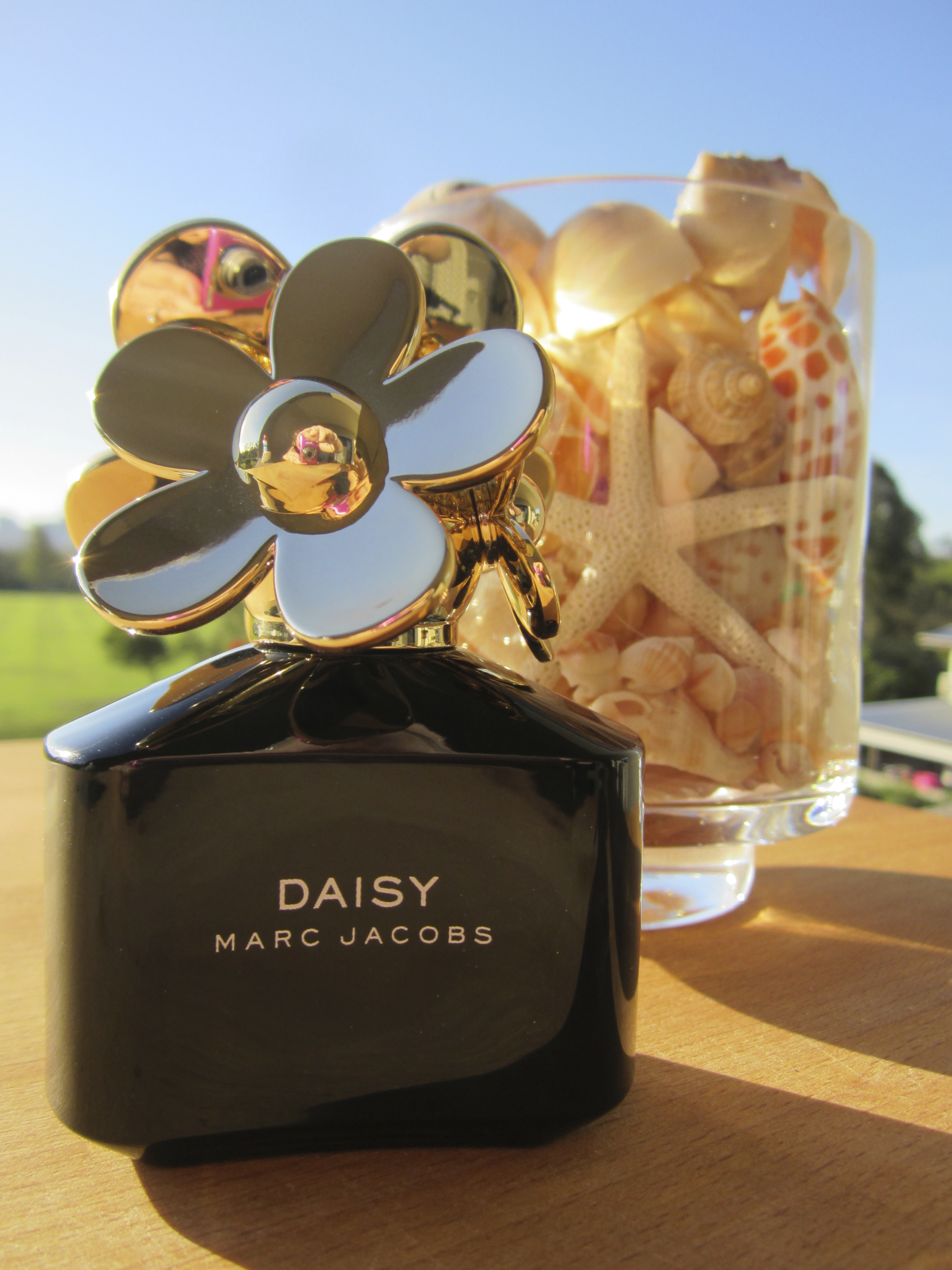 I would describe the fragrance of Marc Jacob Daisy Perfume as sophisticated and elegant.  It's bold while oozing a softness.  You only need a small spritz of this fragrance (I'm not into overwhelming people with the perfume I'm wearing) to get an effect that lasts all day.  In my opinion, it's a perfect all-year-round fragrance.
Below is the fragrance description listed on the Marc Jacobs Daisy website:
Luscious Natural Freshness

(top notes):  wild strawberry, violet leaves and ruby red grapefruit,

Luminous Modern Vintage

(heart notes):  violet, jasmine and gardenia; and

Smooth Softness and Warm Sensuality

(base notes):  vanilla infusion, musks and white woods.
Marc Jacobs Daisy has been my go-to perfume for work during November.
[line]
Thank you for taking the time to read this post.  I hope you enjoyed it.  Did you know you can shop this post by clicking the images below or any of the pink hyper-links throughout this article!


What were you loving during November?  Why not leave a note in the comment section below – I'd love to hear from you.
Don't forget, if you liked this post, to share it with your friends using the social media buttons below!
With love and gratitude,