Well hello there lovely!  I hope you all had a fabulous weekend – I personally ate way too much turkey and quite possible my weight in pumpkin pie!  Needless to say, I'm going to feel it at the gym this week.
Today's post will discuss my beauty favourites for the month of November.  I haven't posted one of these types of articles since the beginning of the year, so I'm excited to share these fabulous little skincare, makeup, beauty tools, haircare, nail polish and perfume products with you.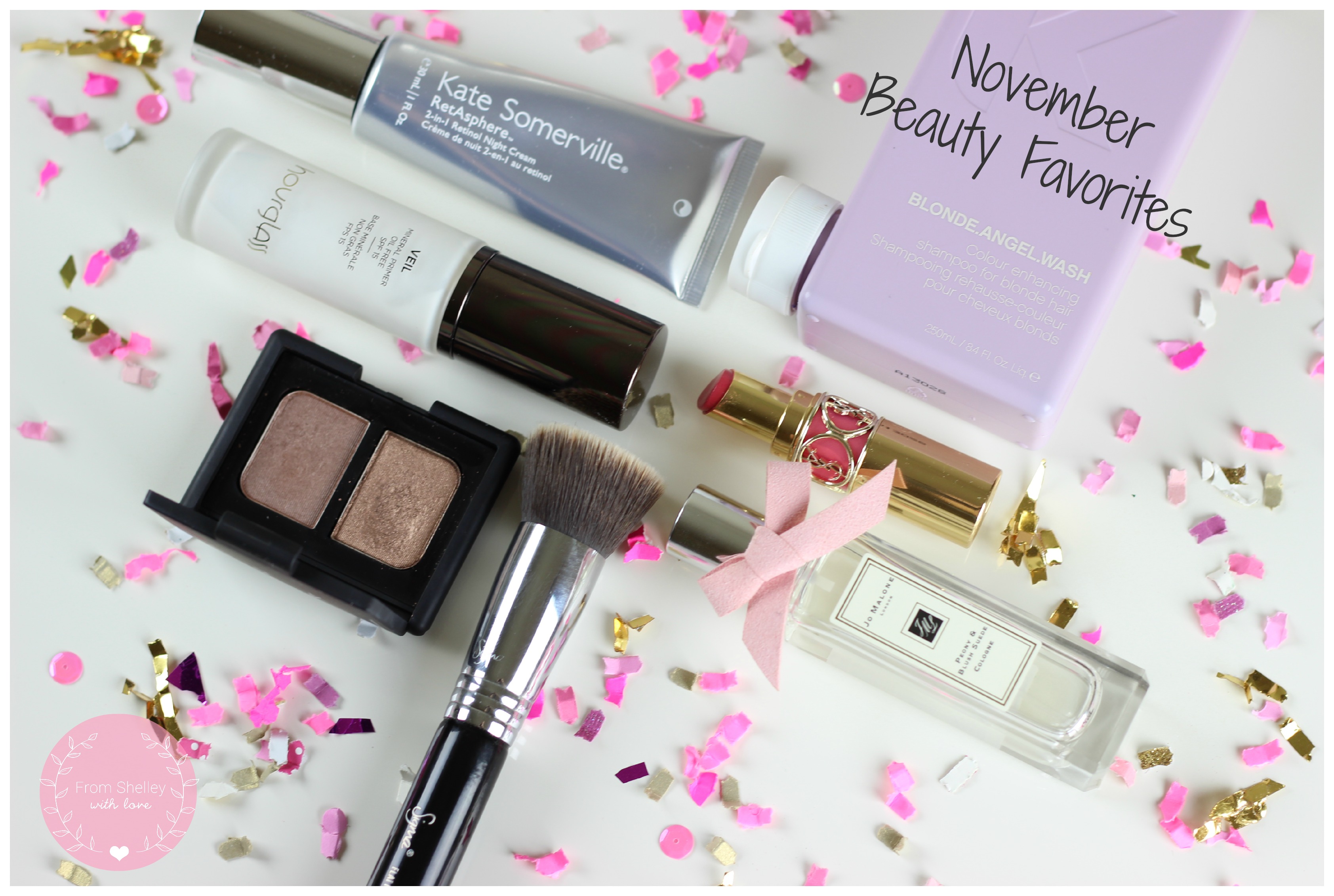 [line]
Skincare
KATE SOMERVILLE – RetAsphere
When it comes to my beauty routine, looking after my skin ranks highest on my priority list. It's because of this that I'm always on the lookout for products that are going to enhance my skin tone, texture and combat ageing.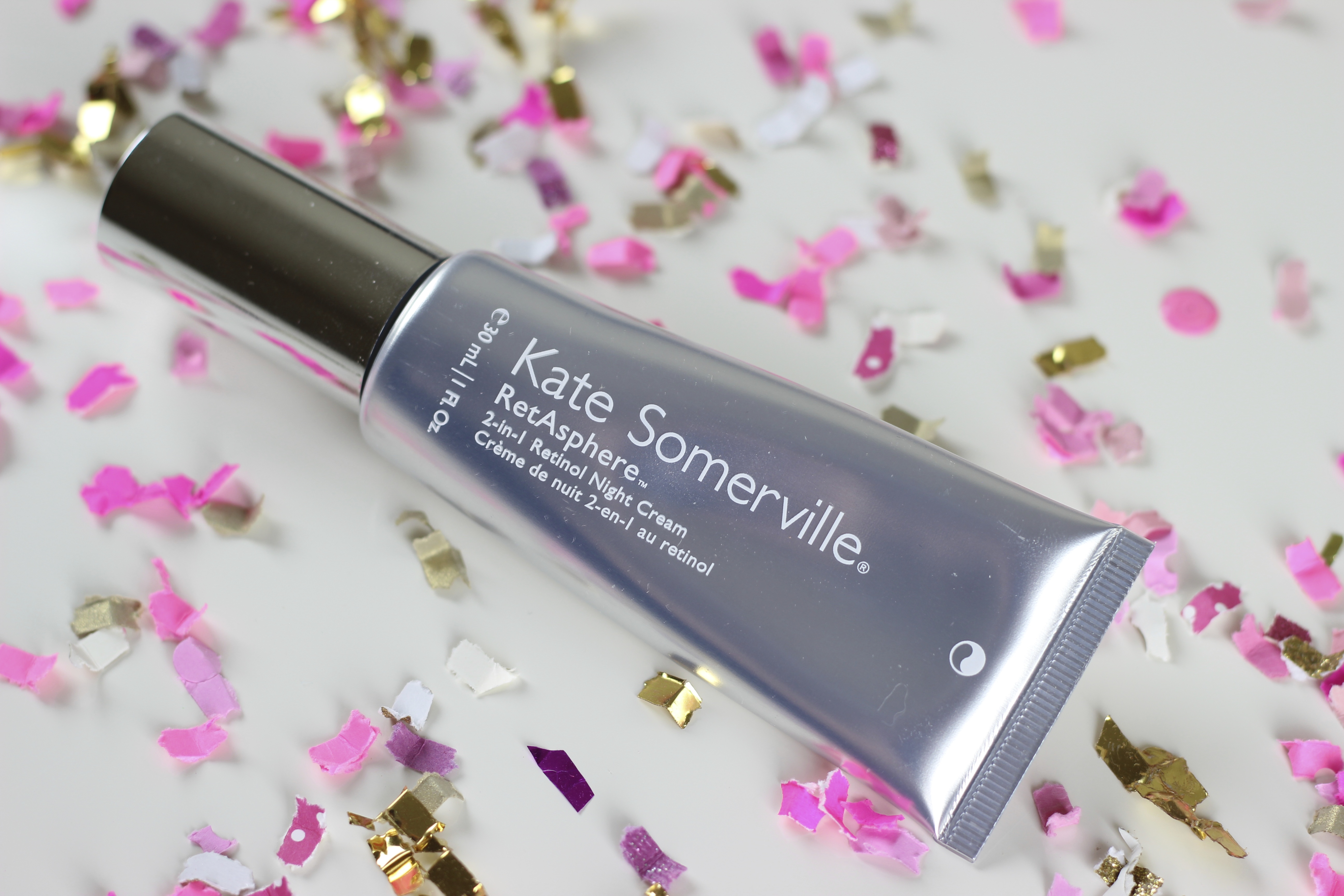 During November I was still recovering from an unfortunate chemical peel disaster that occurred just two weeks before my wedding (I'll be posting about this later on – a product usage warning to all).  My skin was also showing the stress of an international move – I was experiencing little bumps under the surface of my cheeks and a nasty hormonal breakout along my jaw area – super attractive!  Overall, my skin just looked dull and congested, and was in serious need of a kick in the pants!
I discovered Kate Somerville RetAsphere earlier this year and after doing my normal obsessive product research, I decided to snap up a tube for myself.  I've been using RetAsphere in the final step of my nightly skincare routine with great results.  My skin is visibly smoother and brighter each morning.
Benefits
RetAsphere is a moisture-rich, 2-in-1 Retinol night cream.  The product is thick, creamy and highly moisturising, which is just what you want from a night cream.
Retinol, which derives from Vitamin A, boosts the production of collagen while increasing skin cell turn-over.  This means that you can expect an improvement in the appearance of fine lines, wrinkles, acne and discolouration – umm, yes please!
RetAsphere is formulated without any nasty parabens, sulphates or phthalates.
Aside from fuelling my body with nutrient-rich foods and drinking plenty of water (both of which effect your skin texture, tone and ageing process), I busted out my RetAsphere every night during November, to get my rampant skin back under control.
Packaging
The RetAsphere packaging is no different to any other Kate Somerville product – thoughtful, hygienic and pretty.
The tube fits perfectly in the palm of your hand while the pump dispenses the perfect amount of product onto your fingertips – no awkward squirting involved.  The lightweight tube and pump packaging make this product perfect to travel with.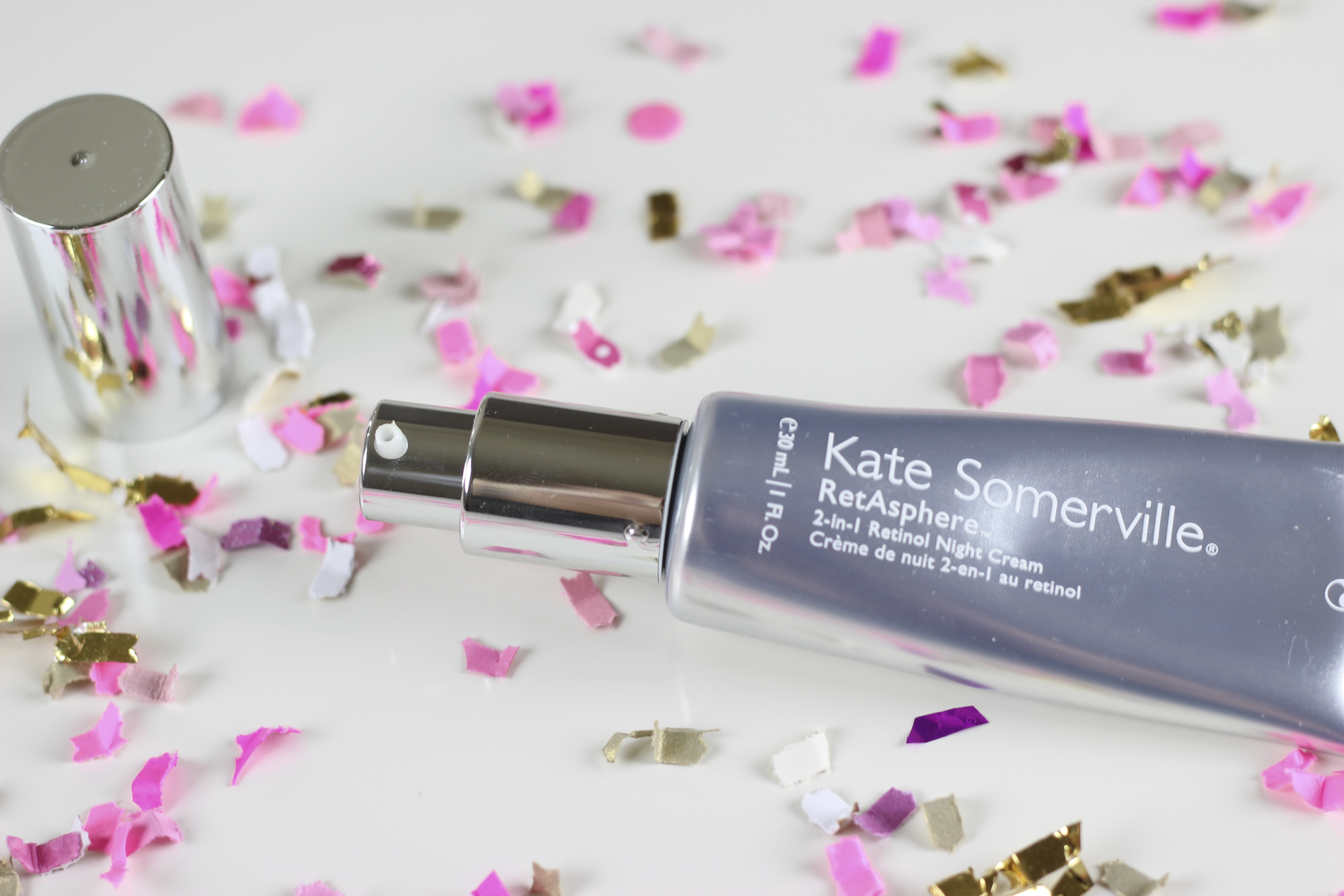 Overall, Kate Somerville RetAsphere is an amazing product that does exactly what it promises to do – diminish the appearance of fine lines and wrinkles and leave the skin looking and feeling smoother, firmer and hydrated without irritation.
Kate Somerville products have never let me down and RetAsphere is just another amazing gem from the brand!
[disclaim]Always be sure to wear sunscreen during the day while using any product containing retinol as the ingredient will make your skin more sensitive to the sun.[/disclaim]
[line]
Makeup
HOURGLASS – Mineral Veil Primer
I've been all about the facial primers for the past twelve months.  I was on the pursuit for the perfect primer for my wedding day – so I've just about tried them all!  It was through this relentless search that I found my next favourite and my holy grail primer product!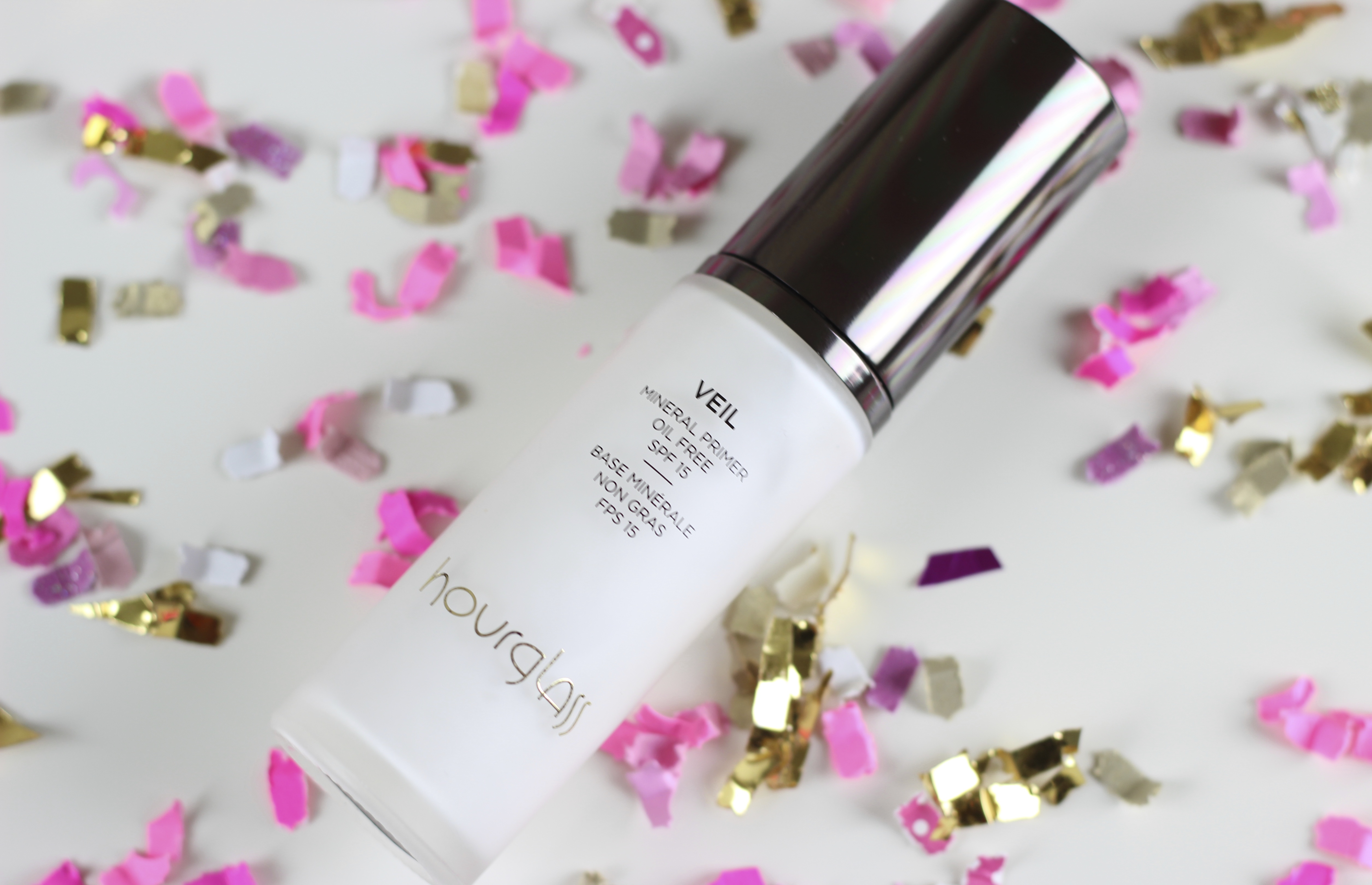 The biggest thing that worried me about doing my own makeup for our wedding, was the longevity.  My makeup had to last from approximately 11am until 11pm through heat and potential tears!  I didn't want to be worrying about an oily t-zone or touching up my powder at all during the day.  A few weeks before the big day, I found Hourglass Mineral Veil Primer and I've never looked back!
What is a face primer and how is it used?  A primer is used before applying makeup and is generally formulated to smooth fine lines, minimise the appearance of pores and imperfections, even out skin tone and in some cases, tone down readiness from blemishes or rosacea (exactly what Hourglass Mineral Veil Primer does).  A primer will provide your foundation and concealer with a base to stick to – effectively extending the wear of your base.
Mineral Veil Primer is a white, satin-finish, liquid that blurs the appearance of pores and fine lines.  It hydrates the skin while repelling water to minimising shine, without leaving an unnatural matt appearance or a tacky/ slimy feeling.
To use the primer, I dispense half a pump onto my fingertips and work thoroughly into the skin (from the centre of the face outwards) before prior applying foundation.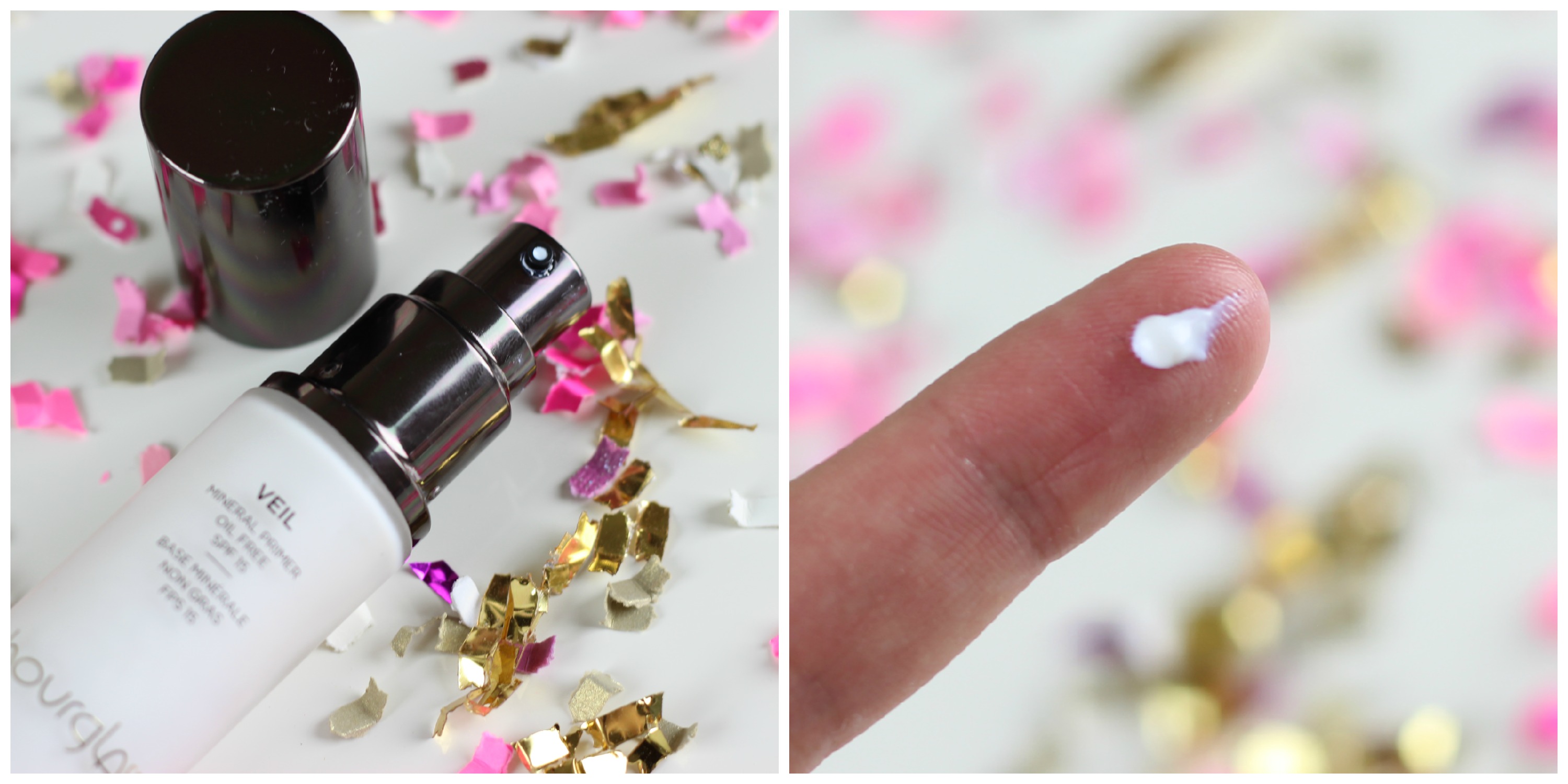 *The product dispensed in the image above is a sample amount, not half a pump.
Just a quick word of warning, Hourglass Mineral Veil does contain an SPF 15.  If you plan on using this product while having pictures taken, test it out on your skin prior to your event. Why?  SPF is usually a big 'no-no' when it comes to flash photography.  The titanium dioxide can give your face the appearance of a white-cast when used in conjunction with flash photography.  I personally didn't find that I had any flashback issues but I used the product sparingly, and worked the liquid into the skin thoroughly.
Packaging
The packaging of this product feels very luxurious – the frosted glass bottle and reflective cap/ pump oozes glamour and sophistication.  Again, I love the hygienic pump-pack however, getting the last drops of this product out of the bottle may prove to be a bit of a challenge (I'll keep you posted).
The glass bottle is rather heavy to travel with however, there are two size options, 10mL and 30mL (0.33Oz and 1Oz) to choose from, fixing that problem!
Hourglass Mineral Veil Primer is formulated free of oil, parabens, phthalates, gluten, sulphates, fragrance and is vegan-friendly – so amazing!
It is without a doubt, my favourite primer of all time!  Bye-bye oily t-zone and hello flawless skin!
NARS COSMETICS – Eyeshadow Duo (Kalahari)
Nars eyeshadows are some of my favourite from my makeup collection.  They are buttery and smooth, with amazing colour pay-off and no fall-out.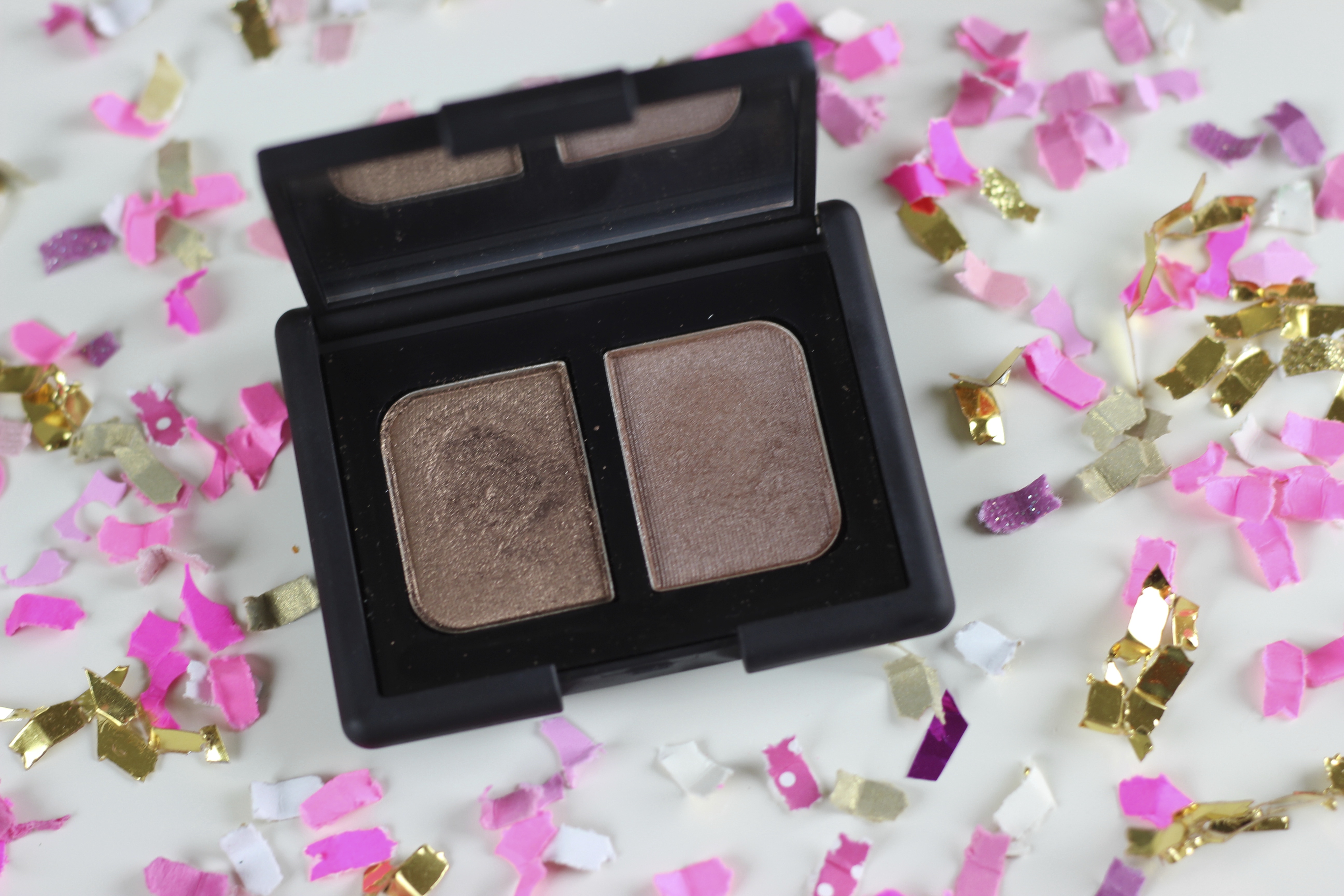 A combination that I have been loving for the Autumn/ Fall season (and is perfect for any time of year, really) is the Nars Eyeshadow Duo in Kalahari.
The eyeshadow duo comes with two delicious colours:  a metallic bronzy-gold colour and satin pinkish-brown taupe colour.  The shades not only compliment each other beautifully, but they are the perfect combination for any eye colour, day or night.

I like to place the gold colour over the inner two thirds of my eye lid, and the taupe colour on the outer third and lightly through the socket.  With an eyeshadow primer, these colours wear all day without creasing.
Nars Kalahari has been my quick, 'go-to' eyeshadow combination for November.
YVES SAINT LAURENT – Rouge Volupte Shine Lipstick (13 Pink in Paris)
The Yves Saint Laurent Rouge Volupté Shine Lipsticks are without doubt, one of my favourite lipstick formulas of all time.  They are butter, silky and ultra hydrating, while being long-wearing!  Intense shine, luminous colour.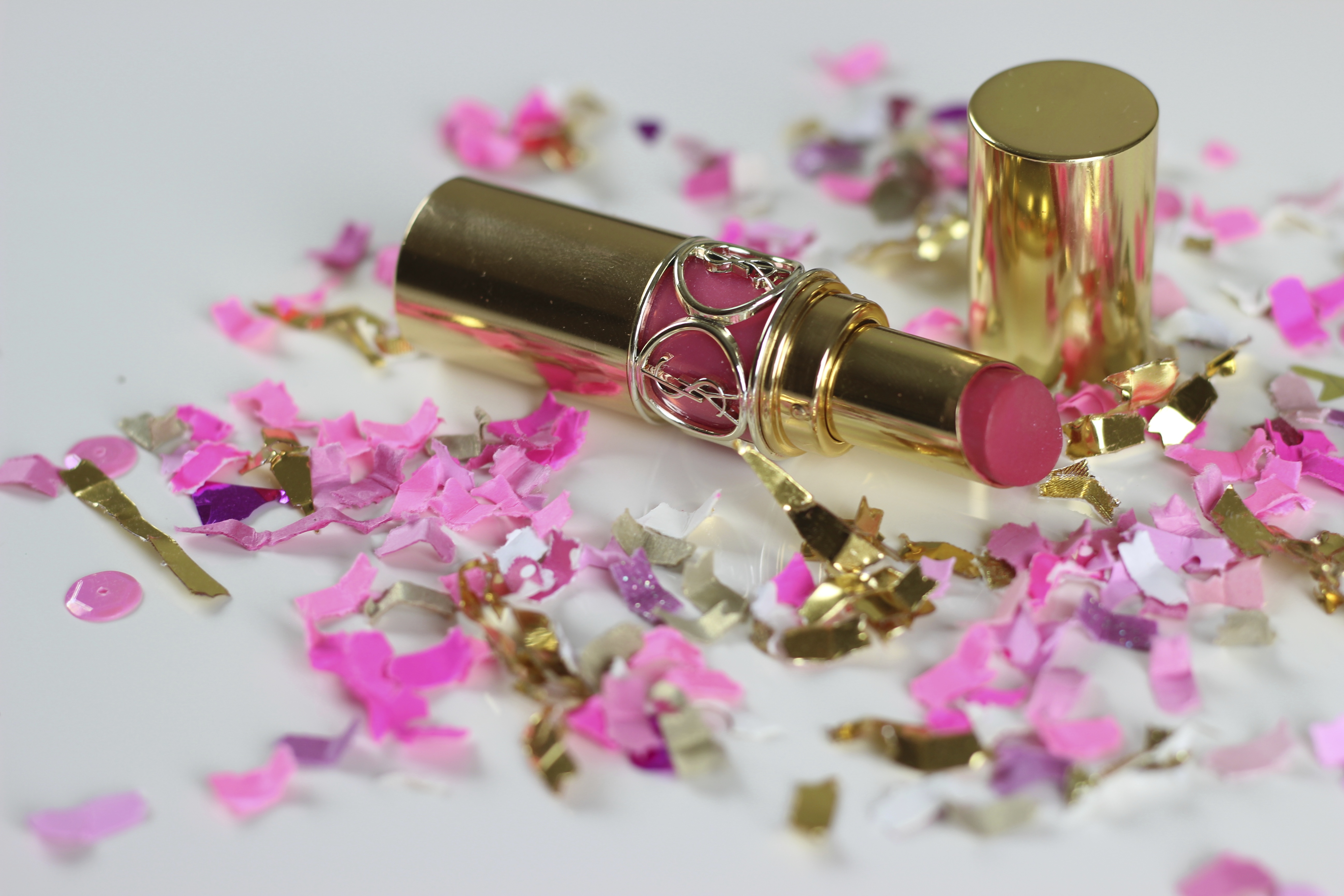 YSL Rouge Volupte Shine Lipstick – #13 Pink in Paris
Shade number 13 – Pink in Paris is one of my favourite lipstick colours in my collection.  I love it so much, that I chose to wear the pretty, medium pink colour with a hint of coral, on my wedding day.  It's incredibly long-wearing for a shine lipstick – I barely had to touch up all day!
The Rouge Volupté Shine line from Yves Saint Laurent is formulated with natural extracts of pomegranate and rosemary to reduce the appearance of fine lines.  While candellila resin forms a thin, protective layer to help lock in moisture and magnify colour and shine.
The bright, vibrant colour can be attributed to mineral pigments, while the melting formula enables a smoother glide-on application.  Lastly, hyaluronic acid spheres hydrate and soften the lips, sealing in moisture for up to eight hours!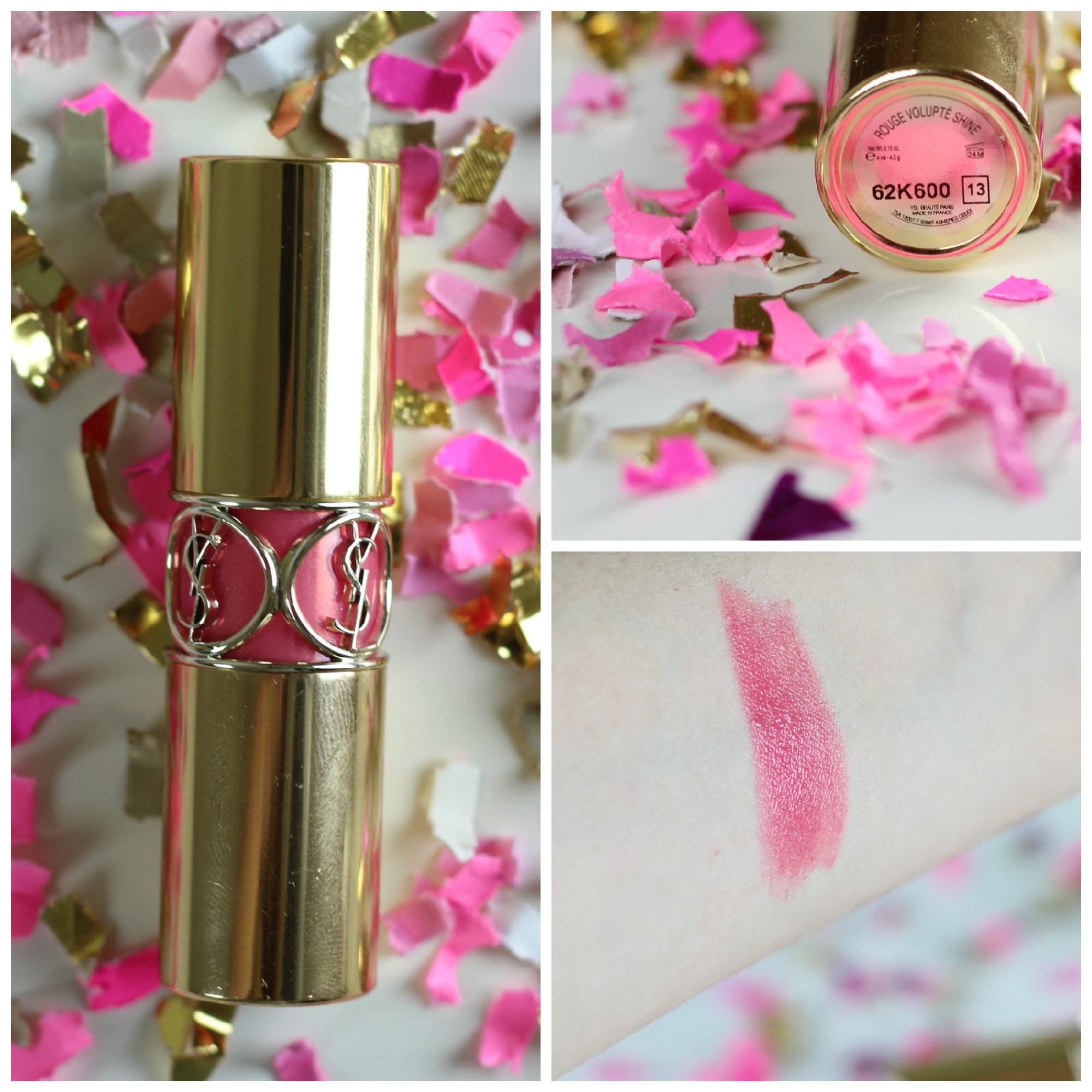 In my opinion, the formula, medium-weighted, gold packaging and fragrance of this product, make it the ultimate luxury lipstick!
Beauty Tools
SIGMA BEAUTY – Flat Top Kabuki Brush (F80)
Back in August, I made my very first purchase from Sigma Beauty.  One of the makeup brushes I ordered was the Sigma Flat Top Kabuki Brush (F80) – this brush it's now my number one choice for a perfectly flawless base application.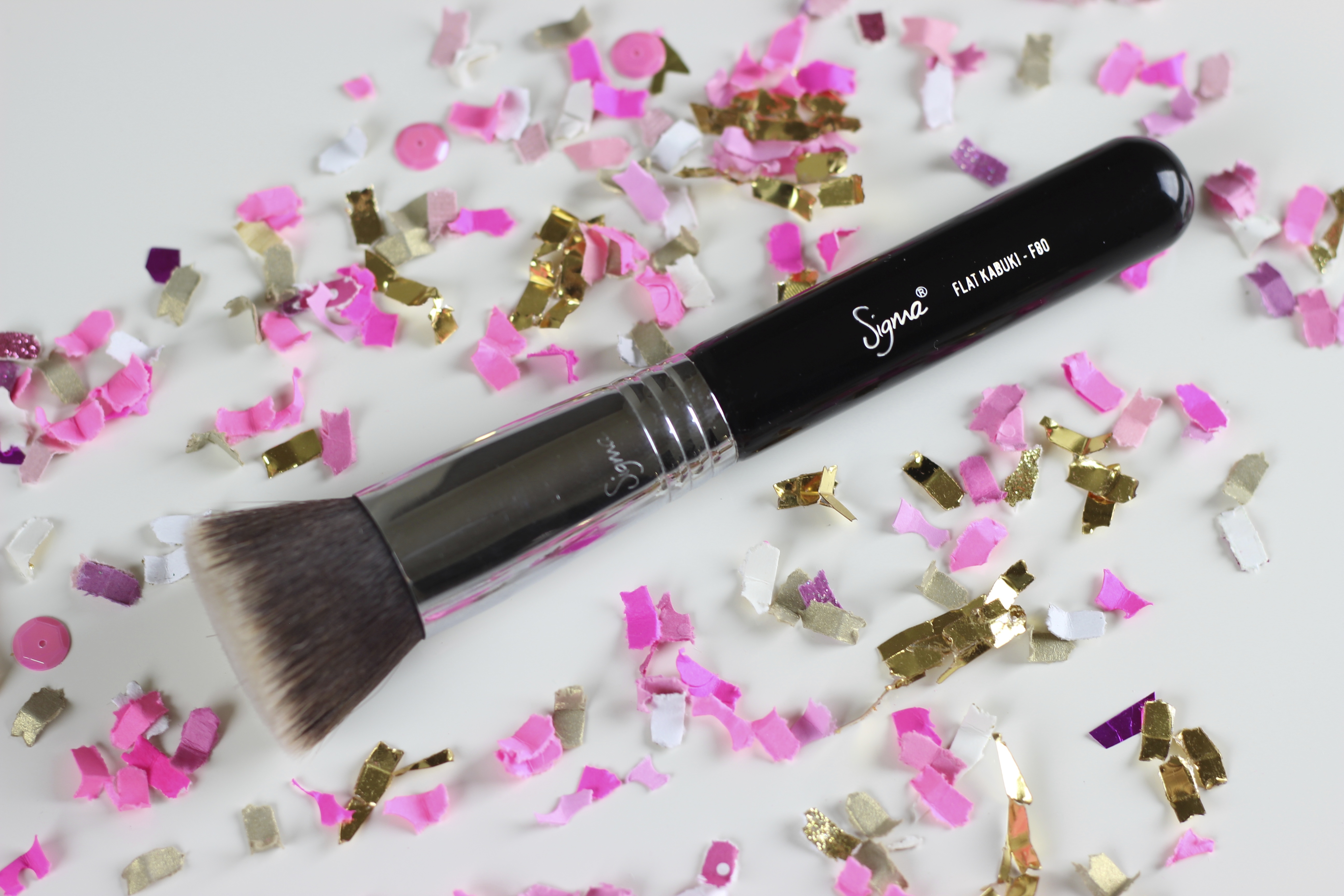 Sigma Flat Top Kabuki Brush – F80
Sigma Beauty make a range of different makeup-based products but first and foremost, they are known for their amazing quality makeup brushes.  The quality of these brushes is on par (and sometimes exceeds) MAC Cosmetic brushes, but come with a much more attractive price tag!  Sigma make dupes of just about every MAC brush on the market along with many other amazing brush designs of their own.
The F80 Flat Top Kabuki Brush has dense, flat, synthetic bristles that make it the perfect choice for seamlessly buffing in foundation (liquid, cream or powder), blending in concealer or tapping on powder to give you an ultimate, flawless finish.
Price
The Sigma F80 Flat Top Kabuki Brush is only available from www.sigmabeauty.com for $21.00.  They ship internationally too!
I can't wait to purchase more Sigma brushes to add to my collection!
Haircare
KEVIN.MURPHY – Blonde.Angel.Wash
This product is a must for anyone with blonde or grey hair/ highlights!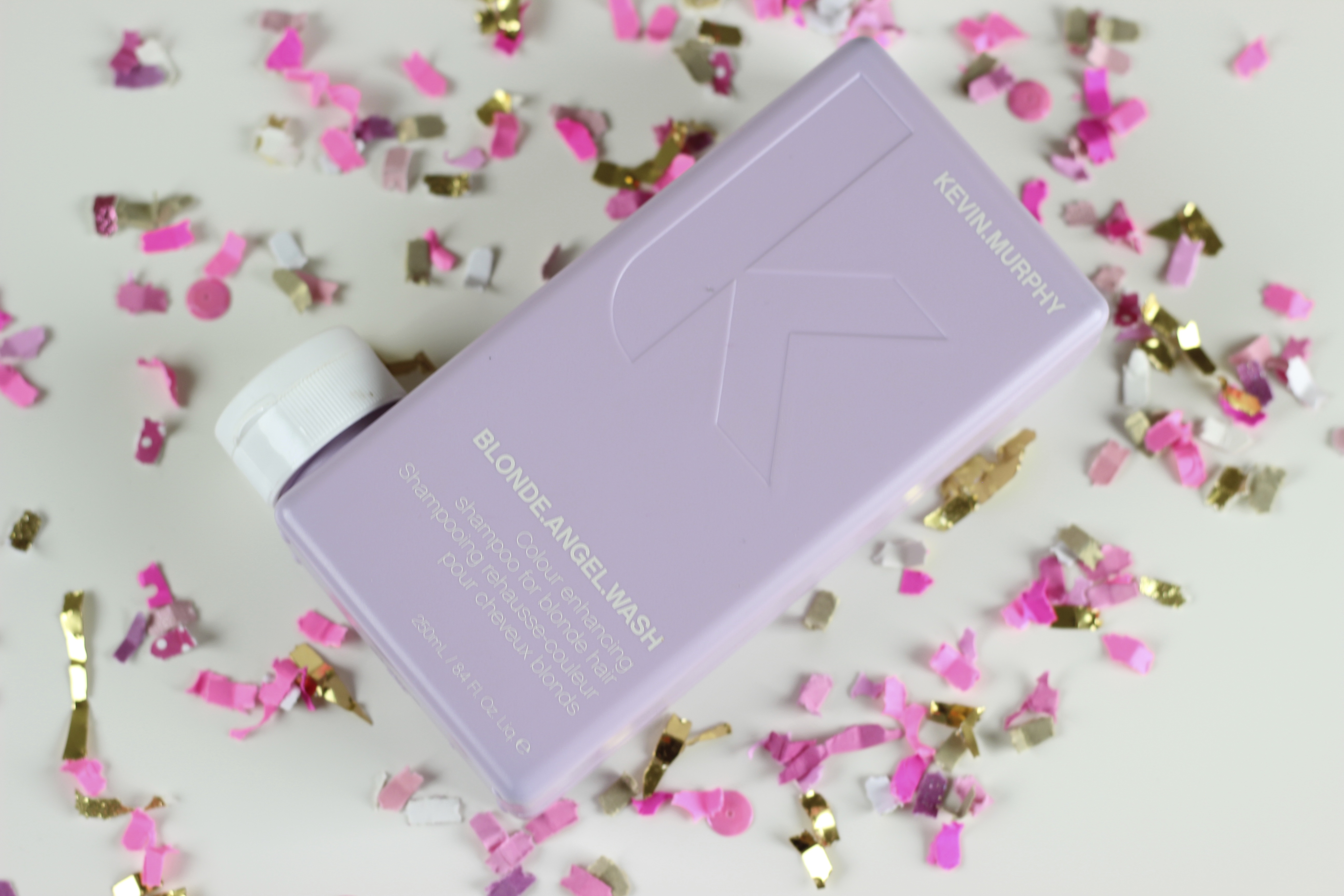 Kevin Murphy – Blonde Angel Wash
Over the past twelve or so months,  I've had my hair colourist (hey Cherie!) slowly lighten the blonde in my ombre hair colour.  As a blonde, my hair is notorious for brassiness.  Now I don't know about you, but I'm not a big fan of looking like I have the same colour hair as Lisa Simpson!  So after trailing plenty of different purple shampoos to combat the brass, I found Kevin Murphy Blonde Angel Wash….it's the best purple shampoo that I've used in my life!  Absolutely no joke.
Blonde Angel Wash is a colour enhancing shampoo for blonde or grey hair –  it refreshes blonde tones with a lavender infused colour, while optical brighteners rescue dull hair and restore shine.  All Kevin Murphy products are proudly free of sulphates and parabens.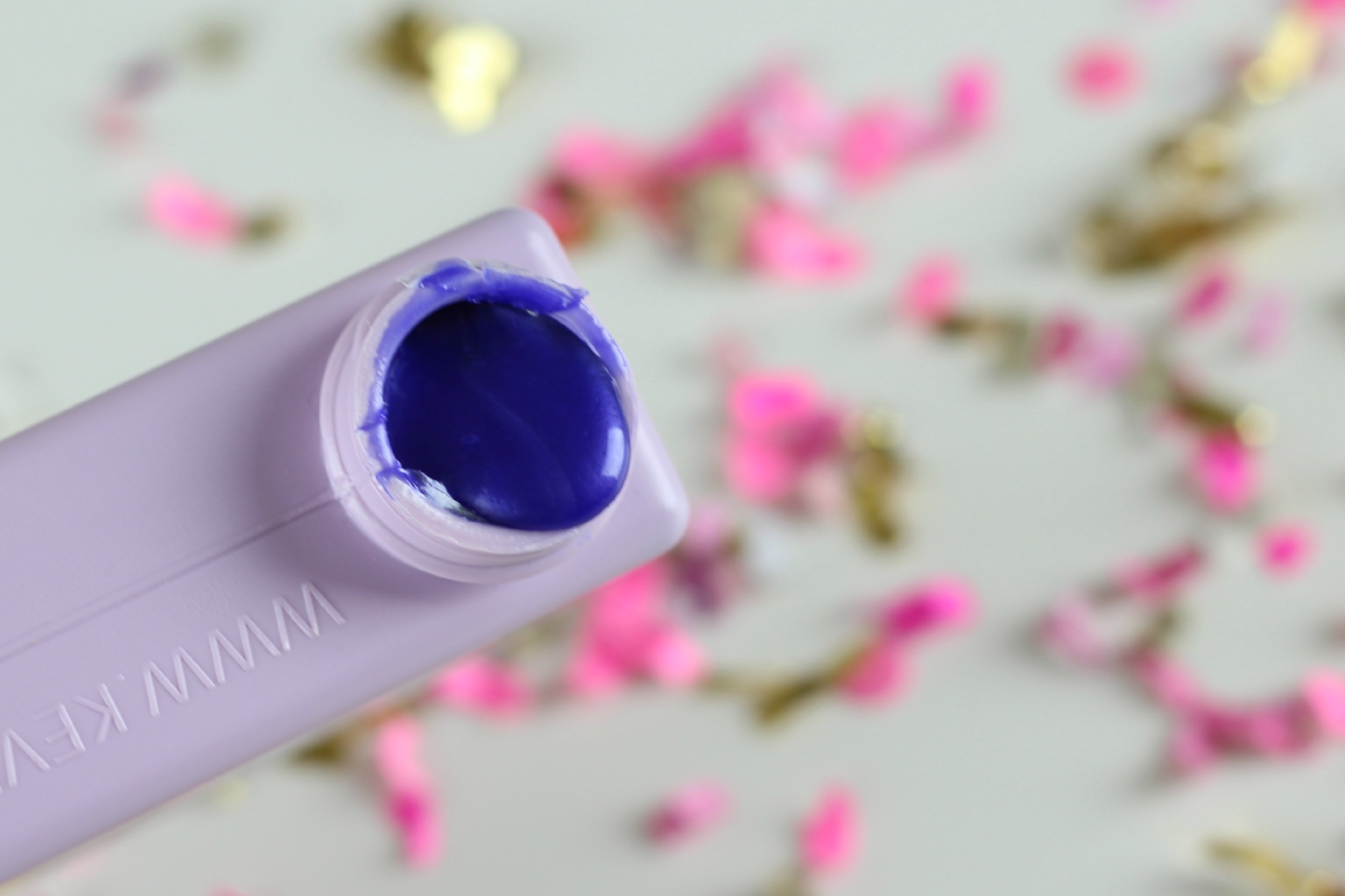 In the past, I've typically found purple shampoos to be much more drying than regular shampoos.  Blonde Angel Wash is nourishing, hydrating, and smells like deliciousness in a bottle, that lingers for days…a bit like musk stick lollies!!  Yuuum!
Price
Kevin Murphy Blonde Angel Wash retails for $32.95 in Australia and is available through Amazon internationally.
Nail Polish + Perfume
JO MALONE LONDON – Peony & Blush Suede Cologne
Weeks before my wedding I was still franticly searching for 'my scent', my perfect wedding fragrance. I had bought and tried lots of options but none captured me like Jo Malone London Peony & Blush Suede Cologne.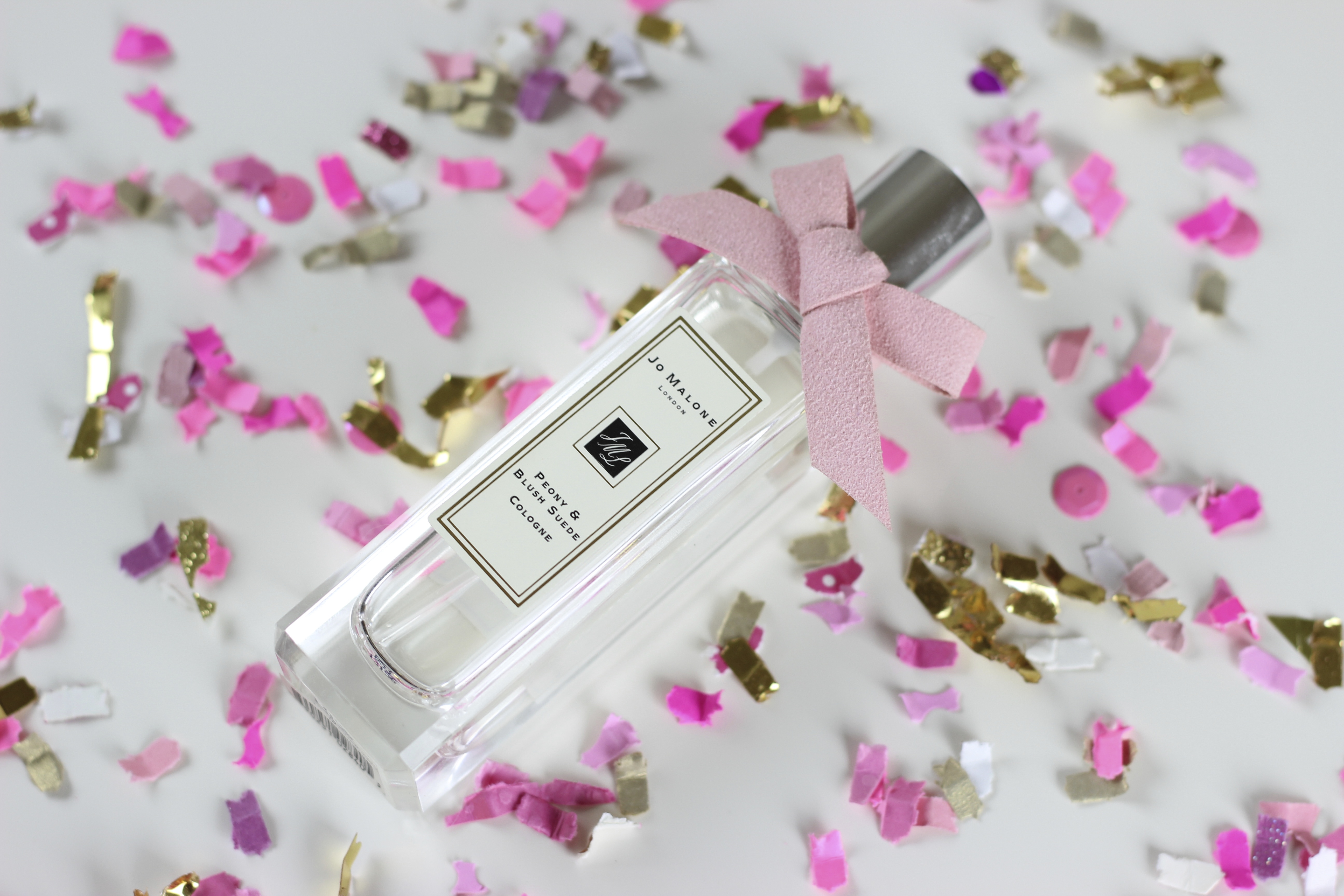 Jo Malone London – Peony & Blush Suede Cologne
I was first introduced to this fragrance at the little boutique that I bought my wedding dress from.  It was their feature fragrance (and only fragrance).  On my second last fitting, I spritzed a little on my skin and was intoxicated with the fragrance for the rest of the day.
Having heard so many amazing things about Jo Malone fragrances, but never before purchasing one for myself, I ventured into my local department store's Jo Malone counter to investigate further.
Jo Malone fragrances are made to be layered – you can combine any number of fragrances to make your own individual scent.  After giving every fragrance in their line a little sniff, I settled back on my original favourite – the Peony & Blush Suede.
Ironically, the title of the fragrance included two of my favourite things, peony (which were unfortunately out of season at the time of my wedding) and blush….I never leave the house without a little pink blush dusted over my cheeks!
It took quite some time for me to decide to purchase the fragrance – my then fiancé, was not a fan of floral fragrances (of which this is quite florally scented).  I wanted a fragrance that he would love and that I could wear on special occasions after our wedding to remind him of our day…that wasn't going to be a great memory if he hated my perfume….thinking how much I stunk all day! hahahah.
The Jo Malone website describes Peony & Blush Suede Cologne as:
"The essence of charm.  Peonies in voluptuous bloom, exquisitely fragile.  Flirtatious with the juicy bite of red apple and the opulence of jasmine, rose and gillyflower.  Mingling with the sensuality of soft, blush suede.  Luxurious and seductive."
Top Notes:  apple   Heart Notes:  peony   Base Notes:  suede  (30mL or 100mL)
Luckily for me, my husband l-o-v-e-s this fragrance!  It's now my favourite all-time perfume and one that hubby wants me to wear all the time – next time I'm going to get the 100mL bottle!
Well, those were my November 2013 Beauty Favourites.  I'd like to thank The Confetti Bar for my gorgeous Flamingo confetti that I have used to style this post.  I loved my confetti package so much, that I ordered two more bags immediately after receiving the first two!
What beauty products were you loving during November?
With love,