I'm so excited to share this product review with you.  Advanced Home Actives Brazilian Peel is one of my secret weapons and without a doubt, a holy grail beauty product – I know, that's a very strong statement!
Before I jump into the review, I'd like to thank my furry little friend, Winnie for making me laugh while shooting for this post.  Be sure to keep reading for his contribution!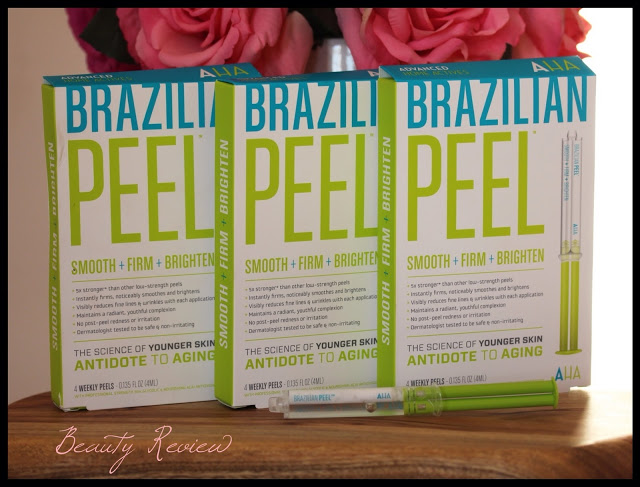 AHA Brazilian Peel was introduced to me by a helpful Sephora (beauty heaven) employee (angel) while I was in San Francisco, in July 2012.
My skin was in desperate need of attention – I was experiencing a hormonal breakout on my chin/ jawline and the cold weather was sapping moisture from my skin.  Ordinarily, I would have supplemented my skincare routine with my Kate Somerville Glycolic Polisher but as I mentioned in my February Favourites, this product doesn't travel well.
So off I popped to Sephora at Union Square to find a solution to my problem.
What is Advanced Home Actives Brazilian Peel
Advanced Home Actives or AHA Brazilian Peel is an at home, professional strength 30% glycolic acid facial peel, infused with the nourishing and anti-aging properties of açai berry.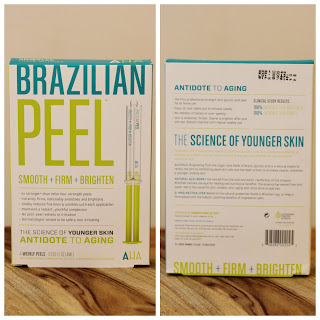 You may cringing at the idea of using a professional strength glycolic acid at home.  You have no doubt seen or heard about the effects of a chemical peel gone wrong.  I certainly felt a little dubious prior to using AHA Brazilian Peel for the first time!  I'm happy to report that there is absolutely nothing to worry about.
Brazilian Peel is packaged in a dual-chamber applicator – one side filled with the glycolic/açai berry solution, the other with a patented Q-Mag mineral neutralizer.  The time release controlled Q-Mag, activates when combined in the palm of your hand with the glycolic/açai berry solution, neutralising the peel solution after 10 minutes, subsequently reducing the risk of over peeling or irritation.
How does AHA Brazilian Peel Benefit your skin
As I mentioned, Brazilian Peel contains glycolic acid, açai berry and Q-Mag neutralizer.  Here is what you can expect from these power-packed ingredients: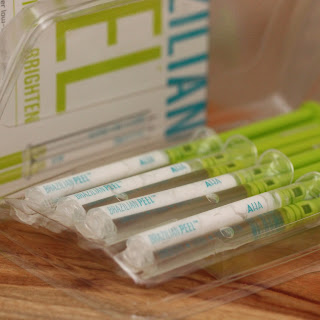 Glycolic Acid derives from sugar cane and is a member of the Alpha Hydroxy Acid (AHA) family.  The use of Glycolic Acid on acne-prone skin can help reduce the formation and appearance of both black and whiteheads, while mature skin can benefit from the reduction of fine lines, wrinkles and age spots.
Glycolic Acid increases hydration and aids the production of collagen, promoting a more youthful appearance.
Natural Açai Berry Essence is an anti-oxidant native to the exotic rainforests of the Amazon.  It's rich in:
vitamins B1, B2 and B3 for evening-out skin tone and contains acne-flighting properties,
vitamin C to fight free radicals, slow down the aging process and potentially aid in the reversal of fine lines,
vitamin E is a potent antioxidant and natural moisturiser; and
omega acids 3, 6 and 9  to aid in the reduction of inflammation and promote firmness, elasticity, skin smoothness, and reduces wrinkle depth
Overall, promoting healthy younger looking skin.
Mag-Q Neutralizer is a patented ingredient that reduces the risk of over peeling and irritation, and contains mineral salts to calm and soothe the skin.
[pullquote width="600″ float="center"]Advanced Home Actives states that Brazilian Peel:
clinical study results reported 100% improved brightness and 100% improved skin clarity, is dermatologist tested and found to be safe and non-irritating, and is cruelty free – never tested on animals![/pullquote]
Packaging, Use + Price
Packaging
One box of AHA Brazilian Peel contains four individually packaged weekly treatments.  The smoothing, firming and brightening peel has become a staple product in my weekly skincare regime and a ritual that I really look forward to!  
(Update:  since posting this review, Advanced Home Actives have repackaged this product into six weekly sachets due to some issues with the previous packaging.)
Using AHA Brazilian Peel
After cleansing my skin twice (including once with my Clarisonic Mia 2), I dispense the contents of one AHA Brazilian Peel applicator onto the palm of my hand.
Taking my index finger, I mix the clear and creamy solutions together until completely combined –  you can really feel the heat in the palm of your hand as the two solutions are blended.
I then scoop the mixture from my hand and evenly apply all over my face and neck – avoiding the eye area.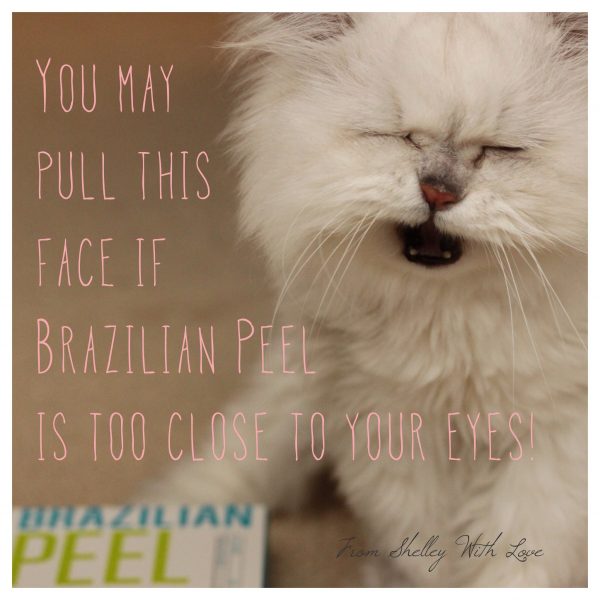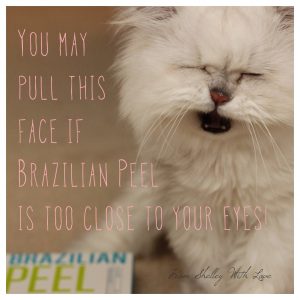 When I started using AHA Brazilian Peel, I found that the treatment would tingle my face for the first few minutes.  
Nine months later and the tingling barely registers with me.  My eyes however, do continue to sting a little (only for a few minutes and certainly not to a degree that really bothers me – it hurts less than getting mascara in your eye) from the vapour.  

You definitely need to be careful not to get the treatment too close to the delicate eye area – or you may end up pulling a face like Winnie!
After I've applied the treatment, I chill out for 10 minutes and let the magic happen.  Finally I use a wash cloth and cool water to gently remove the peel and finish up with an intense night moisturiser before heading to bed.
The results are almost instant – within 10 minutes not only did my skin appeared brighter, fresh and radiant, it felt silky smooth and the few fine lines I do have, seemed to disappear.  I saw continued improvement in the texture of my skin for up to three days post treatment and with each weekly treatment.
Price
Ok, so now for the all important price point:  a six week supply of the newly packaged AHA Brazilian Peel will only set you back $40.00 (that's $6.67 per treatment) when purchased directly from Advanced Home Actives – with a bonus of free shipping.
If you're not sure about the commitment, a single treatment is available for $10.00.
My Verdict
Over the past five years I've experimented with a variety of different facial peels – from relaxing professional day-spa treatments to quick DIY kits.  It's with no uncertainty that Brazilian Peel has been by far the most impressive to date.
Not only is it cheaper than visiting your local dermatologist or beauty therapist, it's fool proof – you can treat yourself in the comfort of your own home, at any time of the day or night.  Definitely a plus for an on the go kinda gal!
While repurchasing Brazilian Peel every four weeks may not always be sustainable for everyone, the instant results make it a perfect product to use only four weeks out from that big event – maybe your school dance, prom, that big date or maybe even your wedding  (just be sure to test the product on your skin well ahead of any special event – you don't want to be dealing with any sensitivities that close to a major event)!
As with any glycolic acid product, it's vitally important to ensure that you're wearing an SPF 30+ sunscreen everyday.  AHA Brazilian Peel is no different!  Glycolic acid can cause your skin to become more sensitive to the sun – you don't want to get sunburnt and undo all your good work – sunburn = wrinkles and none of us want that!
I honestly think I will continue to re-purchase AHA Brazilian Peel for as long as it's available!  This power-packed beauty product has changed my feeling towards at home facial treatments.
Lastly, here are a couple of pictures of the little creeper, Winnie.  He always has to know what's going on!

I hope you found this review helpful.  Feel free to leave any questions or suggestions of other products you would like to see reviewed, in the comment section below.
I hope you all have an amazing weekend.
With love and gratitude,