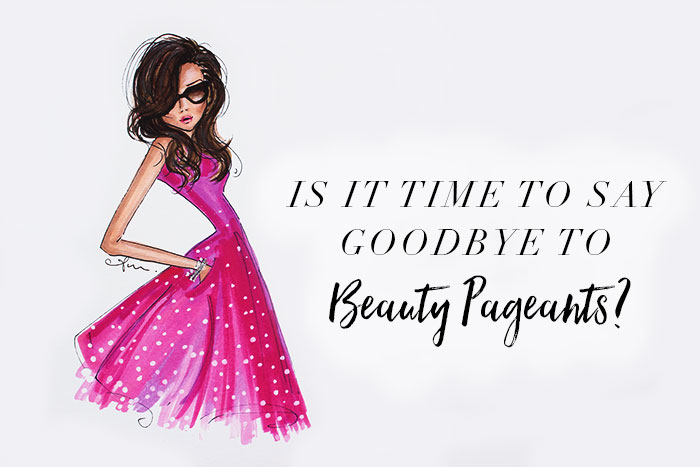 Too busy to read? I totally get it.
Click the play button below and I'll read this article to you!


A few weeks ago, hubby and I settled in for some Sunday evening T.V. viewing.
After much channel surfing and flipping through the electronic guide, we settled on the Miss USA Pageant. I knew hubby wouldn't mind watching 52 gorgeous women strut their stuff around a stage lit-up like a discoball, annnnnd I also knew that the program would inspire this steaming blog post!
You see, while hubby was rapidly raising his eyebrows, saying "hellooo ladies!", I found myself furiously writing notes and making statements like:
"Seriously, in 2016 we still think such a competition is acceptable?"
"Where is the true representation of American women? Huh?"

Beauty pageants in general get me fired up…for SO many reasons.

But when it boils down to it, the Miss Universe organization (also who owns the Miss USA and Miss Teen USA Pageants) is running one big, sexist job interview.
Here is the so called 'opportunity inherited' by the Miss Universe Pageant winner as stated on their website:
"The winner is given a once-in-a-lifetime opportunity to serve as an icon for women across the globe.
During their reign, these women are given the tools to be personally and professionally enriched through work with the organization helping to cultivate their personal career goals, humanitarian fellowship and a voice to affect positive change in the world."

Ok. If I asked you, which women served as an icons to you, I'm sure you'd rattle off a name like: Oprah, Kate Middleton, Maya Angelou, Lena Dunham, Diane Von Furstenberg, Malala Yousafzai, Michelle Obama, Ashley Judd, Amy Schumer, Mindy Kaling or some equally as inspiring – not necessarily for how they look or dress, but for:
their contribution to society,
for standing up for equality or body image,
for being funny and taking a stand for something that truly inspires them,
for inspiring you to make a difference…whatever that is!
The way in which contestants are judged in order to win said opportunity, totally appalls me.

Seriously, what does strutting around in evening gown or swimsuit have to do with humanitarian or charity work, or affecting positive change in the world?

No really?! What does it have to do with anything other than maybe a fashion show or selling pieces to consumers?
The answer… N O T H I N G !!!
Oh but wait. There is a personality interview…
Never mind! It's like this part of the 'competition' was included as a way to appease feminists in the 1950's.
"Better ask a question so that it doesn't look like we're purely running this contest on looks!"
Well, the questions just add to the entire ridiculousness of this entire hallapalooza!
Not only are the questions asked to just the Top 5 and then Top 3 contestants, but they're are given just 30-seconds to consider and state their response.
Yeahhh!
In my opinion, the girls that nail this are few and far between (hey I doubt that I could do it either – especially considering that I love to talk!), but when there is one girl that hits her response out of the park…I'm always like:
YES, YES, YES! Boom. That's how you do it!
Confetti Toss. Winner Winner Chicken Dinner. Show Over Baby!
I always think, they should totally be the winner…regardless of the prior prancing and strutting.

And finally, the vomit-worthy rules that must be adhered to, to even enter such competition:
contestant must never have been married,
contestant must not be pregnant or have ever given birth to a child,
contestant must be under the age of 27 in January the year they compete; and
winner is not permitted to marry during their year of reign.
Are you serious?
It's as though the original rules have never ever been reviewed or amended since those archaic days.
Again, what does marriage or children have to do with any job…especially this one?
To me, all of this screams to a younger woman or girl is; that women can't have a 'career' and a family…(and still look amazing) which is totally not the case!
And the age thing…pffftt! Well that speaks for itself.
If this was ANY OTHER normal job, there would be outrage. It's simply wouldn't legally be allowed…if not for anything else, but discrimination!

So why am on my high horse unicorn drawing attention to this topic or watching such a program if it riles me up this much?
Simple, love. Because something has to change!
So what can you do?
Give'em the cold shoulder
Boycott shows like those hosted by the Miss Universe Organization that have their 'education' on confidence, positive body image and self-worth, totally backwards.
Boycott publications that think it's acceptable to airbrush and change the way a women looks with programs such as photoshop – check out THIS article by Beauty Redefined.
Did you know the average woman see's 600 photoshopped images per day…ummm….exactly what are you comparing yourself to?
A few magazines I wholeheartedly adore and 100% stand behind…especially because of their policies on photoshop and celebrating + inspiring authentic women are, Darling Magazine, The Collective Hub and Belong Magazine.

Be a body positive ambassador
Champion a body positive scholarship program within your community or school…or just start the conversation with your daughter, girlfriends or family.
Dove has a vision for a world where beauty is a source of confidence, not anxiety.
Their mission is to ensure the next generation grows up enjoying a positive relationship with the way they look – helping girls to raise their self-esteem and realize their full potential. (this gives me goosebumps)
The Dove Self-Esteem Project has the most awesome virtual sway-bag of FREE downloadable materials including: articles, action plans, conversation starters, activities, videos and workshops. Here is a free download to get you started: "Mindful Me – a mentor's guide to building girls' body confidence"
Take the pledge
TAKE THE PLEDGE championed by The Representation Project and use your voice to challenge society's limiting representations of gender.
Have you watched the Miss Representation Documentary? If you haven't, I cannot recommended highly enough. It's truly eye opening and crazy inspiring. It's available on whole host of streaming sites.
I also LOVE the #NotBuyingIt #MediaWeLike campaign also run by The Representation Project – use these hashtags on social media to celebrate good representations and call out the bad, from advertising to merchandise.

Those are just a few ways YOU can contribute to this incredibly important conversation.
Together our voices will be heard. It's time to take action!






YOU and I can make a difference in the way women are represented in the media, by supporting organizations that encourage girls and women to live with confidence, love their body, and understand their self-worth.
Unrealistic standards of beauty are so OUT!
Celebrating real women, natural beauty, and all the truly incredible, inspiring things women do everyday, are totally IN!

Are you with me?
I'd love to hear your take on how beauty pageants in today's society make you feel?
Leave a comment below or JOIN our private Style Lovers & Glittery Besties Facebook group HERE to continue the conversation.
With love,


Post Illustration by Anum Tariq fashion illustrations