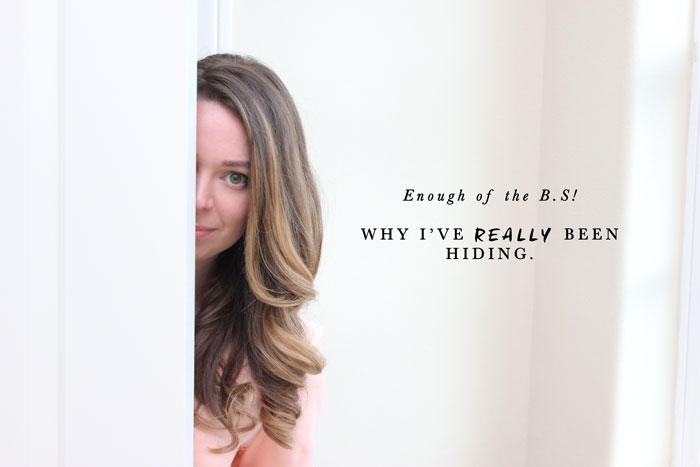 Without a doubt, this is one of the hardest things I've ever done.
Pushing publish on the below video makes my feel like butterflies are at war in my tummy.  
Hit play to find out why:
Today I have a secret to share with you.
Something I've been hiding from you, I'm afraid.
You may be wondering,
"Shelley, how can this be possible when you write a weekly blog post, publish the occasional YouTube video and play on Instagram day-in-day-out?"
And that my gorgeous friend, that is a VERY good question.
So what exactly have I been hiding?
For as long as I can remember I've been embarrassed about the state of my bottom teeth. They were kinda crowed and a little crooked – not exactly the picture perfect pearly white smile I'd always wished for.
It's because of this insecurity that I've subconsciously been putting the life of my dreams on hold.
Sure I'm a bubbly, outgoing, confident woman on the outside, but on the inside I was trapped in an unhealthy obsession. I was constantly worrying about what others would think of me, were they gossiping and laughing behind my back because of what my teeth looked like.
My body image issues were a thing of the past…but my teeth were sure spiking the volume on my inner mean girl's taunts.
As a result, I wasn't being my 100% authentic true self – I was hiding in my business!
You see, I've always wanted to incorporate more video into my general content.
Roughly this time last year, I took that scary leap and published my first video on YouTube. Since then I've posted 6 videos on my channel. I was so proud of myself for putting this content out there – this was even scarier than hitting publish on my first blog post just over 2.5 years ago.
And recently, I felt called to show my silly side by posting a 15 second closet party danceagram on Instagram – which made me feel sick hitting that publish button once again.
Why did each of these little leaps make me feel so sick? Because I was sharing more of me in a more organic way. Only I was still hiding.
How could this possible be you may ask?
If you've watched any of my videos, you may have noticed that every single one is edited to include voice over. Not once have I ever sat down spoken directly to you through the camera.
This was because I was afraid.
Afraid that people would see my crooked teeth and judge me.
That they wouldn't like me for who I really am.
I was afraid that internet trolls would rip me and my self-esteem, which I've worked so hard at over the years, to pieces.
These feelings were magnified when I moved to the US in October 2013 – land of the free, home of the perfect pearly whites! ;)
As a result, I decided to wait until I had the perfect smile and beautifully straight teeth before I would sit here and speak directly to you, like I would with a bestie or close girlfriend.
This past April my father-in-law (who is also my dentist/orthodontist) kitted out my cat sized mouth with some fancy new mouth bling and a sparkly palette expander – yes, I have braces and a contraption pushing on my top teeth a part in the middle to expand my bite…and yes, the expander really does have glitter in it!!
Once my braces were off in a few years, I figured I'd be more confident with my perfect teeth and then I could just turn on the camera and chat to you about stuff that really mattered without the distraction of crooked teeth or the worry of what people would think of me.
Problem solved!
Less than a month later, while I was at a conference with fellow ladypreneurs in Dallas, what I was doing (or not doing) hit me fair-and-square in the face. It was the reality slap I never knew I needed. I was hiding my true self until my teeth were perfect!
As a girl that promotes self-love and acceptance, I felt like I wasn't being honest, first and foremost with myself, but I also wasn't being open and transparent with you.
Well it's time to say enough of the BS and excuses!
So here I am today. Getting out of my own way. And 100% calling myself out while I'm at my most vulnerable – braces, palette expander that gives me a lisp and now, a growing gap in my top front teeth.
This is me.
I'm no longer embarrassed or ashamed.
I'm not afraid of what others think.
I'm no longer hiding….from anyone.
I am good enough just as me.
I don't need to wait until my teeth are straight or until I've kissed goodbye to my back fat and lost 15Lbs.
I am imperfectly perfect.
This is me.
As much as filming this video makes me SO nervous, I also feel incredibly light and free. I've just given myself permission to be the playful, sparkly, at times silly gal that I am – it's a side that I want you to see more (and part of the reason I posted that silly danceagram a few weeks back).
My mission to help women be confident in their skin is more important to me than just about anything. That's why I had to do this – I'm just like you.
If you have overcome a personal struggle that's been holding you back, I'd love to hear about it in the comments below or email me at shelley@fromshelleywithlove.com
However, if you're still struggling with something that's killing your sparkly confidence – a weight loss goal, a personal style dilemma, how to eat healthy and balance your busy lifestyle, then You're Gorg! my 4-week class to help you ninja chop self-sabotage and inject more self-love, nourishment and style into your life is totally for you.
Class enrollments are open from now until Sunday, July 5th. Our virtual class begin the following Monday, July 6th! You can come and pass notes and find new besties in our Gorgies Facebook group.
Pop on over to www.fromshelleywithlove.com/youre-gorg for all the details or feel free to shoot your questions to me at shelley@fromshelleywithlove.com
It's so easy for us to get caught in compare and despair mode but I want you to know that you are enough – we are all enough.
You are beautiful and one of a kind – don't hide it, celebrate it!
This is real beauty and you're no less beautiful because you have crooked teeth, a pudgy tummy, acne, flabby arms, or frizzy hair. You're body loves you and so do I.
Thank you so much for allowing me to share this journey with you – I hope this has in some way helped inspire you with your journey.
I love you and I can't wait for our next girlfriend-to-girlfriend chat!
With love,