A few weeks ago, I posted the below swoon worthy picture of Keira Knightley in my fancy + fabulous Facebook group; Style Lovers & Glittery Besties.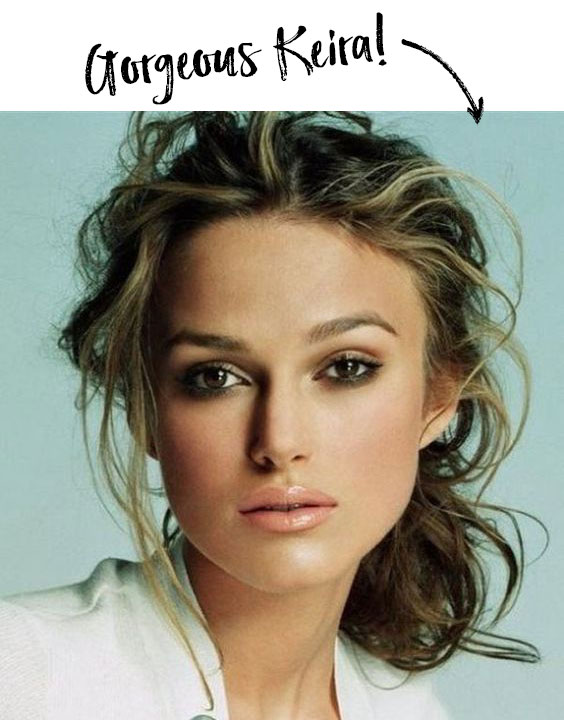 Found via Pinterest – original source unknown
So when Melissa, one of the super awesome gals from the group, threw her hands in the air and squealed, "OMG! Makeup tutorial por favor!", my sparkly heart pitter pattered with glee! #makeupismymeditation
Excited at the thought of turning on my bright studio lights and hitting the red record button on my camera, I got to thinking about Keira's uber sexy look.
I didn't want this tutorial to be just another 'celebrity' makeup recreation. After all, we're all so beautifully unique!
But quickly I realized that this makeup look is SO much more than a celebrity recreation…or a red carpet look (oh how I dream of bumping into dreamy Leo on the red carpet).
This makeup look will make your gorgeous eyes sparkle (no matter what shape or color). It's the perfect date night or wedding guest look, but will look equally as stunning for a networking event or brunch with your besties!
So hit the play button on the video below and I'll show you how to create my take on….




What you will need to create the everyday smokey eye:

Click the pink + boxes below to find details on products used, alternatives and loads of juice tips OR simply click the images below to shop products you love instantly!
Of course, you don't need to use the products I featured in this post. Use your favorite makeup products that you already have in your stash.
The colors don't need to be exact…it's just makeup, so throw perfection out the window and follow this tutorial as a guide to help create a look YOU love!
Foundation Primer  optional
If you have trouble keep your foundation on yo' face or want to conceal large pores, grab yourself a foundation primer. I'm using the Too Faced Primed & Poreless Skin Smoothing Face Primer.


Foundation or BB Cream
Grab your fav foundation or BB cream. You may like a foundation for a polished evening look or a BB cream for an effortless, fresh day time look. I'm experimenting with the Too Faced Born This Way Foundation (in the shade, nude) and LOVE IT!

Concealer  if you need to cover pesky blemishes or cheeky under eye circles"]
Today I'm trying out the Urban Decay NAKED Skin Weightless Complete Coverage Concealer – the shade (med-light neutral) is slightly too dark for me…and I prefer to use a brighter concealer under my eyes. But otherwise, I love how light the formula feels!

Pressed Powder  optional
If you're a dry skin gal, you may like to skip this step. Applying powder with a big fluffy brush will help lock your foundation and concealer in place. A light application under the eyes will stop your concealer from settling in any fine lines too! Yeah!

But, just make sure its's just a light dusting or you'll look like you're 150 in 60 seconds flat! My favorite 'go-to' powder is MAC Mineralize Skinfinish Natural in the shade, medium. 

Eyeshadow Base  optional
If you have oily eye lids or find your eyeshadow fading with the day, grab yourself an eyeshadow primer. I love the Urban Decay Primer Potion or you can use a long wear cream eyeshadow like this one from Bobbi Brown one in the color, shore.

This will not only keep your eyeshadow crease free and vibrant, all-day-long; but it will also conceal any redness or veins you have on your eyelids! Awesome.

Oh an it's a beautiful neutral color for a simple eye look…maybe like this one.

Eyeshadows…the super sparkly, fun part!
Today I'm working with a few different shades…but I promise, this look is easy to create. Grab yourself the eyeshadow brushes listed in the tools section below, and let them do all the work. Seriously, a good eyeshadow brush is a GAME CHANGER!

Okay, here's what you will need – feel free to use similar shades that you may have in your makeup stash:

A soft brown matte eyeshadow. I used: the shade naked from the Urban Decay Naked Palette. Great alternative: the shade soft brown from MAC.

A peachy-pink shimmery pigment or eyeshadow. I used: Mica Beauty Cosmetics Shimmer Powder in 27 Striptease. Great alternatives:  MAC Pigment in Tan or if a loose eyeshadow makes you nervous, All That Glitters Pressed Eyeshadow from MAC.

A plumy-golden brown shimmery pigment or eyeshadow. I used: Mica Beauty Cosmetics Shimmer Powder in 91 Diligence. Great alternative: MAC pressed shadow in the shade, Twinks.

A copper, satin-finish eyeshadow (a satin finish has a slight shimmer) I used: Charlotte Tillbury The Dolce Vita Luxury Palette in the color Enhance. (you could almost use this palette alone to create this makeup look) Great alternative: Antiqued by MAC

A fine bronze or gold glitter shadow. I used: Charlotte Tillbury The Dolce Vita Luxury Palette (again) in the color Pop. Great alternatives: Bobbi Brown All Spice Sparkle Eyeshadow.

A champagne, satin finish eyeshadow. I used: Charlotte Tillbury The Dolce Vita Luxury Palette (again) in the color Prime. Great alternatives: the shade virgin from the Urban Decay Naked Palette or Nylon from MAC.

Black Eyeliner Pencil
Today I used, Bobbi Brown Long-Wear Eye Pencil in Jet Black. If black is too much for you, try using a rich brown instead, like Teddy from MAC. 

Lashings of Mascara
My favorite mascaras are uber black and make my lashes look long, fluffy and flirty.  Right now I'm using Tarte Lights, Camera, Lashes and love how full my lashes look.

Seriously, it's like I'm wear the most gorgeous false lashes…but I'm not! Oh, and it conditions my lashes at the same time! Like O.M.G.

Eyebrow Pencil or Shadow  for eyebrows on fleek!

I'm all about naturally defined eyebrows – it makes the biggest difference to your overall look when you fill those babies in. Right now I'm enjoying the Hourglass Arch Brow Sculpting Pencil in the shade soft brunette.

Bronze me up!
Even the face out with a dusting of bronzer in the hollows of the cheeks, the temples, jaw line and neck, with a light dusting on the nose. Today I'm using Bobbi Brown Bronzing Powder in Stonestreet.

Blusher, blusher.
Add a pop of peachy-pink shimmer blush to the apples of the cheeks and blend well for a natural, 'glowing from within' look. I love Nars Blush in Deep Throat. Nars names are the naughtiest!

Pucker up those lips!
I'm using my favorite nude lip liner/lipstick combo today, Clinique Quickliner for Lips Intense in the color 01 Intense Sassafras and Charlotte Tillbury K.I.S.S.I.N.G Lipstick in the shade, Bitch Perfect.


Want to know the tools I used too? Love, I've gotcha!
Brushes take all the hard work out of makeup…your makeup will look totally pro!
If you don't have any brushes and have no idea where to start, I highly recommend grabbing the eyeshadow brushes. They will change your eyeshadow application game…forever!

Now it's YOUR turn, love!
Post a picture of your Keira Knightley inspired, everyday smokey eye on Instagram and use the hashtag #fswlstyle or snap me on Snapchat: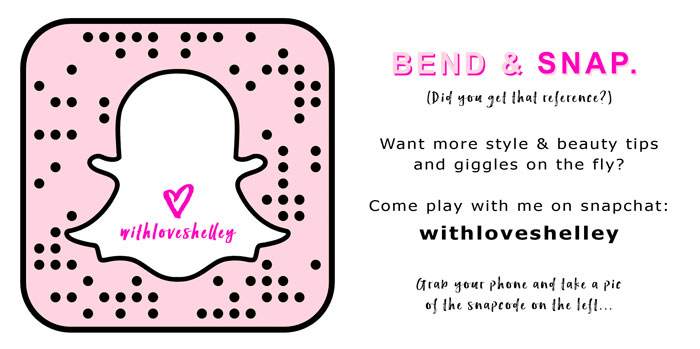 It's just makeup, so play like you did when you were a little girl, sneaking into your Mum's dreamy makeup bag! (you totally did that too, right?!)

With love & confetti,