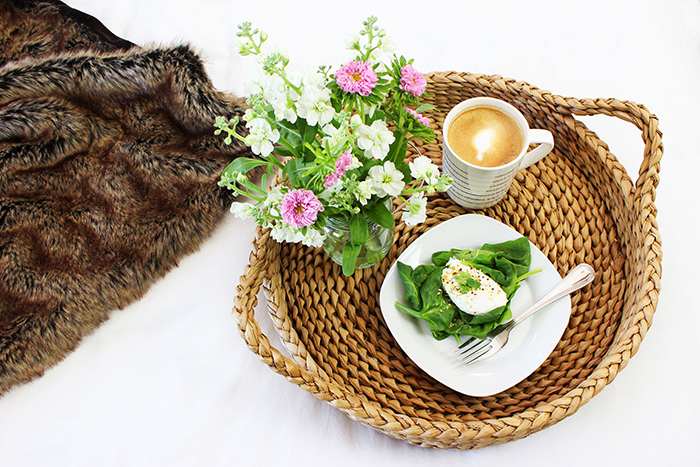 You sleepily roll around in your warm, toasty bed, stretching like a purring kitty.
You notice it's 9am. No worries, no alarms needed today.
You saunter into the kitchen and whip up a delicious brekky of poached egg, spinach, avocado & tomato – slowly savoring every bite.
As you sip a luscious cup of tea, you leisurely flip through your favorite magazines (Darling, Bella Grace & White Magazine – swoon!)
Ready to move your booty, you pop on some groovy tunes and dance in your polka dot pajamas like nobody's watching.
You hit the shower, letting the steamy water roll over you longer than usual, before slipping into your favorite snuggly sweater and leggings.
SUNDAY MORNING – it's pure bliss, right?!
We treat Sunday mornings as a special occasion. Something you get to enjoy after a long, hard week.
But what if you could treat every morning, like Sunday morning?
Here are two of my favorite ways to stop wishing away the days until the weekend, and bring pieces of your sacred Sunday morning into your daily routine.   
space
Slow dance with your morning
Ya'll know I LOVE to dance. And I treat my morning routine like a sensual slow dance (set yours to the latest Beyonce Crazy in Love remix. Mmmm hmmm).
By slowing things down and really being present in your morning routine, you become more productive & responsive throughout the day.
I know "slowing it down" sounds counter intuitive seeing as we're a society of more, more, more… but it totally works.
Think about the elements of your Sunday morning that make your heart expand, your shoulders relax, and leave you feeling completely blissed-out.
For instance, if it's your morning coffee – sip it slowly. If it's reading a magazine, read over a few pages instead of diving right into your bursting-at-the-seams inbox (yuck, that can totally wait until later in the day!)
Then wake up just a wee bit earlier, and bring those elements into your daily morning routine. I promise, you'll love it.
Fall in love 
Love lifts us up – it makes us giddy.
You LOVE your Sunday mornings. So, can you learn to love your weekday mornings, too?
Think about the things that make your Sunday morning so special. Is that extra long steamy shower? Is it rolling around in your comfy sheets for 15 minutes instead of jumping out of bed?
Make a list of your Sunday morning loves, and then incorporate one into your daily routine, every day.
That alarm may still go off from Monday to Friday, but it won't be followed by a massive groan in disgust.
Instead, you'll awake with anticipation and delight.
And you'll never get up on the "wrong side of the bed," again.
"This sounds amazing Shelley, but – I have ZERO clue how to fix my morning routine!!"
I hear ya, lady.
Join me now for Mirror Mirror – a FREE 5-day soiree where we'll talk about making over your morning and nourishing your daily routines.
Love to dance? This soiree includes a LIVE dance party & prizes.  Glorious prizes!  The event begins tonight, Wednesday 25 February at 9pm EST.
Enter your name and email in the box below and click the glittery sign-up button to join me.  
With love and gratitude,