Hello lovely!
I hope you had a great weekend – it was bone chatteringly cold and dreary here in Houston. I've really been enjoying the seasonal change, it's nothing like I've ever lived in before!
Last month, Sephora (aka a beauty junkies heaven) held a 20% Off Family & Friends Sale for their VIB and VIB Rouge customers.  I was in need of a few skincare products, so my friend Ashley and I decided to pop into the Rice Village store together and make use of our discount…I mean, it would have been silly not to…right?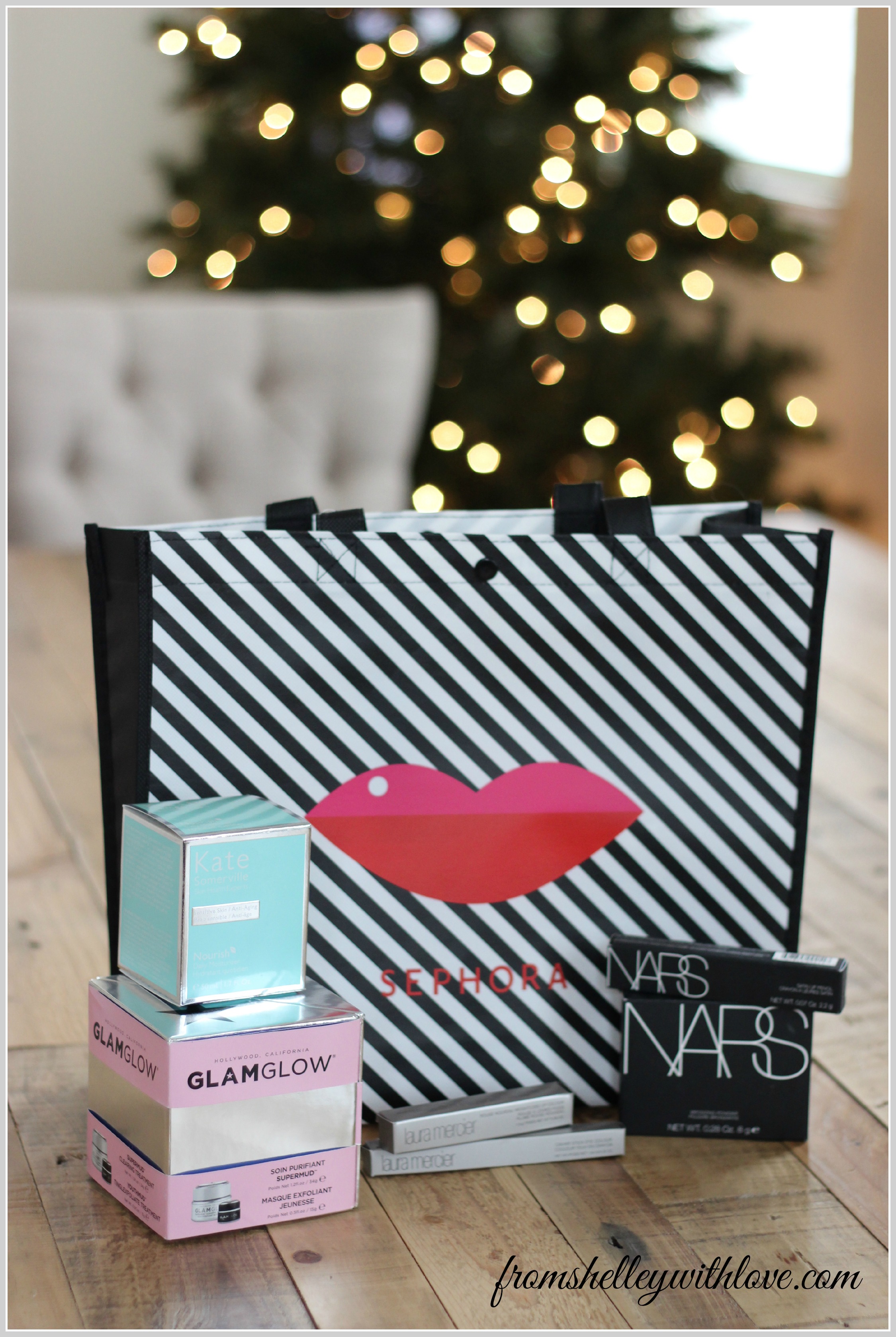 Little did we know that Sephora was holding a Laura Mercier Makeup Makeover Event – so we booked ourselves in for a free makeover with the Laura Mercier team…some of their top national and international artists were in attendance, which provided an amazing opportunity to learn some new tips, tricks and techniques!  
The only Laura Mercier product I've ever used is my Radiance Primer (which I love) – I've read many reviews on their other products but I've never taken the plunge and purchased any of them….well, I'm now a Laura Mercier convert!
Today I thought I would share with you, my Sephora Haul, including the new Laura Mercier products that I picked up – so, here we go:
Skincare
Starting with the skincare products that my original shopping date was make for:
KATE SOMERVILLE – Nourish Daily Moisturizer
This is one of my favourite dry skin staple remedies – Kate Somerville Nourish Daily Moisturizer is ultra hydrating without leaving you feeling oily or shiny – a plus for a combination to oily skin gal!  My skin looks healthier and radiant.
The packaging, like most Kate Somerville products, is ultra hygienic – a convenient pump top! I was in need of a little extra hydration after the stress of the wedding and big move, and my Kate Somerville Oil Free Moisturizer just wasn't cutting it for me – this was the first product that I placed in my basket.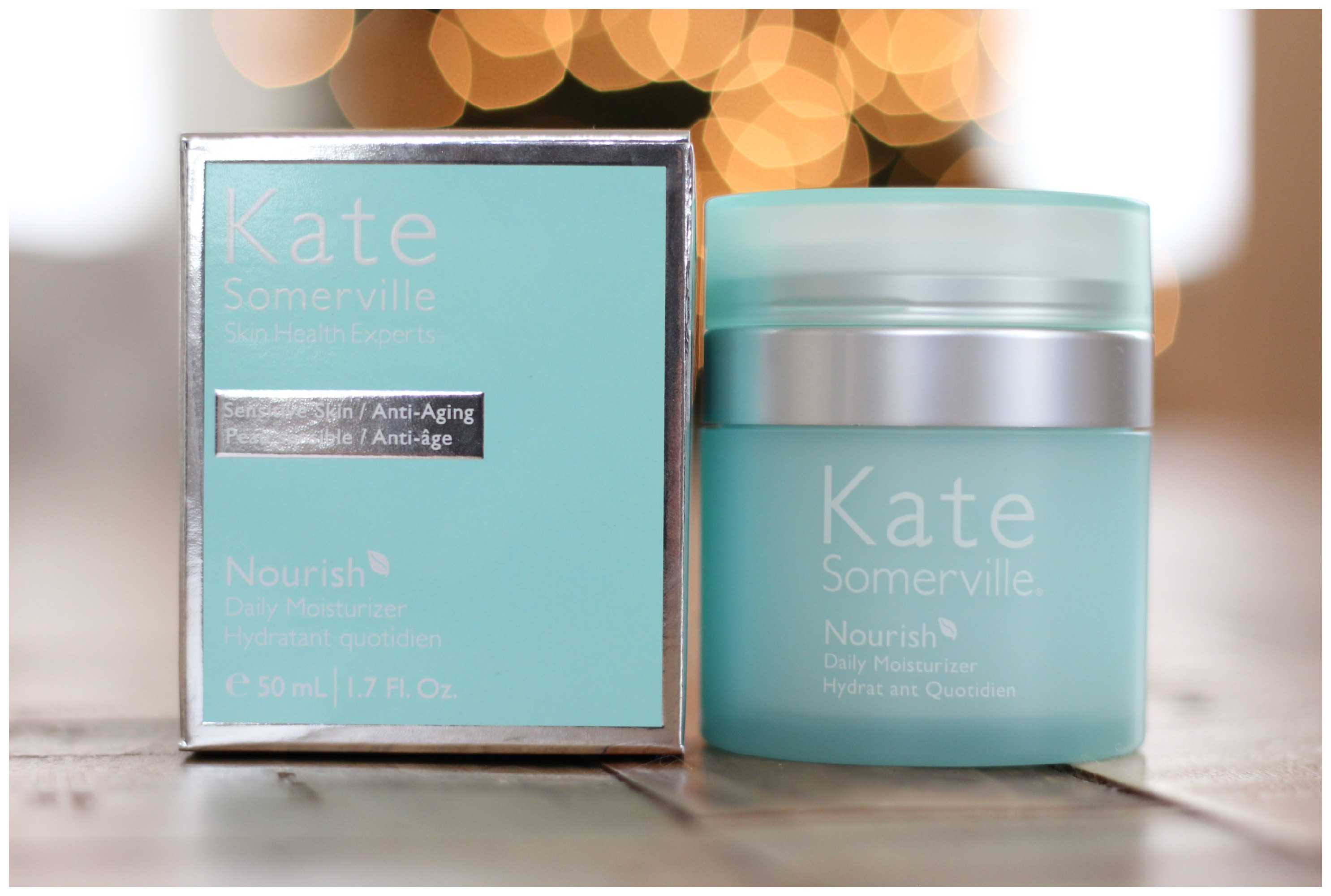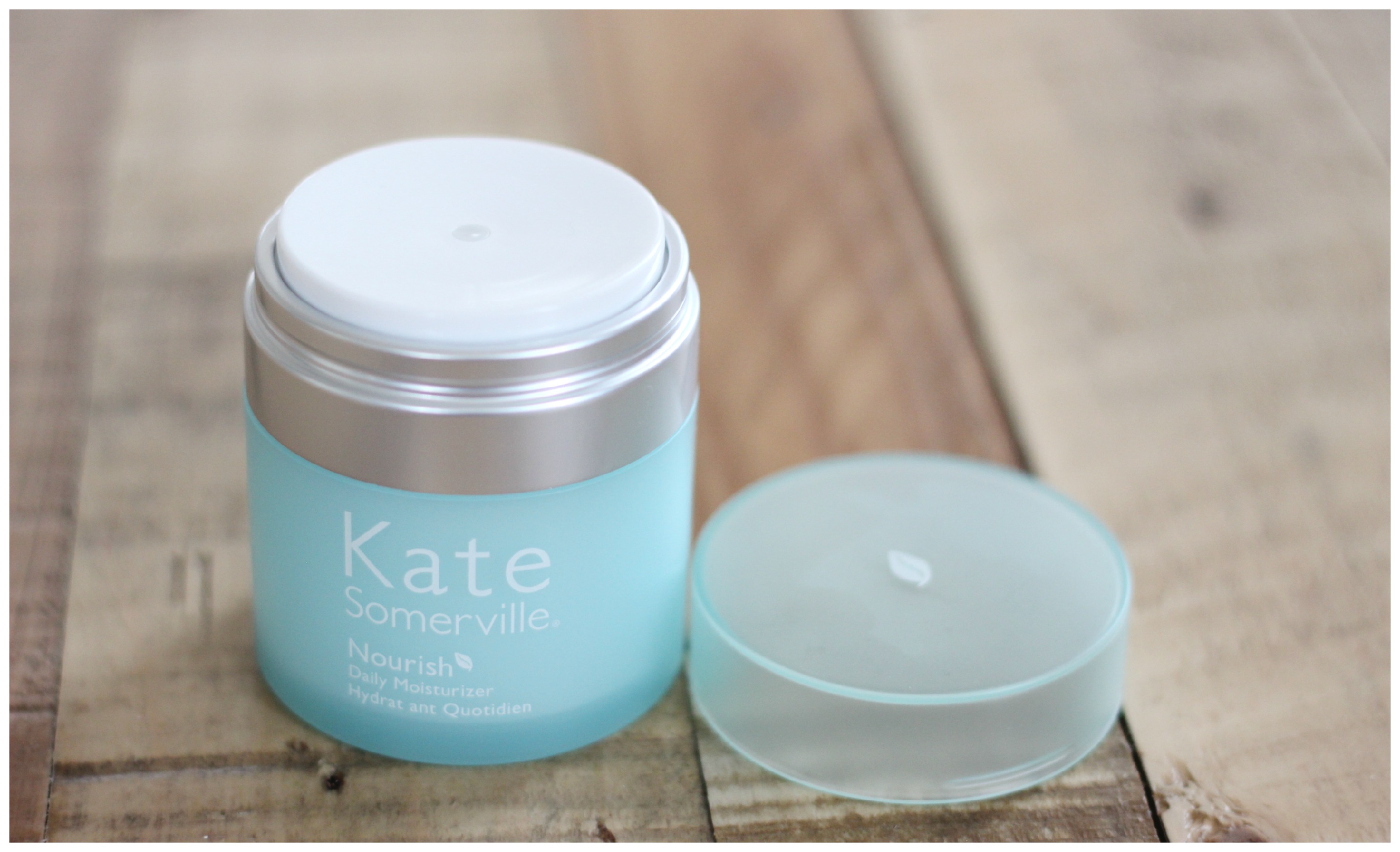 Recommendation – although this product is expensive, it lasts a long time.  I would totally recommend this product to anyone with dry to combination skin all year round – combination to oily skin in the cooler months or whenever your skin needs extra hydration.  An added bonus, Kate Somerville Nourish Daily Moisturizer is packed with anti-aging ingredients…yes please!
For more information on Nourish Daily Moisturizer, check out my January 2013 Beauty Favourites post.
GLAMGLOW MUD – Supermud Clearing Treatment and Youth Mud Tinglexfoliate Treatment
This is a product that I've had on my 'skincare wishlist' for quite some time.  GLAMGLOW Supermud Clearing Treatment has been hyped up amongst beauty bloggers all over the world….and let me tell you, it deserves all the hype and some.  No joke – it's incredible!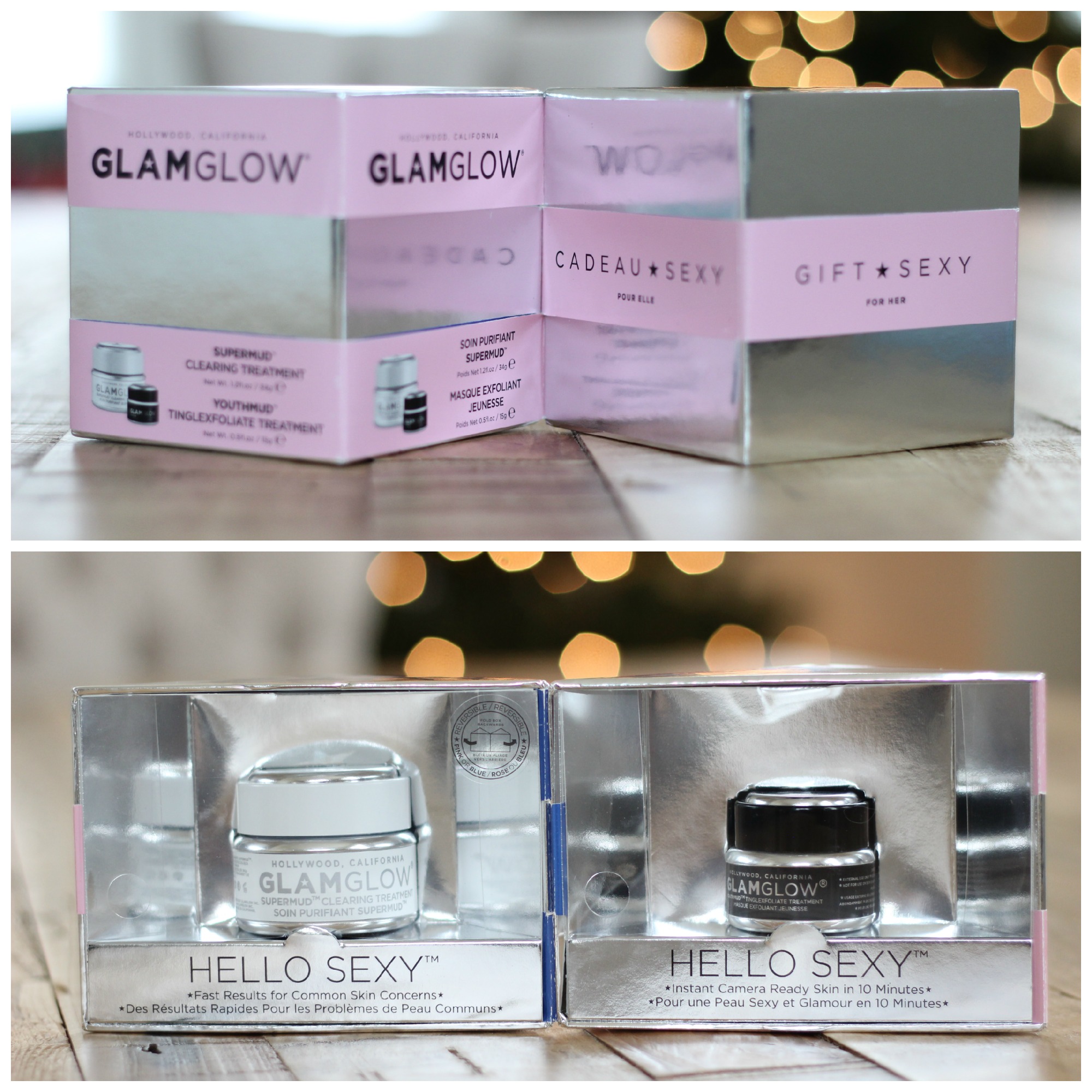 Sephora is currently offering an amazing GLAMGLOW gift set – it contains a full size pot of the ever popular GLAMGLOW Supermud Clearing Treatment (1.2fl.oz/ 34g) and a generous sample size of the GLAMGLOW Youthmud Tinglexfoliate Treatment (.5fl.oz/ 15g), for the same price that the individual Supermud Clearing Treatment retails for on its own!  It was a no brainer for me – I picked up the beautifully packaged gift set for $69.00.
So what does the Supermud Clearing Treatment do?  Essentially it's a super-charged mud mask. It contains specially formulated charcoal and clay to encourage the extraction of blocked pores, leaving your skin with almost invisible pores (or at least minimised pores).
The formula contains plenty of other technology that I won't go into in this post – but this is a product that I use up to three times per week, depending on my skins needs.  The consistency of the mask is thinner than you would expect – it goes on just like a regular mud mask but is easier to distribute across the face.  It's deep green in colour and dries to a firm, tight light grey.
I leave the product on for 20 minutes before using luke warm water and a face towel to remove.  Supermud will tingle the skin for the first minute or so after application.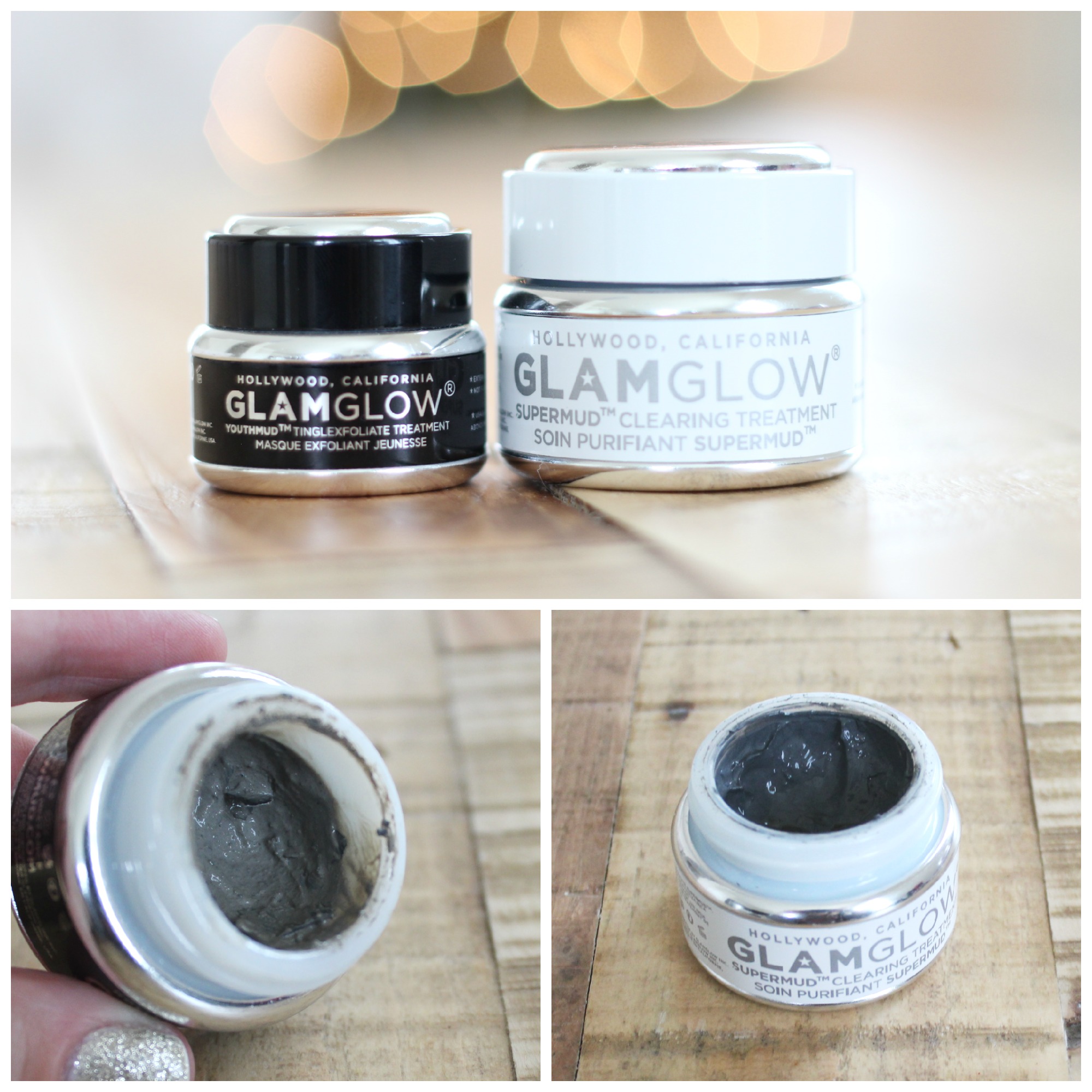 If I'm after a little extra exfoliation, I use the Tinglexfoliate Treatment before the Supermud Clearing Treatment (you can use together or individually).  Now, this little jar is packed with a massive punch – be prepared for some serious tingling action…just as the name suggests.
After my pre-wedding skincare disaster, I'm a little more cautious when it comes to tingling exfoliants (the reason why is coming up on the blog soon).  The tingling lasts for approximately two minutes – it seems to work the same way as the Supermud just with these weird seaweed consistency pieces in in the formula…in just 10 minutes your skin appears more refined, brighter and smoother.  I'm 100% hooked!
GLAMGLOW SuperMud and Tinglexfoliate makes an amazing gift for both gals or guys – we all need a little exfoliation once a week and the gift set packaging is reversible.  No need to give that guy in your life a pink packaged skincare product – unless that's their thing.  I know most men are still a little shy when it comes to skincare….check out the reversible packaging!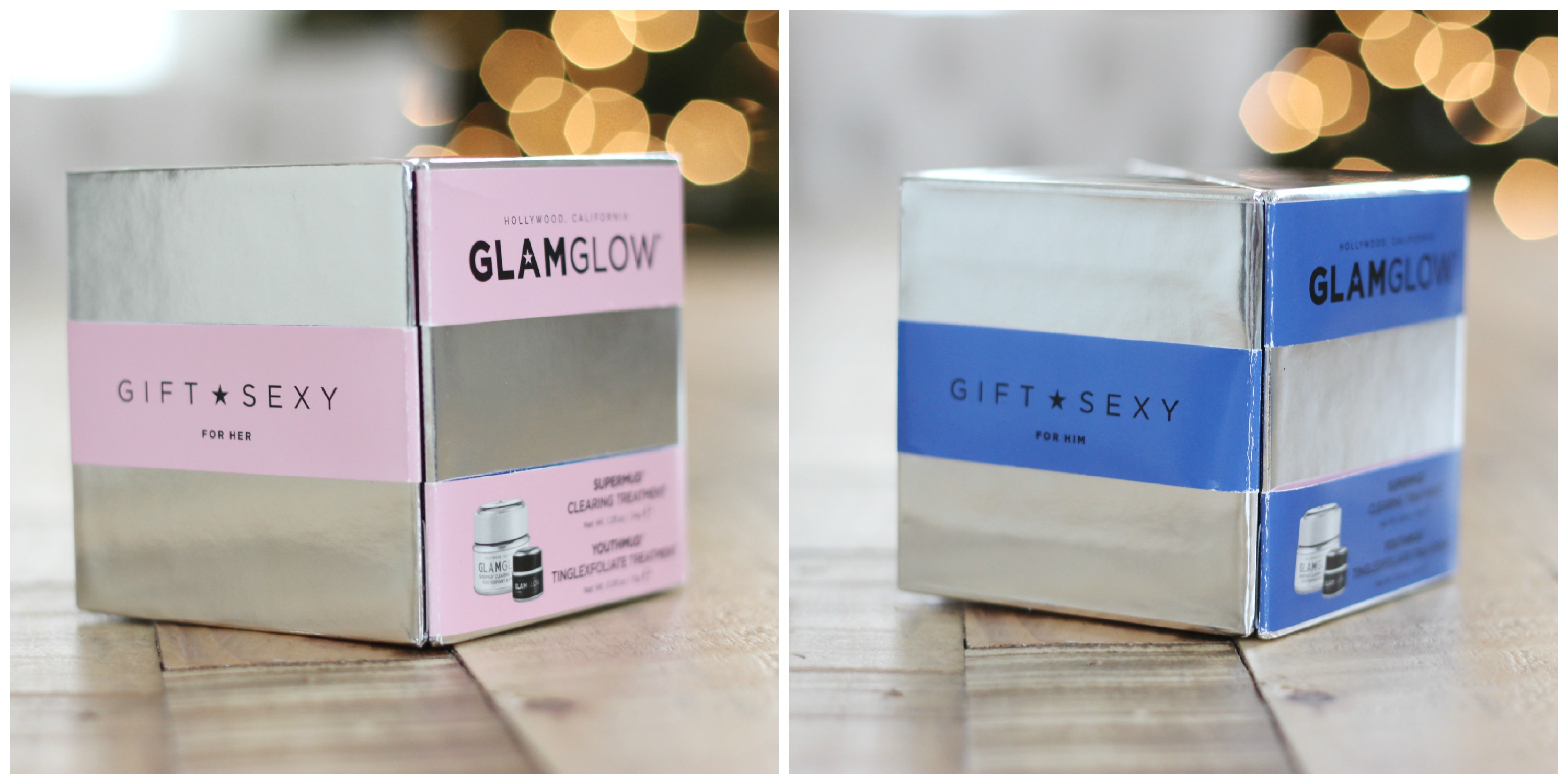 Recommendation – I will write an exclusive review on these two products (there is too much to fit into one post).  GLAMGLOW Supermud and Tinglexfoliate have absolutely blown my mind.  Your skin will look radiant, clearer, smoother, firmer, softer and calmer in just one treatment.  It's truly amazing and you can see why it has been Hollywood's best kept secret!
I know that $69.00 is on the pricy side however, a little goes a long way with this product – it has a minty, menthol smell…which I personally love.  And hey, you get two products for the price of one…in my opinion, it was the best way to experience GLAMGLOW for the very first time.
Makeup
During my Laura Mercier makeup makeover – the makeup artist sold me on two gorgeous products:
LAURA MERCIER – Caviar Stick Eye Colour (Amethyst)
The Caviar Stick Eye Colour is perfect for a fuss-free eyeshadow application – just swipe over the lids or shade the outer corner of the eye for more depth, bend with your finger or a brush…and go!  Layer with other shadows or wear on its own – once the Caviar Stick sets, it stays put all day, is crease-free and transfer proof.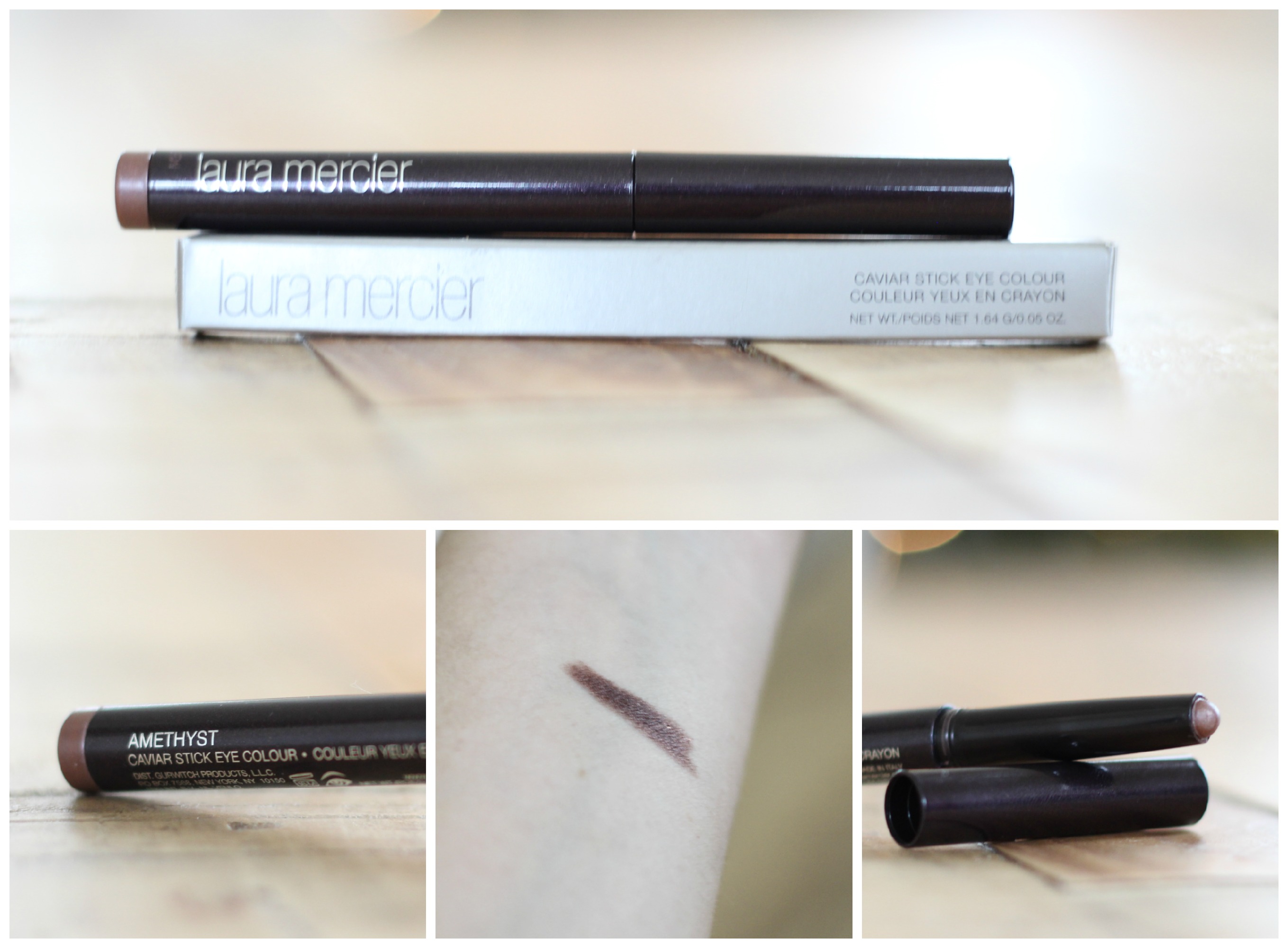 I purchased the colour Amethyst which is a beautiful brown, mauve-taupe colour with a pearl finish.  It's gorgeous on any eye colour but will particularly make hazel, green or blue eyes pop.
Recommendation – for $26.00 it's well worth it for the time-poor gal!  Laura Mercier Caviar Stick Eye Colour is super easy and quick to apply and comes in eleven other gorgeous shades.  It's perfect for on the go makeup bag touch-ups – heading to that Christmas party after work?
The Laura Mercier Caviar Sticks will take your day time eye makeup, to nighttime in seconds!  Love.
LAURA MERCIER – Rouge Nouveau Weightless Lip Colour (Cozy Creme)
The consistency of the Laura Mercier Rouge Nouveau Lip Colour is beautiful – smooth, light, creamy and slightly glossy.  It feels lovely on the lips and is incredibly long-wearing with a buildable level of colour (from stain to completely opaque).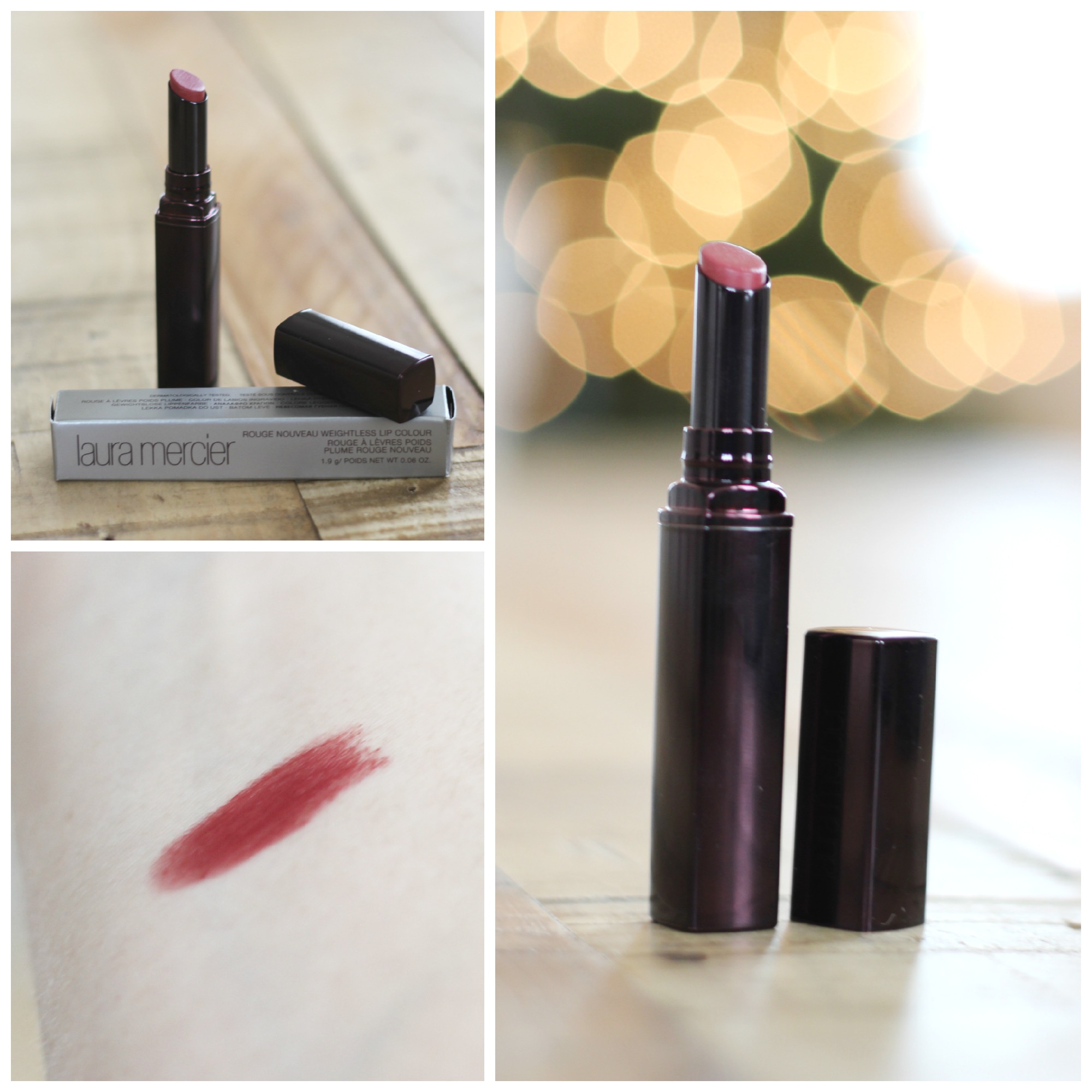 I chose the colour Cozy Creme which is a deep berry colour, perfect for the cooler months or amping up those night time lips!
Recommendation – I love this lipstick but is it worth the $24.00 price tag?  In my opinion, there are so many amazing lipstick options out there – the drugstore has really upped-the-anti on their formulas and is a real contender these days in the lip product race.
If you're looking for a wax and fragrance free, hydrating, long wearing lipstick and you don't mind the price tag (let's face it, finding a fragrance free lipstick can be difficult), then it's totally worth it.  I'm still on the fence but I'll keep you posted.
NARS – Bronzing Powder (Laguna)
Here is another beauty cult favourite that has been seriously hyped across the beauty community – NARS Bronzing Powder in Laguna.
I don't know about you, but hyped products make me nervous – nervous that the performance of the product has been completely blown out of proportion in comparison to the price tag. I have to say though, I love this product – would I rave about it over my Bobbi Brown Bronzer?  Probably not – they are different.
NARS Laguna gives a natural sun kissed glow when swept over the cheeks, forehead and down the nose.  There is no shimmer in the product however, it does have an ever so slightly gold reflective finish – which gives you a beautiful soft radiant appearance, without looking unnatural.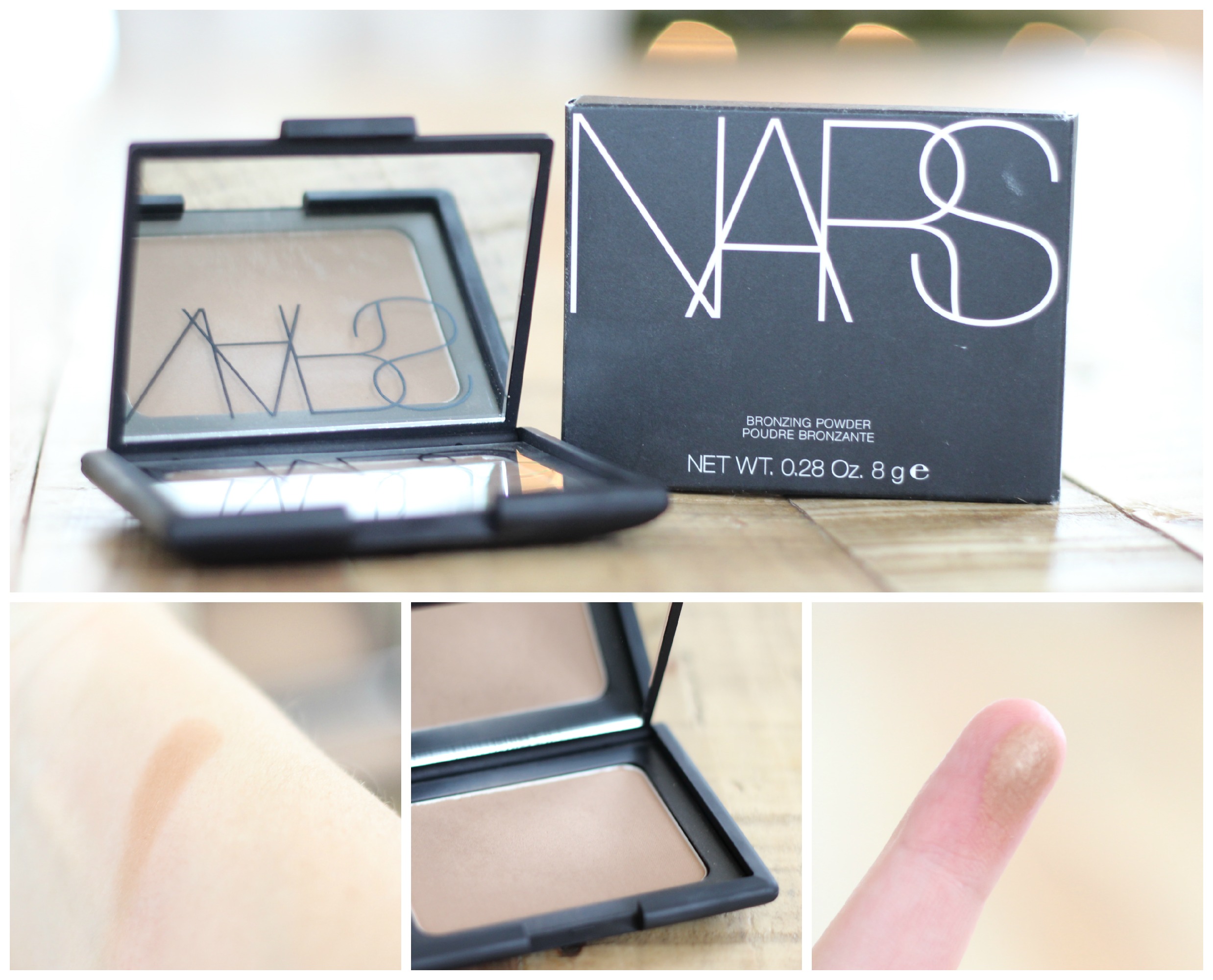 Like all NARS compacts, the package is notorious for getting dirty and becoming stained with makeup if you aren't careful – for the neat freak like me, this is a little annoying.  I always make sure that I have washed or wet-wiped my fingers before I pick up any NARS product.  A little OCD or pedantic…maybe?!
The mirror inside the compact is a lovely size – making Laguna Bronzer easy to apply/ touch-up on the go or at your work desk!
Recommendation – I'm so glad that I decided to pick this product up.  It really is gorgeous and suits just about every skin tone – you can even use on the eyelids.  If you're looking for a high end bronzer, for $36.00, NARS Laguna won't disappoint.
Finally, the last product had my name written all over it, also by NARS it is the:
NARS – Satin Lip Pencil (Yu)
Wow, this lip crayon – NARS Satin Lip Pencil, is not only extremely creamy and glides effortlessly over the lips, the shade Yu is the perfect bold fuchsia colour – no sharpening required.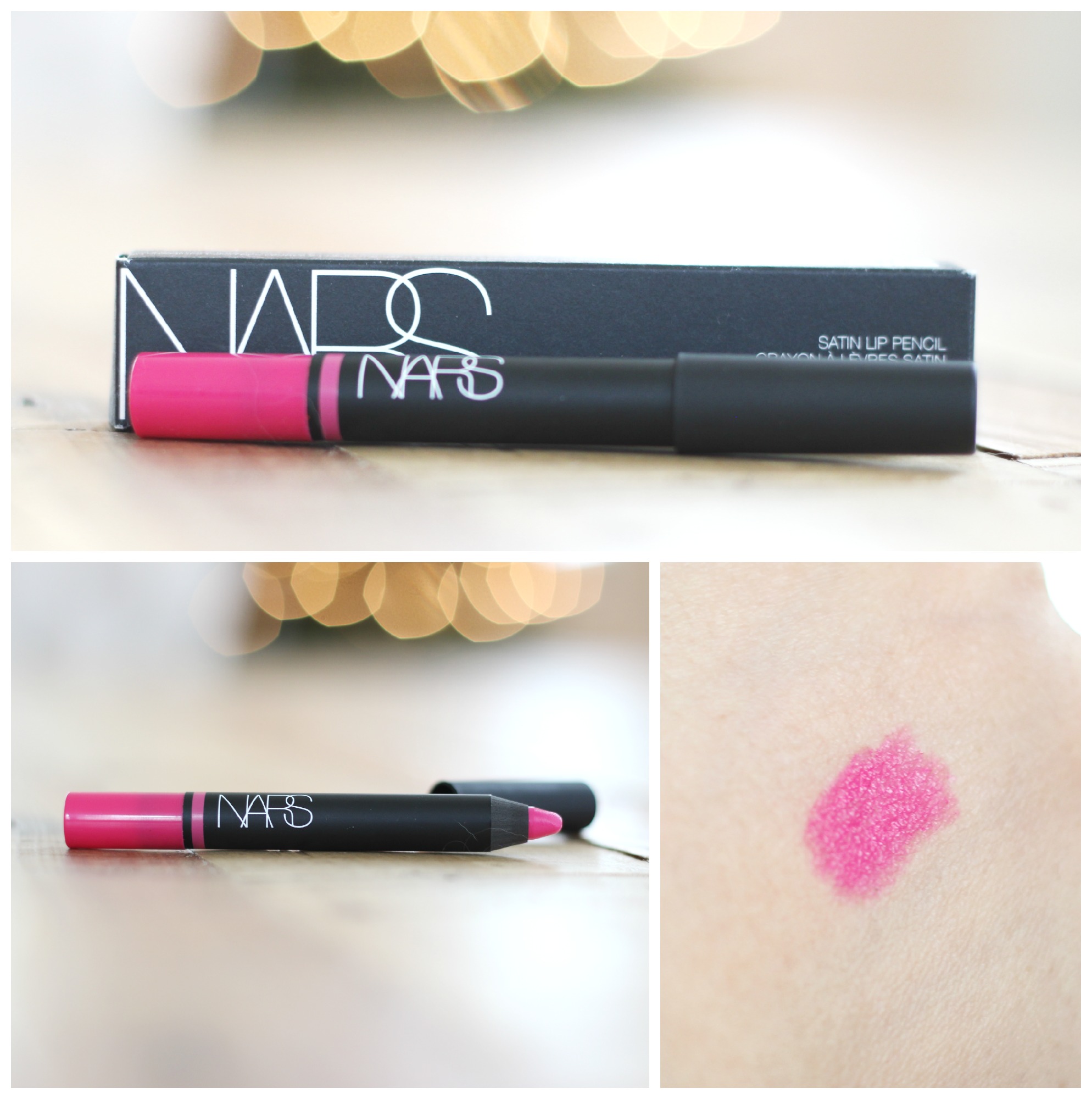 The NARS Satin Lip Pencil is surprisingly long wearing while being ultra hydrating and creamy.  If you suffer from dry lips and shy away from colour because of this, try these NARS lip crayons.  I'm totally in love!
Recommendation – again, the lip product market is fierce, would I spend $25.00 on the NARS Satin Lip Pencil…you bet!  I haven't found anything in the drugstore that is of compatible quality.  The only problem with creamy products, they tend to be used up more quickly.   I can't say that I would be repurchasing this product too often!
Beauty Perks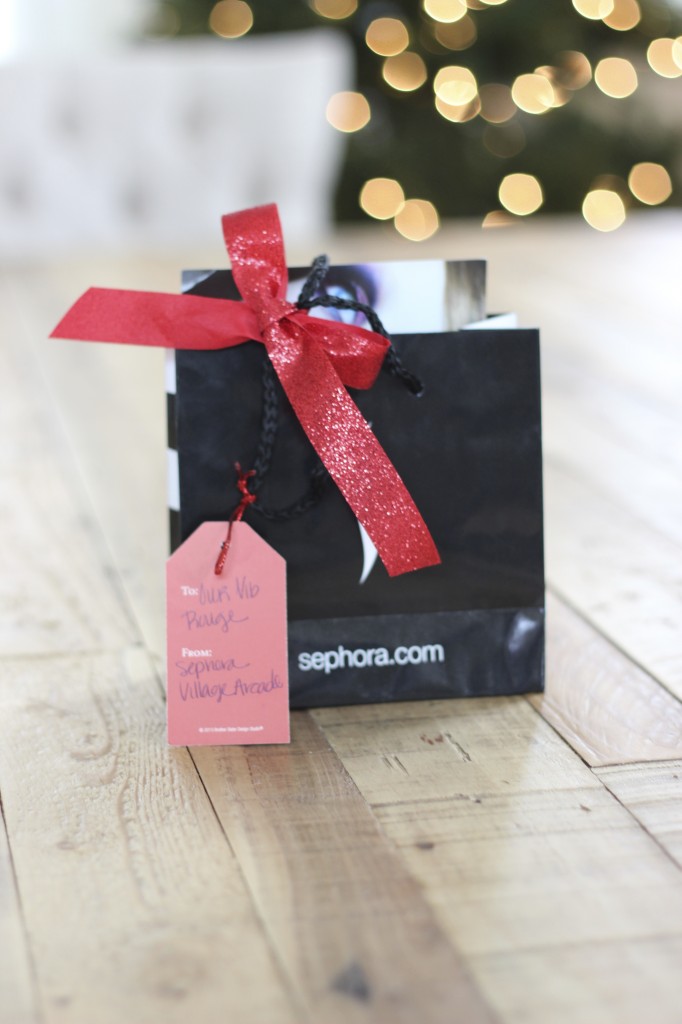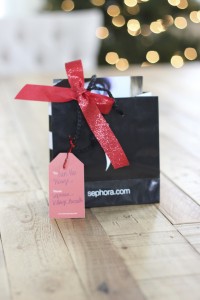 For being a Sephora VIP Rouge Member, I received a cute lips tote (also provided to VIB members), a little bag of delicious samples and a pretty rose upon checkout.
Ashley and I had such a fun time – here are some pics of Ashley's gorgeous makeup which was applied by Ryan Thomas (Global Makeup Artist) – I love his tip about applying radiant eye primer over the cupids bow!
Ashley and her gorgeous Laura Mercier Makeup Makeover – the pics don't do it justice.  So beautiful!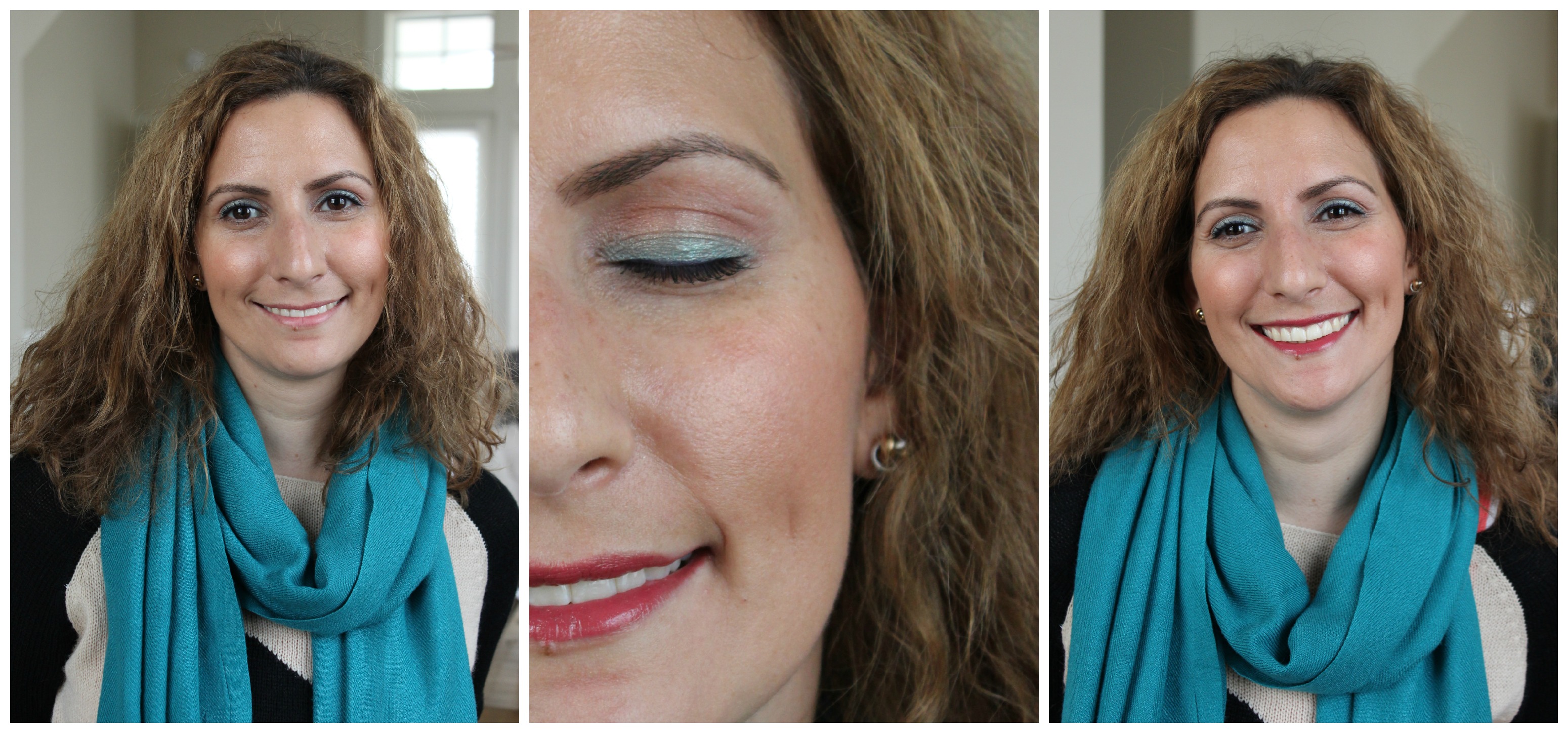 I hope you enjoyed this Sephora Haul and little insight into what I've been purchasing lately.
Check back on Sunday for an exciting fashion post – corporate women have never looked so stylish!
Have you been shopping for beauty products lately?  What little gems did you find?  Let me know in the comments below.
With love and gratitude,