content previously posted on my old website, From Shelley With Love
Beautiful, bouncy, vivacious locks. You know – the ones that look like you just stepped off the set of a Pantene commercial.
You love this hairstyle except you:
Have absolutely no idea how to achieve the look, even though you've curated a Pinterest board of swoon-worthy hair inspiration and how-to's.
Put in a ridiculous amount of effort, only to have your gorgeous curls fall out, leaving you with stick-straight hair in just a few hours.

Does this sound like you, love?
One of my favorite ways to inject a bit of sass into a so-so outfit, or pep myself up on a day that I'm feeling… well, a little flat, is to makeover my hair with some big, bouncy, voluminous curls that last until my next shampoo.
Yep, that's right. Gorgeous salon-worthy hair that lasts until my next shampoo…which is 3-7 days. I know, you're probably thinking "Ewww Shelley, that's gross!" but you'll quickly learn that dry shampoo is your new bestie.
The secret? Curling your hair with a flat iron.
Here's my secret formula on how to do it the right way and keep your hair looking shiny and healthy. Oh and did I mention, it's one of the most popular hair curling tutorials on YouTube with more than 17 MILLION views (as of June 2022)
JUST PUSH PLAY: How to Curl Your Hair with a Flat Iron
It's as simple as:
1. Twist – flat iron away from the face
2. Twirl – your hair around your finger to gently shape the curl
3. Toss – your completed curl over your shoulder out of the way
For additional tips on how to keep your gorgeous new curls looking bouncy for days – keep scrolling down.

* Denotes products that I'm so in love with and can't recommend highly enough. I do however, like all the products I mention in this video and listed above.
In case you would like to create your own long-wearing flat iron curls, here are the links:

WANT A LITTLE extra BOUNCE?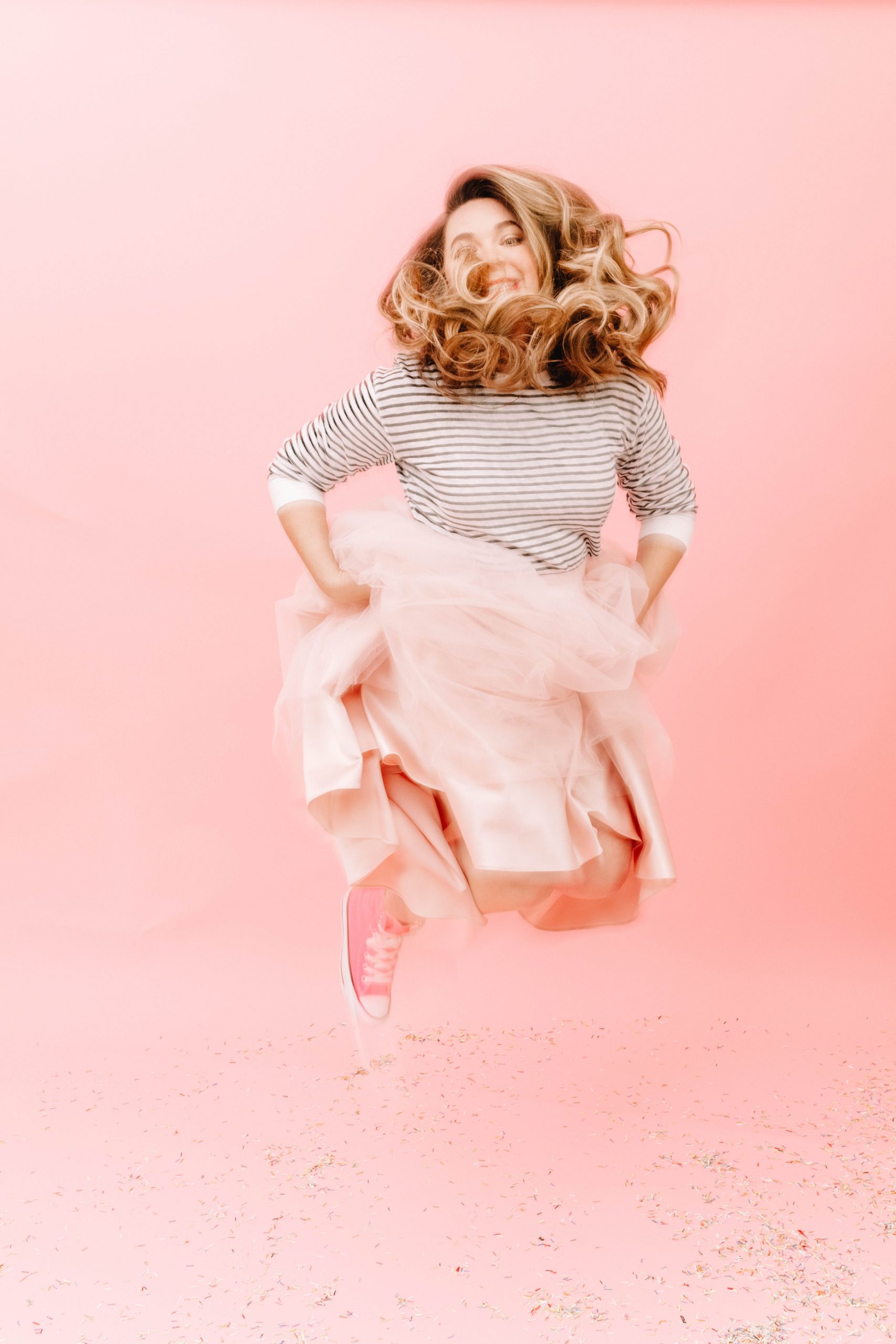 PREPARATION - BEGIN WITH FRESHLY WASHED HAIR
Condition the lengths of the hair only – from the tops of the ears down. Conditioning on the roots will only have you looking like a grease ball in a few hours. Be sure to rinse well.


Never wring/twist excess water from hair  – gently squeeze only. Hair is at its weakest when wet, and wringing can cause breakage. Wrap your hair in a towel while you finish getting ready.


If you have super frizzy, tangled or curly hair – use an old cotton t-shirt to dry hair instead of a towel. Wrap in a bun at the nape of the neck. This will prevent excess frizzing or tangling. Never rub wet hair, you'll only ruffle the cuticle.


Detangle your fresh tresses with a Tangle Teaser or a Wet Brush. These tools are made especially for wet hair and will prevent snagging and breakage. Oh and they're a massive time saver for those that have exceptionally tangled hair.


If you use no other hair product PLEASE ALWAYS use a heat protectant – this will help prevent heat damage and dreaded hair breakage.
If you have time, allow your hair to air-dry 50%. This will cut down the amount of time you have heat on your hair (wayyyy better for the health of your hair.)


Use a concentration nozzle on your blow dryer to cut down on frizz and give you a sleeker blow-dry.


Always point the blow dryer down the hair shaft (from root to end). Pointing the blow dryer up the hair shaft towards the root will ruffle the hair cuticle, which will leave you looking like a frizzball on legs.


Never hold the hair dryer on one spot of your hair, or you might fry it. Eeek!


For newbie flat iron curling babes, get your technique down pat before you turn the straightener on.


Always keep the straightener moving to prevent breakage.


For the best results, take roughly 1" sections of hair – you can take a little less or more for each other piece of hair for a more natural appearance.


If you curl a piece of hair and it doesn't turn out to your liking, leave the piece for now, finish the rest of the hair in that section and then return to the cooled piece of hair you want to re-do. If you try to re-curl when the hair is hot, it won't work – and you'll risk burning your hair.


Always leave the curls to cool before you style them any further. This will also help maintain the longevity of your new style!


For softer, more relaxed curls, use a paddle brush or your fingers to lightly comb through the waves. If you have hair that doesn't hold a curl well, you might like to let the curls relax on their own, or only use your fingers to separate the curls out.


If you'd like to add a little extra hold, use a flexible hold hairspray and apply from under the hair. Lift each section you wish to apply the product to, and spray. This will prevent your hair from being weighed down and keep those waves looking as bouncy as possible.
POST-STYLING TIPS FOR LONGEVITY
Protect your hair from shower humidity with a sexy shower cap! I know, not so glamorous but essential if you want to keep your lush locks looking fab for days.


Sleep with your hair in a loose bun on the top of your head. This will prevent your curls from being stretched out. I like to use a clip instead of a hair-band…that way you don't have any dents.


If your scalp is starting to look a little oily, use a dry shampoo to wick away the moisture and shake out hair.


Curls need a little reviving in the morning? Simply warm a little pomade between your palms and scrunch through your hair. Voilà! Beautifully revived curls.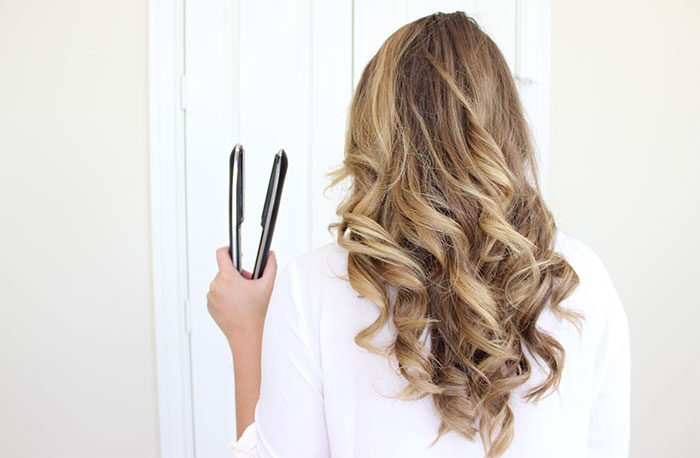 ARE YOU READY for big, bouncy curls, babe?
This process is SO easy and just takes a little practice to get your technique sorted – but once you're down with the twist, twirl and toss, you'll be curling your hair with a flat iron like a pro in no time at all!
Did you try this tutorial out? Post a pic on Instagram or Facebook and tag me, @shelleyelizabethdesigns – I'd love to your gorgeous bouncy curls!!
Not quite there yet and have questions? I'm all ears, love.
DM me on Instagram or send me an email – fire away with your Q's.