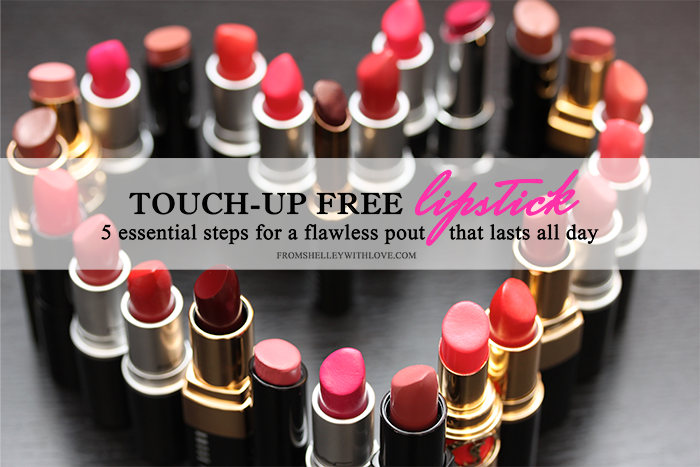 Have you ever wanted to wear a bright or bold coloured lipstick but couldn't be bothered with the up-keep required to maintain the original vibrancy?
Problem solved!  Follow these five simple steps for a perfect pout that will last all day.
You will need:
a lip pencil – nude or a colour matching your chosen lipstick
a lip brush
lipstick
2 x tissues
Lipstick that lasts all day in 5 steps:
1.  Pencil
Using a lip pencil lightly line and fill in the entire area of your lips.  Carefully rub the applied pencil into the crevices of your lips, using your ring finger.
TIP:  applying lip liner all over the lips provides an excellent base for the lipstick to adhere to.
2.  Lipstick + Lip Brush
Take your lipstick and apply the first coat with a lip brush.
TIP:  using a lip brush will give you a crisp lip line and help with the lasting power of your lip product.
3.  Seal
Gently blot your lips with a tissue.
TIP:  blotting removes excess oils and lock the colour into the lips.
4.  Reapply + Blot
Apply a second coat of lipstick (with the lip brush or directly from the bullet) and blot again with a tissue.
5.  Final Coat
Apply a third and final coat of lipstick and you're good to go!  Lipstick that lasts all day.
[line]
This colour locking technique works with both matte and creamy lipstick formulas.  You can kiss goodbye to those o-so-annoying touch-ups and the not so cute appearance of worn lipstick lips.  Instead you can look forward to luscious, vibrant lips…all-day-long!
Lipstick. It has the ability to totally change how you feel about yourself. Need a little extra confidence for that big presentation, date or interview?  Grab a bright shade for a little extra pep in your step!
[line]
Did you find this post helpful?
Don't forget to share the beauty tip love with your friends – it's easy using the social media icons below.
As always, feel free to share your everlasting lipstick tips and tricks in the comment section below!
With love and gratitude,