Ok there is absolutely no point in beating around the bush here.  I am 100% hands-down obsessed…with Bobbi Brown.
Now just to clarify, no I'm not talking about the 1980's – 1990's singer Bobby Brown that was famous for songs such as "Humpin' Around" and "Every Little Step", who was once married to the late Whitney Houston!  No, I am not!  I am however talking about Bobbi Brown the cosmetics line. 
Bobbi Brown, Founder and CEO of Bobbi Brown Cosmetics
It was approximately six years ago that I was introduced to the Bobbi Brown brand – I still remember the day that I made my very first purchase.
I was feeling a little nervous as I approached the high-end makeup counter – my heart was racing.  I don't really know why, but maybe it had something to do with the fact that I was about to spend more money on one makeup item than I had ever spent before.
My research was done and I was ready to commit.  I walked away from the makeup counter giddy with excitement and in possession of a new Bobbi Brown Shimmer Brick Compact – Bronze and a Kabuki Brush packaged in tiny, cute pencil case.
Little did I know that I had just opened Pandora's box – this was the beginning of my Bobbi Brown makeup obsession.  I was hooked!
This just so happened to be one of the best makeup purchases that I've ever made.

And this is why: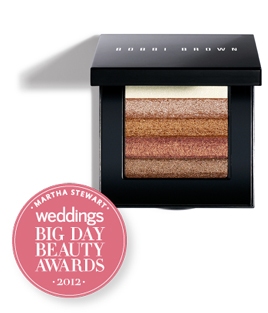 Value:  Amazing bank for your buck.
I've used my Shimmer Brick almost everyday since purchasing it six years ago, and I still haven't hit pan (there is 0.4 oz./ 10.3g of product per compact).
Usage:  It's a double-duty product.
Not only can you use the Shimmer Brick as a bronzer, but it also serves as an eyeshadow.
You can use your finger or an eyeshadow brush to apply one shade or a combination of the five options.  The colours are beautiful warm bronzy, pinky, peach tones that in my opinion, would look gorgeous on anyone with light to ebony skin tones.
You can also dab a little product on the centre of your lip over gloss or lipstick to give the illusion of fuller lips.
Quality:  Smooth in texture, stylish and sophisticated in design.
The word shimmer can often scare many people – I know it use to scare me.  The last thing you want to look like is a disco ball on legs!
The product is so smooth and silky in texture.   There are no chunky glitter particles which allows the product to glide right over your skin.  It blends easily giving you the perfect summer glow.  Unlike many shimmery products, I don't feel that the Bobbi Brown Shimmer Brick – Bronze emphasises large pores.  The packaging is simple yet elegant – a solid, high gloss black compact with Bobbi Brown printed in white text across the lid.
Interesting Facts:  It's a winner!
The Bobbi Brown Shimmer Brick won the Big-Day Beauty Awards 'Martha Stewart Weddings' (May 2012).  It was also used by Kate Middleton on her wedding day!




Giveaway Details (CLOSED)
And now, the most awesome part of this post.  I am giving away a Bobbi Brown Shimmer Brick Compact – Bronze and Bobbi Brown Face Kabuki Brush valued at $160.00 AUD!  This is one of my favourite all-time makeup products that I really want to share with you.
To enter this competition, I want you to tell me, in the comments below YOUR favourite makeup products.
Conditions of Entry:
Leave a comment under THIS post about your favourite makeup product. (don't forget to leave your name with your entry).
You must 'LIKE' the From Shelley With Love Facebook page.
You may only enter this competition ONCE.  For fairness, duplicate entries will be disqualified and deleted.
The competition will close at 5:00pm (AEST), Tuesday 11 December 2012.
The winner will be announced on THIS blog and on the From Shelley With Love Facebook page on Thursday, 13 December 2012.
The winner will have seven (7) days from the announcement date, to claim their prize by contacting me via Facebook private message.
This competition is open internationally.
Please read all of the Conditions of Entry to ensure that your entry is valid.
This giveaway will close at 5:00pm AEST, Tuesday 11 December 2012.  The winner will be selected using random.org.
Best of luck to you all!
With love and gratitude,