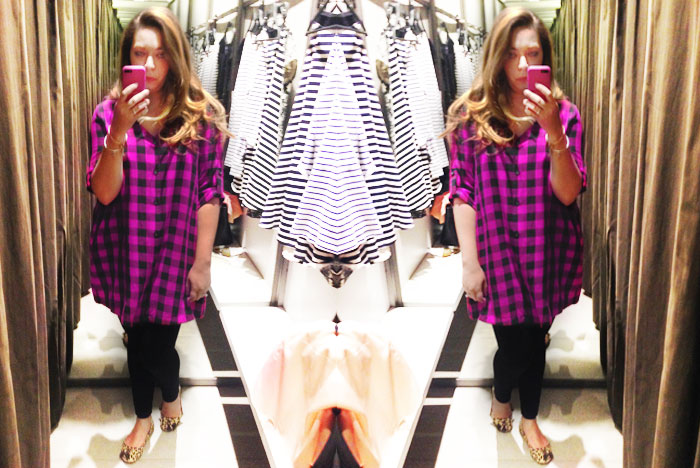 There you are. Smack in the middle of your favorite store. Arms filled with bright colors and fabrics.
You eagerly arrange everything in the dressing room and begin your own personal fashion show.
And then…
"I shouldn't have eaten that cupcake for dessert last night… my hips are starting to make me look like a cupcake!"
"I just saw this same outfit on so-and-so's Instagram. Why doesn't it look like this on meeeeee!?"
"Maybe I should get some spanx? Yes, I should definitely get some spanx! I don't care if I have to feel like a stuffed sausage if I look good."
Are dressing rooms really just evil lairs that exist to suck you in and drag out your insecurities?
Here's the thing, love. Dressing rooms are not the enemy.
Because what's really happening is: you're dressing against your body. Not FOR it.
And it's totally understandable. Because, besides a few lame articles in magazines about which swimsuit to wear for your body (which are often wayyyyy off the mark) – dressing for YOUR BODY is rarely the conversation.
Understanding your body and how to dress it is a major confidence booster.

Here's a fun way to accurately identify your body shape:
Grab an old lipstick.
Crank your favorite tunes then strip…down to your underwear or swimmers (I know this might be confronting for some…but trust me it works.)
Stand in front of a full-length mirror and trace around the outline of your body – from neck to thighs with your lippy.
Mark your hips with a heart or whatever shape you like.
Step back and assess your beautiful artwork what does your shape look like?
Are you an inverted triangle, pear, hourglass, apple, rectangle? Click here for more information on how decode your body shape.
Do you have a short, long or evenly balance torso? Look at where you marked your hips.
Now that you know your body shape, it's time understand what silhouettes look best on her:
PEAR
If you're a pear, you want to enhance your upper body and play down the lower.
// A-line skirts help optically reduce the size of wider hips.
// Wider hemlines on pants + skirts will also balance the hips.
// Experiment with dark pants or skirts with lighter colored tops – the lighter color will enhance the bust while the darker color will shrink the hips.
// Your arms and back are usually some of your best assets – show them off with strapless tops and dresses.
// Jackets that hit right above the waist will help balance your upper body.
// Want to elongate those legs? Try a cute pointy-toed pump.
INVERTED TRIANGLE
If you're an inverted triangle, you want to create the opposite illusion to a pear shape body and draw attention to the lower part of the body.
// You have the ideal shape to experiment with bright bottoms and full skirts.
// High-waisted pants or skirts also look amazing on your body type
RECTANGLE
Your body shape is all about creating curves where there aren't any.
// Try wearing sweetheart necklines with well fitted bra to enhance your curves.
// Tops with ruffles will also help create the illusion of a curvier body.
// A waist can be created by belting tops or dresses at the waist.
// You can also rock high-waisted pants…you lucky devil!
APPLE
If you have an apple body shape, lengthening the torso is going to be the most flattering.
// Give a v-neckline a whirl to create the illusion of a longer torso
// Empire cut tops and dresses will help conceal any tummy areas you're not comfortable with.
// Shorter skirts and shorts will show off your amazing pins!
// Bootcut pants and jean will help even out the width of your shoulders.
HOURGLASS
If you have an hourglass body shape you want to balance off showing your gorgeous curves without wearing too little or swimming in too much fabric.
// A wrap dresses looks incredible on your shape.
// High-waisted skirts & pants will show off your hips
// Looking for jeans? Try a skinny or straight-legged pair.
Loving the body you have is not just about feeling comfortable in your skin. It's about also feeling comfortable (and confident!) in your clothes.
Dressing for your shape will not only flatter your figure, it will stop the tugging and awkwardly fidgeting.
Instead you'll walk with your shoulders back, head high and more sparkle glittering from your spirit that rubs off on everyone you meet.
Want more help determining your body shape and how wrap yourself in love?
CLICK here for a FREE consultation.
With love and gratitude,