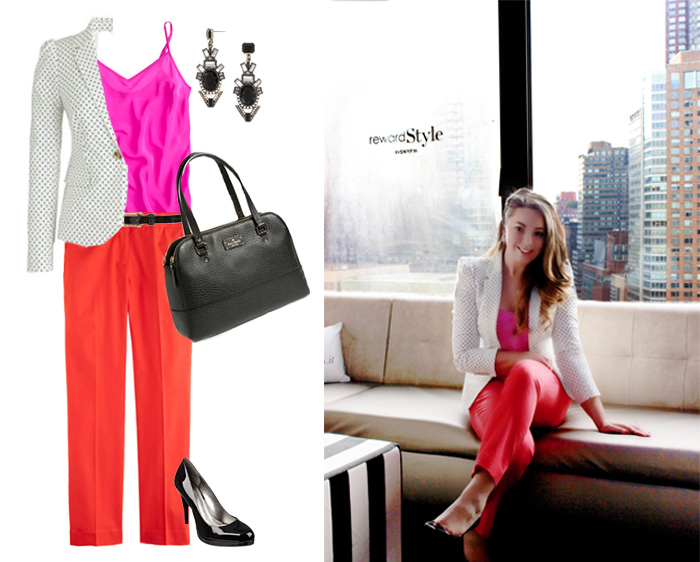 Everyone loves a glamorous rooftop party and let me tell you, RewardStyle along with their event sponsors, know how to do it right!
Join me as I get ready for a fun afternoon of networking and meeting new faces – this is my personal New York Fashion Week day three journal.  
Day three of New York Fashion Week was disgustingly humid with forecast for afternoon and evening storms.  I began my day began with a gross tasting coffee and a catching up on writing blog posts and editing my upcoming eCourse.
Today was the day that I was most looking forward to – I had been invited to attend the RewardStyle Rooftop Party at the Empire Hotel in NYC.  I couldn't wait to meet a new bunch of like-minded individuals and experience a different angle of New York.
At 2pm it was time to get ready:
I used my GHD Eclipse to add a few extra loose waves before and pulling back the hair from one side of my face and secure it with bobby pins/ kirby grips.
Next it was time to apply makeup.  I knew it was going to be hot and stick outside, so I went with my tried and tested sweat-proof makeup combination which included my life saving primer…dramatic by true, the Hourglass Mineral Veil Primer.
Let me know in the comment section below
if you'd like to see a video How-To on this makeup comb!
With hair and makeup complete, there was only one thing left to do – get dressed…
I wanted to keep my look light, fun and summery  – neon pink and red are one of my favourite colour combinations.
Shop the image below by clicking the + signs:
Top:  Sleeveless Silk Cami
Pants: Campbell Capri in Stretch Cotton
Blazer: Puff-Sleeve Blazer in Triangle Dot
Shoes: Regola Platform Heels in Patent Leather
Belt: Grosgrain Patent Leather Belt
Earrings: Jupiter Gem Drops Earrings
Purse: Kate Spade Grove Court – Lainey Leather Tote

space
RewardStyle Rooftop Party Time
There was no way that I was braving the subway before an event – it's like the heat of the earth in there!  So I grabbed an Uber – the driver proceeded to sing his best rendition of Frozen's 'Let It Go' for the entire 10 minute car ride.
I couldn't help but giggle to myself and wish that my neighbor (who loves that movie) was with me to enjoy the performance!
Finally I was perched on top of the Empire Hotel in the Upper West Side.  I pinched myself – I was really here!
With a refreshing vodka, lime and soda in one hand and a camera in the other, I networked with fellow bloggers that had converged on The City from all over the United States.
Setup on the terrace outside, in gorgeous marketplace style, were the RewardStyle Rooftop Party Event Sponsors which included some of my favourite brands along with a couple that I'd never heard of previously…but am now falling in love with.

I finished the night by taking a ride on the Subway to Eataly – one of my favourite places in New York City, where I ordered a glass of wine and the calamari linguine…delish.
A massive thank you to RewardStyle for inviting me to their New York Fashion Week Rooftop Party – it certainly was one of the highlights of my week in The City.
With love and gratitude,