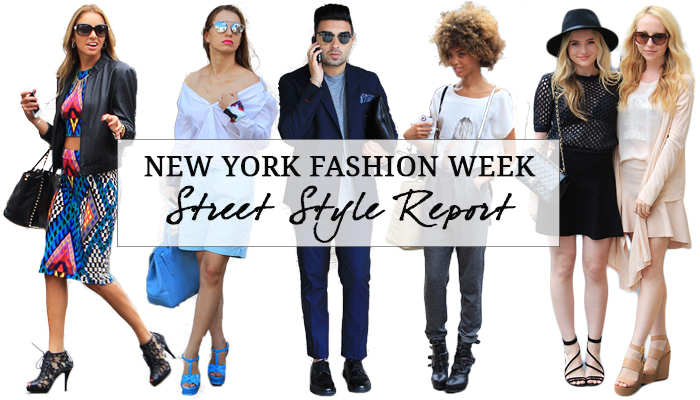 That's a wrap!
The buzz of the past week at The Lincoln Center has died down, the photographers have moved onto the next big event and the style watchers have gone home.
Yes, that's right New York Fashion Week for Spring + Summer 2015 has drawn to a close but don't lose your mind yet!  We have the low down on all the style strutting the pavement…off the runway.
Keep reading for your exclusive From Shelley With Love NYFW Street Style Report.  
[line]
The Lincoln Center

Pictured above:  The Lincoln Centre – home of Mercedes-Benz New York Fashion Week.
The hub of most NYFW excitement is centered around the tents at the Lincoln Center.  A constant hive of activity, photographers, fashionistas, style watchers and tourists popping in to see what all the commotion was about.
On the Saturday and Sunday of Fashion Week (4-11 September, 2014) this area was a crazy-town. Every man, lady, baby and their little yappy dogs were there…literally.
Photographers and media crews were climbing over other photographers and media crews for 'that' picture or interview.  It was like nothing I've ever seen or experienced in my life.
As a gal originally from the small city of Brisbane, Australia – I thought I was going to be eaten alive! There was no room for getting offended or upset after being pushed to the side or stepped on for the 100th time.
There were no: "I'm sorry's, excuse me's or thank you's"…it's the nature of the game and the not so glamorous side of covering fashion week.  Not that I'm complaining, it was actually quite comical – I had an amazing time…I'm just keeping real for ya'll!
[line]
NYFW Street Style Report
Fashionistas' from all of the world converged on The Big Apple for one of the biggest fashion events of the year, NYFW Spring + Summer 2015.
Designers showcased their collections and emerging trends for the coming spring-summer.  Images were beamed immediately across the globe (more on this later this week).
The weather was sticky and soupy for the first half of the week – hair frizzingly-humid, hot and sweaty.  Fashionistas were getting their last wear out of their summer wardrobes and incorporating a few touches of fall with accessories and jackets.
Some of the trends I noticed pounding the pavement are below in your exclusive NYFW Street Style Report:
Fancy in Floral
What screams spring more than a pretty pink floral frock….other than popsicles and Pimm's, nothing really!
Pictured above are two beautiful floral, long-sleeve dresses: one flirty and feminine, the other more girly-grunge.  Accessories were kept to a minimum to allow the garment to speak for itself.
The Graphic Tee
Graphic tees with both images + quotes are back in a big way.  You may have already noticed them at your local department store or boutique.
The best thing about this style is its versatility – dress it up, dress it down – pair it with some bold accessories for for a casual event or with a blazer and pumps for the office.
Some of our favourite graphic tees:  here, here, here, here, here, and here
Colour Therapy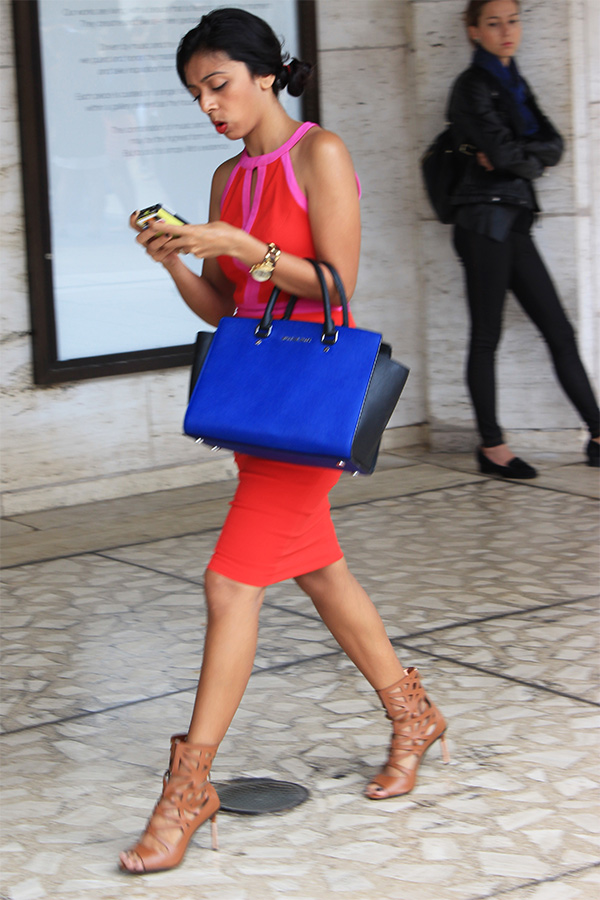 Pictured above: Jay Godfrey – "Woodward" Contrast Trim Sheath Dress,
Michael Kors Selma Handbag
 Pictured above: ASOS Neon Yellow Floral Jumpsuit 
My favourite colours to wear are bright and bold – something about them just makes my happy and bouncy all day.  Needless to say, I couldn't walk pass these beautiful, bright bold looks.
Neon yellow will continue to make an appearance throughout Spring + Summer 2015 – the colour made an appearance yet again on the runway during this NYFW.
 Feeling Blue + Felt
Pictured above:  Handcrafted Caviar Clutch by Olypmpia Le-Tan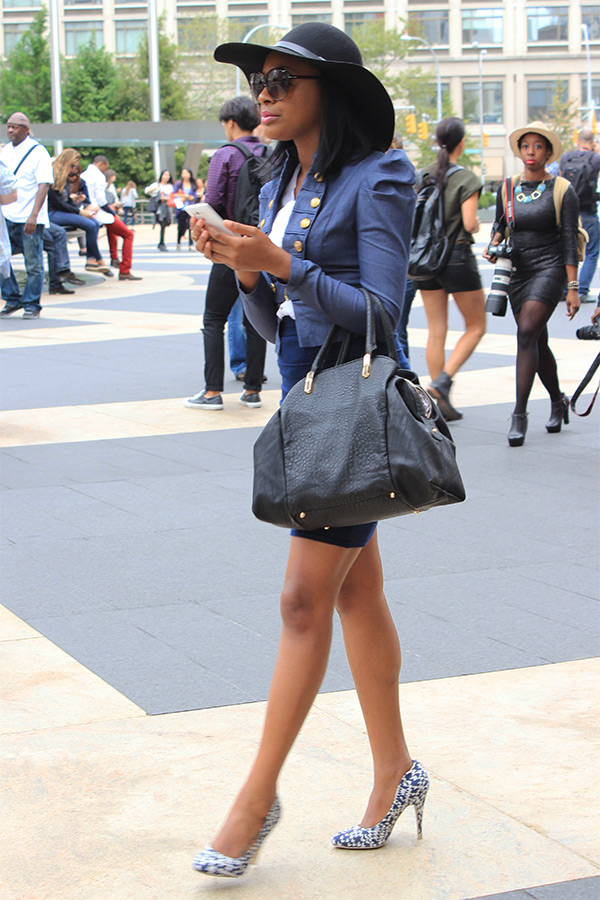 Blue, blue everywhere!  A massive colour trend on the streets during the SS15 NYFW was all shades of blue – but mostly a rich, bright blue or a navy.
Navy is super classy – you can never go wrong.  And bright blue is super fun + it looks amazing on everyone.
This past Spring + Summer we saw the return of navy eyeliner – team it with a gold/ brown eyeshadow for the perfect pop of unexpected colour that anyone can rock!
Felt fedora and floppy hats are currently a very popular accessory.  It's an accessory that I totally adore – and hey, anything that helps keep the sun off my face is a winner in my books. Farewell sun damaging and wrinkles!
Here are some of our favourite felt hats:  here, here, and here.
A Little Dapper
I was super impressed by the guys!  From classy navy and burgundy to bright colour plays – they were looking pretty darn dapper.  I tip my 'felt' hat to you…
Geometric Shapes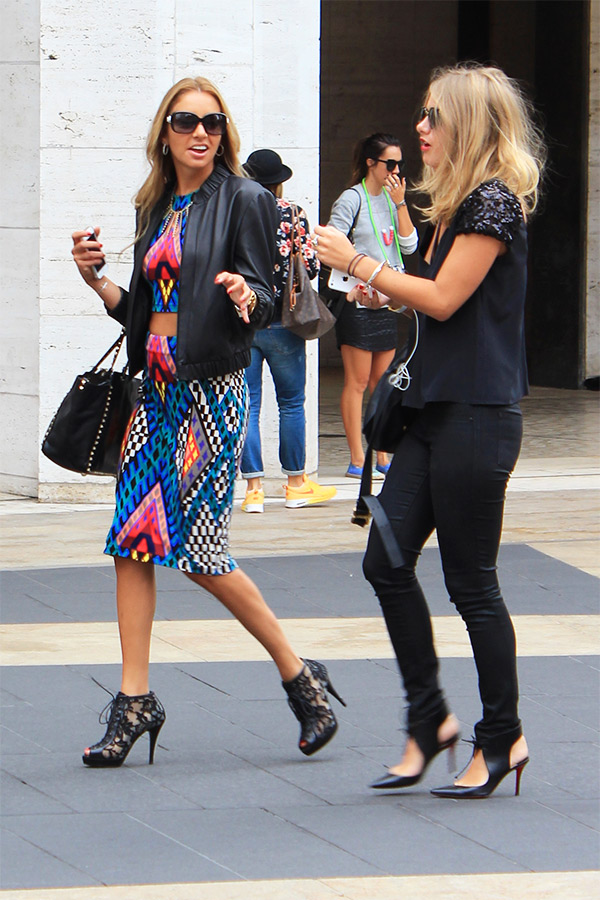 Pictured above: Mara Hoffman Printed Crop Racerback Top and Printed Stretch Jersey Pencil Skirt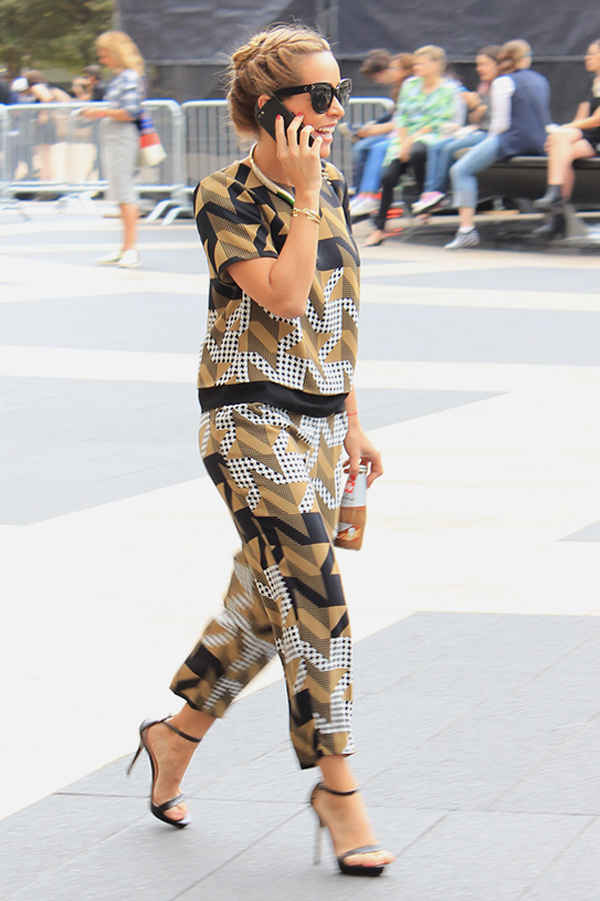 Pictured above: Top – Topshop | Pants – Topshop (no longer available)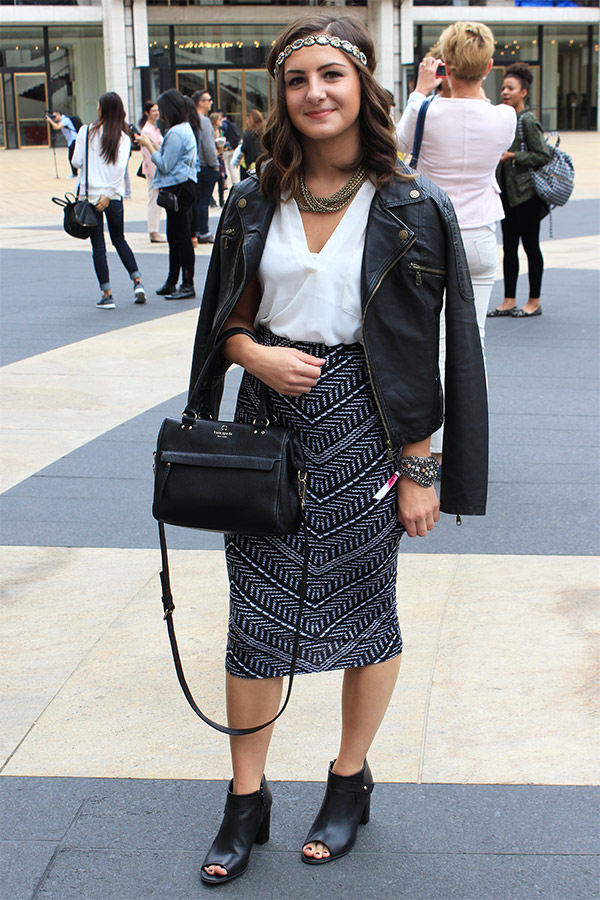 The geometric pattern has taken off thanks to the likes of Beyonce and Ivanka Trump.  There's a pattern and colour suitable for every body shape and type.
Pretty Pastels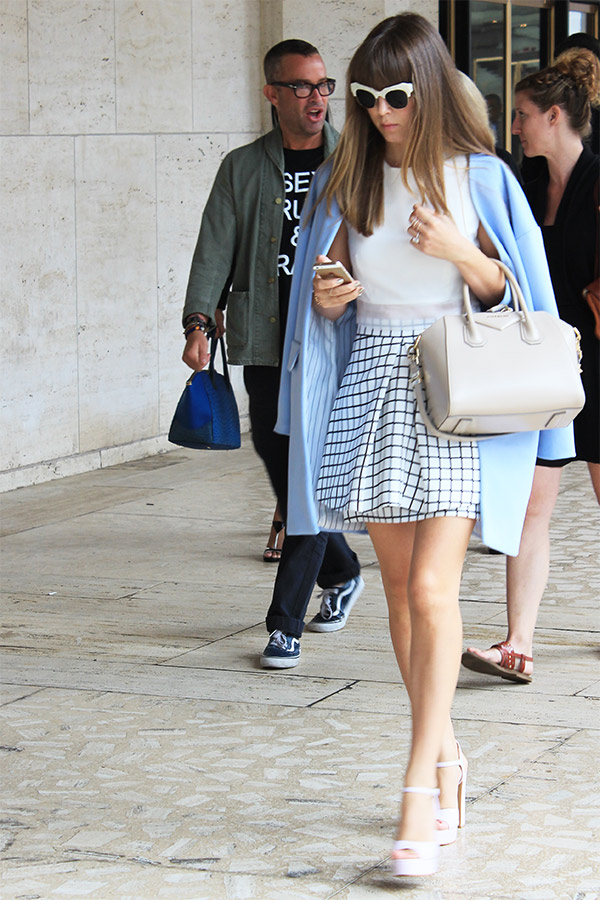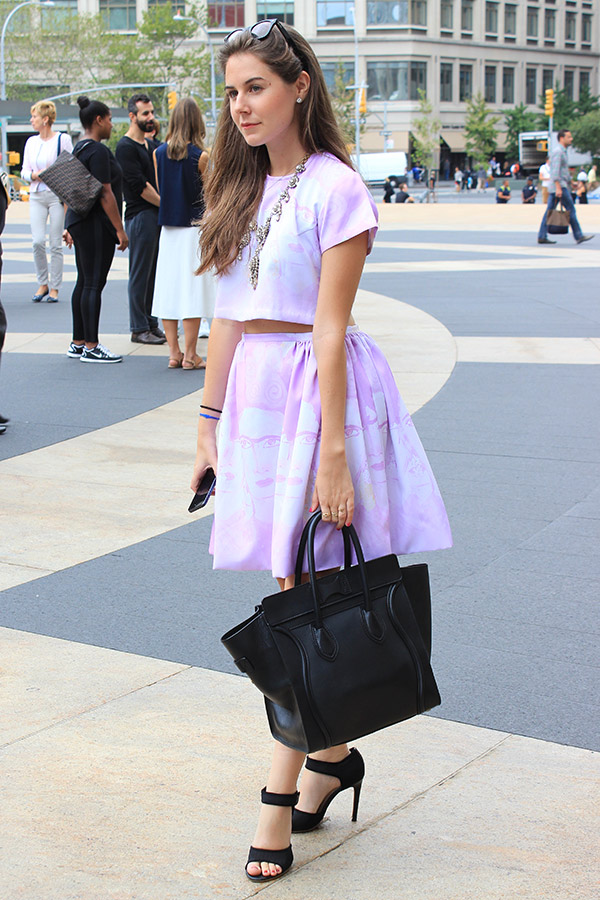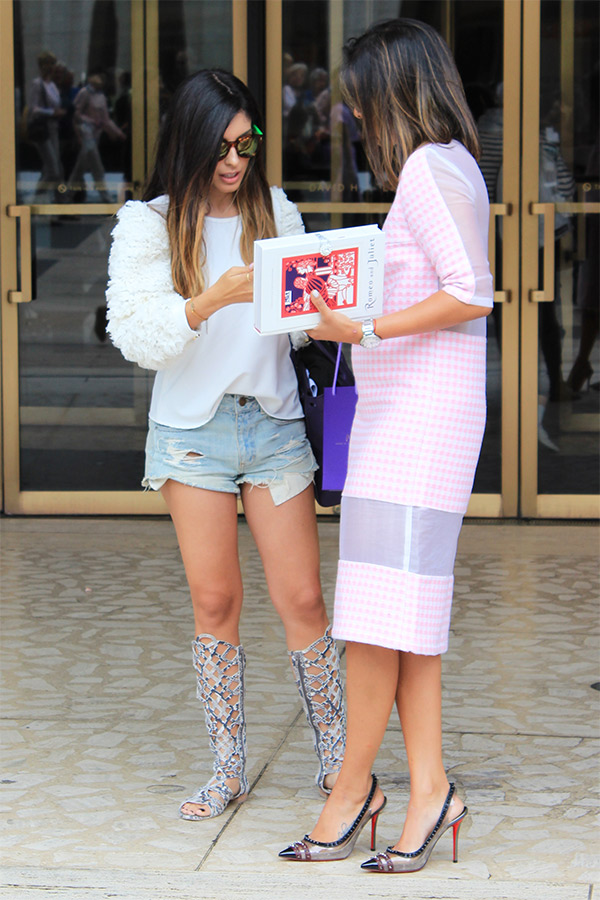 Pictured above:  Romeo and Juliet Book Clutch
And of course it wouldn't be the season without the splash pastel colours – beautiful pinks, lavenders and blues.
Monochromatic With a Colour Pop
Looking chic in black or beige – add a pop of colour for a little added fun.  The perfect outfit colour for a statement purse, shoes, or lip colour.   You really can't go wrong!
Masculine Style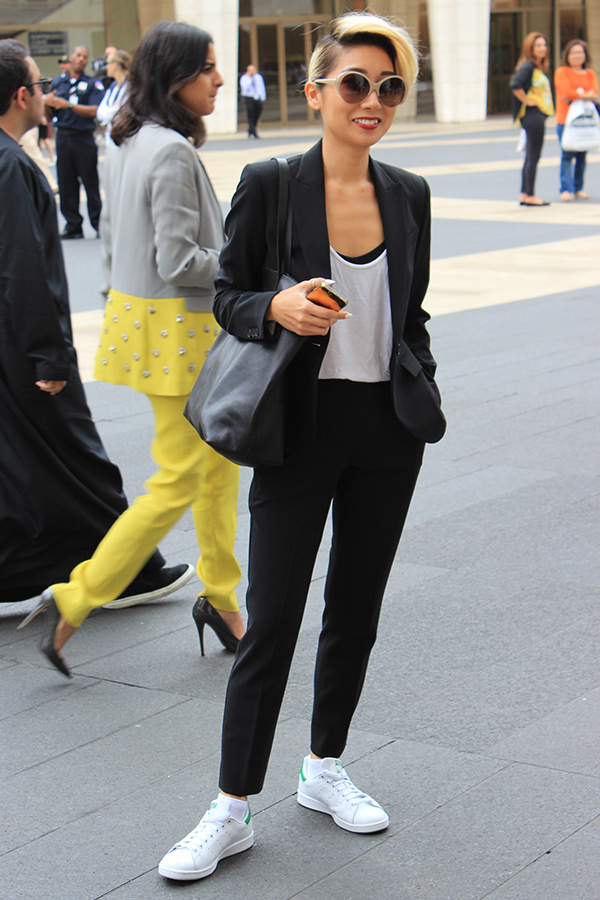 We're seeing more of the masculine style jumping off the runway into the mainstream thanks to the likes of the Canadian Fashion Model, Coco Rocha – who continually nails this trend with a touch of femininity.
Skirting Around
This NYFW was all about the skirts!  In all sorts of lengths and textures – from Ostrich feathers, to lace, taffeta and more.
We're currently seeing a resurgence of the midi skirt.  Think mid-calf, floaty and romantic styles – I didn't manage to snap a pic of anyone wearing one but they are definitely on the rise and perfect for that in-between season weather!
Style Watchers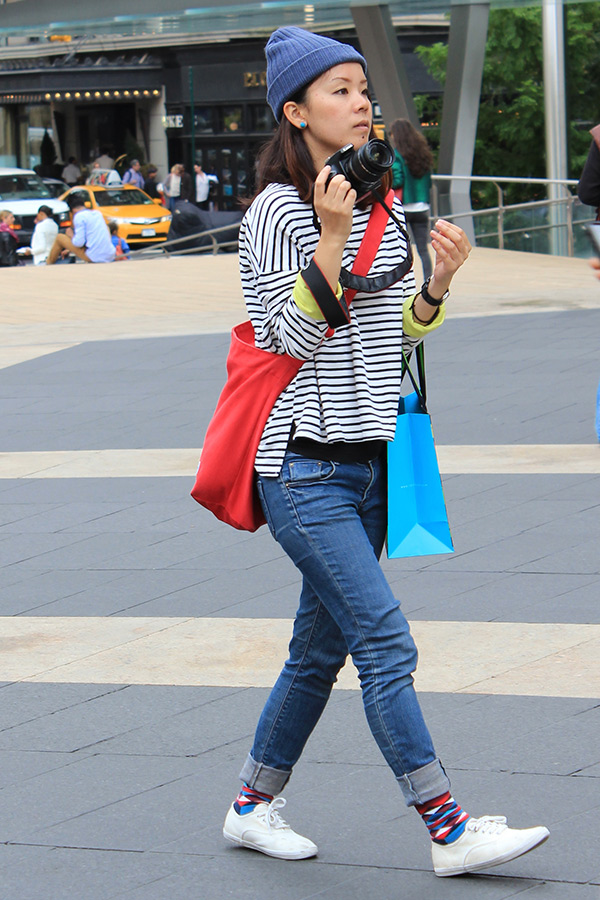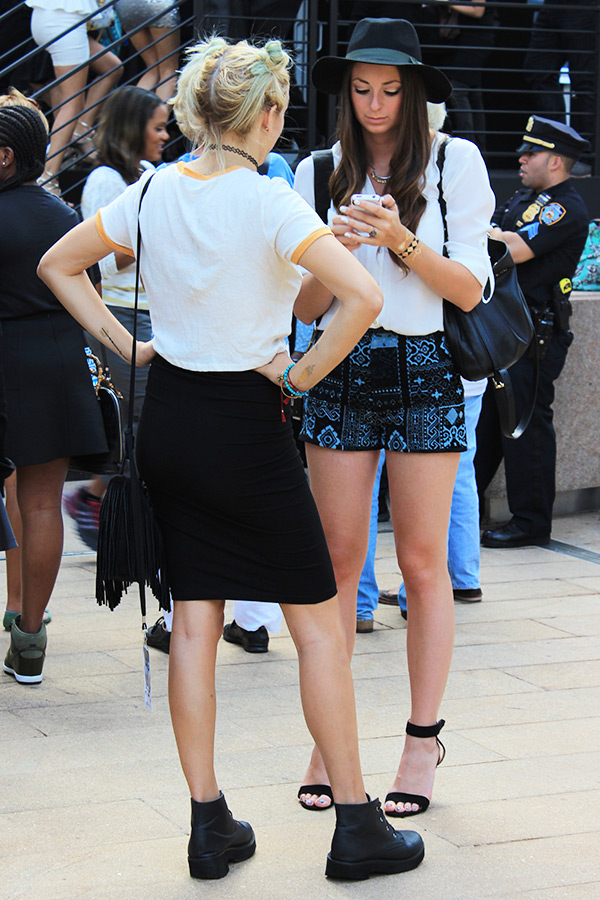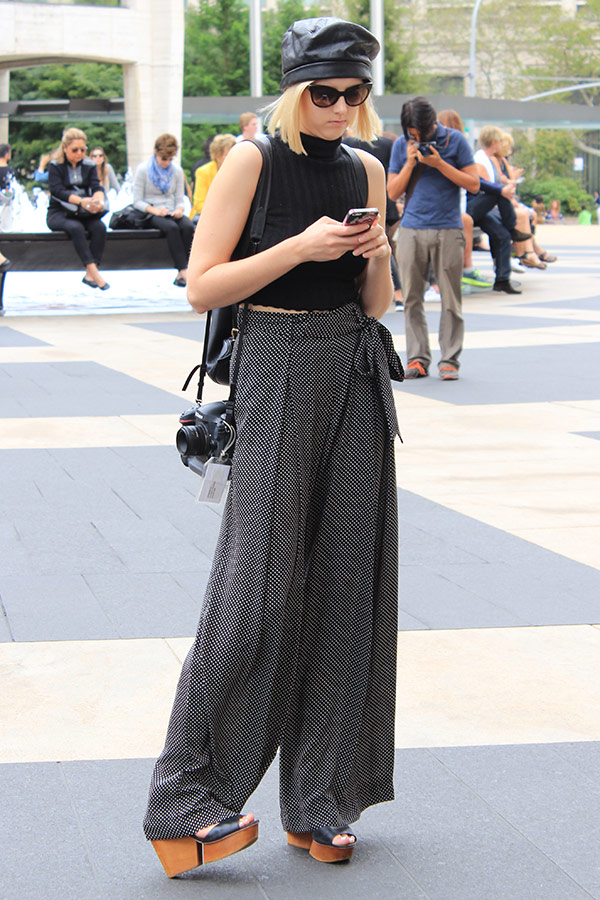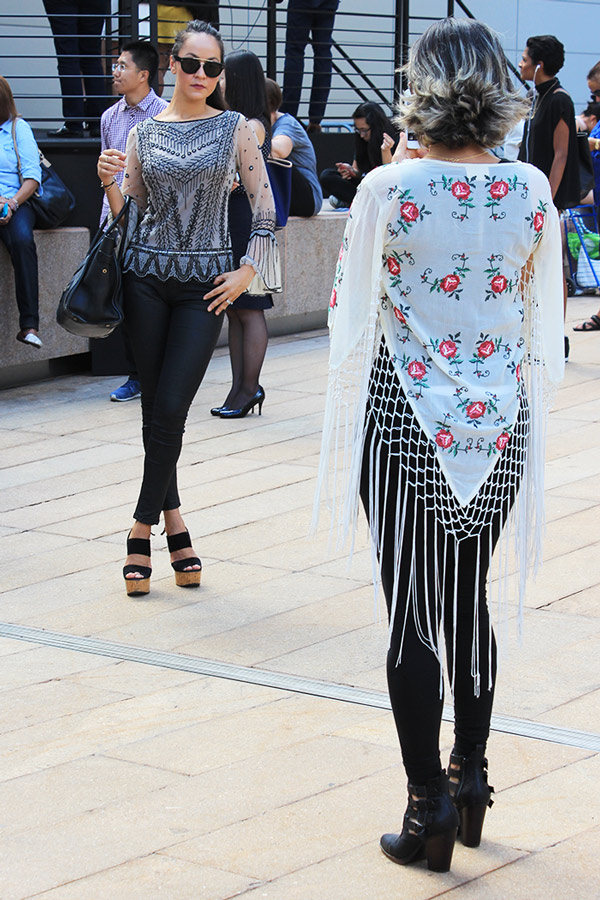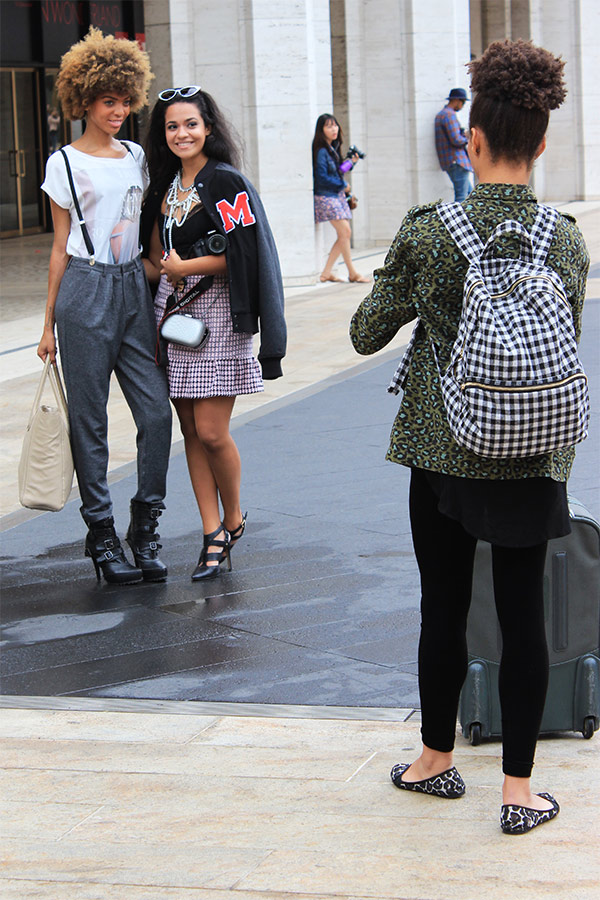 Pictured above:  Fellow style watchers snapping, tweeting and instagraming!
What was your favourite look from the
NYFW Street Style Report?
Leave your response in the comment section below.
Having the opportunity to hangout in The City for New York Fashion week was a truly amazing experience.  I can't wait to go again next year…
Stay tuned for more New York Fashion Week Recap Post this week.
With love and gratitude,