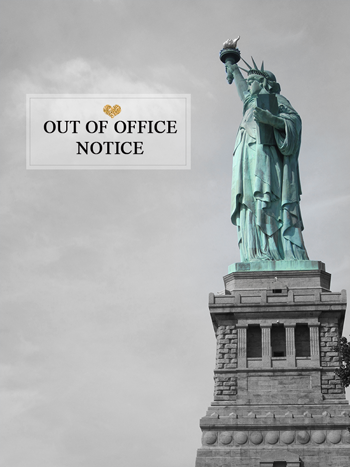 New York Fashion Week – it's the pinnacle of fashion, luxe, glamour + style.  
It's every fashion-obsessed gal and guy's, dream to be invited to attend.
I can't quite believe that I'm writing this post.  I've been planning this trip for some time now, and finally it has arrived.
I'm giddy with overwhelming excitement and a pinch of fluttering butterfly nerves.
Buckle your seatbelt uh-mazing friend, I'm taking you on the virtual trip of your life…
  the trip of a lifetime!
We're going to New York, baby!
That's right, From Shelley With Love will be coming at you from the glittering lights and buzz of New York City.
Tomorrow I will board a plane from Houston, bound for The Big Apple – it will be my third visit to the city that never sleeps and every time I go, I feel like I'm united with a piece of my soul!  Seriously, it holds a very special place in my heart for so many reasons.
This trip will definitely be no different except that I'm fulfilling one of my life-long dreams…and you'll be right here with me.
Somebody please pinch me – this gal, originally from the suburbs of Brisbane Australia, has been invited to cover the New York Fashion Week Spring/ Summer 2015 emerging trends, collections and all the fabulous street style you feast your eyes on!
From the 4th – 11th September expect:
[accordion title="Style Articles – click to read more."]I'll be posting the highlights from some of my favorite fashion shows, along with noting the inspiring street style that will inevitably be seen during New York Fashion Week.[/accordion]
[accordion title="Dating NYC – eat your heart out Carrie Bradshaw – click to read more."]Let's date the city, Carrie Bradshaw style.  I'll take you to my favourite places to eat, relax and play.  There may also be a sneaky roof-top party of two, that I'll bring you along to enjoy!
[/accordion]
For up-to-the-minute details and pictures, make sure you join me on Facebook and Instagram  – I'll be posting there while I'm on the go.
If you have any New York City tips, must go-and-see's, post them in the comment section below – I'd love to add them to my list of place to visit!
I'm so excited to be able to share this incredible stylish journey with you!
With love and gratitude,