Shelley's Holiday Wish List + A Super Sparkly Giveaway
Can you believe it's the holidays? It still blows my mind to think that Christmas is SO close, I can practically smell the maple glazed ham and plum pudding!
Christmas makes me miss my family more than normal – even though some Christmas' I won't lie…I may have once or twice wished for a Christmas miracle…waking up not having to worry about family Christmas drama. But after 3-years of living 9.3 million miles or 14.9 million kilometers away from them, I'd do ANYthing for a little family drama.
Some of the Christmas traditions I miss include sitting on Santa's knee…once upon a time, my Dad dressed up as Santa; that then became my much slimmer, less ho-ho-hoing, brother…and then some shady Pommy guy that kept saying "Little girl, I think you've been a little naughty this year!" ;) (just kidding…he's a pretty funny family friend.)
I miss mince pies and Christmas cake with hot custard, prawns (no shrimp on the barbie for this Aussie…because shrimp really isn't a thing…but as for the dingo who stole her baby…the jury is still out on that!!), deviled eggs, and laughing at my Grandma who was ALWAYS the last person to sneakily remove her bon-bon paper crown…she will live forever with her paper party hat on, dancing with my Grandad (Merry Christmas Grandad & Grandma…calories don't count in heaven).
Well that's enough reminiscing for now…there's still holiday shopping and bargains to be had!!!
Today I thought I'd share my 2016 Holiday Wishlist…Gift Guide…Totally Heart Over Heals Love List…with you. You know, kinda like Oprah's Favorite Things List…just sparklier…and probably pinker (let's be honest!).
Some of the products I've included, have popped a smile on my face during the hardest year of my life to date, and some of the items I've listed have been on my wish list for quite some months…so hubby if you're reading this, you know what to do my darling! :)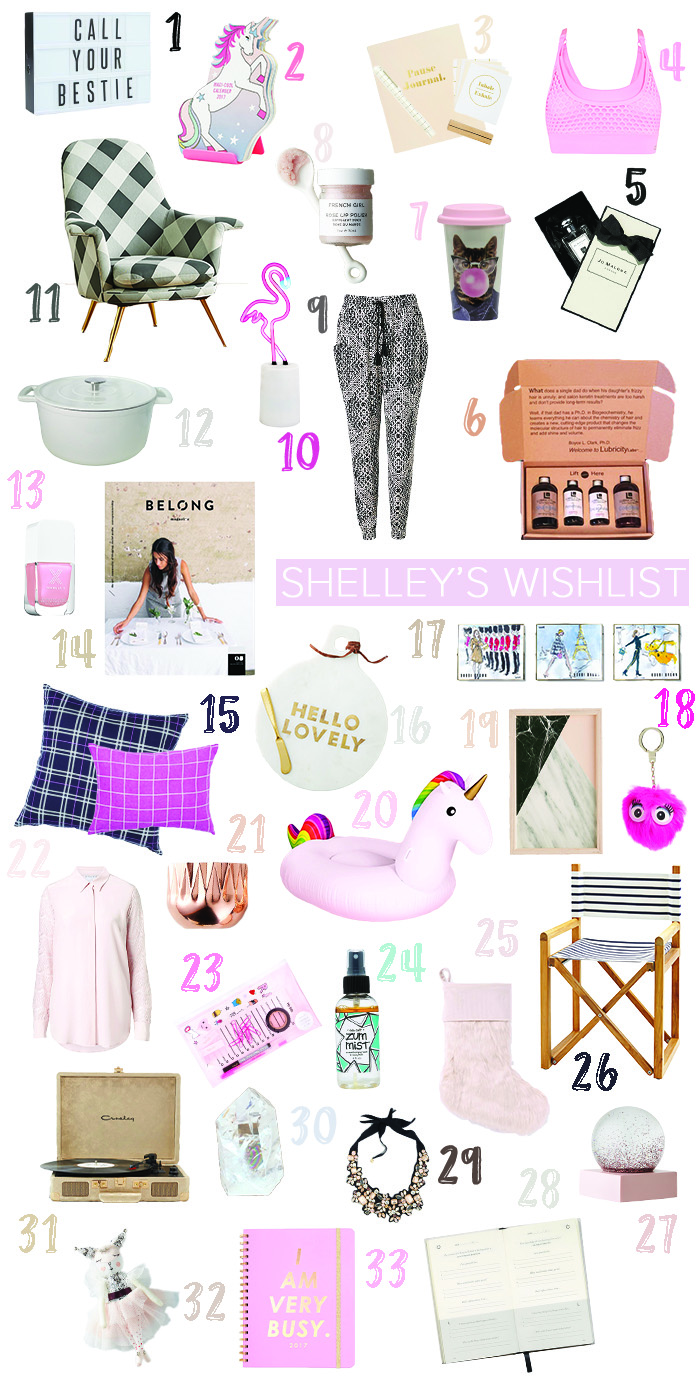 Now it's my turn to be the present pixie…
Nothing lights me up like a Holiday Giveaway!
Giving prezzies away makes me so giddy…plus I love giving back to my incredible amazing, uber supportive, sparkle squad…ahem…that's you sweet one!
This year I wanted to treat you to some products that have made a huge splash in my life this year, put a smile on my face, and made me squeal "OMG!!!" so many times, I'm beginning to sound like Kevin from Home Alone.
– Ban.Do 2017 Planner + Planning Starter Pack
– The Five-Minute Journal
– Kikki.K Mindful Moments Gift Pack
– Lubricity Q-Shampoo & Q-Condition Travel Pack

To enter, simply join the From Shelley With Love Sparkle Squad HERE.
By confirming your free email subscription, you'll automatically be entered into giveaway draw.
Prizes will be drawn on December 24th, at 2pm CST in the Style Lovers & Besties Facebook group.
If you're already subscribed to the From Shelley With Love Sparkle Squad (email newsletter), first of all, thank you gorgeous – you will automatically be entered! YAY!!
Happy Holidays, gorgeous friends.