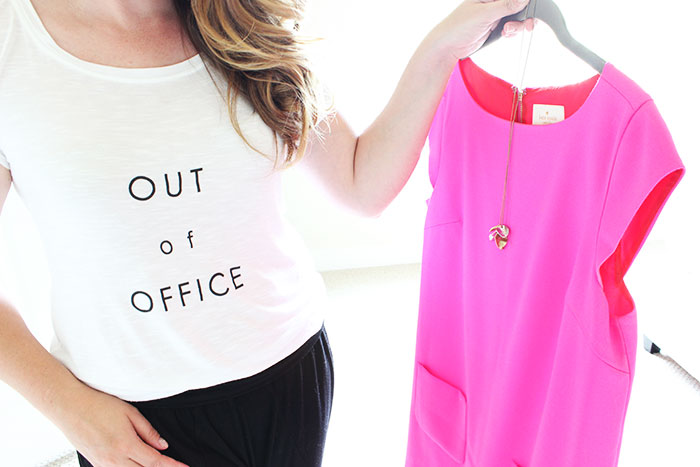 I hear you. Loud & clear.
One of the biggest questions I receive is: what the heck do I wear to work?
As a former "corporate" gal, I – like you – needed fresh new outfits, five days a week. It was a vicious cycle that no amount of shopping or Pinterest stalking could fix. Even something I once thought was amazing felt old after a few weeks.
Why?
Because – truth be told – we all know what to wear to work.
We are asking the wrong question.
The REAL questions are:
Do all of your current work clothes feel like a bad case of muffin top?
Are you comparing yourself to that super stylish girl in the office that seems to get all the attention, and – more importantly – opportunities?
Are you blaming your "looks" for not getting that promotion?
Are you trying to muster up the ovaries to ask your boss for a raise?
Think about it. 
There's no perfect, award-winning outfit combination that will change what's really going on, inside.
In my personal and professional experience, "what should I wear to work" usually means I'm stuck in crazy-land and need a shot of confidence… stat!
Next time you find yourself saying "what the heck do I wear to work" – try styling yourself with self-love, instead. Try:
Slow dancing with your morning. A.M stress & anxiety will have you second-guessing yourself before you even step into your power pumps. Learn how to make every morning feel like Sunday morning HERE.
Filling your tummy with beautiful healthy meals & snickity snacks. When you eat healthier you feel lighter – both from a physical & energy standpoint. Say bye-bye to bloat and little miss frumpet muppet! Try THIS delish green smoothie recipe – it will have your mouth watering for more.
Practicing gratitude…for your own unique gifts. You have so many beautiful offerings to give the word. Write down 3 things that you kick-ass at in the front of your gratitude journal.
Moving your booty… to fire those blissful confidence endorphins – check out  THESE unconventional workout ideas
Ninja chopping perfection. It's an urban legend – much like that stinkin' leprechaun and his pot of gold…you'll kill your sparkle seeking it out.
Striking the dirty "C" Word from your vocab. That's right – COMPARISON! Comparison is a big, fat sparkle killer. Remember, nothing compares to you, love.
With love and gratitude,

Need to be rescued from the corner of comparison and self-doubt – help is here! Schedule a FREE 15 minute Skype session to see if Ravish!™ is right for you.