Hello lovely!
It's that time again – time to share my beauty and style favourites for the month of December.  From beauty and make-up to personal style and home decor, I have you covered for the festive season!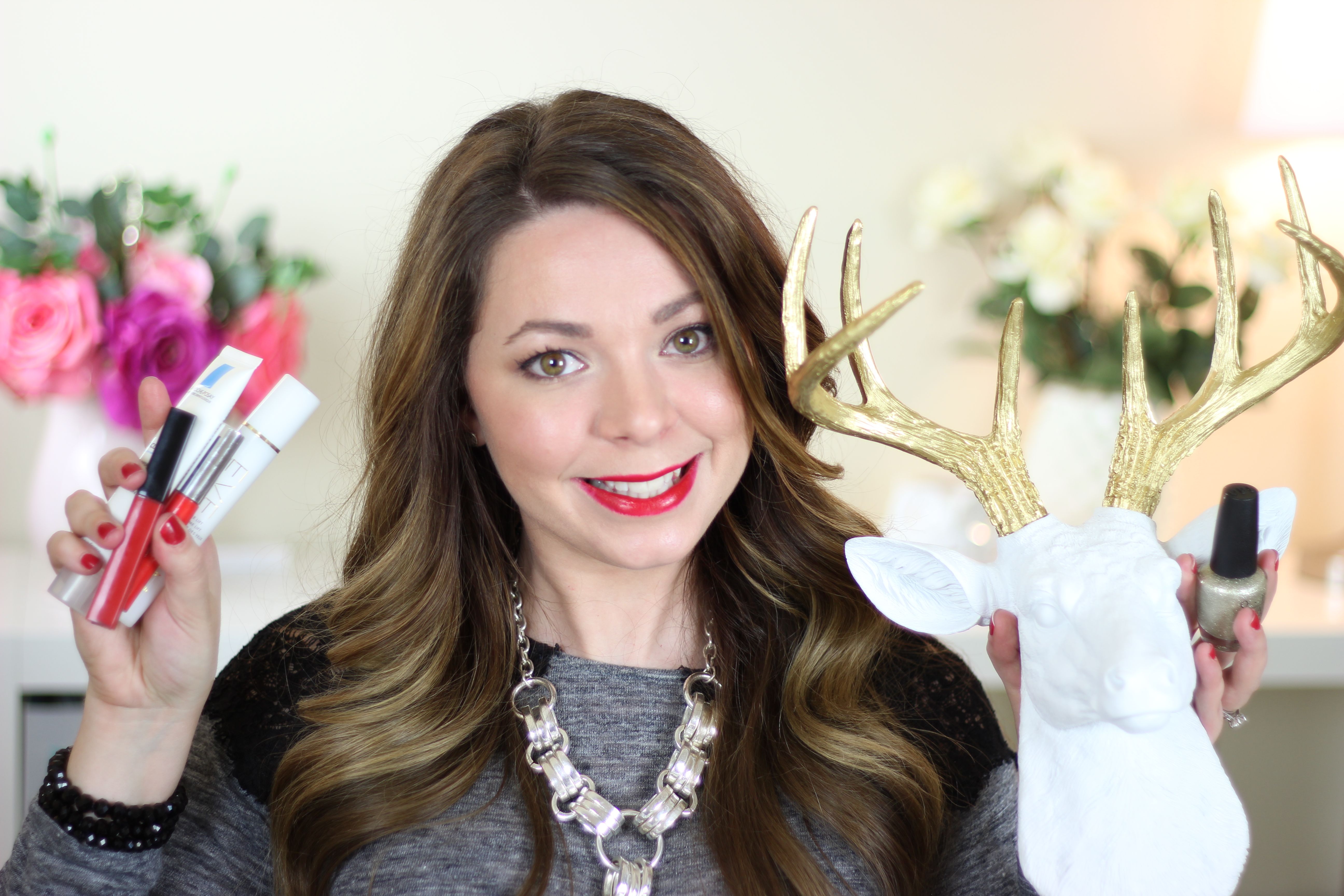 This was my first Christmas in the United States and I loved it – I covered the balcony in fairy lights and just wanted to stay out there all night (everything is better with fairy lights!).
I managed to find a Christmas tree and some decorations before they were all gone on December 1st…I know, crazy talk!
To compensate for my lack of holiday decor cheer, I made my own decorations – hubby wanted to kill me for the amount of glitter I got all over the house – but hey it was heaps of fun!  What's a little sparkly mess, hey?  That's living, I say!!
Well, let's get started with the beauty and style favourites for December before I talk myself into a post-holiday depression![line]
Skincare
LA ROCHE-POSAY – Effaclar Duo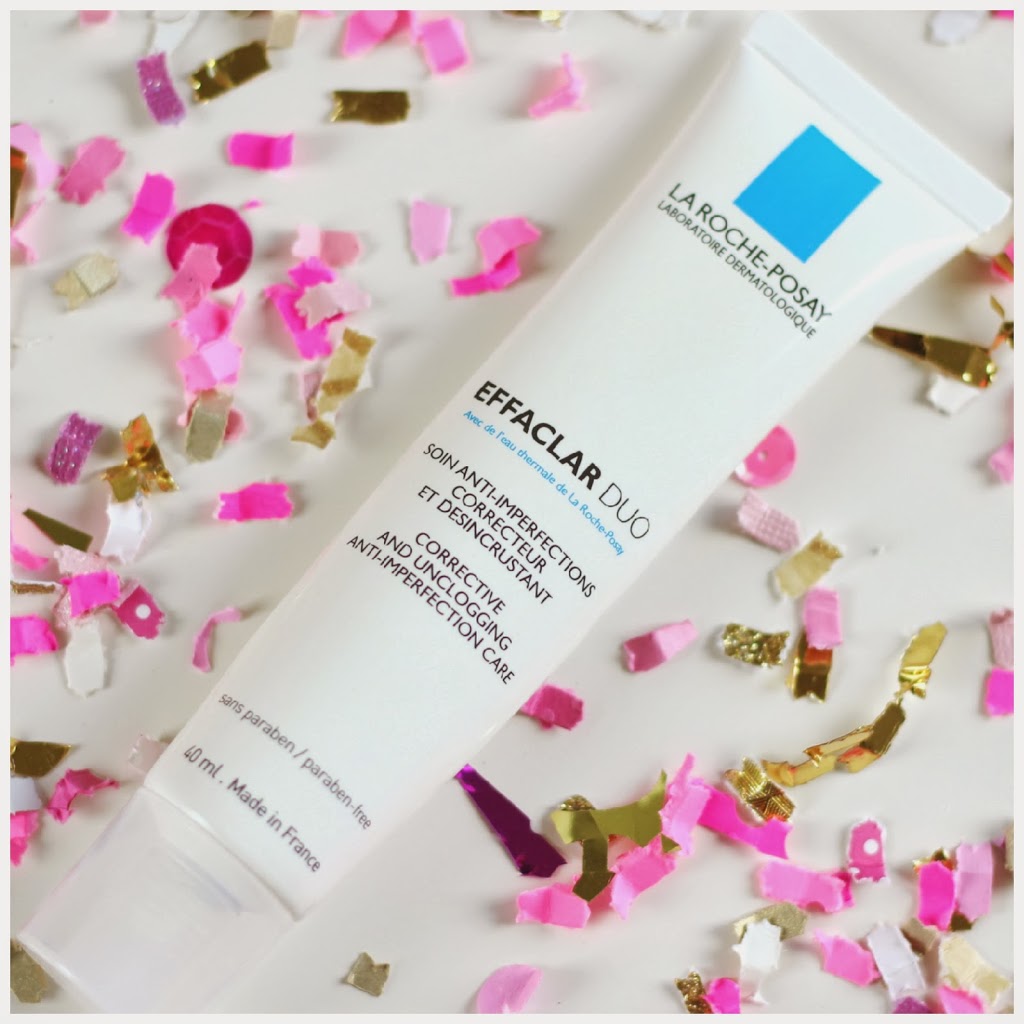 My skin has been a real mess ever since my wedding and intercontinental move in October – I'm pretty sure it's the result of stress, a new diet and environment, along with a dash of fabulous hormones!  It's been a real party…
My secret weapon against those pesky breakouts has been my La Roche-Posey Effaclar Duo – I use the European formula as opposed to the American formula, which contains Benzyol Peroxide – an ingredient that I am highly allergic to.
Effaclar Duo is a light weight, anti-blemish moisturiser that targets clogged pores and supports the reduction of oil production, helping to clear and prevent further imperfections from developing.
Formulated with salicylic acid and without any nasty parabens, I find Effaclar Duo to be gentle enough to use daily (even for sensitive skins – it's a product that many dermatologists give the official 'nod' to) – it doesn't leave the skin feeling stripped or dry and is fragrance free.
I apply Effaclar Duo in place of my regular moisturiser, after cleansing and toning my face – except when the weather is particular cold and I need that extra hydration, then I apply it under my Kate Somerville Nourish Moisturiser.  By the following day, my skin appears calmer – the redness has reduced and imperfections are somewhat faded.  My skin tone becomes more even and the shine through my t-zone has minimised.
Don't get me wrong, it's not a miracle cure – especially when you're dealing with hormonal breakouts, but it sure helps to calm those pesky imperfections, with almost immediate results.
EVE LOM – Eye Lift Treatment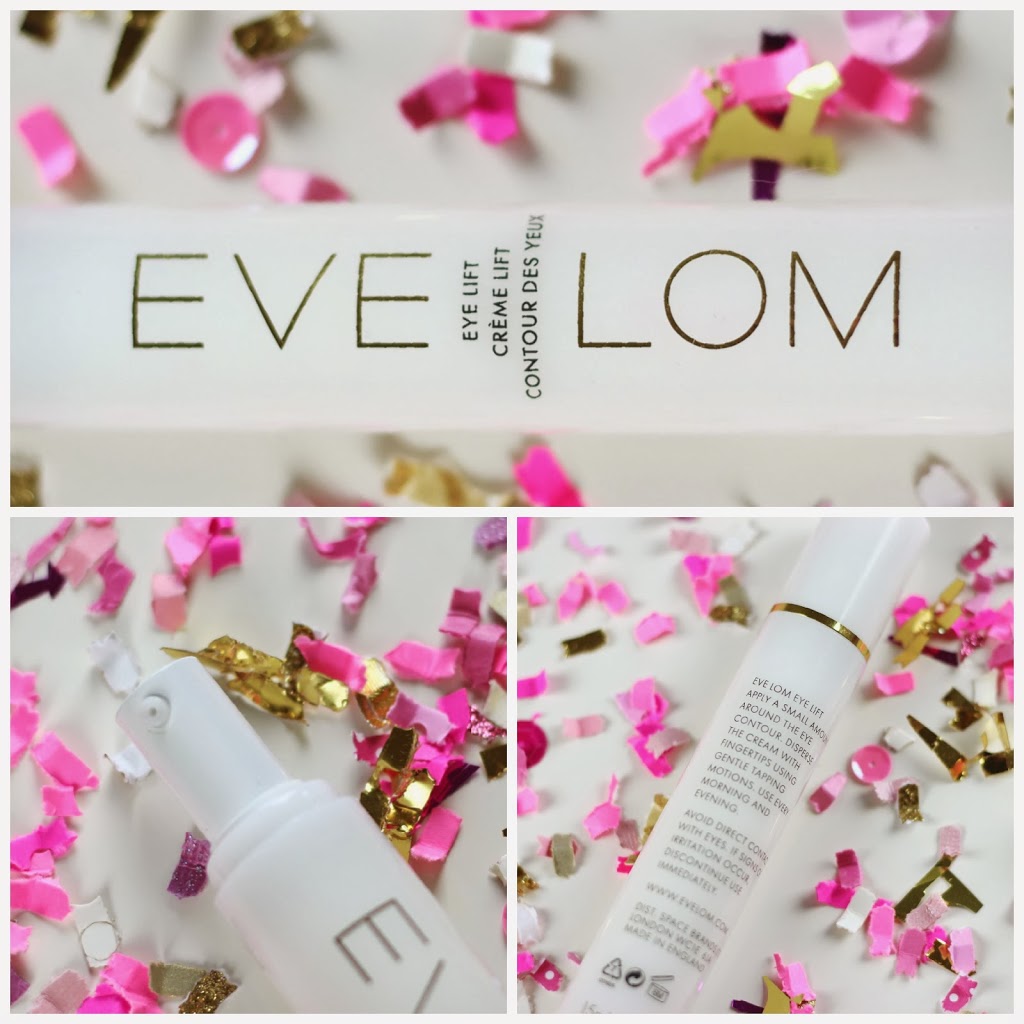 The Eve Lom Eye Lift Treatment is my go to eye cream to lift, firm and smooth the delicate contours of my eye area.  From time-to-time, I suffer from puffy eyes in the morning – it makes me look tired and, well, like a bit of a bug really (I'm having flashback to eighth grade when a boy in my class called me a praying mantis in front of the whole class…shudder!).  No a cute look at all!
The ultra hydrating formula and creamy consistency is loaded full of anti-wrinkle and anti-aging ingredients:
retinol microspheres – lift and firm the skin,
soy isoflavones – reduce fine lines and wrinkles by boosting collagen and elastin production,
oat kernel extract – provides an immediate lifting and firming appearance,
vitamin c – assists to brighten and even out skin tone; and
hyaluronic acid – supports ultra, long lasting hydration.
Packaged in a sleek, hygienic, pretty white, gold and black pump pack, Eve Lom Eye Lift Treatment is compact and light – the perfect travelling companion.
I dispense half a pump of Eye Lift onto my ring finger, dab my ring fingers together and gently patting the treatment under my eyes, to complete my nightly skincare routine. It's perfect for use morning or night – including under makeup, especially if you need some extra radiance after a sleepless night!  
Goodbye praying mantis!
ROSEBUD PERFUME CO. – Smith's Rosebud Salve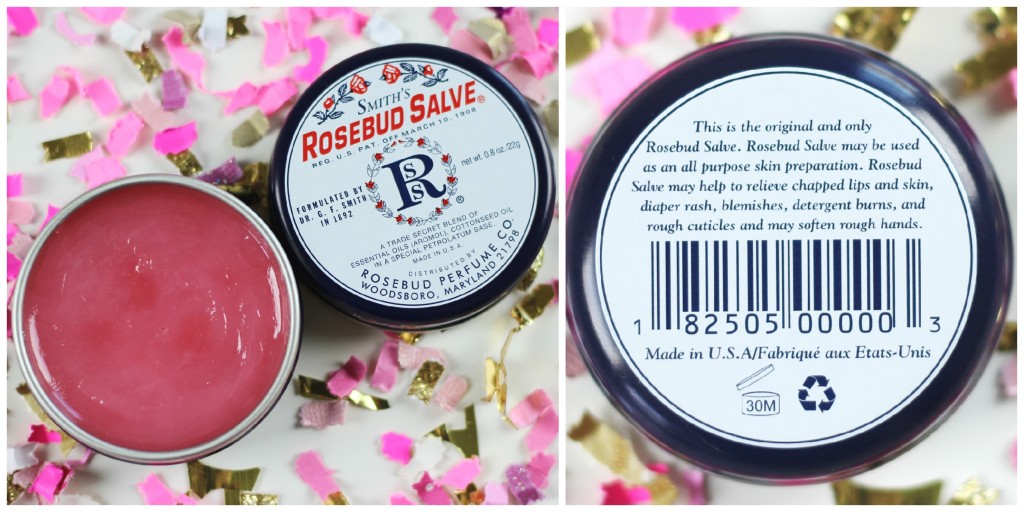 Whether you're battling bitter cold temperatures or running in-and-out of air conditioning to dodge the heat, chapped lips can not only be painful, but they certainly aren't a cute accessory for any season.
It's been crazy cold here across the US, and Texas was no exception.  Ordinarily, I would reach for my Lucas Papaw Ointment to quickly take care of chap lips, dry skin and cuticles, burns, blah, blah, blah. Rosebud Perfume Co. Smith's Rosebud Salve essentially does the same thing (including taking care of diaper rash…sheesh) but with one difference – a pretty, subtle rosy tint and fragrance.
Rosebud Salve is perfect on those days that you don't feel like wearing lipstick or a coloured gloss – it enhances your natural lip colour, while nourishing and protecting your lips from the elements.
I love that you can use it to tame frizzy hair or unruly brows, as a subtle highlighter on the cheek bones, you can even use it as an eye makeup remover!  It's the perfect all rounder, double-duty travelling beauty companion.
Packaged in a compact tin – it's not the best for using on the go (germaphobe alert) but perfect if you have access to wash your hands or at least a hand sanitizer…oh and if that still grosses you out, you can pick up Smith's Rosebud Salve in a handy lip tube.
Love![line]
Makeup
MAC COSMETICS – Pro Longwear Concealer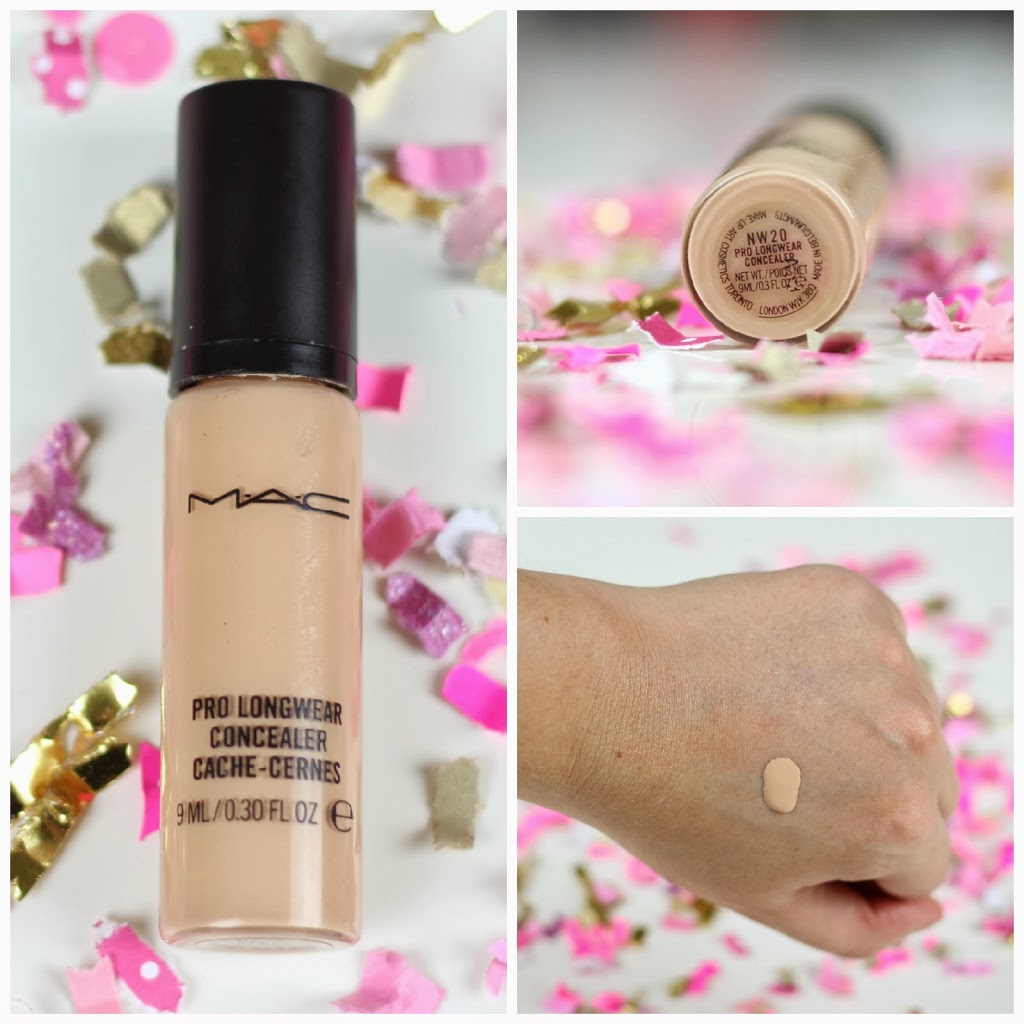 My shade:  NW20
I used MAC Pro Longwear on my wedding day.  The natural matte finish withstood a few tears and the test of time – from 10am until midnight!  I had some pigmentation problems on my cheek and chin that it covered up like a dream!  
Ok lets face it, dark circles, pigmentation problems and blemishes are just part of life – during some point in our lives, we have all suffered from one or all of these skin conditions.  That's why I love MAC's Pro Longwear Concealer.
It's suitable for use under the eyes or over the face, Pro Longwear is rich in pigmentation and is buildable in coverage, from medium to full.  It doesn't settle in fine lines and can be used an eyeshadow primer – for creaseless, true to colour eyeshadow, that lasts all day (MAC Pro Longwear promises 15hrs of wear).
I love this concealer so much that I bought it in two shades, NW20 and NW25.  However, I have just one problem – I have a love-hate relationship with the Pro Longwear packaging.  I love the small glass vial and mini pump dispenser but the pump is where the problem lies – it's sticky and hard to control.  It's incredibly difficult to dispense less than a full pump of product from the vial (which is a lot of product).  One of my pumps works like a dream – the other, not so much.  I've heard similar stories from other bloggers – I only hope that MAC is listening to its consumers!  It's such a waste of product, otherwise.
Aside from the sticky pump, this is a brilliant product – one I will continue to purchase for years to come!
URBAN DECAY – Naked Eyeshadow Palette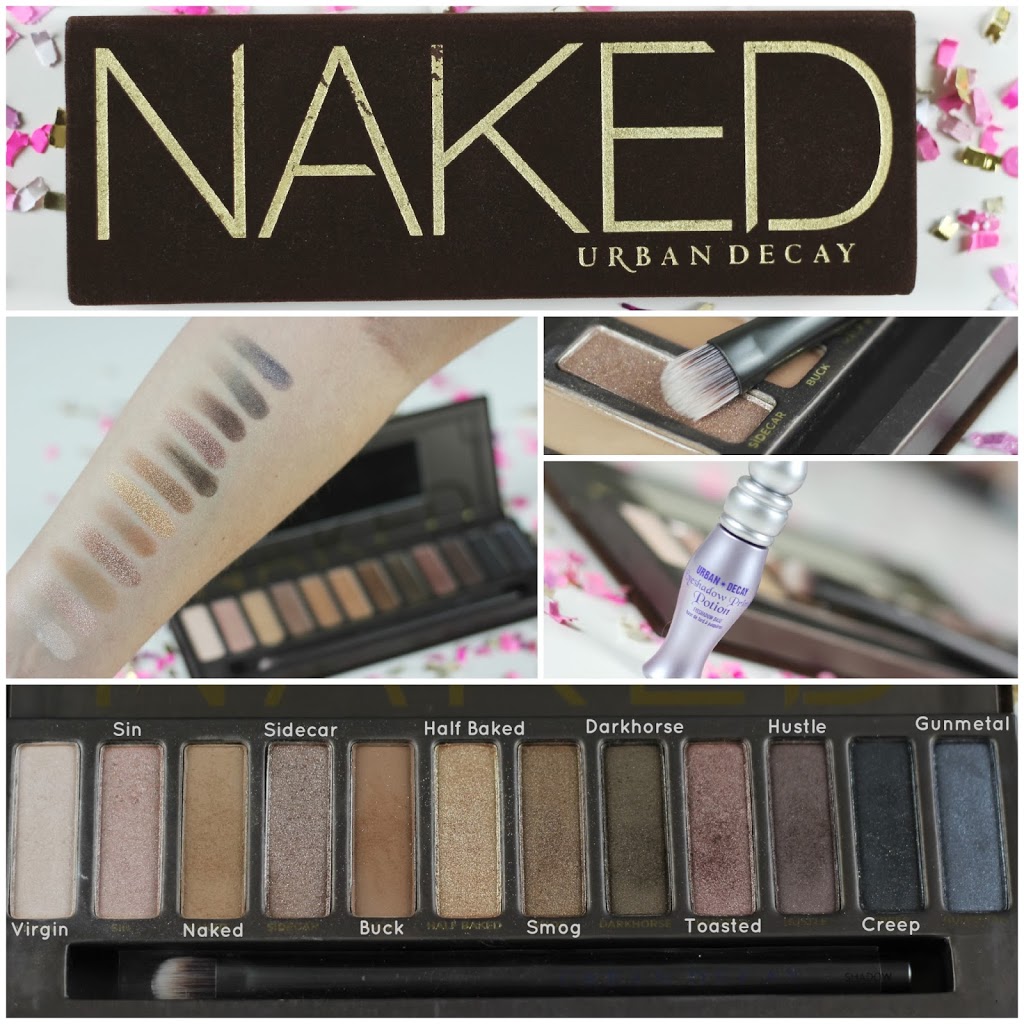 After purchasing my beloved Urban Decay Naked2 Palette approximately a year ago, I finally caved and picked up the original Urban Decay Naked Palette, mid last year and love, love, love it – so much so, that I think I actually prefer it over my Naked2 palette!
The packaging of the Naked palette is not as sturdy as the Naked2 tin packaging but it's a little more compact and is the perfect travel palette – you can create so many amazing looks with this baby!
There are twelve gorgeous, neutral eyeshadow shades to choose from:
[accordion title="Two matte browns"]'naked' (a buff brown) and 'buck' (a warm medium brown), perfect all rounders,[/accordion]
[accordion title="One glitter shadow"]'sidecar' (beige sparkle), lovely pressed over the lid, on its own or layered over another colour.[/accordion]
[accordion title="One satin shade"]'virgin' (nude), perfect for highlighting.[/accordion]
[accordion title="Eight shimmer shadows"]'sin' (pink champagne), 'half baked' (warm gold), 'smog' (bronze), 'dark horse' (khaki green), 'toasted' (dusty taupe rose), 'hustle' (plum), 'creep' (charcoal), and 'gunmetal'(blue-grey).[/accordion]
If you are a neutrals gal, then I cannot recommend the Urban Decay Naked palette more highly!  You even get a deluxe sized sample of the Urban Decay Eyeshadow Primer Potion (which is one of my favourite primers for preventing eyeshadow from creasing and keeping your eyeshadows looking vibrant all day long) and a cruelty-free, flat shader eyeshadow brush.
Endless hours of fun and an amazing quality product with bang for your buck!
STILA – Stay All Day Waterproof Liquid Eye Liner
My shade:  intense black
I first bought the Stila Stay All Day Waterproof Liquid Eye Liner (now that's a mouthful and a half) a few months back, to replace my very loved, limited edition Bobbi Brown Ink Liner (side note: this product is now a permanent Bobbi product).
There is no need to wind-out product or press down on the nib to extract liquid.  The formula is smooth and the shade name 'intense black', is no joke!  The long, narrow brush makes application a dream – even for the liquid liner rookie!
I like to lay the Stay All Day Liquid Liner brush on its side, right against the base of my top lashes – starting from a few millimetres from the inner corner of the eye, and use short dashes to build a line (slowly) towards the outer corner.  The precision tip allows you to easily get between the lashes to fill in any gaps and create the perfect, crisp winged liner look.
Once the quick drying product has set, it really does last all day.  I used it on my wedding day – no running, smearing, transferring or moving!  It worked like a charm!
MAC COSMETICS – Lip Pencil (cherry)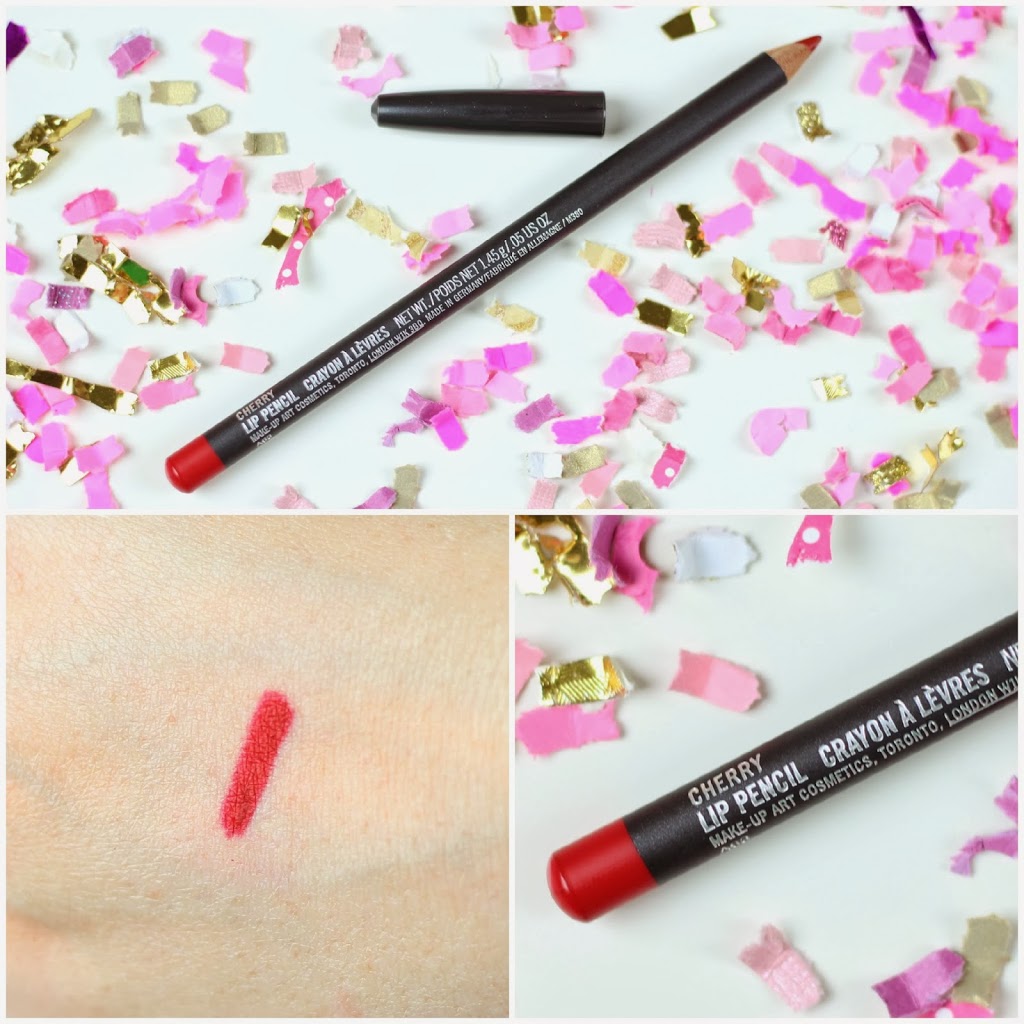 My shade:  cherry
If I wasn't wearing my Rosebud Perfume Co. Smith's Rosebud Salve this month, I was lusting over red lips…of every kind, as you are about to find out!
Red lips are one of my favourite colours to wear – it's festive and an easy way to make even the most basic makeup look glamorous.  The only thing is, red lips can be high maintenance.  This is why I like to apply a lip liner all over the lips before applying my chosen lipstick.
My favourite red lip liner is MAC Cosmetics Lip Pencil in the shade 'cherry'.  Cherry is a vibrant, true red colour that glides effortlessly over the lips.
After I have shaded in my entire lip (not just the perimeter), I really blend the product into the crevasses of my lips using my ring finger, before applying lipstick – long lasting lipstick technique…step right this way!
A good lip liner is essential for a low maintenance bold lip!
RIMMEL – Lasting Finish by Kate Lipstick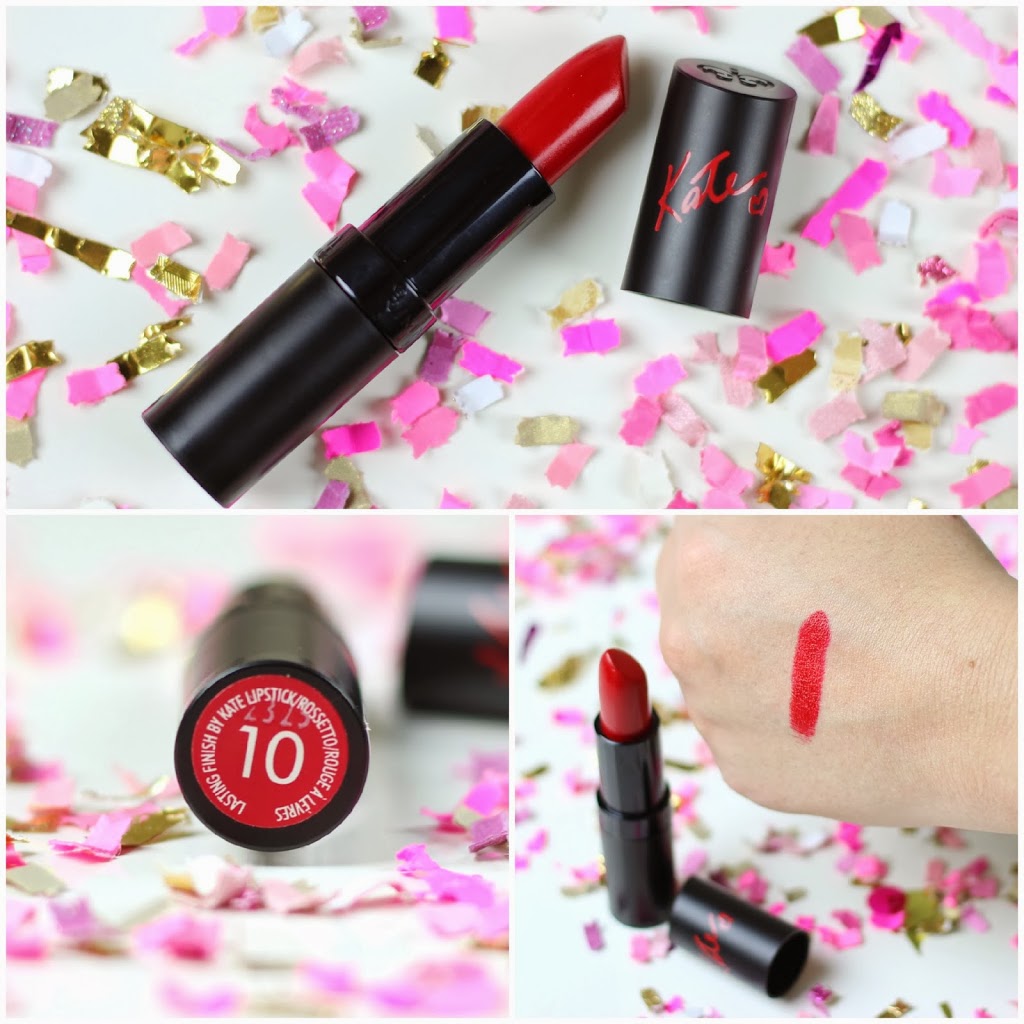 My shade: #10
Lasting Finish by Kate Lipstick in shade 10 is not only a beautiful, rich, creamy lipstick – but it's budget friendly too!
Kate Moss for Rimmel London has a wide range of nudes, reds and hot pinks to choose from. The number 10 shade is long lasting however, it definitely needs a liner to prevent bleeding outside of the lip line (I generally don't have this issue with other lipstick formulas).
If you're not into fragranced lipsticks, this one is probably not for you.  The scent reminds me of dance competitions from when I was younger – a vanilla-stawberryish flavour.
I'm a big fan!
TOPSHOP – Lip Paint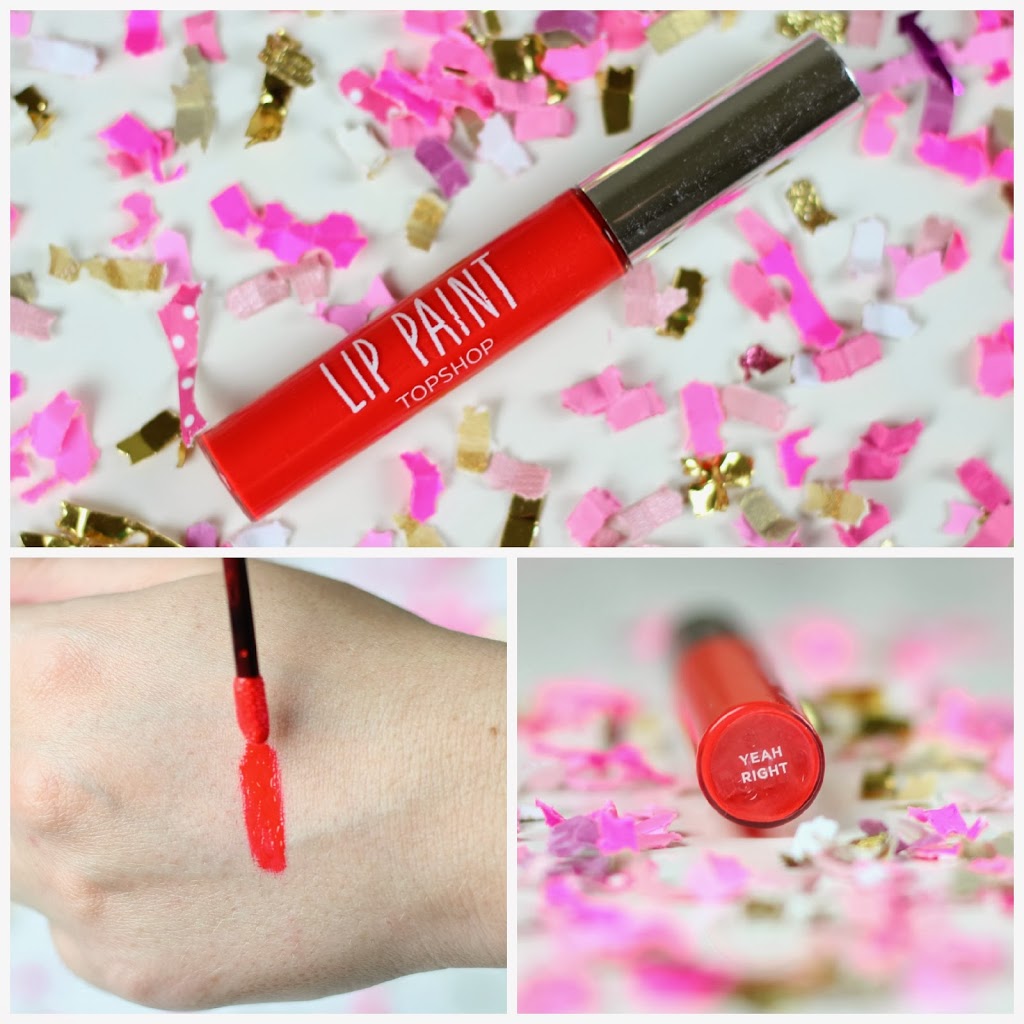 My shade:  yeah right
And so the red lip love-affair continues…this time with this incredible Lip Paint from Topshop.
Topshop of all places, I know!  Who would have thought you could find favourite worthy makeup at Topshop? I'm seriously impressed!
My favourite colour is 'yeah right', a beautiful orange-red shade that looks amazing on any skin tone.  The doe foot applicator allows for superior control and a precise application – super important for any bold lip.
The formula is true to its name – paint!  It's opaque but not at all heavy.  And once dry, the product will stay comfortably on your lips all day…and some if you don't use a makeup remove and wash cloth!
My only regret – not buying more shades!
BOBBI BROWN – Lip Gloss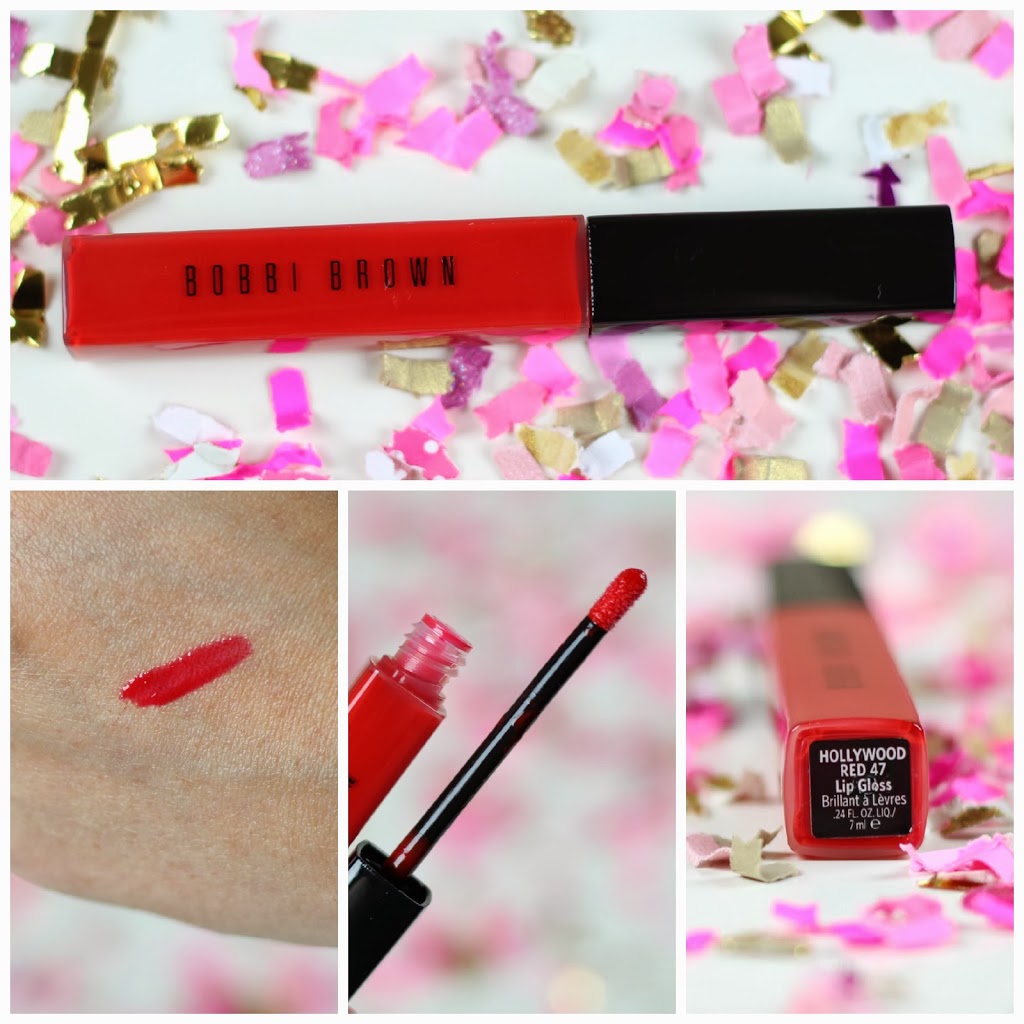 My shade:  hollywood red
My final red lip product (I promise) can be worn on its own or layered over another lip product.
The Bobbi Brown Lip Gloss in 'hollywood red' is a classic bright red shade.  It's sheer enough to give your lips a nice wash of colour or add shine and a hint of colour to your favourite lipstick.  I was loving the look of hollywood red lip gloss layered over my Rimmel Lasting Finish by Kate Lipstick during the holiday season, for that ultra glamorous look.
The formula is mildly sticky – just enough to keep the gloss from slipping off your lips or transferring too much, and has just a hint of vanilla fragrance.
Hollywood red is the perfect option for those that love to wear a red lip but don't like or feel confident wearing such a bold colour.
Subtle and pretty![line]
Haircare
KERASTASE RESISTANCE – Masque Force Architecte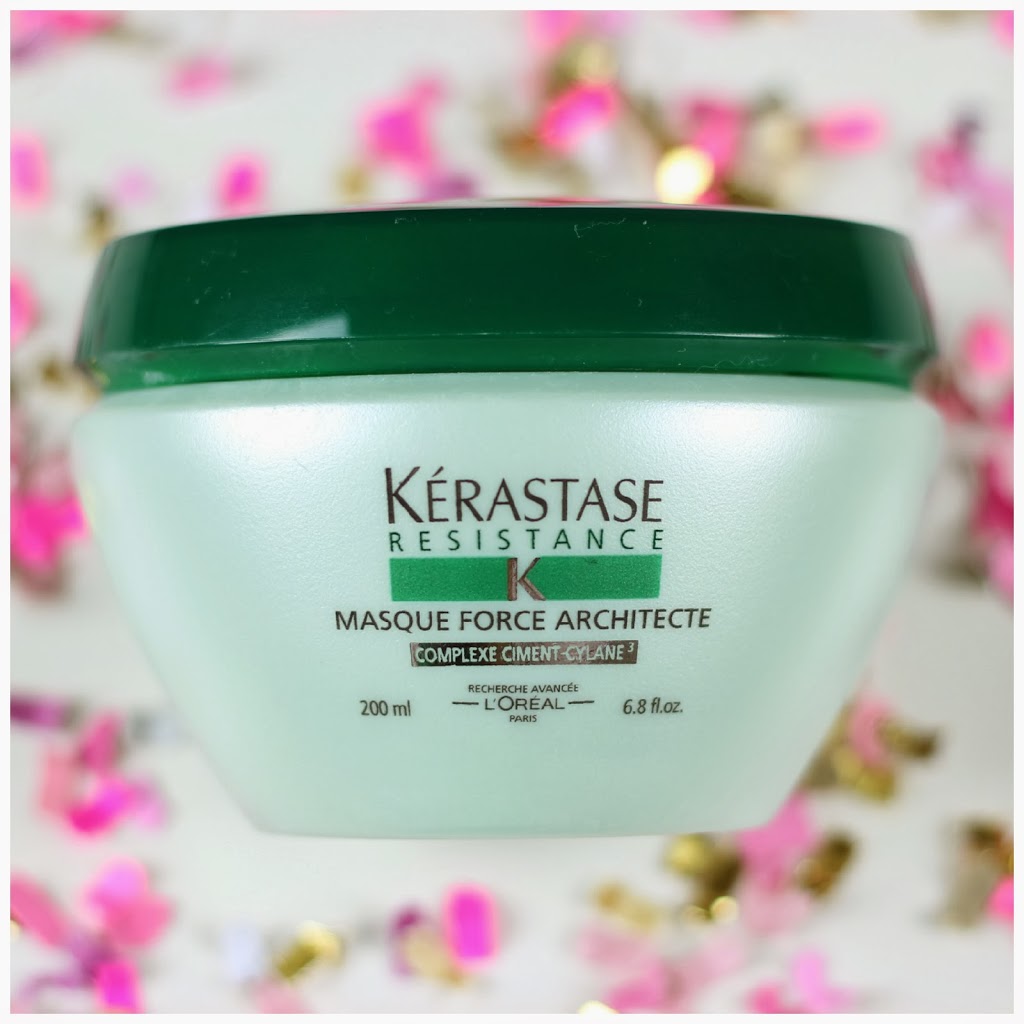 My hair was looking a little worse for wear during December.  I was in desperate need of a trim and the cold weather was drying out my hair – especially given that my hair was taken a lot blonder during my colour in October.
In an effort to pump some moisture back into my quickly drying locks, I used my Kérastase Resistance Masque Force Architecte…if you've been following my blog for a while, you'll know I'm all about the Kérestase products!
Masque Force Architecte is a hair mask that I use in place of a regular conditioner (I alternate my Kérestase hair masks depending on my hair needs).  The mask:
intensely replenishes moisture,
smooths, heals and protects hair,
while helping to prevent breakage and split ends.
It's not going to repair breakage or split ends – hey nothing but a haircut will fix that!  Masque Force Architecte did the job until I could find a hair stylist in Houston that I trusted with a pair of scissors and a colouring brush!
Luckily for me, I found a stylist during January and had approximately four inches chopped…now that's a haircut – why not follow me on Instagram for pictures and to-the-moment updates.[line]
Nail Polish & Perfume
SEPHORA – Formula X For Sephora
My shade:  pyrotechnic
The Formula X For Sephora nail polishes are quickly becoming one my favourite brands and formulas.  The colour is rich and opaque in just one coat, with a finish that in the words of Rihanna, 'shines bright like a diamond'…ok well, maybe not as bright as a diamond, but wowzers, it's as shiny as a shellac manicure, without a top coat!  Seriously.
'Pyrotechnic' was my favourite colour during December – again, a true classic red – it just seemed to compliment whatever I chose to wear during the festive season, and lasted without chipping until I decided to change my mani colour.
I picked the pictured bottle of nail polish from the options on my Sephora VIB Rouge points redemption – it's a deluxe sized sample, so now I can't wait to buy more of them!  Hooked!
OPI Nail Lacquer
My shade:  my favorite ornament
I'm pretty picky when it comes to glitter or sparkle polish – I don't know why, because I love shiny things (I'm like a magpie…without the vicious pecking…seriously).  But this OPI Nail Lacquer from the Mariah Carey The Look Christmas Collection, caught my attention while doing my weekly grocery shop.
'My Favorite Ornament' is a super pretty, ultra fine champagne, gold glitter polish – it feels a little like sand on your nails before you apply a top coat.
It's my favourite gold tone – it's not too yellow.  It looks great on it's own, as an accent nail or layered over your favourite polish.  I enjoyed painting all my nails in 'My Favorite Ornament' in-between using 'Pyrotechnic' – when I was feeling extra festive, I coated the tips of my red nails with the gold sparkle.
If you're a crafty person, this polish could be fun to include in a sparkly DIY project – you don't need to apply coat-after-coat for an amazing glittery coverage.
So festive and fun for any type of celebration…or just to bring a little sparkle into your day!
GIVENCHY – Dahlia Noir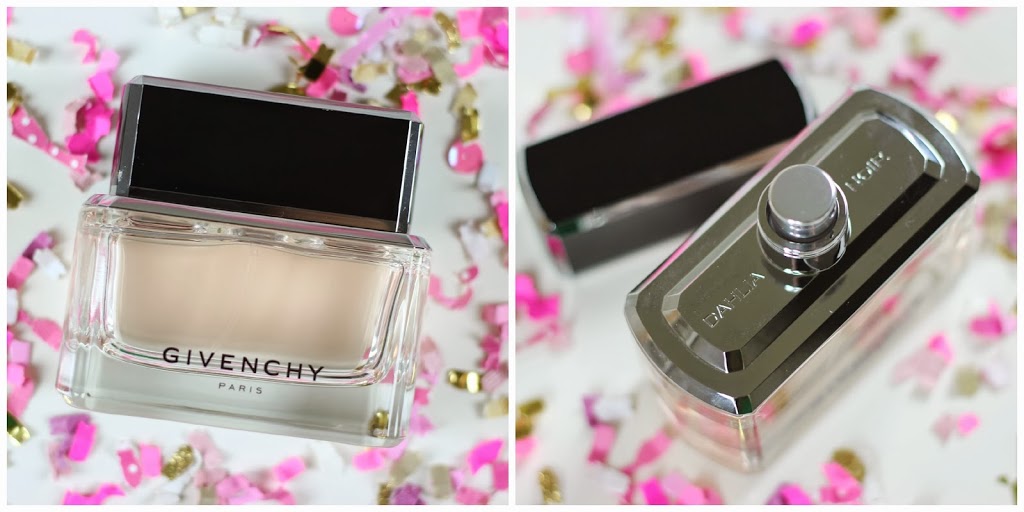 Givenchy's Dahlia Noir fragrance is not what I would consider to be my regular style of perfume.  I received a sample size from yet another shopping trip at Sephora and loved the scent.
It was a front running contender in the wedding fragrance stakes – so after some careful consideration, I popped down to my local department store and picked-up a full size bottle. After opening the package and applying a couple of spritz, I noticed that the scent was completely different to the one that I had sampled, despite the packaging and name being exactly the same.  I quickly decided that this was not the fragrance for my wedding.
In my opinion, Givenchy Dahlia Noir is easily a unisex scent – it's not overly girly at all.  The soft powdery-wooded fragrance has the slightest hint of sweetness.  The fragrance notes are:  pink pepper, mandarin, cedrat, rose, peach, cedarwood, sandalwood, vanilla, and amber.  A warm but fresh fragrance.
This was easily my most spritzed perfume during December (as much as I wanted to wear my Jo Malone Peony & Blush Suede – it's my all time favourite and reserved for time with my husband).
The bottle is simple and elegant – a beautiful piece on a dresser and it's a fragrance that complete strangers will stop and ask you what you're wearing.[line]
Personal Style
JCREW – Reindeer Sweater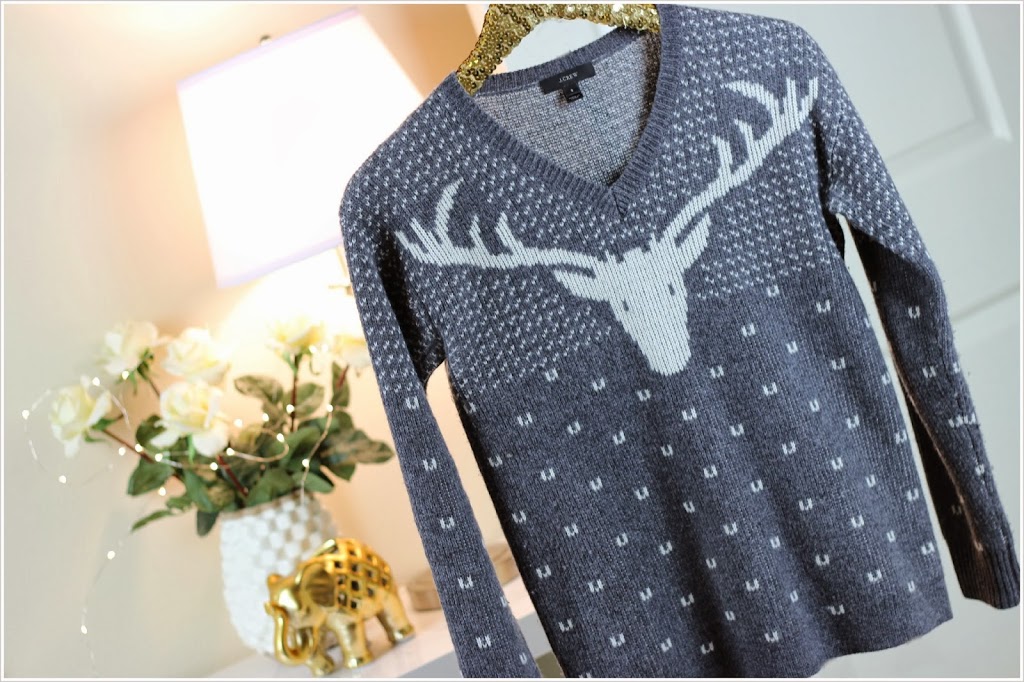 Ok, so I may have a thing for deers this season – I've never owned a Christmas sweater, mostly because of the raging heat at this time of year in Australia.  But this year, I decided to get right amongst it when we were invited to a friends ugly sweater birthday party.
Alright, I honestly don't think this reindeer sweater from JCrew is at all ugly.  In fact, I think it's quite cute.
Typically, I styled this sweater with:
a long sleeved, white, button-down shirt,
added a sparkly necklace that just poked out from under the collar of the shirt,
popped on some blue or black jeans; and
finished with a pair of pumps (depending on the pants either nude or black) or boots (cowboy or regular).
The 100% wool reindeer sweater comes with typical JCrew washing instructions, dry-clean only, although, I'm sure that a gentle, cool handwash in a 'wool wash' type liquid and drying flat, would be fine also.
Unfortunately, this sweater is currently sold out however, JCrew is currently running 40% off all sale items, including sweaters with the code BYEWINTER.  JCrew is one of my favourite places to shop and now ships internationally!  Yeah![line]
Home Decor
WHITE FAUX TAXIDERMY – Mini Alfred Model Stag Deer Head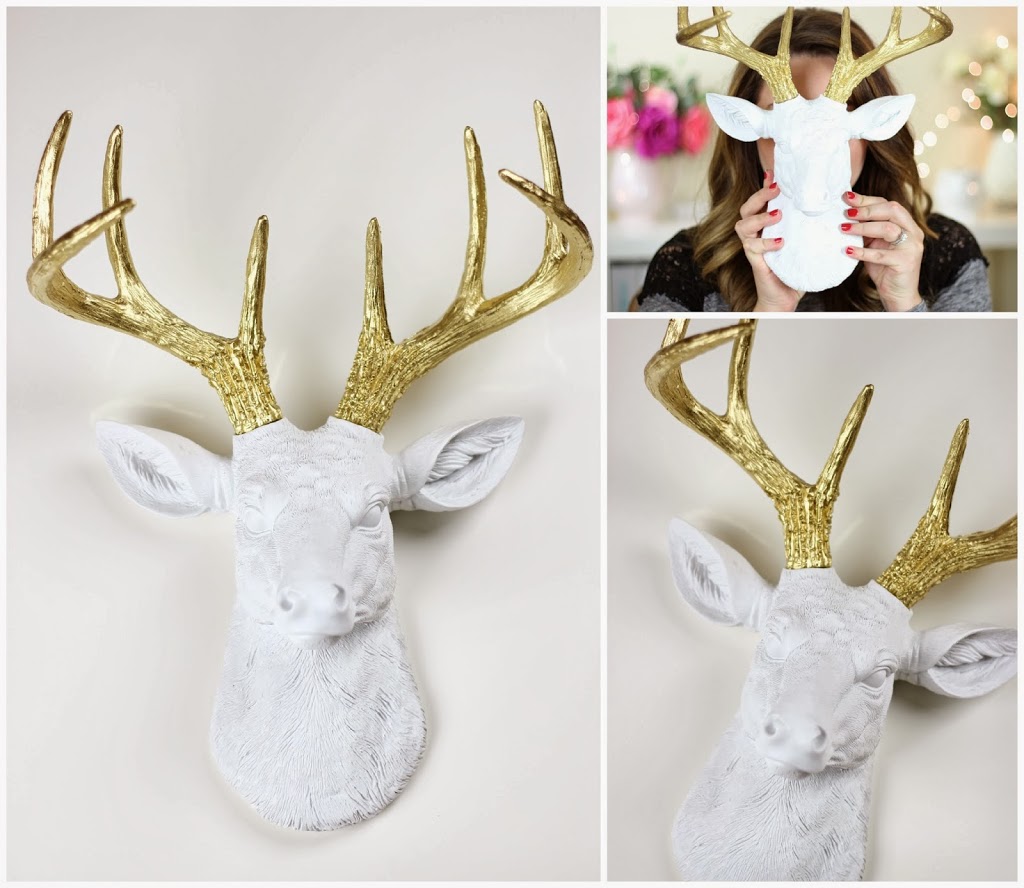 I'm so excited to introduce you to this gorgeous little guy.  He is the newest addition to the Cohen household – meet Alfred!  Alfred has taken centre stage on the wall in my office – I can't wait to show you when I'm finished decorating.
From the minute that I saw his cute polyresin face and metallic gold antlers, I fell in love with him – I knew he was the perfect fit for our new house and I just had to have him, despite my husband thinking that I had really lost my marbles this time!
Alfred, or the MINI Alfred, is a model stag deer head from the very creative Marco and Paislea – animal and nature lovers from White Faux Taxidermy.  Their line consists of animal sculptures from the forest, ocean, safari and more – there are so many colour combinations to choose from!
Measuring at 14.75 inches tall, 11 inches wide, 4.75 inches deep and weighing a measly 2lbs/ 900g, the MINI Alfred is the perfect addition to any gallery wall, inspiration board or home decor project you have in mind. Although my husband thinks my Alfred purchase was totally ridiculous – I know that he secretly loves him too!  hehehe
White Faux Taxidermy ships internationally – you can pick up your own new family addition  here:  www.whitefauxtaxidermy.com – bewared, you may just fall in love!


Those were my December 2013 Beauty and Style Favourites – apologies for all the red heheh!
I hope you all had a great holiday season with your loved ones.
What did beauty and style favourites did you find yourself gravitating towards during December?  I'd love to know in the comments below…I'm nosey like that!
If you made it this far through this post, congratulations and thank you very much for reading, gorgeous!  It means the world to me…it really, really does.
Just in case you missed it – I'm releasing my first eMagazine, Sent With Love, very soon – it's full of beauty, personal style and sparkly things.  Be sure to subscribe for your FREE copy.
With love,